Is a Simba mattress worth buying? If you're like me, your head is probably spinning from all the buzzwords. You've spent ages researching the ins and outs – you've read every Simba mattress review you can find, but still don't feel any nearer to finding out if a Simba mattress suffers from sagging, if their return policy is any good, if it's comfortable, and so on.
Plus, as Simba are sold mainly online, it's hard to know if their mattresses will suit your needs. Sure, they offer a 200 night free trial so if you are in any doubt, you should in theory be able to send your mattress back, no questions asked…
Interestingly, there are some articles online such as this one from the Guardian, which suggests that returning a mattress is not quite as easy as Simba suggest. Their returns process isn't exactly straight-forward – apparently, you have to have an independent inspection if there is anything wrong with your mattress to ascertain why. In other words if there's a fault, Simba want to inspect it first before they send you another one. But is this accurate? I've analysed this further below.
So now let's get down to the nitty-gritty.
Introduction to Simba Hybrid
Unlike some other brands, Simba actually offer a "hybrid" mattress as standard – and not as an additional (pricey) add-on. If you're not familiar with what exactly a 'hybrid' is, then let me quickly explain: it's a mixture of memory foam and pocket springs  and is meant to give the benefits of both, without the drawbacks. Essentially, there is a layer of memory foam, and another layer of pocket springs, and usually several other layers too.
The Simba website blurb describes their hybrid mattresses like this:
The Air Cool Hybrid® mattresses from Simba provide the comfort of reflex foam alongside the support of pocket springs. Designed and made in the UK, five innovative layers work together to support all sleeper types and comfort your body while keeping you cool throughout the night.
But what does all this actually mean?
Firstly, I strongly suggest you read my article on memory foam – and what specifically it is (and what it isn't).
But in a nutshell: Simba Hybrid is just a cross between two mattress types.
Up until a few years ago, pocket sprung were the only type of mattress you could buy. Nowadays the market is mainly made up mostly memory foam mattresses. That's the type of foam that "remembers" your body shape and wraps around your contours. A hybrid is just a combination of them both.
(As an aside, the reason there are so many of these mattress companies now, is because the Tempur "memory foam" patent expired, and now memory foam is available for mattresses at much lower costs than before. So it's highly competitive!)
Are Simba mattresses soft? What is the firmness?
There is no universally-agreed firmness or softness scale so you have to rely on the manufacturer to tell you how firm a mattress is. Or, look at reviews like this or other ones online.

Anyway, it's easier to explain if we go through each of the 5 layers. Unlike most mattresses that have 4 layers, Simba have the extra "Hybrid" layer (the blue one) that, they claim, makes all the difference.
Here is each layer in detail:
Layer 1: Simba's cover layer is made with hypoallergenic air flow in mind. It is made of a synthetic blend and breathes easy.
Layer 2: Open-cell foam is the first comfort layer that is more responsive than memory foam while still dissolving away pressure point pain.
Layer 3: 2,500 conical pocket springs adjust to your spine and sleeping position and adapt seamlessly so you won't disturb your partner.
Layer 4: A high definition foam layer offers a transitional supportive layer, focusing on edge support and subtle pressure relief.
Layer 5: The foundational base foam has zones to support the spine in an ergonomic way. These zones also help air movement to keep things cool.
Simba mattress review: Is the 200 night trial worth it?
Simba claim that they're confident you'll 'feel the difference' with your Simba mattress after one night. But just in case, they have given customers a few more nights to sleep on it, so to speak… Originally offering 100 nights, after competition from the likes of Eve upped theirs, Simba now offer a 200-night trial too.
Note that some companies like Nectar even offer a 365 night mattress trial. But 200 nights should be plenty long enough for even the most picky user to decide if the mattress is right for them or not. Just make sure to check the stats box below, making sure that you're within the weight limit, and the sizing fits your bedframe.
How do returns work?
Note that, despite what some people may think, if a customer returns a mattress to Simba, they do not just send it to another customer. In fact, they will instead recycle it and hand it to a charity, or in some cases ship it overseas for so-called "recycling". But this may not be all its cracked up to be – quite often they aren't actually recycled, just burnt or sent to landfill in another country.
What's the difference between Simba Hybrid and Simba Hybrid Pro?
The main difference with the "Pro" is that you get an extra layer of British wool, that sits on top of the rest of the foam layers. In other words, you're laying on a luxurious layer of  natural sheep's wool that Simba claim gives more softness. There are also more springs in the Pro hybrid than the regular hybrid mattress – this time Simba have packed in 5,000 springs.
I've not tested the Hybrid Pro yet, but will add a review soon. Note that it costs around £200 more in the UK than their standard hybrid.

Simba Hybrid Original: At a glance
500g hypoallergenic cover
Simbatex layer
Up to 2,500 springs
Reflex support layer
Zoned base layer
25cm thick
Simba Hybrid Pro: At a glance
750g hypoallergenic cover
Heat regulating British wool
Simbatex layer
Up to 5,000 springs
Reflexsupport layer
Zoned base layer
28cm thick
Simba Mattress Review: Updated for 2022
Simba proudly claim to have "100,000" five star reviews. Most of these reviews however are listed only on their own website – which as regular readers will know, are easily faked. I am not suggesting that Simba have "faked" any reviews here, but other websites are known to do that.

The other thing to be aware of is this:
When I bought my test hybrid mattress from Simba, a few weeks later they emailed me via their newsletter, claiming that I could "win back" i.e. be refunded the cost of my mattress if I left them a review. A lot of people will take them up on this offer, after all as you can see from the pricing below, they are not cheap. An easy chance to "win" back £700 for a 10 word review? Most people will take it. And most of them will write something positive.
After all, it's often too early for any longer term usage to have taken place. It's unlikely that any potential issues will have presented themselves in only a few weeks of sleeping on a mattress.
To be fair, it's not just Simba that do this – all the big brands like Nectar and Eve also do it.
It's hard to gauge longer term reviews on any mattress, but that is why I created this website.
Here is a collection of reviews and opinions I have collected for you, from websites like Trustpilot and Reviews.io:
I've been late for work twice as it's almost too comfy. Great bed!

Take a bit of getting used to –

Claire B.

Only had it for 2 weeks and I think i like it but still not sure. Have been sleeping well but does take some getting used to if you used a spring mattress before. Still a lot more time to be convinced, it's looking good so far

After having issues with sleeping and back pain my partner and I decided to go for a simba;! Delivery was hassle free, and unpacking the Simba couldn't have been easier, the mattress is nice and firm but with a soft top so although it's firm it's soft at the same time, best night's sleep with minimal back issues a++

New mattress bliss –

Heather L.

After suffering for a long time with back pain and trying physio and medication , thought the next step would be changing the mattress. My old one was only 4 yrs old but as the Simba was on a 100 day trial thought worth a try. I received it two weeks ago and so far so good . I am sleeping better , less stiff in the morning and no aching back . Pretty amazed . I still have another two months trial period to decide , but looking good. To add to this review found the ordering process simple , e-mail confirmation speedy and delivery within 5days . Delivery guys friendly and nothing a problem . Thumbs up so far

Best sleep ever –

Janet B.

Lovely Mattress that keeps me cool and supported. Downside is it makes it difficult to get out of bed in the morning 🙂
For more reviews, you may want to look at Trustpilot for Simba Sleep.
Rating: 4.6 / 5

Do Simba mattresses sag?
Nearly all memory foam / hybrid mattresses will sag eventually. There, I said it.
Unless you are lucky enough to be able to afford a John Ryan By Design handmade mattress (link), then you'll probably have to just accept that a mass-produced memory foam mattress will last for around 5-10 years. For most people that will be fine. Usually, the sides sag first: it is just an inherent flaw in any foam product, that the shelf-life is somewhat compromised.
It's also worth pointing out that nearly all of the negative reviews (see below) on Simba relate to a poor delivery or return service, rather than sagging issues.
Are Simba Mattresses suitable for back pain?
Yes. But there may be slightly better mattress for those with back pain.
Generally speaking, the ergonomic design of these Simba mattresses with the micro pocket springs create a good blend between pressure pain relief and deep spine support, which will help most sleepers feel comfortable all through the night.
But there's some evidence that those with orthopaedic/back pain will NOT benefit from a hybrid or a memory foam mattress , but a pocket spring mattress, which Simba don't currently produce in the UK.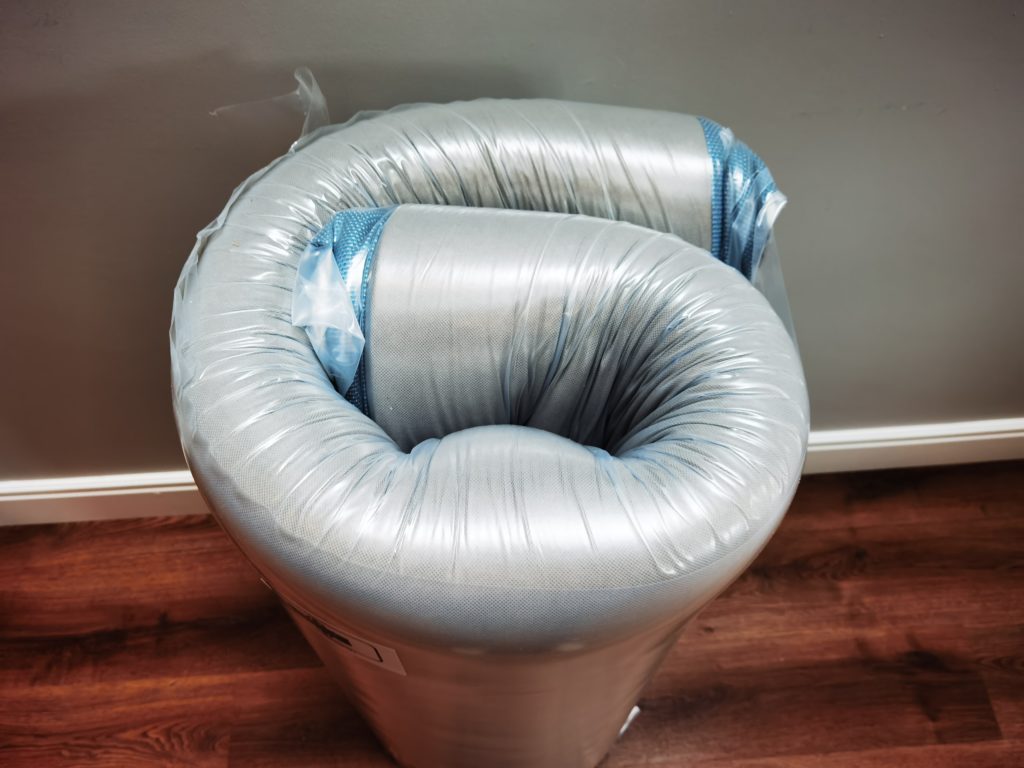 What else do I need to know?
Airflow comfort layer
Simbatex foam makes up the second layer of this mattress. Developed by Simba, its open-cell structure uses graphite technology to aid air flow through the mattress to tackle overheating and enhance coolness.
Pocket spring system
Produced in a head-to-toe format, cone-shaped pocket springs provide structure and extra support across this mattress. Each spring moves individually, mapping to the shape of your posture to adjust with you as you move through the night. A strengthened border edge also provides good stability when you sit on the edge of your bed.
Reflex layer
The Reflex support layer acts as a springboard to the pocket springs, boosting them to ensure they respond to all sleeper types. It also moulds to your body as you sink into the mattress.
Zoned base layer
The grooved foam base is designed with seven individual zones to ensure that different levels of support are provided.
Supplied rolled in a space-saving box
You'll receive a straightforward manual to guide you through the set up.
For the full specs, view the Simba FAQ here.
A few important drawbacks to be aware of…
Note that the *BOTTOM* layer (outer fabric) is NOT machine washable. That doesn't mean it's completely unwashable; Simba suggest using a damp cloth to wipe the bottom grey cover:
The bottom cover is not removable or washable. The grey base fabric can be cleaned with a soft, damp and clean cloth using small circular motions. Using a mattress protector could help extend the life of your mattress.
Note that the white 'quilted' part is fully removable and washable. Simba suggest washing this part at max. 40C along with other whites.
As part of my Simba mattress review, I decided to give this a go. I washed at 30C for a regular wash of 50 minutes and it came out spotlessly clean as one would expect.
However the fact that the bottom part is not washable is slightly annoying (below the zip, see below). Suggesting that customers buy a mattress protector after forking out anything up to £700 for a mattress, is disappointing to others too. For that reason, I have to deduct some points off my Simba rating.
Most of us will eventually want to wash the bottom mattress cover at some point, and it isn't sufficient to say that we should just buy a mattress protector. Hey Simba maybe you should provide one at a discounted rate?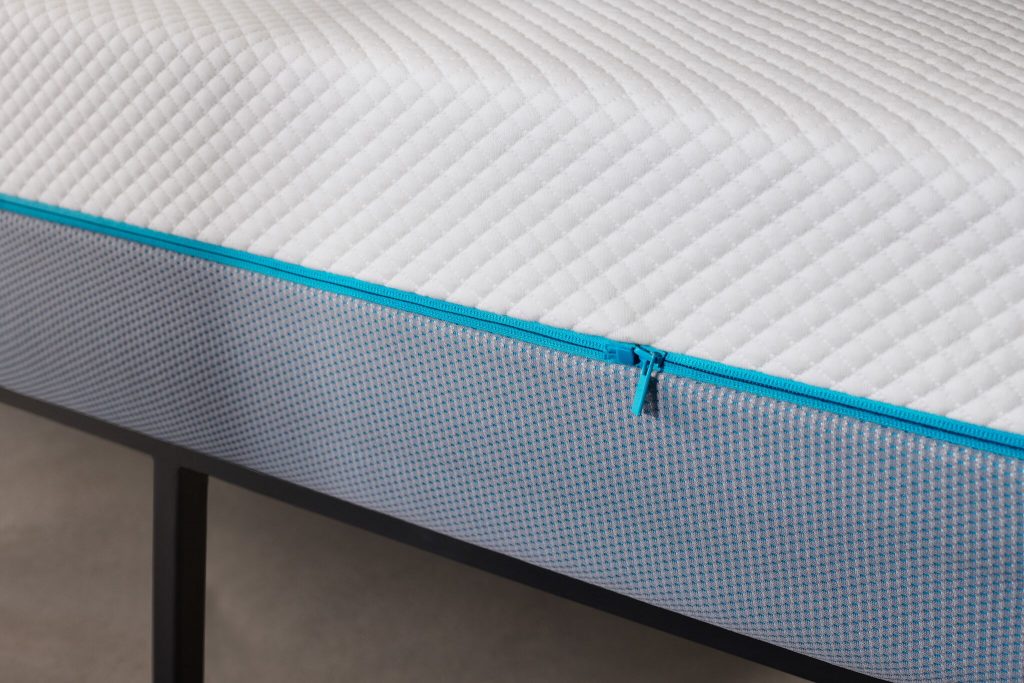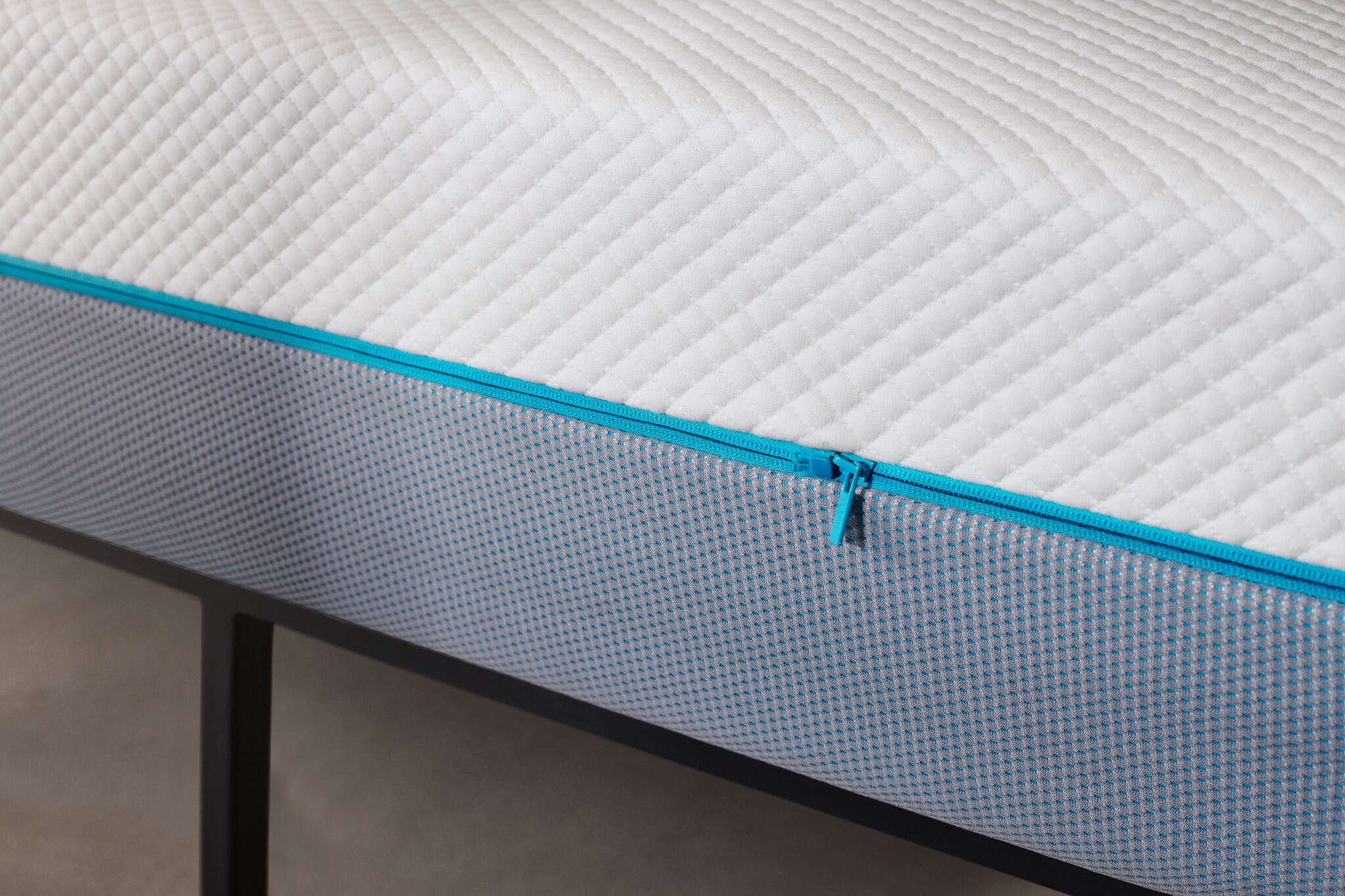 Another limitation to be aware of: You cannot 'flip' the Simba – or any hybrid/memory foam mattress for that matter. So you will need to keep it up the same way always. Whereas some manufacturers of pocket spring mattresses tell you to flip over the mattress every so often to spread the load, this isn't possible here.
Simba mattress review: Sizes in the UK
See my price table below for the full list of sizes.
Luckily Simba don't just restrict their mattress sizes to UK sizes. They also offer EU sizes, specifically in EU Single, EU Double, and EU Queen. These are perfect if you have an older IKEA bed, as up until recently these only fitted EU size mattresses. Make sure to check first if your IKEA bedframe takes UK or EU sizes – as a rule of thumb, if the IKEA Bedframe is older than 4 years, it will take EU sized-mattresses.
Can I try Simba in-store?
Yes!
Unlike many other mattress companies, Simba have a deal with John Lewis. This means you can test out the Simba Sleep in-store first to make sure that it is to your tastes. They have both the Hybrid and the Hybrid Pro available, depending on the store. Give the mattress a press, or lay on it, it's often best to physically try out a mattress beforehand if you can.  This is certainly a big plus for the Simba, compared to other brands, and why we rank them in our best mattress guide here.
The other good thing about this is you get to see more reviews on the Simba mattress, rather than just the ones on Simba's own website. Personally, I am always a bit suspicious of reviews on the vendor's own website, but in this case you can see that John Lewis' reviews are still very good – mostly 5 stars.
If you are one of those people, make sure to check for Simba discounts and vouchers first.
How thick is the Simba Mattress?
The Simba Hybrid mattress has a total thickness/depth of between 20 and 28 cm (depending on which model). Rest assured your current bed-sheets should work perfectly here. Each mattress can also hold up to 18 stone or 114kg per person (combined).
Is the Simba Hybrid worth buying?
Let's first look at the pricing. Simba are not the cheapest brand – but often they have discounts or sales on. Here is their current pricing after discounts, but excluding any coupons (these can be used to reduce the prices further):
| | | |
| --- | --- | --- |
| | Dimensions | Price |
| Simba Hybrid Single | 90x190x25 cm | £384.30 |
| Simba Hybrid Small double | 120x190x25 cm | £524.30 |
| Simba Hybrid Double | 135x190x25 cm | £524.30 |
| Simba Hybrid King | 150x200x25 cm | £594.30 |
| Simba Hybrid Superking | 180x200x25 cm | £664.30 |
| Simba Hybrid EU single | 90x200x25 cm | £419.30 |
| Simba Hybrid EU double | 140x200x25 cm | £559.30 |
| Simba Hybrid EU queen | 160x200x25 cm | £629.30 |
*prices and availability may be subject to change, prices above exclude discount codes.

Simba Voucher Codes (2022)
Simba do not often do vouchers as such, but will offer  30% or even 40% off at times. It's important to check for discounts for Simba at sites like DiscountCodes here before purchasing, as you can save money easily with just the click of a button. And yes, the discounts apply to their pillows and bedding too.
I have collected the best voucher(s) for Simba UK here. Be wary of other sites, such as French ones, that are advertising coupons for the French version of the Simba website. These are for the UK only!
Simba mattress review: Anything else to know?
Another minor point to consider: Simba have won several awards: Ideal Home Approved, Good Housekeeping Institute Approved, T3 Best Buy, Product of the Year, Men's Health Lab UK Approved. A lot of the time these industry awards are meaningless, but your mileage may vary.
Also consider the Simba by framing it against others; i.e. versus other mattress companies. I've written a comparison here of the Simba versus Emma mattress – two of the UK's best-selling mattress brands.
Don't forget to check out my Simba versus OTTY review here too (both are hybrids). OTTY are a slightly cheaper, newer brand but are increasingly gaining a foothold in the mattress-in-a-box market in the UK. While they are made in China, they are one to watch, particularly if your budget is more limited.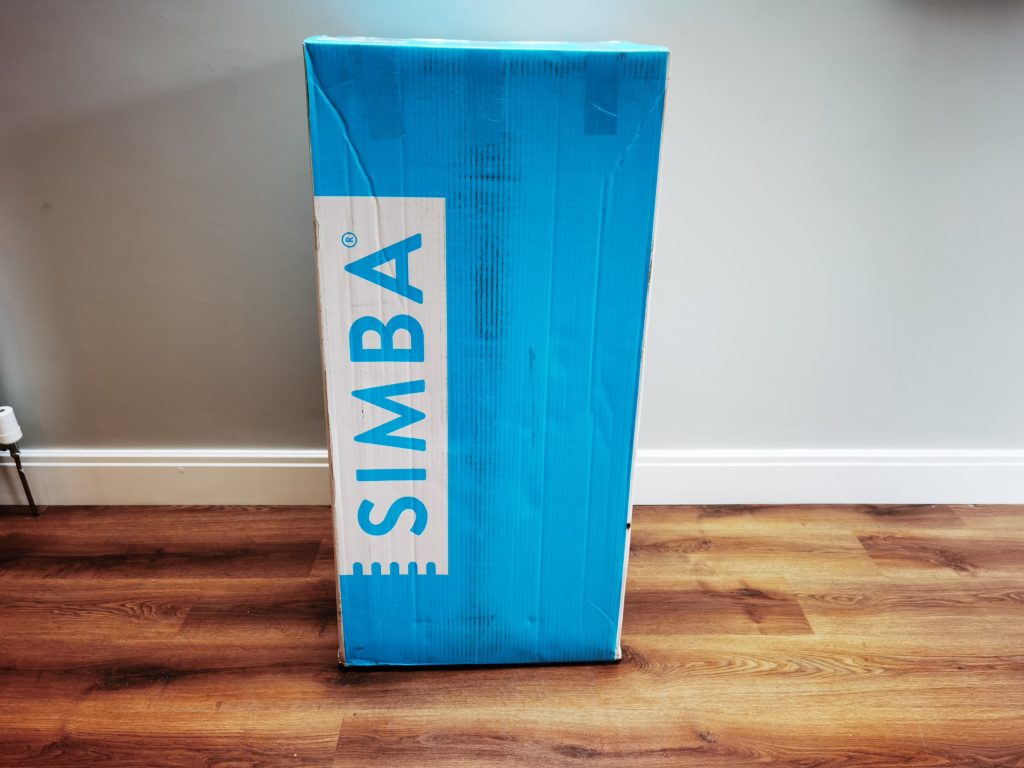 Conclusion – My Simba Mattress review
Should you buy the Simba Hybrid or opt for another mattress? Here's my summary in bullet-point form:
Middle of the market pricing;
For a hybrid, compare it with other premium brands like Brook And Wilde;
Long 200-night trial; return at any point if unhappy;
Some sagging issues reported – but often after years of use;
Not flippable and not 100% machine washable;
Pocket spring may be better for orthopaedic concerns;
Suitable for front sleepers especially;
Highly-rated on Trustpilot and elsewhere;
Overall, a high quality mattress made in the UK – but competitors are catching up.