If you sleep on your back, you need to be particularly careful when shopping for a mattress – not all mattresses are created equal when it comes to providing the essential support and comfort for sleeping on your back. Nobody likes waking up to an aching back (and I know the feeling very well). In this review, I'll outline some of the best UK mattresses for back sleepers, with an emphasis on firmness, support, and construction. 
Okay, let's just jump right in.
️‍🏆 Best Mattresses for Back-Sleepers
When it comes to sleeping position, pretty much everyone either sleeps on their back, front, side – or a combination of all three.
The type of mattress you sleep on, will greatly affect the way you sleep, so it's important to get the right mattress for your sleeping style. If you're a person who tends to sleep on their back most of the time, then you will need to consider the following:
People who sleep on their back will need more support than people who sleep on their side. So if you're a back sleeper, you will probably be more comfortable with a slightly firmer mattress.
Regardless of sleeping position, heavier people will tend to need a firmer mattress than lighter people. This is because softer mattresses offer less support, and the heavier a person is, the more they will need to be supported by their mattress. Simple!
Despite mattresses being marketed as either soft, medium or firm, there is no industry-wide way of measuring how firm a mattress is. Each manufacturer will have their own idea of what soft, medium and firm are; thus it's important to check the weight capacities of any mattress that you are considering buying.
Overview
Below are my top 7 UK picks of the best mattresses for those who like to sleep on their back. Over the years I've compared plenty of mattresses (and most of them have been reviewed by actually being  slept on, unlike other websites). Find out more about the methodology we use here at WhatMattress.
In brief, for this article, my research included evaluating different types of mattresses, analysing the materials used, investigating cooling features, and considering the overall value for money.
Summary: Top 3 mattresses for back pain
I realise that not everyone has time to sit and read through the full article. So here's a quick summary of the top 3 only:
| Feature | Simba Hybrid Luxe | Emma Premium | Emma Original |
| --- | --- | --- | --- |
| Firmness | Medium-firm 🛏️ | Medium-firm 🛏️ | Medium-firm 🛏️ |
| Depth | 31cm 📏 | 25cm 📏 | 25cm 📏 |
| Support System | Pocket springs + foam 🌀 | Pocket springs + foam 🌀 | Foam 🧊 |
| Comfort Layers | Foam and microcoil layers 🧊 | Memory foam  🧊 | Foam 🧊 |
| Cooling Features | Cooling gel and breathable cover 🌬️ | Cooling cover and breathable foam 🌬️ | Airgocell foam layer 🌬️ |
| Price (King Size) | £1,429 💰 | £949 💰 | £649 💰 |
1. Simba Hybrid Luxe – Best All Rounder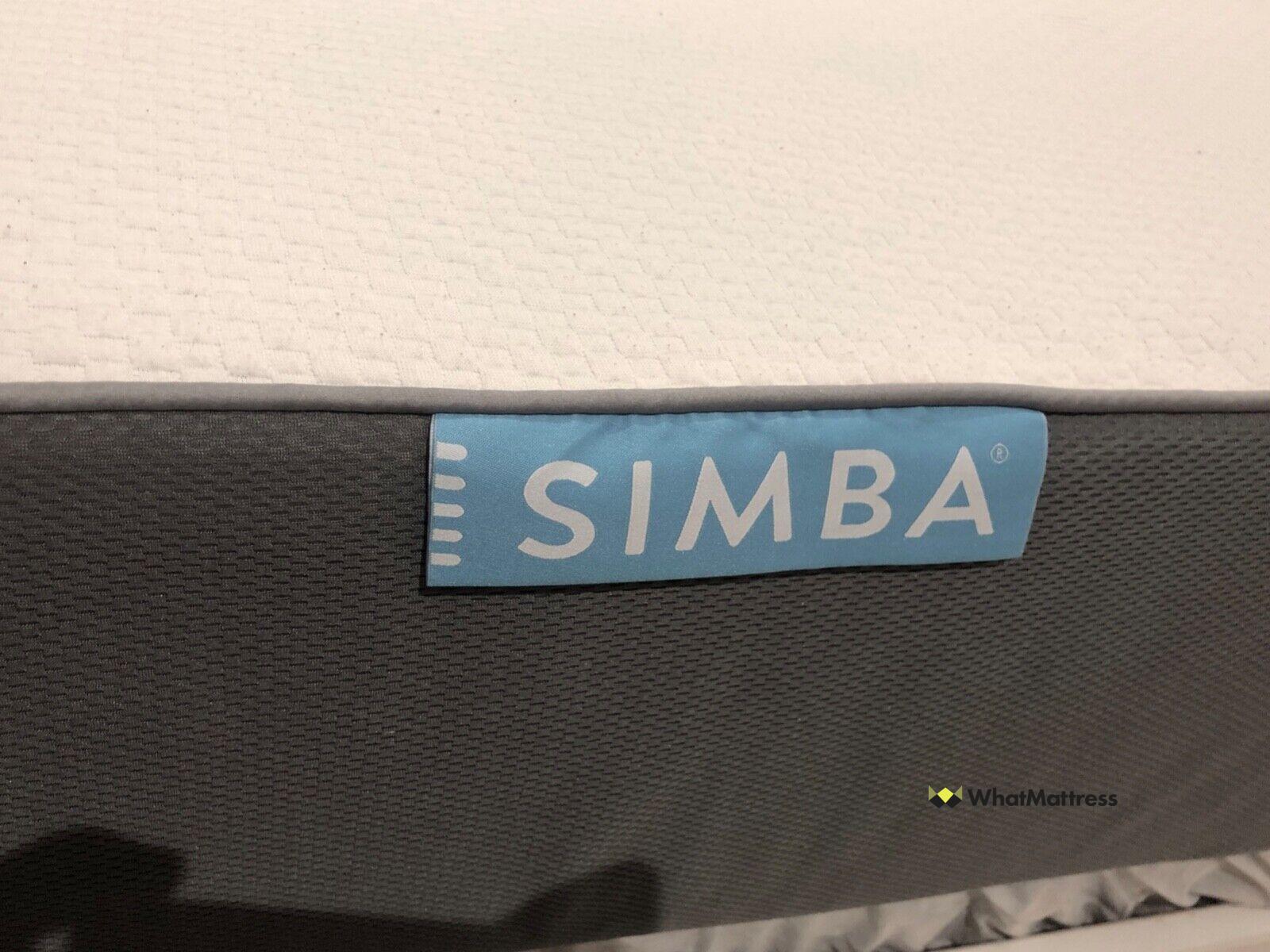 I've had my fair share of back pain over the years, and I know how important it is to find a mattress that offers the right kind of support. That's why I was intrigued by the Simba Hybrid Luxe, which has  quickly become my top recommendation for back sleepers.
What I love about this mattress is that it's incredibly comfortable and supportive at the same time. Unlike some mattresses that are either too firm or too soft, the Hybrid Luxe strikes a perfect balance that feels just right for me. It's got three layers of springs, which means it's more supportive than your average mattress, but it still manages to feel plush and comfortable on top.
If you're a back sleeper like me, you'll appreciate the way the Hybrid Luxe keeps your spine aligned throughout the night. The zoned supportive foam base and high-definition Simba-Pure foam layer work together to give you just the right amount of support, while the two 25mm microspring layers and bamboo wool layer provide a cool and comfortable sleeping surface.
Of course, all this comfort and support comes at a price, and the Hybrid Luxe is definitely on the pricier side. But if you're willing to invest in a good night's sleep, I think it's worth it. Plus, with Simba's 365-night trial and ten-year warranty, you can rest easy knowing you're making a smart investment in your health and well-being.
All in all, I honestly think the Simba Hybrid Luxe is an excellent choice for back sleepers who want a mattress that's both comfortable and supportive. It may not be the most affordable option out there, but for me, it's definitely worth the investment.
Read the full Simba Hybrid Luxe review here.
2. Emma Premium (Hybrid) Mattress – A Firm(!) Favourite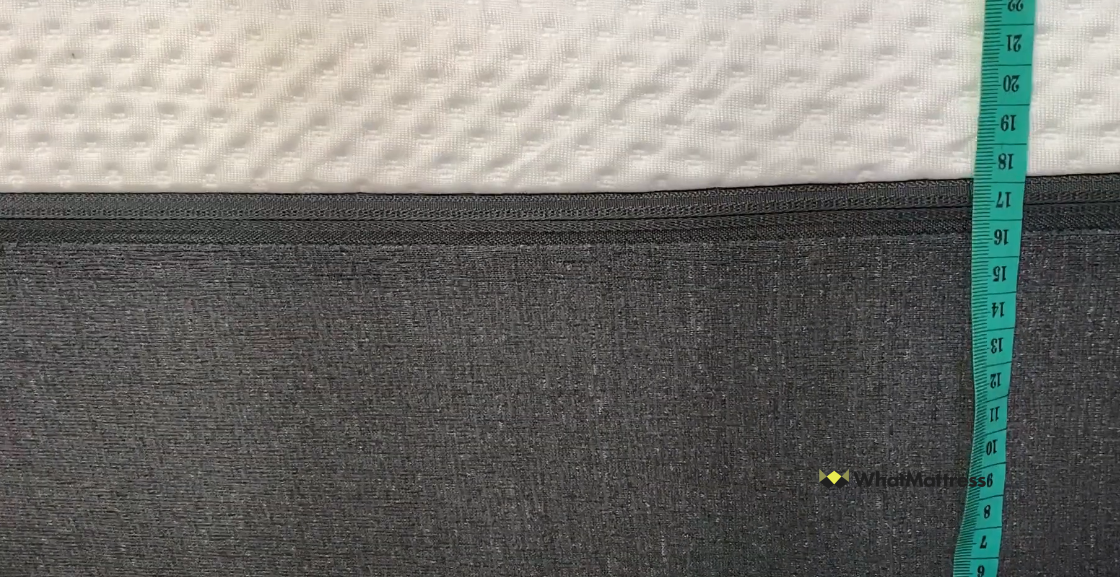 | | |
| --- | --- |
| Mattress Type | Hybrid |
| Firmness | Medium-firm |
| Depth | 25cm |
| Price | £949 (King) |
If you're a back sleeper looking for a motion transfer-proof mattress, then Emma's Premium Hybrid mattress might be just what you need. With six layers of pretty clever engineering, this hybrid mattress cradles you out to the land of nod while keeping your spine perfectly aligned.
Although it's definitely firm – and firmer than the Simba Hybrid Luxe too- the Emma Premium still provides excellent spinal alignment, pressure relief, and full body support. Its CarbonFlex technology features five zones filled with hundreds of ergonomic coil springs that dynamically adapt to your body while you sleep, keeping your spine aligned even when you shift around during the night.
The Premium's Airgocell layers enhance its breathability, regulate temperature, and absorb and evaporate sweat, while its HRX Supreme foam evenly distributes your body weight to reduce pressure on your tired bones. Plus, its UltraDry cover is smooth, cosy, and springy to the touch, and it's machine-washable to keep it fresh and clean.
While the Emma Premium is not quite as luxurious as the Simba Hybrid Luxe, it's still a great option for back sleepers who want a firmer mattress that provides excellent support and motion isolation. However, if you're looking for the ultimate in comfort and indulgence, the Simba Hybrid Luxe might be the better choice, despite its higher price tag.
3. Emma Original  – Still Going Strong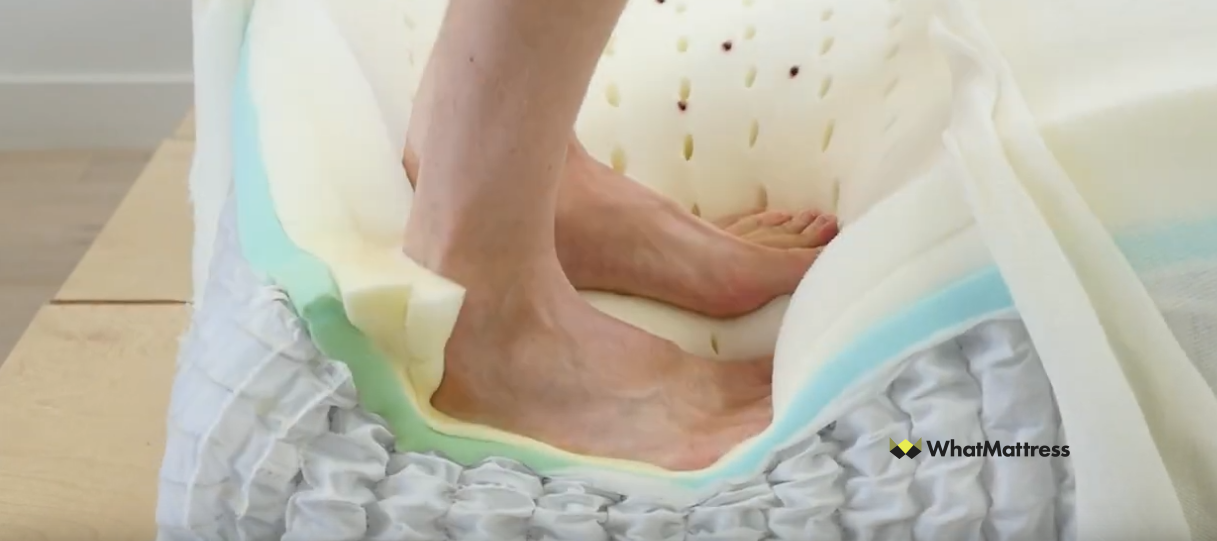 | | |
| --- | --- |
| Mattress type | Memory foam |
| Firmness | Medium (6 /10) |
| Depth | 25cm |
| Price | £429+ |
Emma's Original mattress has been around for ages, but it's still one of their best selling mattresses.
In fact, some websites say it's still THE best selling across Europe as a whole. Whatever the truth, Emma's Original is a popular memory foam mattress that has received rave reviews over the years, from customers and critics alike. Framkly, this mattress is a surprisingly great choice for back sleepers as it provides the necessary support and comfort to keep the spine in a neutral position. Teh top layer of Airgocell foam allows for airflow, keeping the sleeping surface cool during the night, while the memory foam layer ensures proper pressure relief and spine support.
However, it's not quite as good as the Emma Premium Hybrid here. Why? Because the dearer Premium Hybrid has a layer of pocket springs that provide added support and prevent sinking, which makes it a better choice for those who suffer from back pain. The pocket springs on that model also allow for greater breathability and air circulation, making it a better choice for those who tend to sleep hot.
As a back sleeper, if you find that it's not quite what you're looking for, then you can get a refund within this 200-night window, subject to terms and conditions. The Emma mattress also comes with a 10-year guarantee. So you can be confident when you buy one that it has been built to last.
Here's my full Emma Original review (UK).
4. Nectar Memory Foam – Best Sleep Trial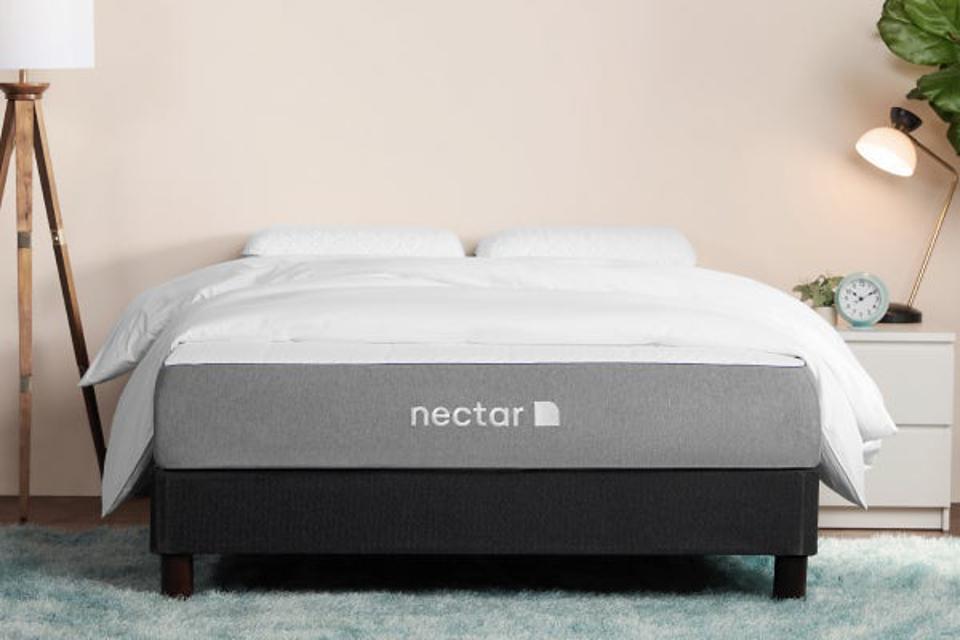 One of the strongest features of the Nectar is its 365-night trial period, which is joint-longest in the UK. This means you can take your time testing the mattress to see if it's right for you. And if you do decide to keep it, you're covered by a lifetime warranty that will replace or repair your mattress for free if there's a manufacturing flaw.
But what about the mattress itself? The Nectar Memory Foam is made up of four layers of different foams and materials that work together to keep you cool, comfortable, and supported all night long. The adaptive cooling cover draws heat away from your body and circulates fresh air, while the "smart sleep" layer is made from memory foam that's up to 30 times more breathable than rival materials. A pressure-relieving layer of memory foam helps keep you comfortable, and a seven-zone support layer offers a mix of comfort and firm support for your hips and shoulders.
While the Nectar is a great choice for anyone with back pain, it's honestly not quite as good for back sleepers as the Simba Hybrid Luxe. Why? Because some people will prefer a hybrid mattress for even better support, which the Luxe has. And while the Nectar's cover is detachable, it's spot-clean only and there are no handles to make it easier to move. But overall, the Nectar is an excellent choice for anyone who needs a comfortable and supportive memory foam mattress.
5. Ergoflex 5G Mattress – The Outlier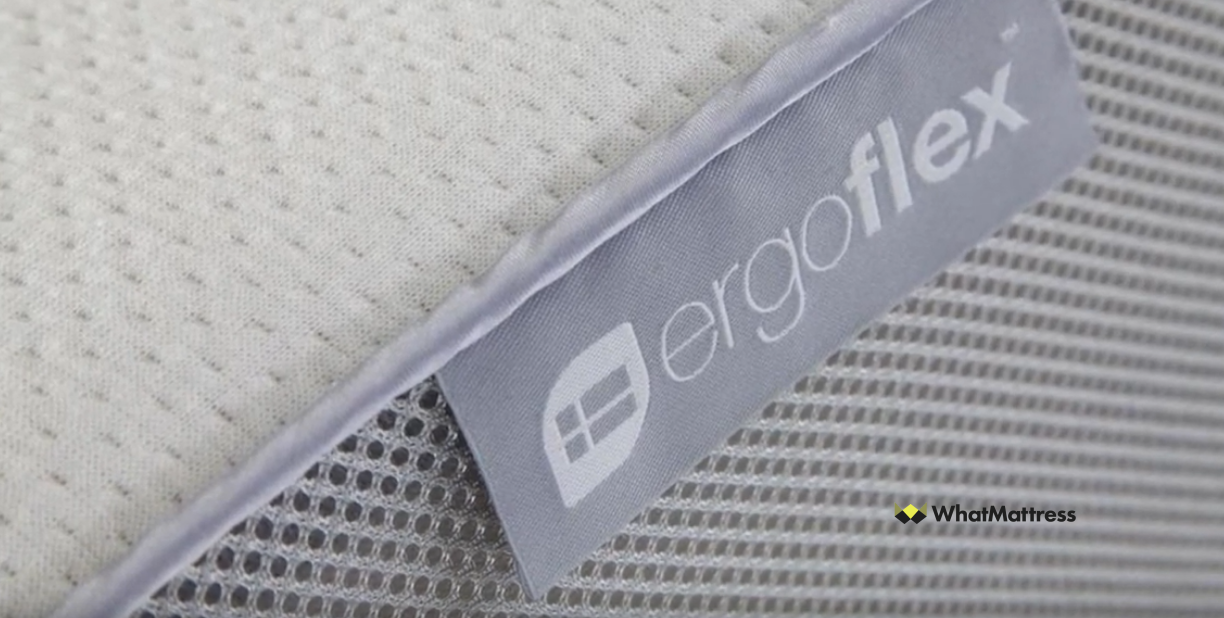 | | |
| --- | --- |
| Mattress type | Memory foam |
| Firmness | Medium/firm |
| Depth | 23cm |
| Price | £739 |
The Ergoflex 5G mattress is a great mattress for back sleepers due to the fact that it is slightly firmer than most medium-firm (so called) mattresses. Like the Emma Original, it's a memory foam mattress so it doesn't contain any springs. This is important to bear in mind if you like the sinking feeling of a memory foam mattress, or you tend to get hot when you sleep. What the Ergoflex lacks in springs, it most definitely makes up for in foam layers though – it's been packed with tech.
The Ergoflex 5G mattress comes with a 10-year guarantee but comes with quite a short 30-day trial period. That said, that's still plenty of time to figure out if it's the right mattress for you – and it certainly beats spending a couple of minutes lying on one in a showroom.
In terms of customer reviews, the Ergoflex 5G is probably one of the highest/best rated mattresses out there, and frankly one of the best mattresses around. It has an average review rating of 4.8 out of 5  on Trustpilot, which is very high for this price point, and significantly higher than both Emma Sleep and Nectar. Usually you would have to spend hundreds of pounds more on a mattress to get one that comes this highly rated.
Read the full Ergoflex 5G mattress review here.
6. John Lewis & Partners Natural Collection Fleece Wool 8400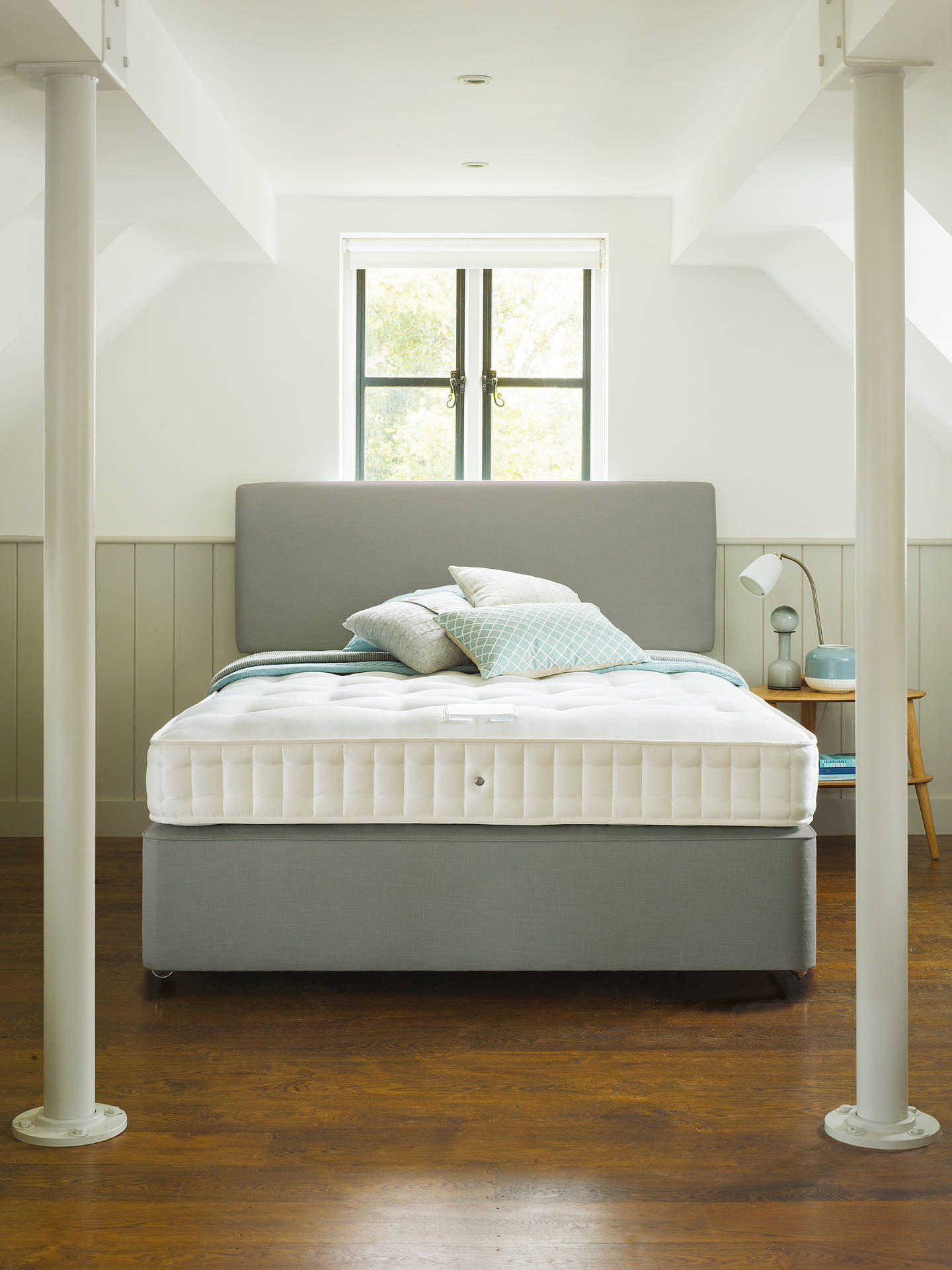 It's certainly a mouthful in terms of its name.
But if you have a larger budget for your next mattress, then the Natural Collections Fleece Wool 8400 by John Lewis and Partners is an excellent choice for back sleepers. The mattress is actually made by a company called Harrison Spinks. Harrison Spinks are known for their quality, and as a result have won various awards including 'Bed Manufacturer of the Year' at the National Bed Federation Awards. Harrison Spinks also have a Manufacturing Guild Mark, which is a recognised sign of quality.
The Natural Collections Fleece Wool 8400 is rated as firm, so if you're a heavier person (weighing 16 stone or more), and sleep on your back, then this mattress would be ideal for you. The mattress also has all of the high quality embellishments that you would expect, such as hand side stitching and a very generous spring count of 8,400.
It comes with a 7-year guarantee, which is a bit shorter than the standard 10, but the fact that it is sold by John Lewis and Partners should give you peace of mind on its own that you are buying a top-quality mattress.
Why You Can Trust WhatMattress
We're completely independent from any mattress company. We've spent countless hours curating and reviewing mattresses that anyone can buy in the UK, and have been doing so since 2018.
Mattresses tested:




82

Total hours testing:




602

Pillows tested:




24

Total hours testing:




183

Duvets tested:




35+

Funds spent on testing:




£7,500+
7. Brook and Wilde Lux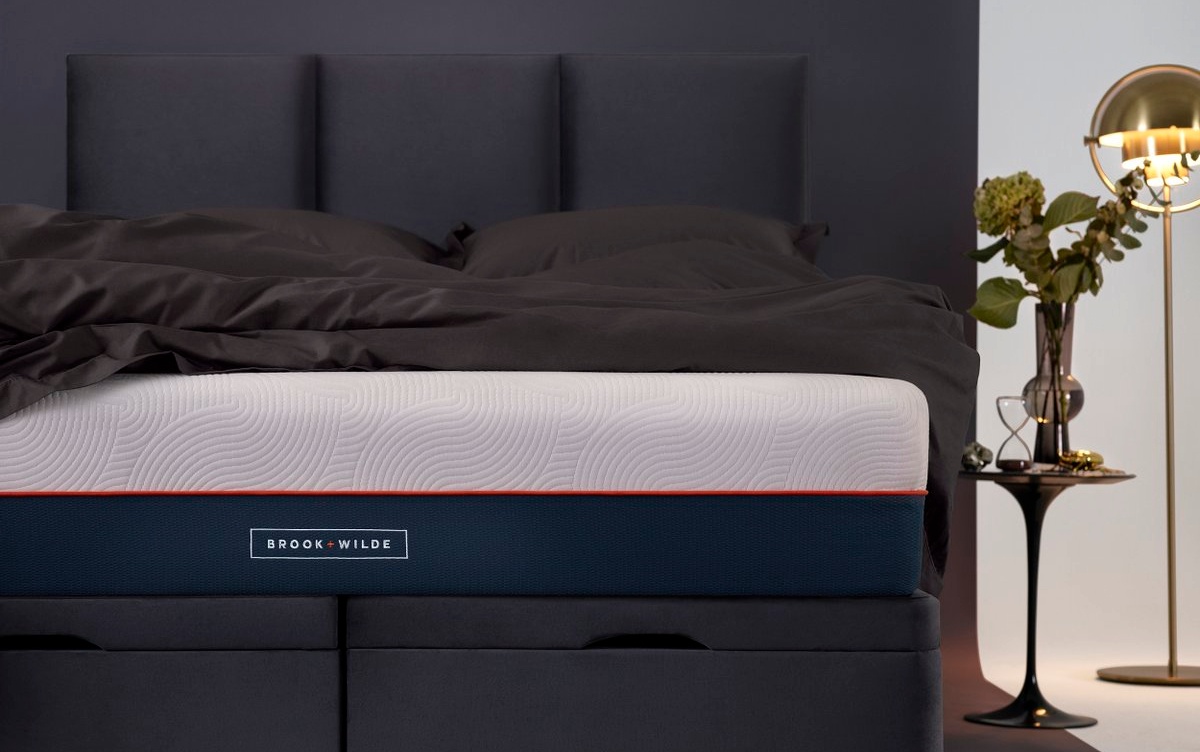 | | |
| --- | --- |
| Mattress type | Hybrid |
| Firmness | Soft, medium or firm |
| Depth | 28cm |
| Price | £749 |
Unlike the other mattresses that I recommend for back sleepers, the Brook and Wilde Lux is neither a memory foam nor a pocket sprung mattress. Instead it is known as a 'hybrid' mattress and is a combination for the two. The idea of a hybrid mattress is to provide all the benefits of a memory foam and a pocket sprung mattress, but without the drawbacks of either of them.
Typically, memory foam mattresses can cause people to feel hot during the night, because memory foam is not very breathable and therefore restricts airflow. This problem is eliminated with a hybrid mattress, as the layer of springs allows plenty of air to flow through and cool things down.
People often complain about the sinking feeling that memory foam mattresses provide. The springs in a hybrid mattress eliminate this feeing. However, the fact that the mattress contains memory foam means that you still get the all-over support from the mattress. This is vital if you're someone who likes to sleep on their back.
Here at WhatMattress we take mattress research seriously - all our product tests are done as fairly and honestly as possible.
That's quite a bold claim, but we're proud of the attention to detail that you're hopefully seeing within our reviews. Our methodology sets us apart from many other review websites. I like to think this is because WhatMattress is only run by two people - Carrie and Anthony. Over the years we've hand-tested multiple mattresses, pillow and other bedding products - so that you don't have to!
Every single mattress is put through its paces using the following tests:
We make sure to live with the mattress for at least a week.
We always sleep on the mattress we're testing - every single night.
We will always be 100% honest when we weigh up the pros and the cons of each mattress.
And in most cases, we've bought the mattress ourselves and haven't been given a free one.
Soft, Medium or Firm – Which is best?
The Brook and Wilde Lux mattress comes in three different firmness levels: soft, medium and firm. They offer a 100-night trial of the mattress, which is shorter than many sleep trials, but that doesn't matter to much when you can choose the mattress that you think is right for you and then swap it for one of a different firmness if it doesn't suit. It also comes with a 10-year guarantee to give you the peace of mind that you need when spending this much on a mattress that you cannot try out in the shops.
The Brook and Wilde Lux mattress is one of many 'Bed in a box' mattress providers out there. It literally arrives in a box so is easy to move upstairs and into position before unpacking.
One thing to note, the Brooke and Wilde Lux mattress is not best suited to heavier people. If you're of an average weight then the medium version of this mattress should be fine for you. However, as a back sleeper you will get a lot more support in the right places if you opt for the firm version.
Across the many thousands of reviews of the Brook and Wilde Lux mattress online, the average review rating is 4.1 out of 5, which is slightly lower than some of the cheaper options available to back sleepers.
Which type of mattress is best for back sleepers?
Inner-spring Mattresses: Innerspring mattresses have a support core made up of metal coils, and often have thin layers of foam or fiber on top. They provide good airflow and can be a good choice for those who prefer a firmer feel, but may not provide enough pressure relief for some back sleepers.
Memory Foam Mattresses: Memory foam mattresses are made up of layers of foam that contour to your body, providing good pressure relief and support. They can be a good choice for back sleepers who need extra cushioning around their pressure points, but may trap heat and be too soft for some.
Latex Mattresses: Latex mattresses are made from natural or synthetic latex, which provides a responsive and bouncy feel. They can be a good choice for back sleepers who need good support and pressure relief, but may be too firm for some.
Hybrid Mattresses: Hybrid mattresses are made up of a combination of foam and innerspring coils. They provide a good balance of support and pressure relief, making them a good choice for back sleepers who need both, but may be more expensive than other options.
More from WhatMattress...
What should I look for in a mattress?
So we've established you're most definitely a back sleeper!
Now, speaking from experience and feedback I've received from others, the appropriate mattress really will make a world of difference for someone suffering from back issues.
Frankly, the contouring, materials, and firmness of a mattress are the big three when it comes to shopping for one. And this si what you should be looking at first and foremost.
The term "contouring" describes how nicely the mattress hugs your body or your curves. A mattress with proper contouring will conform to your body's 'unique' shape and give you support precisely where you need it. If you suffer from back pain, this may help by relieving pressure and encouraging proper spinal alignment. Both memory foam and latex are excellent at taking the shape of the body. Latex is typically more buoyant and gives you more of a weightless sensation than memory foam, although memory foam is excellent at contouring to the curve of your body.
Materials are also an important factor to think about. The difference in ease of use and durability can be dramatic with the use of better materials. Low-quality foam used in the construction of some mattresses, for instance, can deform and become uneven over time, causing or exacerbating issues with back pain. Mattresses made from high-density foam or similarly long-lasting materials should be your top priority. Think about the mattress's breathability, as well, since sleeping on a hot mattress can be uncomfortable.
Firmenss is also crucial, but it requires more finesse to achieve. A soft bed may seem nice at first, but it may not provide the support your back needs. On the other side, if your mattress is overly firm, you may feel pain in your hips and shoulders when you sleep.. it's really hard to get right, as you've probably foudn to your peril. The level of comfort and support you require will vary depending on your personal preferences and the extent of your back discomfort. If you want to choose the most comfortable mattress, it's wise to try out a few different models in person.
The other points to mention are:
Temperature Regulation: Back sleepers may benefit from mattresses that regulate temperature well, as they are more prone to waking up feeling hot or sweaty. Mattresses with breathable materials, cooling technologies, or moisture-wicking fabrics can help keep back sleepers comfortable throughout the night.
Edge Support: Back sleepers who frequently sit or sleep near the edge of the bed may appreciate mattresses with strong edge support. This feature can help prevent the feeling of rolling off the bed or sinking in too deeply when sitting on the edge.
Motion Isolation: Back sleepers who share a bed with a partner may benefit from mattresses with good motion isolation. This feature can prevent disturbances from partner movement throughout the night, allowing for a more restful sleep.
Trial Period and Warranty: Many mattress companies offer trial periods and warranties that can provide peace of mind when making a significant investment in a new mattress. Back sleepers may want to look for mattresses with longer trial periods and warranties to ensure they have ample time to determine if the mattress is the right fit for their needs.
What about lower back pain?
Yes, there are a few other things to consider also if your back pain is in the lower quadrant, also called the lumbar region.
First, when your hips sink too far into a soft or unsupportive mattress, it can lead your spine to curve in an unhealthy way, which can aggravate existing lower back discomfort. A firmer mattress will avoid this by providing extra support for your hips and maintaining a neutral position for your spine while you sleep.
This means without allowing your spien to sag or bow. Mattresses with a firm or medium-firm feel may be best for this purpose, as they provide more support and prevent excessive sinking.
Second, think about how well the mattress conforms to your body. Back sleepers may not need as much contouring as side sleepers because their hips and shoulders don't bear as much weight, but it can be helpful for people who suffer from lower back pain. A more comfortable night's sleep can be had by those who suffer from lower back pain by switching to a mattress that better conforms to their bodies.
When shopping for a mattress to alleviate lower back pain, it's crucial to look for one with adequate support in that region. The low back, or lumbar region, is often the area of the back most affected by pain and it isn't always caused by your mattress – just that it can exacerbate it.
Symptoms of lower back pain can range from a dull ache to a stabbing or shooting sensation, and pain that lasts more than 3 months is considered chronic. If you have back pain and are also experiencing issues with bowel or bladder control, leg weakness, a fever, or pain when coughing or urinating, you should see a doctor or phone NHS 111 immediately.
How important is all this?
You might be cynical and think I'm making this all up just to sell you a mattress.
But when it comes to reducing back pain, Harvard Health Publishing, a department of Harvard Medical School, recommends resting on a firm, supporting mattress too. Harvard Health Publishing claims that a well chosen mattress can help maintain spinal alignment and reduce back strain. Too much sinkage in a soft mattress can put strain on the spine, while too much firmness might cause pain at the joints. Instead, a medium-firm mattress can provide the necessary support while yet allowing the body's natural curves to the spine.
People have varied preferences and needs, hence there is no one "best" mattress, as echoed out by Harvard Health Publishing. However, it'si nteresting that they suggest sleeping on a few different mattresses and paying attention to how each one feels to choose the one that best suits your needs for comfort and support. Those suffering from back discomfort may find relief from sleeping on a mattress that offers enough support, moulds to the shape of the body, and promotes healthy spinal alignment.
Should I try a Sleep Trial?
In the UK it's harder to go to a store than it is in the USA, as we don't have as many mattress shops. So if you're looking to buy a mattress and can't try it out beforehand, taking advantage of a free trial period is crucial. All of my recommended mattresses for back sleepers are available with no-risk sleep tests.
The Simba Hybrid Luxe features a sleep trial that lasts for almost six months, 200 nights. You can get a complete refund if you decide the mattress isn't for you.
There is also a 200-night trial period available on the Emma Premium mattress. Customers have at six months almost to try out the mattress before requesting a return from Emma, though don't leave it too late in the day. After that, Emma's couriers will come pick up the mattress for free and issue a refund.
There is also a 200-night test period with the purchase of an Emma Original mattress. Just like with the Premium model, the Original model also comes with a 200 night trial period during which buyers can check it out risk-free. Emma will arrange for free pickup of the mattress and provide a full refund if you do decide to return it. 🙂
Over all, sleep trials allow you to test out a mattress in the comfort of your own home, in your own time. You can give the new mattress a chance of helping with your back discomfort and so there's no danger in giving it a try.
Verdict
So there we have it. I have researched the best mattresses for people with back pain and narrowed the list down to the top 6, after taking into account criteria including mattress type, contouring, quality materials, hardness, and pressure alleviation.
️‍🏆 Best Mattresses for Back-Sleepers
Medium-firm support is available from the Simba Hybrid Luxe, Emma Premium Hybrid, and Emma Original, – which round out the top 3. All of which can help back sleepers maintain healthy spinal alignment while still offering adequate pressure relief.
The Simba Hybrid Luxe has cooling properties and a supporting, contoured sensation thanks to its individually wrapped coils and foam and microcoil layers. The pocket springs, memory foam, and foam layers in the Emma Premium Hybrid provide support, pressure relief, and airflow for a comfortable sleep. Comfortable and contoured, the Emma Original's foam layers (including the one-of-a-kind Airgocell foam layer) can help relieve back pain. The greatest mattress for back sleepers will vary from person to person, but these three are excellent choices.
Keep in mind that what works for one person may not work for another, and it's important to consult with a medical professional if you have chronic or severe back pain. Additionally, the information provided in this article is for informational purposes only and should not be taken as medical advice.
Read this next...
Was this article helpful?
What if I buy a mattress and it's not comfortable?
The majority of online mattress retailers offer a free home trial period. This means that you can swap your mattress or get a full refund (depending on the retailer) if you buy one that's not quite right for you.
Do I need a firm mattress if I sleep on my back?
Back sleepers require a little more support from their mattress due to the fact that more of their body is in contact with it. It is for this reason that firmer mattresses are recommended for people who like to sleep on their backs.
What mattress does a larger person need?
Generally speaking, the more a person weighs, the firmer they will need their mattress to be in order to get the proper support from it.
How we reviewed this article:
Edit History:
Our experts continually monitor the mattress & sleep tech space, and we update our reviews & articles when new information becomes available.
25th April 2023


Current Article - By Carrie Taylor

10th May 2023


Checked & Reviewed - By Jean Marshall

27th February 2023


Copy Edited - By Carrie Taylor

25th August 2023


Reviewed - By Anthony Maxwell
WhatMattress has strict sourcing guidelines and we try to rely on peer-reviewed studies, academic research institutions, and medical associations where possible.