It's possible that you might not have heard of Ergoflex until recently; that is despite them being the original purveyor of the mattress-in-a-box format. Way before Simba, Emma and the rest, there was Ergoflex, who are actually an Australian company but have been selling their mattresses in the UK and elsewhere for over 10 years now. In fact, they started all the way back in 2006!
They're not quite as well known as the older mattress brand Tempur, but they're definitely worthy of your consideration. Unlike with Tempur, perhaps, their prices are affordable to most people too. But that doesn't automatically mean you should buy one – here's my 2021 Ergoflex UK review:
Pros and Cons of the Ergoflex
Sick of reading mattress review sites that don't provide you with the negatives – only the positives? Me too! I created WhatMattress to be honest and give you the full, unbiased picture – all warts and all, if you like 🙂
Pros
Fairly affordable (see pricing)
Long-established company
Good/great reviews
Available in EU sizing too
Which? recommended (link)
Cons
30 night trial isn't much; 100-200 nights would be preferable
Memory foam may not be best for everyone – consider a hybrid?
If you're a hot sleeper, consider another mattress
The Ergoflex 5G: What is it?
5G actually has nothing to do with 5G technology that we keep hearing about in the news. In this case, it actually means 5th Generation — because that's the current 'generation' or 'series' that Ergoflex are on now. They've basically had 4 previous designs, and now we're on the 5th.
Ergoflex mattresses are Certi-PUR certified, meaning they have been manufactured to higher standards of hygiene and cleanliness than you may expect. It's also sustainably made and is OEKO-TEX certified too – details here.
As for the mattress composition, it's a memory foam mattress but with a twist here and there. It has three layers, whereas most other brands have four, but this may not be a bad thing. What's more, all Ergoflex mattresses are said to be preferred by those prone to allergies: it is asthma and allergy-friendly, as well as anti-microbial (inhibiting the growth of microorganisms and especially pathogenic microorganisms).
About the Ergoflex Trial:
So 30 nights might not be as long as other companies such as Simba who offer a 200-night trial. Should you be worried?
Yes and no.
Firstly, 30 nights should be sufficient for you to get to know the mattress, and decide if it's for you and your partner, or not. The Sleep Council recommends slightly longer mattress trials if possible, such as up to 100 days, to get the fuller picture. So if you are concerned about that then I suggest perhaps another brand. But quite honestly for most people, it won't matter.
One positive of this shorter trial period though: the reviews are likely to be more accurate, when compared to other brands with longer periods. Why? Because generally speaking, the longer the trial goes on, the less likely people are to review the product they've bought. It makes sense to say that for most people, they will be reviewing the product early on, often only 1-2 days after the product arrives. These reviews will be more accurate – good or bad.
And looking further at the reviews of Ergoflex on places like Trustpilot we can see that they are pretty well-received by most – on Trustpilot they are rated 4.7 / 5.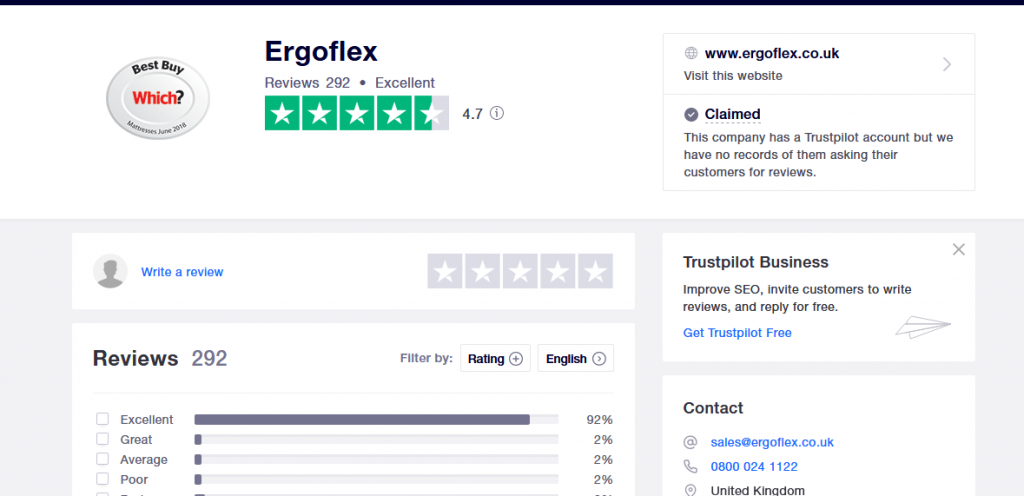 What about the layers and firmness?
There are only three layers here, but this may not be all bad news. For one, it's nice and simple to understand — in my personal opinion, a lot of mattress companies are over-complicating their product by adding various layer in that serve little to no purpose. Not so with the Ergoflex, who like OTTY mattresses, are fairly straight-forward.
Fabric cover: Machine washable, the outer cover is made from TENCEL®. TENCEL® is sustainable and made from cellulose found in wood pulp. Cellulose is the natural polymer that makes up the living cells of all vegetation., with moisture-wicking and breathability that (according to Ergoflex) outperforms traditional cotton. I haven't seen much evidence of this "outperforming"; indeed there is precious little in the way of further information on this.
One thing's for sure though, it's exceptionally strong and durable, yet soft to the touch. When I hand-tested this product I was amazed at the smoothness, almost like faux silk. A great feature about the Ergoflex cover is that on each end they included 3D mesh panels to allow for better airflow.
TENCEL is also meant to be anti-bacterial, a bit like charcoal mattresses such as the OTTY Pure, which is great for those with allergies. There is also actually a "Layer within a layer" here, because Ergoflex have added a protective layer to the fabric cover to prevent spoilage.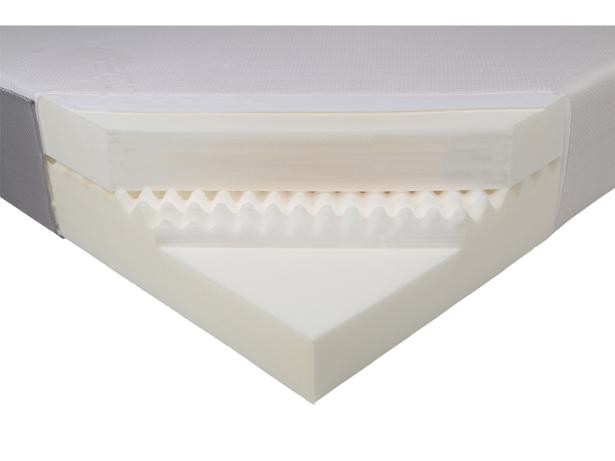 Layer 1 – Memory foam  (9cm)
This is made from Visco-elastic foam or  what is known as simply "memory foam". A lot of brands nowadays will invent weird and wonderful names for what is essentially mattress-type memory foam. It's nice to see Ergoflex not going too far down this route and keeping things simple. As for what their so-called ACPT foam is, this memory foam is designed with billions of spherical shaped open cells with orthopaedic pressure-reducing properties.
Interestingly, Ergoflex pitch their mattresses against the pricey Tempur brand, and yet they are a third of the price of Tempur mattresses.

As you can see, Tempur mattresses are around 2cm less deep than the equivalent Ergoflex brand, and yet they are three times the price of Ergoflex.
Layer 2 – Cool-Sleep™ Airflow Layer (5cm)
This is the jagged edge layer in the middle. It's the thinnest layer but perhaps the most important in terms of cooling if you're a hot sleeper. The spikey shape of the foam is meant to allow cooler air to diffuse between them, and to pass out. While it may work in theory, I am not sure that the gaps are wide enough, unlike say a pocket spring mattress which has much larger air gaps.
Layer 3 – Supportive high-density form (9cm)
This layer is often overlooked, as it's the final base layer at the very bottom that sits on your mattress slats. But it's often quite important because it's holding up the mattress itself, and the sleeper's body. If there's too much compression here you'll sink very far down, so the high-density base has to be quite firm. And the flip-side (no pun intended) of that, is you probably can't flip the mattress over and sleep on the inverse side … it'd just be too firm. This is another drawback of some memory foams, not just Ergoflex mattresses but nearly all of them.
Add these up and they come to 23cm.
Additional options for Ergoflex
Planned Delivery – When placing your order via the Ergoglex website you can select a convenient delivery date of your choice. This way you know you will receive the mattress when you are home.
Saturday Delivery – Ergoflex also offer Saturday deliveries, this is available to customers in most areas for £35.
White Glove service – optional extra, this includes delivery to your room of choice. Only on some models.
Payment Options
Debit/Credit Cards
PayPal
Klarna (0% installments)
How much does an Ergoflex mattress cost?
You will notice that Ergoflex do a wide range of sizes, including EU / European sizes to fit IKEA beds. This is great and a big plus when you consider that a lot of mattress brands only do 2-3 sizes.
| | | |
| --- | --- | --- |
| SIZE | DIMENSIONS | PRICE (excl. any Ergoflex voucher codes) |
| Ergoflex Single size mattress | 90 x 190 x 23 cm | £479 |
| Ergoflex Double size mattress | 135 x 190 x 23 cm | £719 |
| Ergoflex EU double size mattress | 140 x 200 x 23 cm | £729 |
| Ergoflex King size mattress | 150 x 200 x 23 cm | £779 |
| Ergoflex EU King size mattress | 160 x 200 x 23 cm | £829 |
| Ergoflex Super king size mattress | 180 x 200 x 23 cm | £899 |
*prices and availability may be subject to change  
Do Ergoflex do voucher codes?
Absolutely!
You can currently get a huge -40% off your purchase, assuming the mattress isn't already reduced (i.e. full priced items only). Use the code below to get the discount:
Where are Ergoflex mattresses made?
If you're worried about buying Chinese goods at the moment, then don't worry – Ergoflex mattresses are "made in the EU". To be honest, I am not sure where exactly and am waiting on Ergoflex to clarify – some people have suggested Romania, but this could be here in the UK. Some mattresses are made in the UK, normally in the same factory. If anyone has any information on where Ergoflex are made please leave a comment!
What are the negatives of the ERGOFLEX™?
The main negatives come from the mattress type itself and not the ERGOFLEX™ brand: i.e. from the memory foam.
If you're not familiar with the drawbacks of memory foam, then let me clarify: the main issue is from those who are hot sleepers, i.e. who "get hot" easily in the night. As the human body sinks into the mattress foam, it will gather heat.
Of course, many manufacturers claim that they have various "cooling" mechanisms within the foam/material/fabric cover… but it is rare for these to ever be submitted for scientific testing.
I would exercise caution here; what IS well-known is hot sleepers generally benefit from latex or other 'natural' fibres rather than man-made ones. The sad news is these types of mattresses tend to cost a lot more. If your budget allows, you may want to investigate John Ryan By Design who have some advice here.  The other alternative is to try a pocket spring mattress, which tend to be more naturally cooling.
The other negative is the 30 night trial, it'd be better for Ergoflex to increase this I feel. The trial period covers you in the short run but are you insured in the long run? Kind of. Every Ergoflex Memory Foam Mattress comes with a 10-year manufacturers warranty. This covers material or workmanship defects arising in that period, but be aware of the usual drawbacks to warranties before basing your purchasing decision on this alone.
Verdict:
If you, or your partner and your combined weight, is over 21 stone, then you may want to look at pocket springs or hybrids instead. They tend to hold a bit more weight for larger framed people. The average UK couple now weigh about 20 stone, so this is a bit under, but worth taking into account.
The Ergoflex mattress is also slightly thinner than other mattress brands. Okay, so it's only 23cm versus 25cm (eg: Emma mattress), but that tiny 2cm difference may be worth noting closely because your fitted sheets may not fit perfectly. The 'standard' UK mattress thickness is 25cm for comparison.
But neither of these points matter particularly if you're happy with the price and the firmness. Luckily, Ergoflex do sometimes do a discount code – this makes them comparable on price with leading "premium" brands like Brook and Wilde.
It's just a shame they don't do longer than a 30 day trial. If you can live with that, then give them a try. After all, a month is probably long enough to decide if the mattress is right for you or not.