When it comes to mattresses, there are three main types that are widely seen in homes across the UK. These are:
Coil sprung mattresses were at one point the most popular choice of mattress, mainly because there was no real alternative. However, coil sprung technology is very outdated now. You will only see coil sprung products at the very cheapest end of the scale.
Pocket sprung mattresses are a massive improvement over coil sprung ones. They contain considerably more springs which makes them a lot more comfortable.
How Memory Foam Mattresses are Different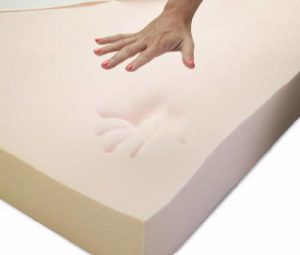 Memory foam mattresses are an alternative to pocket sprung mattresses, and contain no springs at all. Instead they rely on layers of foam to distribute your weight evenly and support your weight while you sleep.
Hybrid mattresses are a cross between pocket sprung mattresses and memory foam mattresses. Typically, they will only contain one or two layers of foam, with one being a layer of memory foam. They will also contain pocket springs. This offers you the advantages of both a memory foam mattress and a pocket sprung mattress.
Buying a mattress is not an easy decision because there are so many different products out there. So we've put together some tips to help you make a decision. If you are looking to buy a memory foam mattress, then read on as there are some things that are a good idea to consider.
The Best Memory Foam Mattresses are Highly rated
If you're looking to buy a memory foam mattress, then you can't go far wrong if you buy one that has thousands of excellent reviews or has received awards from the industry.
Here are some highly rated memory foam mattresses available to buy today:
The Best Memory Foam Mattresses are Thick
One of the biggest indicators of a quality memory foam mattress is the thickness. If you're looking on the budget end of the scale, then you will find memory foam mattresses that are around 150mm deep. The top-end mattresses are nearer 300mm deep. Generally speaking, you will pay more for a thicker mattress. For example:
Silentnight 3-Zone Memory Foam mattress is highly rated, but is only 180mm deep. It costs £190
Silentnight 7-Zone Memory Foam mattress is 200mm thick and costs £50 more than the 3-zone memory foam mattress.
The Silentnight Studio mattress is 260mm deep and costs £599
When it comes to memory foam mattresses, the thicker they are the heavier they are. Some mattresses in the largest size (super king size) weigh up to 11 stone (50kg), which is as much as some adults. Remember to consider this when purchasing, especially if it's a mattress that requires flipping every once in a while.
https://www.youtube.com/watch?v=AbuCZOmoen4&feature=youtu.be
The Thickness of the Memory Foam Layer is Vital
In terms of memory foam mattress composition, the best-quality and most expensive materials tend to be layered towards the top of the mattress. Cheaper materials are then used underneath in order to pad it out.
On most memory foam mattresses, the layer of actual memory foam is at the very top. Underneath you will find different types of cheaper foam which support the memory foam layer. It's always a good idea before buying a memory foam mattress to see how thick the layer of actual memory foam is. On a cheaper memory foam mattress you may see that the memory foam layer is only actually 15mm deep. This is only 10% of the thickness of even the cheapest memory foam mattress so you have to bear in mind that some memory foam mattresses don't really contain very much memory foam.
The better-quality memory foam mattresses will boast as much as 150mm of memory foam. Although this might be overkill, it's important to remember that if you're paying a lot for a mattress that only has a very thin layer of memory foam then you can probably get a better deal elsewhere.
Good Quality Memory Foam Mattresses have a Breathable Cover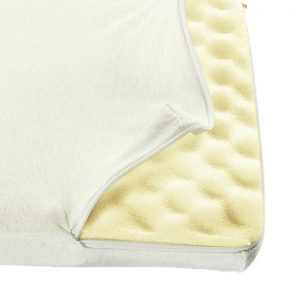 If you purchase a good-quality memory foam mattress then it will have a decent cover to protect all of the layers of foam inside. Cotton is the best material used for covering mattresses because it's breathable and will allow air and moisture to escape from the mattress. Some lesser-quality memory foam mattresses have a polyester cover which isn't as good quality. Polyester isn't very breathable so it's likely that you will get hot lying on a memory foam mattress with a polyester cover.
You will also see that some mattresses boast an organic or hypoallergenic cover. While there is no proof whether or not these are any better than cotton, it's worth just remembering that it's better if the outer layer is made from a breathable material.
The Best Memory Foam Mattresses are Dense
When it comes to choosing a good memory foam mattress, the key to getting quality is to look at the density rating. Mattress density is measured in kilograms per metre cubed (kg/m3), and it's a generally accepted view that the higher the density rating the better the mattress. This is the case to some extent, but then comes a point when a mattress is probably as dense as it needs to be so the numbers don't matter too much. Most people find that a mattress with a density of 50 to 60kg/m3 is fine. Anything lower signals cheap, inferior quality.
Don't forget that the majority of 'Bed in a Box' mattress providers don't showcase their products in stores. This means that you cannot try before you buy. Because of this, they all offer a trial period whereby you can return or swap the mattress if it's not the right one for you. The above guide is mainly to help you to identify the items that indicate a memory foam mattress is good quality, so you can narrow your choices down to the brands that you want to try.
Was this article helpful?
How we reviewed this article:
Edit History:
Our experts continually monitor the mattress & sleep tech space, and we update our reviews & articles when new information becomes available.
6th March 2023


Current Article - By Carrie Taylor

19th June 2023


Checked & Reviewed - By Morag Park, Ph.D.

6th March 2023


Copy Edited - By Carrie Taylor

21st June 2023


Reviewed - By Anthony Maxwell