One popular type of mattress in the UK is the pocket sprung mattress, which gives the sleeper an extra level support through hundreds or even thousands of small springs. But with so many brands and models to choose from, how do you know which one to pick?
I've done the research for you and rounded up five of the best pocket sprung mattresses on the market in 2023. From high-end luxury to budget-friendly options, there's something for everyone on this list. So, let's dive in and find the perfect pocket sprung mattress for you!
️‍Best Pocket Sprung mattresses
So what *is* a pocket spring exactly?
A pocket sprung or 'enclosed spring' mattress is similar to the traditional inner spring mattress that most of us would have slept on, before many of us started opting for memory foam instead.
The main differnce is that each spring is individually enclosed in a "pocket" of fabric, hence the name.
Are pocket sprung mattresses any good?
The good news is, it's entirely possible to buy a decent pocket sprung mattress in the UK without spending lots of money. But it might be better to pay a bit more for quality that lasts – because not every pocket spring mattress is being built to last, sadly.
Mattress trends change often.
Once upon a time, the innerspring dominated. Then along came memory foam. These ate up the sales of traditional spring mattress companies, many have had to either cut costs or increase prices in order to survive. Then along came the hybrid mattress, which is a combination of pocket spring and memory foam. Phew!
But all the while that was happening, pocket spring mattresses continued to be popular with a certain type of customer.
The good news is that buying a pocket spring mattress is probably easier, on balance, than buying a memory foam one. Why? Because there's less choice, but that isn't a bad thing –  you won't get bamboozled by 50 different mattress companies trying to sell you their product…!
Should I consider a hybrid mattress instead?
I've noticed that most people who are looking for a pocket sprung mattress really don't like memory foam and want to avoid it. And that's fine. But don't overlook a cross between the two – called a hybrid mattress.
Nowadays most of the big mattress companies are selling hybrids, and rarely sell 'full fat' pocket sprung, but I've reviewed both types below, depending on your preference.
How do I choose the best one for me?
Pocket spring, pocket sprung – these are both the same thing. I'll just call them 'pocket sprung' to avoid confusion, from here on.
When it comes to choosing the best mattress overall, pocket sprung mattresses are still a fairly popular choice in the UK.
These mattresses are made up of individual springs that are contained in individual fabric pockets. This means that each spring can move independently from the others, providing more support and reducing the chance of motion transfer.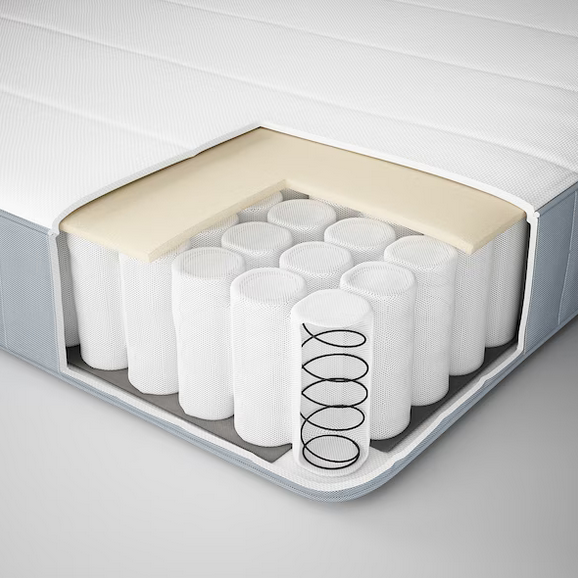 One of the most important things to consider is the level of support that the mattress provides. This largely depends on the number of springs and the gauge (type) of wire used in the springs. So, it's crucial to choose a mattress with enough springs to provide the right level of support for your body weight and sleeping position.
Comfort is another key consideration that's quite subjective and varies from person to person and as a result it's important to choose a mattress that feels comfortable to you. Look for a mattress with a suitable firmness level and a comfortable top layer, such as a pillow top or memory foam layer, that caters to your sleeping preferences.
Durability is an essential factor that cannot be overlooked when choosing a pocket sprung mattress. You want to be sure you invest in a mattress made of high-quality materials that will last for years, and give you the best value for your money.
The size of the mattress is also a key consideration. You should choose a mattress that fits your bed frame and provides enough space for you to sleep comfortably. A mattress that's too small can lead to discomfort and poor sleep quality.
Lastly, don't forget to consider the brand reputation either. My top tip is to look for a reputable brand with positive customer reviews and a good track record of producing high-quality mattresses, even if it will cost a bit more. Overall, you'll need to take into account the price, trial period, and warranty offered by the manufacturer, as these factors can also influence your decision. It's a lot of learning, but I'm hoping my guide will maek it easier.
At a glance: The facts about pocket sprung mattresses
Here's my summary of the good and some of the bad points regarding buying a pocket sprung:
Will generally last longer than a memory foam mattress
Slightly more eco-friendly than a memory foam
However, they are quite expensive
But there's no "off-gassing" or horrid smell
Difficult to move upstairs
Requires flipping over every so often (some, not all)
The BEST Pocket Sprung Mattresses in the UK
In this article, without further ado, I'm going to review some of the best pocket sprung mattresses available in the UK to buy right now. Some of these are hybrid and some are full pocket sprung, but all can be purchases online.
1. Emma Premium Mattress – Best Overall
The Emma Hybrid Mattress – now called the Emma Premium Mattress – is a great choice for people who want the benefits of a bouncy pocket sprung mattress, but with added memory foam comfort.