When it comes to buying the right mattress, if you're on the heavier side then there are a few additional things you need to consider. Generally speaking, larger people will need a mattress that:
Has suitable depth
Is either firm, or at least medium-firm
Has a high spring count (hybrid/pocket)
When considering the depth, it is better to opt for a mattress that is at least 250mm thick. Anything thinner than that and you are unlikely to get the necessary support from it.
What type of mattress is best for heavier people?
People who weigh more will need more support from their mattress, quite simply. For this reason a pocket sprung or hybrid mattress will probably be the most suitable type.
Soft mattresses tend to offer less support, so are only really suitable for the lightest of people. If you weigh a lot, then you will want something that is at least medium firmness. You may find that a firm mattress will suit you best.
Although there are exceptions, memory foam mattresses are usually a no-no for heavier people, as they give a sinking feeling when you lie on them. You can compare the advantages and disadvantages of pocket sprung and memory foam mattresses here. A pocket sprung mattress or hybrid mattress is probably more right for you. In that case, look for a higher spring count, as this means that it will offer more support. Be warned though that anything above 1,400 spring is probably a gimmick, as it means they will be arranged over more than one row, which is not optimal for support.
Are pocket sprung mattresses good for heavier people?
In a word, yes! Some people get pocket sprung mattresses confused with coil sprung mattresses. Coil spring technology is very old-fashioned now and is only really used in the very cheapest mattresses available.
So without further ado, here are our top mattress picks for the heavier person:
1. Nectar Sleep memory foam mattress
When it comes to memory foam mattresses, Nectar Sleep have been taking the mattress world by storm. Not only do their mattresses rate highly, but the also offer one of the longest trial periods and guarantees available.
Being one of the 'bed in a box' companies, Nectar Sleep mattresses aren't available to try in any shops. Instead you will have the mattress conveniently delivered to your home, where you will be able to enjoy a 365-night trial period to make sure it's the right mattress for you. Not only that, but the lifetime guarantee means that if something does go wrong with it then they will provide you with a replacement.
The great thing about the Nectar Sleep offering is the fact that it is comprised of 5 layers, which is supposed to offer consistent support. While some people consider memory foam mattresses a bit too hot to sleep on, Nectar Sleep get around that by adding an adaptive cooling cover, as well as cooling layers. According to the sales information, the mattress has a weight limit of 46 stone with no loss to comfort or support, so if you are a heavier person then it's definitely a mattress to consider. At £549 you'd do well to get something better for the money as well.
2. Casper memory foam mattress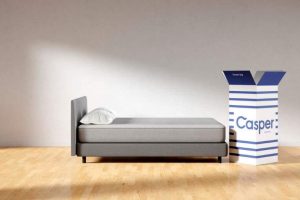 The Casper mattress has been extensively designed in order to support people of all shapes and sizes. As a result it doesn't have a weight limit. The only caveat is the fact that the mattress may feel softer or firmer depending on how much weight it is supporting. Therefore one can only assume that if you're on the heavy side you may find this mattress a little bit soft.
Casper make their mattresses from 100% foam so they don't contain any springs. It's a popular mattress, as it has won many awards and has plenty of raving reviews across the internet.
The thing that makes the Casper mattress different to other ones on the market, is that fact that the memory foam layer doesn't sit on the top of the mattress. Instead it is sandwiched in the middle of the mattress. This is so that the top layer is made from a more 'breathable' material, which reduces the sensation of feeling hot, which is quite common with memory foam. Another bonus is the fact that you can flip the Casper mattress every once in a while. This will help to improve it's longevity.
The Casper mattress comes with a 60-day trial period, but unlike other mattresses you can't get a refund. Instead you can swap it for a mattress that offers a different level of firmness.
3. Simba Hybrid mattress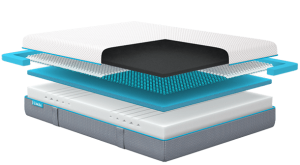 The Simba Hybrid mattress can cope with an upper weight limit of 36 stone. However it's worth noting at this point that the 10 year warranty will only be valid if you weigh under 18 stone.
As well as being made from foam, the Simba Hybrid mattress also has a layer of small (known by Simba as 'miQro') springs to provide that extra bit of comfort as well as support. This is where the 'hydrid' comes from in the name, as it's effectively a cross between a memory foam mattress and a pocket sprung one.
Another 'bed in a box' offering, the Simba Hybrid mattress offers a 200-night trial which means that you have over 6 months to decide whether it's the right mattress for you.
4. OTTY Hyrbid mattress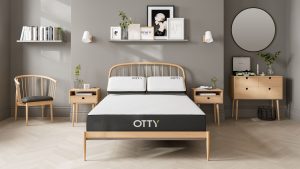 Like the Simba Hybrid mattress, the Otty Hybid mattress also comes as a 'bed in a box'. It's also a hybrid mattress. Meaning that it combines the benefits of both a pocket sprung and a memory foam mattress.
It has a very good spring count of 2,000. This is probably about as many springs as you can get in a mattress before having to separate the rows. This means that it should offer a good level of support for those who weigh a bit more. Otty themselves say it will happily support 22 stone with no issues at all. As it's a 'bed in a box' there's no way to try before you buy. This is why the Otti hybrid mattress comes with a 100 night trial. This is just over 3 months. So it should give you plenty of time to decide whether it is the mattress for you.
Again, the Otti Hybrid mattress has had countless good reviews online. It has also won plenty of awards from reputable bodies such as Good Housekeeping.
5. Inofia Hybrid mattress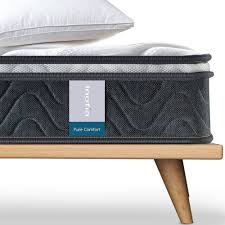 If you're on a budget, then the Inofia hybrid mattress could well be the mattress for you. Priced at just £179, Inofia products are not quite so well-known as other mattress brands. However, this doesn't mean that you shouldn't consider them.
It's around 30mm thinner than the usual recommendation of at least 250mm for heavier people. However given the price it's probably worth trying. To give you peace of mind, the Inofia Hybrid mattress comes with a 100-night trial. This is as well as a 10-year guarantee. So if you decide that 220mm is not thick enough, you can return the mattress for a full refund.
Being another hybrid mattress, the Inofia hybrid mattress contains both memory foam as well as pocket springs.
Can I get a memory foam mattress if I weigh 18+ stone?
While memory foam mattresses offer more adaptive support, they tend to sink.
So if you weigh 18 stone then you might be better off considering a hybrid mattress which offers the same level of comfort as a memory foam one, but with the added benefit of support from pocket springs.