In my review of the popular Emma pillow, I decided to do things a little differently to other review websites. Firstly, I actually bought one and tested it. I also bought a Simba Hybrid pillow at the same time.
I prefer to sleep with two pillows, side by side. But quite like to alternate them. To find out the best pillow here, I conducted a not-too-scientific experiment: my body will naturally find the best pillow, while I slept. So some nights I started off by laying my head on the Emma Pillow, a few nights I slept with my head on the Simba pillow. Whichever pillow was more comfortable, my head would locate it subliminally and that is how I would wake up.
So which one is best? Neither. Yes, neither.
I found the Emma Pillow to be pretty comfy to start with, but longer term it started to lose its squishiness. It actually got quite uncomfortable as the foam wasn't as bouncy as it was when new. I found myself waking up sometimes with a crook neck.
That isn't to say it's a bad pillow, but there are some drawbacks to be aware of.
I've written a Pros and Cons section here for those who like to glance at things:
Pros & Cons of the Emma Pillow
Pros
Fairly cheap to buy, with a discount code
Made in the UK
Fully washable
Cons
Not that comfortable longer-term
Only one size/thickness
Fairly average reviews overall
A quick introduction to Emma
If you've not read my article reviewing the Emma mattress, then I'd advise you to read it now. I won't re-cap it all here, But very briefly, memory foam pillows have been around for a long time now. They are fairly cheap to make – it is after all just foam and cotton. Some companies like Simba have taken to cutting up the foam into blue squares, but Emma keep it simple with their pillow. It is just essentially different layers of memory foam, stacked on top of each other, much like their mattresses.

A breakdown of the Emma Pillow layers
The top layer – Airgocell® layer which is also used in their Emma mattress is made from PU foam, and provides support as well as a bit of breathability.
The middle layer – is made of "cold regulating" foam, this layer is the meat and gravy of the pillow. It is used as a transition between the surrounding two layers that way you feel all the pressure-relieving benefits from all the layers. On the image below this is a different colour to the rest.
Finally, the memory foam layer at the bottom – is designed to be slow in response to completely mould the shape of your head and provide a soft cloud-like feeling.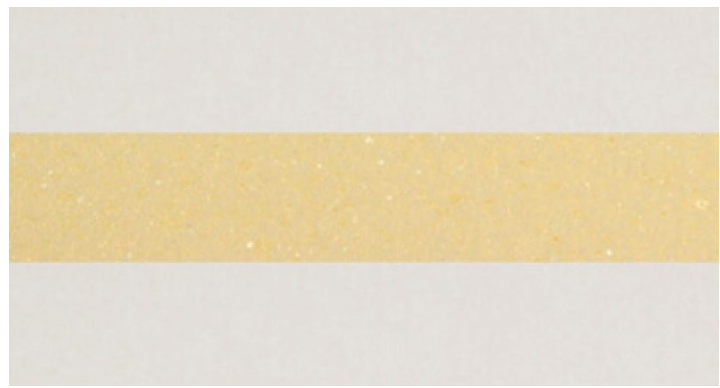 The outermost layer is of course the fabric cover – it is fully machine washable up to 40C, thankfully. Just make sure to remove the memory foam first.
FAQs about Emma Pillow
Is the Emma Pillow orthopaedic?
It's possible to use it if you have back issues, but there are better specialist pillows for that purpose. Though they will inevitably perhaps, cost more. A good example is a Dunlopillo Memory Foam pillow which will retail from £80 to over £400 (each!).
200 nights trial: Does it apply to the Emma pillow?
No, the trial period for the Emma Pillow is shorter. It's 100 nights long, which still isn't bad, but not as generous as the mattress trial period. It's a shame Emma don't extend this to match the 200 night trial that they already offer for their mattresses.
Will the Emma Pillow sag?
The short answer is that Emma claim that fluffing up the pillow manually will 'reinvigorate' it, but I was never able to get it as fluffy as it was when it arrived. Am I doing something wrong? Please let me know in the comment section.
But all of this is my own personal opinion, remember that. What about what other people think? Let's look at reviews of the Emma Pillow on places like Amazon. Most people agree that Amazon reviews are pretty accurate, so let's take a look:
Emma Pillow Reviews: Analysis
The Amazon UK listing for the Emma Pillow is here. You can see that the Emma Pillow is currently, at the time of writing, rated 4.1 out of 5.
While that may sound high, by Amazon's review standards it isn't amazing. In fact most people will only buy products that are rated at least 4.5, according to various studies.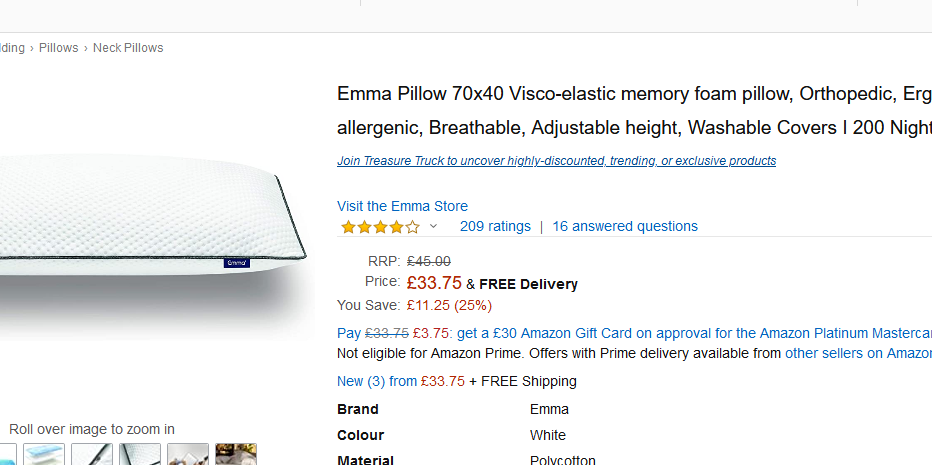 Interestingly, their own brand AmazonBasics memory foam pillow is much higher-rated.
On Trustpilot, Emma as a company are rated 4.4 out of 5, which suggests favourable reviews.
How comfortable is the Emma Pillow?
The optimal support and adjust-ability of the Emma Pillow make it a good buy for people may have neck and back pain, although anecdotally it made my neck ache somewhat. I've not had neck ache before but the Emma was not comfortable after a few months of usage. It does make me wonder if this is why the 200-night trial doesn't apply to their pillow, only their mattresses (see below).
Side sleepers: You can adjust the layers in the Emma pillow and remove them if you want. For side sleepers, I personally recommend using all three layers. You want your pillow bulked up to fill the gap between your shoulder and ear.
Front sleepers: You will want the pillow fairly flat so I suggest here maybe only one layer will be best. Perhaps I am a bit simple, but I quite enjoyed adjusting the pillow layers and finding the optimum comfort level.
Back sleepers: You'll probably want the Emma Pillow to be less bulked out than a side sleeper would want, but not as low as a front/stomach sleeper wants, so two layers is probably best. Try it out!
Price of the Emma Pillow (Updated)
In the UK, the Emma Pillow is fairly cheap to buy at £49. But there are often discount codes available.
There is only one size available currently.
| | |
| --- | --- |
| SIZE | PRICE |
| 40 x 70 x 12 cm | £49.00 |
*NB: Prices and availability are accurate at time of writing
The good news is that the above prices can be discounted with the use of a voucher code. Often this is up to 40% off – and while these discounts can be applied to the Emma Mattress as well, sometimes they cannot. It is best to try each voucher code and see if it works for the Emma Pillow, too.
Verdict: Is the Emma Pillow any good?
I think when compared to the Simba, they're both generally good pillows, but neither are that good for longer-term usage. I actually prefer the Nectar pillow – read my review here. The best option is to try it, as you get 100 days to return it if unhappy. And it isn't going to break the bank, at only £49 (before any mattress discount codes are used), it's affordable to most people.
PS: One other drawback to be aware of is that, like memory foam mattresses, the foam pillows will also give off a pungent smell for a while. You may want to air it out for a day before using it.