If you're like me then you probably find 100% memory foam mattresses to be very comfortable – but they can be either rather too firm, or too soft. It's hard to get the right balance of firmness.
And quite often with a 100% "memory foam" mattress, you'll sink right into the PU foam and then you'll run the risk of back pains, particularly if you're prone to orthopaedic problems. They can also be problematic for front-sleepers.
Thankfully, there is a solution – hybrid mattresses. These combine the 'best of both worlds' – a bit like those Best Of Both loaves of bread – they basically combine a memory foam with a pocket spring mattress. In other words, they are often a spring base and then foam layers on top, all in the same mattress!
To the right is an image of a typical hybrid mattress for sale in the UK.
As you can see, this mattress has several different layers. The blue layer is the memory foam, and below that there is the pocket spring layer.
These are then wrapped in the outer textile/fabric covers and optionally can include other layers of memory foam or other add-ons.
But this is just the basic gist of explaining what a hybrid spring/foam mattress is; if you want more information keep reading below as I tell you my best and worst. Or if you want to find out the best overall mattress, read this.
Which hybrid mattress is actually the best?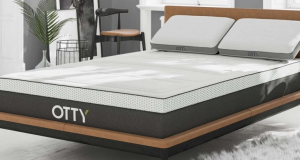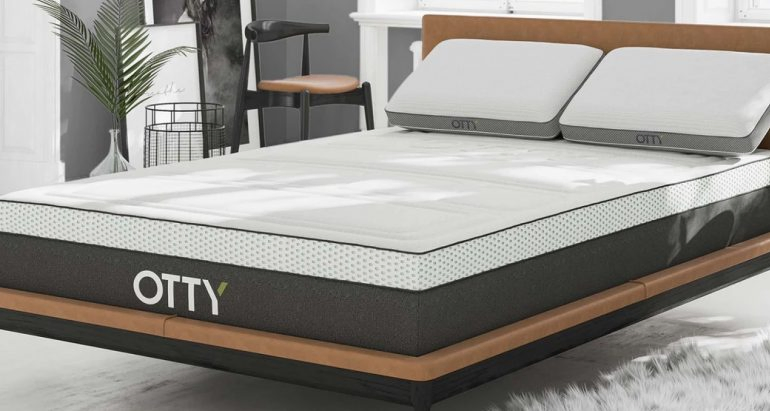 Firmness: Medium-firm
Sizes: Single, double, king and super king size
100-night trial
Sleeps back, side, and front sleepers (Medium-Firm)
Environmentally friendly bamboo fabric
Hypoallergenic, odour reducing
Breathable and cooling with charcoal layer
Surprisingly affordable
The OTTY Pure is a new type of mattress in the UK, in a way. It has a charcoal-infused memory foam layer which sets it apart from anything else. Why charcoal, you ask? Because it's good at wicking away odours, germs and allergens. If your current mattress smells a bit, particularly if you're a heavy sweater in the night, then an odour-controlled mattress makes a lot of sense. It's fully Certi-PUR certified and the bamboo/cotton mix cover is also pioneering. I can't think of any other mattress-in-a-box that does this much, and for so little money.
A few negatives to bear in mind: The cover is dry-clean only, and it's made in China rather than here in the UK. Other than that, I find it hard to fault.
If you're looking for something a little different to the norm occupied by brands like Eve and Emma then give the OTTY Pure a go. It's my preferred hybrid mattress, and quite frankly you're not going to be baffled at this price point with mambo-jumbo and gobbledygook.
If you're looking for an affordable hybrid mattress, with a few extra benefits, this is the one.
2. Best For Hot Sleepers – Emma Hybrid

Firmness: Medium-firm
Well known and established
Made in the UK (but read this)
Extra layer for comfort
Great all-rounded and not too pricey
Are you what's known as a "hot sleeper"…? I feel you! As a general rule I'll wake up on the sweat-soaked side and rather awkward so I know the requirement for an appropriate cooling sleeping pad.
Fortunately, the Emma Hybrid was structured considering us, it's made of four layers beginning with the Airgocell froth that is the most breathable layer to allow hot air to get away and expel dampness so you don't wake up sweat-soaked.
That is catch up with the pocket spring layer that is both to give solace, backing and bob while additionally letting air appropriately circle underneath you. And afterward you have the torment easing adaptive padding that facilitates sore joints and permits you to fall into a profound rest.
All this comes on a high-thickness froth that gives it a decent medium firmness, that is pretty much usable for everybody except perhaps heavier back sleepers and side sleepers. If you fall into that category, then please read this first.
3. Best for budgets – Tuft & Springs Solitaire 2000 Pocket Memory Pillow Top
If you're somebody that suffers from allergies, or for whom keeping dust and dirt to an absolute minimum is a priority, the Solitaire mattress may be what you're looking for. Beneath a textured cover made of luxury, soft-touch stretch fabric is a generous layer of synthetic memory foam and reflex foam. It's not got the charcoal memory foam layer, like the OTTY Pure, but other than that it ticks all the right hypoallergenic boxes.
Memory foam is a polyurethane-based material that is renowned for its ability to distribute pressure and essentially it will re-form as pressure is moved across its surface. Used as part of a mattress, it offers an excellent level of support, without the billowing and bouncing which can be all too common in inferior mattresses. Air vents and synthetic materials make it difficult for germs and bugs to thrive, maximising the chances of a hygienic sleep experience.
And the top cover of this is a Damask Cover which looks nice and classy but is also highly breathable, so much so that when combined with the air vents on the side it famously leaves a cool and comfortable mattress, according to the reviews.
Now it must be good quality because it's made in the UK, or so the saying goes. Actually: a lot of mattresses are made in the UK (surprisingly) and not all of them are that good.
Turn your night's sleep into a perfect night's sleep with the Tuft & Springs Mattress collection. Luxury mattresses – expertly handcrafted in the UK. This mattress collection features natural materials including wool, cotton, fine cashmere and silk. These luxury layers of comfort are nestled on top of high-quality pocket springs for unrivalled support in a range of firmness ratings to suit you.
It's no-flip which avoids a pain in the bum but you should occasionally turn it and you've got handles stitched into the side to make the process a little easier.
4. Best For Side Sleepers – Contour 2000 Memory Pocket Mattress
5-Year Warranty
Soft breathable Cover
Hypoallergenic
Firmness: Medium-Firm
The Contour 2000 is a relatively inexpensive option, about £399 or thereabouts although often they will have discount codes.
The main selling point of this mattress is that it's perfect for side-sleepers. Generally, side sleepers will do fine on a memory foam mattress but the Hybrid technology really seals the deal. If you're a side-sleeper then make sure to consider a Hybrid like this; the extra support from the springs will mean you don't sink down into the memory foam as much.
Although the springs are metal, they are pretty bouncy and only give a small boost to the firmness.  The soft knitted fabric that forms the cover is jacquard based, and is a nice extra comfort layer and there's no need to turn or flip the mattress so you can get it on the bed and enjoy it for years to come.
In case you hadn't guessed, the "2000" refers to the spring count in the mattress. 2000 spring count is reasonable enough, and high enough that it makes for a luxury feel and while you don't get a trial period you do get a 5-year warranty. I would add that the the price point on this hybrid mattress is very reasonable, and a lot of free trials aren't quite what they're made out to be.
5. The best all-rounder – Nectar Memory Foam
Okay, so this isn't an actual Hybrid but I just wanted to mention it, in case you're not 100% deadset on a hybrid…
If you want to buy from a known brand, and market leader, then Nectar are the mattress that you need. The Nectarsleep (as it's sometimes called) mattress is the only memory foam mattress I've ever come across that comes with a 365-night trial. When you consider most mattresses only become truly "broken in" after the first couple of months or so, and possibly longer, that extra time is extremely valuable for finding out how your mattress will feel in the long term.
It's one of the most comfortable mattresses we've tested (see our Nectar comparison here vs Emma mattress) Not quite as firm as Otty and Eve, it hits a perfect middle ground that should appeal to a wide range of people and cater to a range of different sleeping positions. It isn't a hybrid, once again, but it's still worthy of consideration.
It's also available within 3-5 working days currently, unlike other brands which have a much longer lead time for delivery in the UK.
What are the benefits of Hybrid mattresses?
Generally there are quite a few benefits – the right level of firmness/softness being the main one. They are a bit more expensive, than regular memory foam mattresses, but often they are worth the premium.
Here I will outline the main advantages:
Great pressure relief, spine alignment, minimal motion transfer to name a few
With the bounce and "normal" feel of a spring mattress
Generally easier to transport, i.e. still can be vacuumed into a box, so cheaper to deliver.
What about the springs in a Hybrid? What should I look for?
My best recommendation is to always look closer at the photos of the pocket springs. These are individually wrapped springs that work by moving individually giving you the support where you need it without just generally moving down underneath you. What you want to avoid is the older style springs…
Older, more dated spring systems moved as a single piece, so if you jumped into bed, you'd jump your partner out the other side. and if your hips pushed the springs down it'd be pushed down under your lower back which can lead to pain, instead of pushing down at your hips and pushing down a lot less at your back for a full-body support system. This article clarifies a little more.