A lot of people tell me that it's quite hard to decide if they should go for the cheaper Emma Original mattress, or if it's worth paying extra and opting for to the Emma Hybrid Premium mattress.
As you've no doubt figured out, these mattresses are quite different, even though they're made by the same company.
To make matters more confusing, Emma has decided to create both a "Premium" and a "Hybrid Premium" mattress. They are very similar, so for the sake of comparison I'm going to focus on the Hybrid Premium here.
In this article, I've written a side-by-side comparison of these two mattresses, making it easier to highlight their positives and negatives, and hopefully this will help you to decide which one is best for you.
Let's start with the basics of each.
1. Emma Original Mattress
The Emma Original mattress is a pure memory foam mattress. It has been around for a long time now, and has been Emma's best-selling mattress for years.
Though the price in the UK has crept up lately by quite a lot (more on that later), it's still easily affordable for many people.
It's made of three layers of foam, including a breathable Airgocell layer, a pressure-relieving memory foam layer, and a supportive foam layer. Emma claim that it's designed to provide a medium feel, which is what the majority of sleepers prefer, but I would say it's more medium-firm.
Overview
One of the biggest selling points of the Emma Original is its low price. If you want a cheap, known-brand memory foam mattress, then this is the one to go for. It's the one that I sleep on the most personally.
The Emma Original does have a slight ability to regulate temperature, even though it's a memory foam – which traditionally retain heat. But it will never regulate temperature as well as the Emma Hybrid Premium, because that is a different type of mattress altogether.
Below are a few of the positives and of course the negatives to both of these mattresses, to make a comparison easier:
Positives of the Emma Original:
Value for Money: The Emma Original is one of the most affordable medium-range memory foam mattresses available in the UK. It has been in production in the UK for at least 6 years now – that's a good sign.
Generally Firm Comfort: The combination of the three foam layers provides ample support and comfort, making it suitable for most sleeping positions. Most people prefer a Firm mattress, so think of it as the everyman mattress, or the Ford Focus of the mattress world. 🙂
Easy Maintenance: The Emma Original's cover is (since 2019 anyway) machine washable, which makes it easy to keep clean.
Made in the UK: Okay so this might not be a major concern for some, but I think it's important. Even though Emma are a German company, their UK models are made in the UK.
Negatives of the Emma Original:
Not Suitable for Heavier People: The Emma Original is best suited for people with a BMI of less than 25. Heavier people may find it uncomfortable and not supportive enough.
Potential Smell/Off-Gassing: Like most foam mattresses, the Emma Original can smell a bit when unpacked. However, this does usually dissipate within a few days – find out more about mattress smells and off-gassing here.
Sagging: This problem isn't unique to Emma, but memory foams can sometimes sag (as they lack bolster support, unlike hybrid mattresses – more on this below). Generally this occurs after 3-5 years of use, but sometimes it can appear earlier.
Environmental Concerns: Emma Original mattresses aren't in any way 'natural', the memory foam inside is, after all, a type of plastic. If you want a natural mattress, or one that can be partly recycled, consider one that is made of wool.
Consider the Emma Original Plus: The Emma Original Plus mattress is an extremely similar but slightly improved version of the Emma Original. Bizarrely, it's also often cheaper. If you can get it at a reduced price, then go for that over the Emma Original – see my full Emma Original vs Original Plus comparison article here.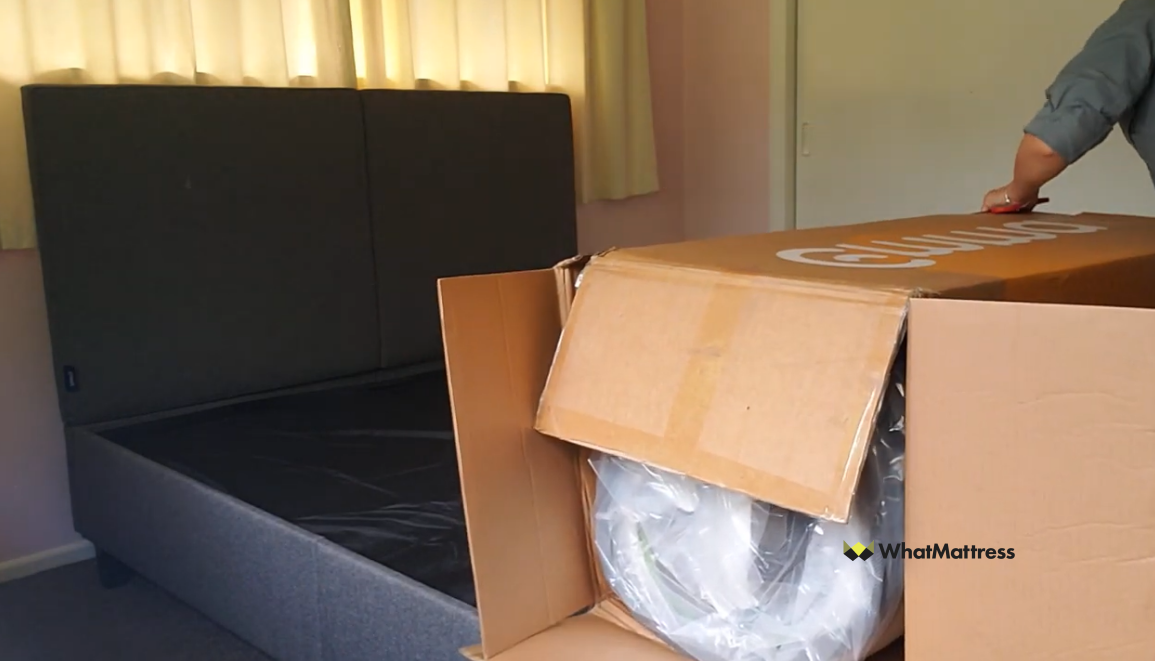 2. Emma Hybrid Premium Mattress
Emma markets their Hybrid Premium as an "upgraded" version of the Emma Original, but this is, in my opinion, a bit misleading. It's actually a completely new mattress with a new interior.
By the way, if you're not sure what a hybrid mattress is, then let me clarify now as it's important:
A hybrid mattress is a combination of memory foam and springs. It means that there are both memory foam AND pocket sprung layers inside the mattress.
Hybrid mattresses were created by the mattress industry about ten years ago, to combine the so-called  'best of both worlds' – that is, the benefits of a memory foam mattress, plus the benefits of an inner spring mattress.
Find out more about the best UK hybrid mattresses you can buy today.
Back to the Emma Hybrid Premium, Emma claim it's designed for those who want a more luxurious sleep experience. The mattress combines foam layers with "individually wrapped" pocket springs to provide a medium-soft feel, whereas the Emma Original has "medium-firm"
The Emma Hybrid Premium overall is a great mattress, but it's even better for those who need extra support, including people with a higher BMI or those with back or joint pain.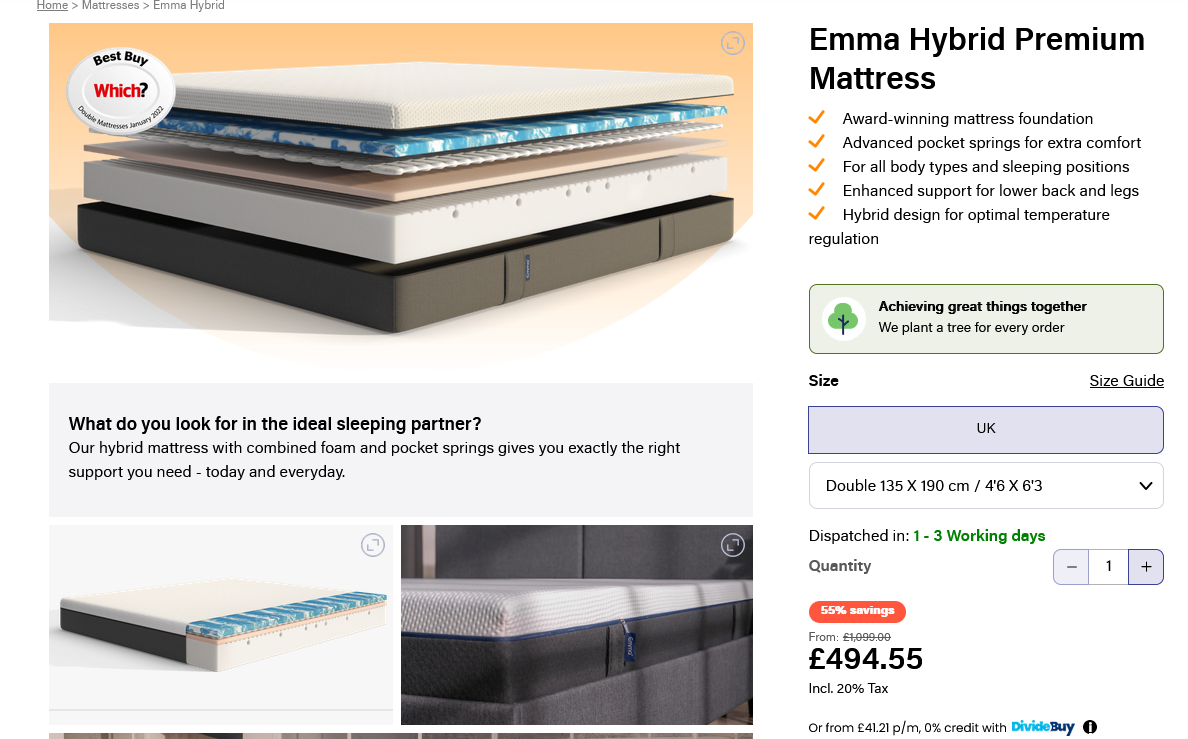 Positives of the Emma Hybrid Premium:
Extra Support: The individually-wrapped pocket springs provide excellent support, making it suitable for heavier people or those with back or joint pain.
Comfort: The combination of both foam layers and pocket springs provides a higher class, luxurious feel.
More Breathable: The Emma Hybrid Premium is designed to regulate temperature more than a memory foam, ensuring you stay cool throughout the night.
Made in the UK: As above, they're also made in England.
Negatives of the Emma Hybrid Premium:
Expensive: Like all hybrids, the Emma Hybrid Premium is significantly more expensive than the Emma Original, which may not be affordable for everyone (see below).
Heavy: The Emma Hybrid Premium is heavier than the Emma Original, making it more difficult to move and rotate. If you move home a lot, then forget it.
Can still sag: Some people have reported to me that their Emma Hybrid Premium sagged over time, particularly in areas where there is more weight. This can reduce the lifespan of the mattress and may require it to be replaced sooner than expected. While this issue is not common, it is worth considering if you are looking for a mattress that will last for 10+ years.
Top Mattress Brands: Side-by-Side Comparison
Price Comparison
As expected, there is quite a large variation in the pricing with these two mattresses.
Prices are also changing frequently, but at the time of writing, prices before any discounts are:
The price difference is significant, with the Emma Hybrid Premium being almost double the cost of the Emma Original. Even though Emma often run promotions, you're always going to pay more for the Hybrid Premium versus the Original (or the Original Plus).
| | Emma Original | Emma Hybrid Premium |
| --- | --- | --- |
| Comfort Level | Medium-firm | Medium-firm |
| Materials | 3-layer foam | 5-layer foam and pocket springs |
| Support | High-density foam base layer | Pocket springs + foam layers |
| Pressure Relief | Yes | Yes |
| Breathability | Yes | Yes |
| Edge Support | Good | Excellent |
| Price (Queen Size) | £969 | £1409 |
Important: If you're looking for a discount code to use for Emma mattresses, then I have a few here. Often you can get 20% off.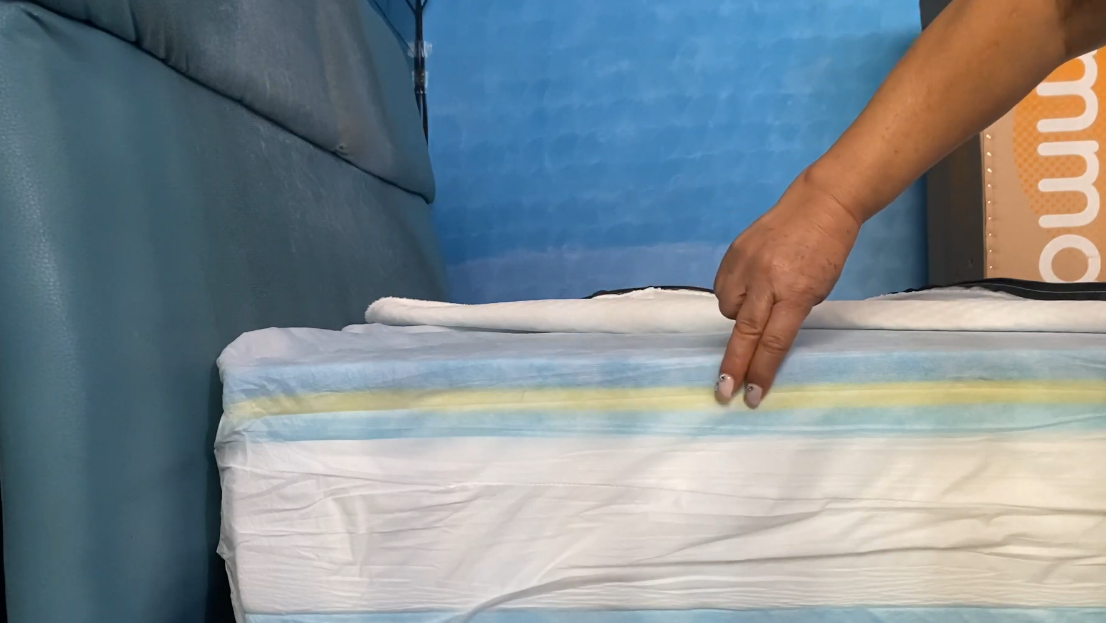 So, Which Mattress is Best Overall?
Both the Emma Original and the Emma Hybrid Premium are popular mattresses that provide a mostly positive sleep experience.
As for which one is best, in my opinion, the Emma Original is the best option if you're on a budget, if you don't sleep hot, or if you and your partner have a BMI of less than 25 respectively.
The Emma Hybrid Premium is the better option for those who need extra support from a mattress, for example if you are on the heavier side. It's also better for those who sleep hot and don't like 'heat retaining' mattresses.
By teh way, if you're worried about sagging or dips, then I'd say definitely go for the Emma Hybrid Premium. Why? Because hybrid mattresses (overall) sag far less than memory foams do. 
While both the Emma Original and the Emma Hybrid Premium are fairly highly-rated mattresses in the UK, they each have their drawbacks that you as a potential buyer should be aware of before making a purchase. Finally, if you have a high budget of £1200+, then I'd also suggest checking out a latex mattress.
What is an Airgocell layer?
The "Airgocell layer" is a marketing term used by Emma Sleep. Note that it's included in both the Emma Original and the Emma Hybrid Premium.
The Airgocell layer is basically a layer of open-cell foam that provides airflow and breathability, allowing the mattress to regulate temperature – to an extent.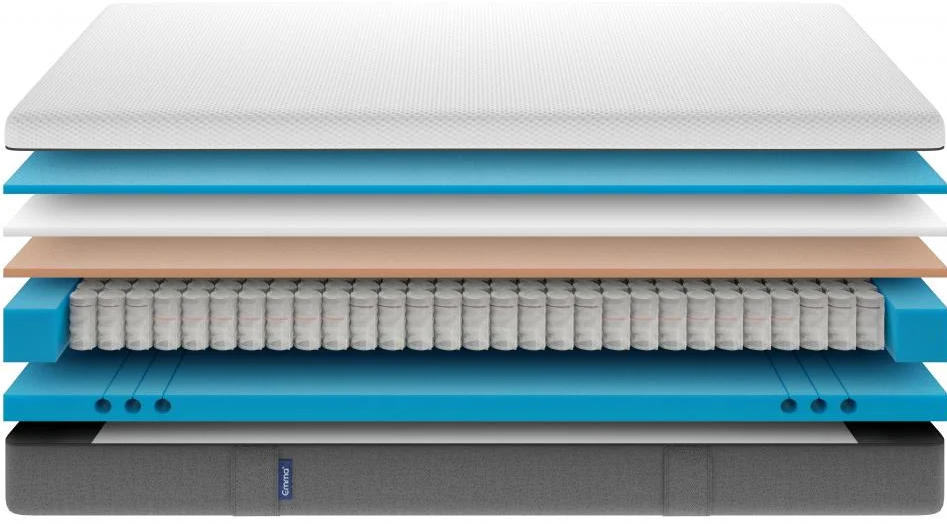 The Airgocell layer is made up of millions of tiny air pockets, which create a supportive and pressure-relieving surface that adapts to the contours of the body. This layer is designed to be more responsive and bouncy than traditional memory foam, making it easier to move around and change positions during the night.
Best Rated Mattresses UK (2023)
The top all-round mattress in the UK according to WhatMattress users in 2023 is Emma Hybrid Premium. It's surprisingly affordable, and outperforms all other hybrid mattresses in terms of comfort. It also doesn't sag as much as other rival hybrid mattresses, even after a couple of years of testing.
One of the key benefits of the Airgocell layer is its ability to disperse heat, helping to keep the sleeper cool throughout the night. As heat is produced by the body during sleep, it can become trapped in the mattress, causing the sleeper to feel hot and uncomfortable. The Airgocell layer helps to circulate air through the mattress, dissipating heat and preventing the buildup of moisture.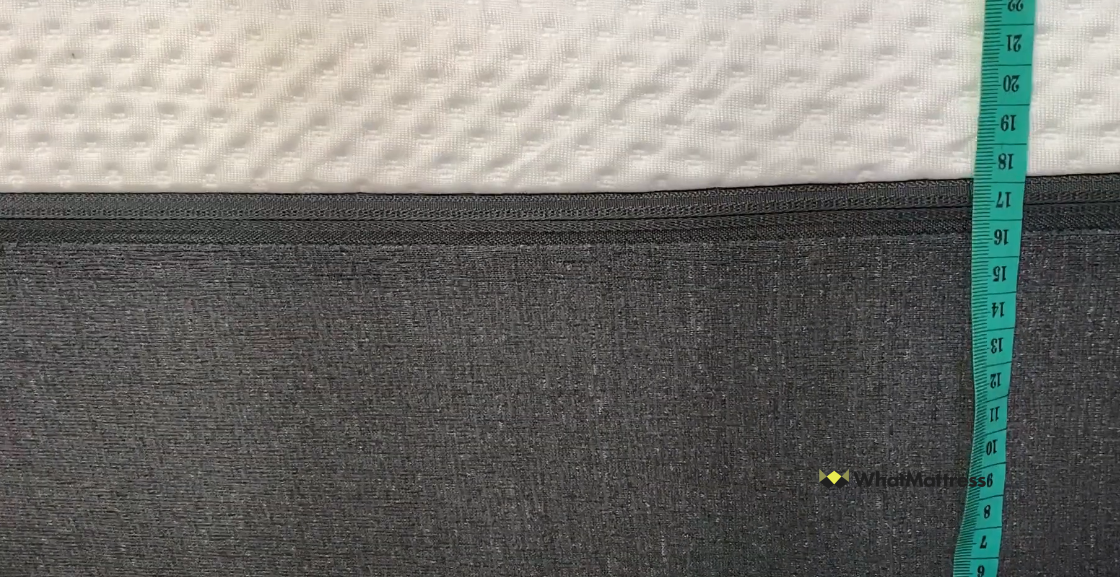 But all that aside, if you sleep hot, then a memory foam is never going to be "cool"; if that's you then the Hybrid Premium by Emma will likely be a better fit.