Disclaimer: Some of the links on this page are our affiliate links, and we may receive a small commission from any sales used via these links. Buying after clicking one of our links will never affect the price you pay.
The Inofia mattress range has created a lot of hype so far. Inofia are another 'bed in a box' mattress company, and one of the things that sets the Inofia mattress apart from its competitors is the price. Not only that, but the hype seems to be backed up by extensive customer reviews across the web (see below).
You can also buy Inofia mattresses through Amazon.co.uk – meaning if you're a Prime member you'll get free delivery.
Inofia are so popular that during peak mattress-buying season, they often are out of stock. If you need a cheap mattress in a hurry, then check out these affordable mattresses.
Inofia Mattress Specifications
| | |
| --- | --- |
| Mattress Type | Memory Foam |
| Size | Double |
| Firmness rating | 6.5/10 |
| Memory effect | High |
| Cooling rating | 81% |
| Weight | 26.2kg |
| Length | 190cm |
| Width | 135cm |
| Depth | 22cm |
Mattress Construction
The Inofia mattress consists of multiple layers. The idea of this is so that it can easily transition the wight of your body and offer better support. With seven layers – plus a cover – the Inofia mattress is probably one of the most layered mattresses available. And it features more layers than any other mattresses at this price point.
The Inofia mattress features a quilted cover. Not only is this comfortable but it is also breathable. It contains 3D stitching which allows for more airflow than conventional methods. Acting almost like a mattress topper, this allows you to stay cool during the hotter nights.
Inofia Mattress: About the Layers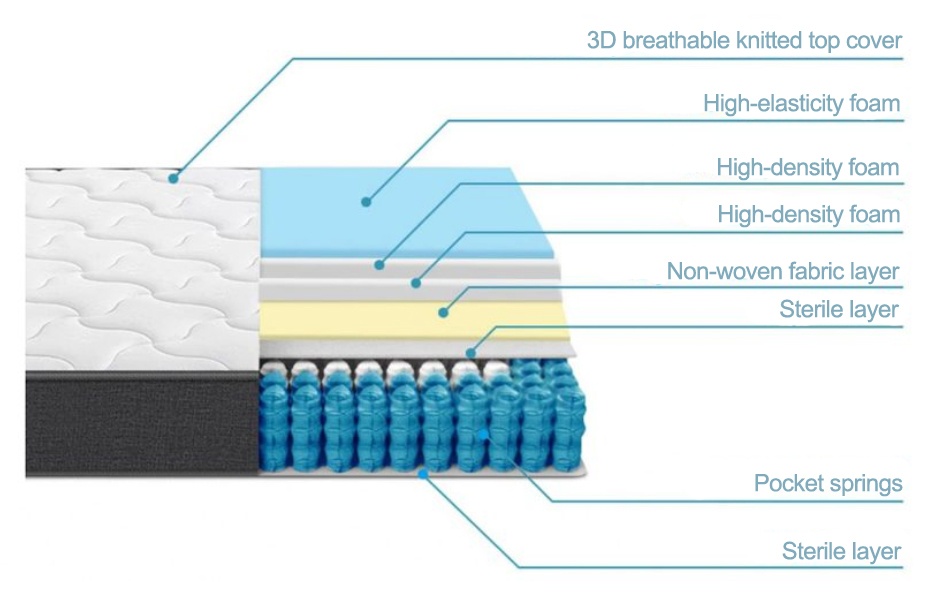 The high elasticity foam layer helps to evenly distribute the pressure from your body across the whole sleeping area. This helps to relieve joint pain. Motion transfer is also reduced by this layer, making the Inofia mattress a good choice for couples who share a bed.
The Inofia mattress also boats two layers of high-density foam. This first high-density foam layer is primarily to offer support and is located underneath the softer layer of the topper. The second layer of high-density foam helps to add additional support to the mattress, ensuring that the firmness is consistent throughout.
Underneath the two high-density foam layers is a non-woven fabric layer. This layer separates the springs from the supportive layers. It is a breathable layer, which means that air will not remain trapped inside. This is beneficial because it prevents mould and mildew from forming; it may also reduce that horrid new mattress smell.
There is also a sterile layer to box in and secure the pocket springs. The idea of this layer is to project the firmness of the springs upwards and into the rest of the mattress.
The pocket spring layer features hundreds of pocket springs. Each spring is individually pocketed, which gives them independent motion. This creates a more comfortable experience as it eliminates squeaks and dips.
Inofia Mattress Springs
The springs in the Inofia mattress are separated into 7 different zones. This has been scientifically proven to align the spine and therefore directly reduce the chances of back aches and pains. Each zone of springs combats specific areas of the body so that pressure is relieved, and your spine is aligned properly.
At the very bottom there is a base layer, which the springs sit on. This is a sterile layer that also helps to box the springs in and help the mattress to retain its normal shape.
Inofia Mattress Depth
The Inofia mattress measures 220mm deep. Inofia themselves have informed us that this should be thick enough to withstand up to 26 stone, so is supportive for most people. The combination of the foam layers and springs have made this mattress more on the firm side, so it would be comfortable for someone who weighs a little more than average.
Inofia Mattress Trial Period and Guarantee
Fortunately, Inofia offer a 100-night risk free trial with any purchase. This means that you have 100 days to try the mattress so that you can be sure that it suits your needs, Inofia themselves recommend that you try the mattress for at least 3 or 4 weeks so you can get a good idea of how comfortable it is and how much support it will offer you. If for any reason you find that the mattress is not suitable, then you can request to return it, subject to their return's terms and conditions. You will find these on their website and will also be given a copy when you purchase.
You do not have to worry much about the quality of the mattress either, as Inofia offer a full 10-year guarantee. This means that you can buy with complete peace of mind. The guarantee alone shows that Inofia are confident in both the design and construction of their products, and that they will stand the test of time.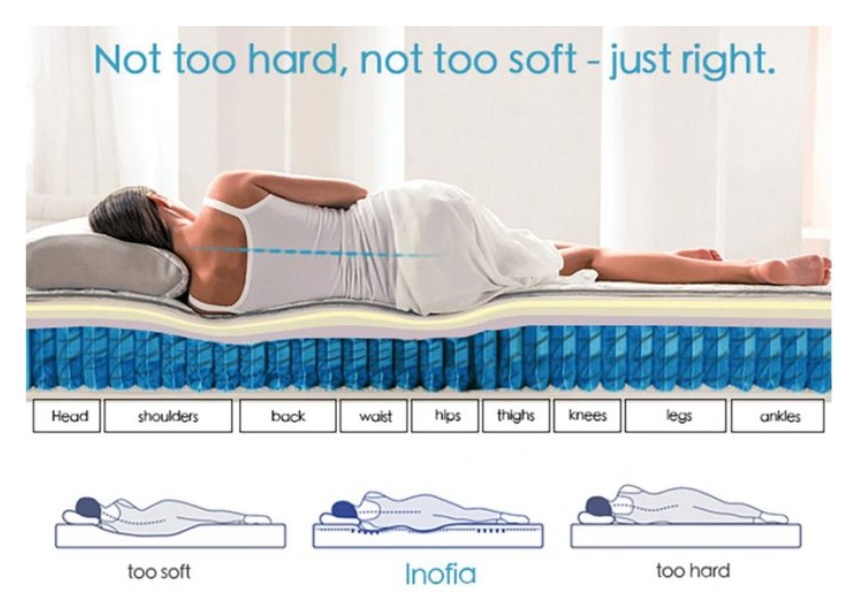 Reasons to Buy an Inofia Mattress
Without doubt, what sets Inofia apart from other mattress manufacturers is the unbeatable value for money offered. For comparison's sake, the only other budget brand at this price point is Dormeo (read my review here).
There are simply very few other mattresses available at this price point that offer so many premium features. So, if you are on a tight budget and are looking for a good-quality mattress then Inofia is a manufacturer to consider.
The only drawback is that, at 220mm deep, it could be a little thin and therefore not offer sufficient support for heavier people. However, seeing as it comes with a 100-night trial and a 10 year guarantee you can purchase with complete peace of mind that if it is not suitable then you can try something different. To summarise, the main advantages of the Inofia mattress are as follows:
Excellent value for money
Suitable for most people
Peace of mind from the 100-night trial and 10-year guarantee
Free delivery
Inofia Reviews: Trustpilot etc
Inofia now have a Trustpilot page, and they are rated 2.5 out of 5, which is "Poor".
https://uk.trustpilot.com/review/www.inofia.co.uk
Bizarrely, the company name is listed as "Man" on the Trustpilot page?!
There are 60 reviews at the time of writing, which isn't too many.
In other reviews, Amazon has a page for Inofia here. You can see the reviews are for the pocket spring mattress only, but this should be a good enough gauge of opinion. At the time of writing, there are over 2000 5* reviews on Amazon UK. These are mostly going to be from customers around the world, as Amazon sell the Inofia mattress range across Europe and also in the US. Everyone generally speaking knows and trusts Amazon's reviews, I know I do more than other dodgy review websites.
Note that Inofia are a US based company, indeed they are one of the biggest brands in the USA for mattresses, second only to Casper and Tuft & Needle. That said, the UK operation appears to be run separately; I was not able to ascertain the location of their customer support but I believe it is also US based and therefore not available during regular UK working hours. Something to bear in mind.
How much does Inofia cost in the UK?
As I've said above, Inofia are about as cheap as you can get when it comes to the price.  The prices for Inofia in the UK range from £99.99 – £269.99
| | | |
| --- | --- | --- |
| SIZE | DIMENSIONS | PRICE  |
| Inofia Small single | 75x190x22 cm | £99.99 |
| Inofia Single | 90x190x22 cm | £199.99 |
| Inofia Small double | 120x190x22 cm | £155.99 |
| Inofia Double | 135x190x22 cm | £169.99 |
| Inofia King | 150x200x22 cm | £199.99 |
| Inofia Super king | 180x200x22 cm | £269.99 |
*prices and availability may be subject to change, accurate as of Sep 2020.

Please note that prices above EXCLUDE any discount, i.e. discount or voucher codes.
You can buy the Inofia mattresses direct, or through Amazon.co.uk (Prime delivery available free). Buy now.
Payment Options (UK only)
Debit/Credit Cards
Amazon Payments
PayPal
Inofia Discount Codes
From time to time, Inofia mattresses are made even better value due to the fact that you can use an Inofia discount code when purchasing. If you're looking to buy an Inofia mattress, then you can use the following discount code:
FAQs
Are Inofia mattresses any good?
Made by a reputable company and recently awarded the mattress brand, Inofia Mattress UK, the Inofia double memory foam mattress will surely provide you with what you need in terms of sleeping without breaking the bank.
Are Inofia mattresses made in China?
Yes, but nowadays many memory foam mattresses are also made in China – like for example OTTY.
Why are Inofia Mattresses so Cheap?
As Inofia are a 'bed in a box' company, it is not possible to try out an Inofia mattress prior to purchasing. This is because they are not available in any of the UK's leading bed stores. The main reason for this is so that the company can keep overheads down and therefore remain competitive in the market. Therefore, the Inofia mattress is so cheap compared to similar mattresses, and even comes with free delivery.
Ready to buy? Check out Inofia on Amazon.co.uk here.