The way in which we shop for mattresses has changed over the last few years. Gone are the days when you had to lie on a mattress to make sure that it was comfortable for you. Gone are the days when you had to negotiate the price with the salesman. And gone are the days where you even had to leave the comfort of your own home. In fact, some mattresses like the Emma can't even be bought from the shops!
These days there are scores of mattresses that offer a free trial period ranging anywhere between 30 nights and a whole year. This means that you can choose the mattress you want and have plenty of time to decide whether you think it is comfortable. Many of these free trials do have their terms and conditions so always read the small print before committing to buy.
Why are mattress trial periods so important?
You may be asking yourself why a trial period is a good thing. A lot of people who I've encountered think they're just a load of marketing nonsense, but I have to disagree. Here are a few key reasons:
Price versus value – basically, see if it's worth the asking price
Test out your optimum sleeping position
Find the correct mattress depth or "thickness" to suit
Find out if both you and your sleeping partner's needs are being met
…and loads more!
Without further ado, here are the most popular mattresses available at the moment in the UK, that offer a free trial period of at least 14 days.
Best Mattresses with Trial Periods (UK)
1. Nectar Sleep Mattress
| | |
| --- | --- |
| Firmness | Medium/firm |
| Price | £699 |
| Trial period | 365 nights |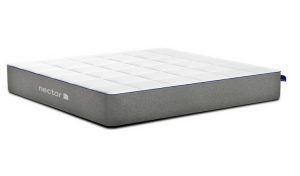 Without a doubt, Nectar Sleep (read my review here) offer the longest free trial of any of the leading UK mattress manufacturers and retailers. You get a whole year to try before you buy. It also comes with a lifetime warranty instead of the usual 5 to 10 years that you can expect to see on a mattress these days.
It's all very well offering a lifetime guarantee and a long warranty period, but is the Nectar Sleep mattress any good? If you read the thousands of reviews on Trustpilot and other reputable reviews websites, then the answer is a resounding yes.
The Nectar Sleep mattress has also won a number of awards from known bodies such as Ideal Home and Good Housekeeping.
The Nectar Sleep mattress is a foam mattress as pocket spring, so it comes in a box. In the box it is compressed and will then expand when you unpack it. Unlike the majority of memory foam mattresses, the Nectar Sleep has a cooling cover on the top layer of the mattress, which solves the usual problem of memory foam mattresses being too hot for a lot of people.
2. Simba Hybrid Mattress
| | |
| --- | --- |
| Firmness | Medium |
| Price | £749 |
| Trial period | 200 nights |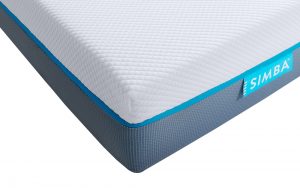 The Simba Hybrid mattress is known as a "hybrid" mattress due to the fact that it contains springs as well as foam. This, Simba claims, allows the comfort of a memory foam mattress along with the cool sensation of a pocket sprung mattress. The springs in the Simba Hybrid mattress are small and placed between layers of foam. The mattress contains memory foam, but not on the top layer.
So this also eradicates the problem of the sinking feeling that everyone but the lightest of people can experience with traditional memory foam mattresses.
The Simba Hybrid mattress comes with a 200 night trial period, so plenty of time to decide whether it's right for you. With a 10 year guarantee it's also a safe buy as you know it will serve you well for years to come.
3. Inofia Mattress
| | |
| --- | --- |
| Firmness | Medium |
| Price | £199 |
| Trial period | 100 nights |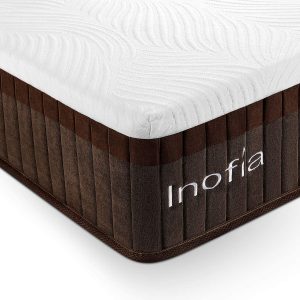 You may not have heard of Inofia, but they are definitely not a brand of mattress to be ignored if you're looking for value for money. Another hybrid mattress containing both memory foam and pocket springs, the Inofia mattress offers a 100 night trial period so you can be sure that it's right for you.
Unlike the Simba Sleep mattress, the memory foam layer of the Inofia mattress is on top, and the springs are underneath. It's not clear how many springs the Inofia mattress has, however the fact that it is rated so highly among thousands of reviews would suggest that it has at least the 1,000 required to provide enough support for a good night's sleep. Despite not knowing how many springs are inside, the springs are pocket springs, which are much more favourable and comfortable than the out-dated coil springs.
The Inofia mattress is 270mm deep, which is very deep for a mattress within this price bracket. The 100 night free trial will give you plenty of time to decide whether it is the right mattress for you.
4. DreamCloud Hybrid mattress
| | |
| --- | --- |
| Firmness | Medium/firm |
| Price | £949 |
| Trial period | 365 nights |

The DreamCloud mattress is another cross between a memory foam and pocket sprung mattress. It is in fact owned by the same company as the Nectar Sleep mattress, which is why it also offers a 365 night trial period along with a lifetime warranty.
At £949 for a double version, it is one of the more expensive mattresses available. However, it comes highly rated by many thousands of people, and is also 290mm deep, which is considerably deeper than a lot of mattresses that are available.
The Dreamcloud mattress also uses a breathable memory foam to try and combat the problem of memory foam being too hot to sleep on. Being a hybrid mattress it can offer the support and comfort of a memory foam mattress, while reducing the heat storage by having a layer of pocket springs within the mattress itself.
If you're looking for discount codes for the DreamCloud range, then check this page.
5. Emma mattress
| | |
| --- | --- |
| Firmness | Medium |
| Price | £499 |
| Trial period | 200 nights |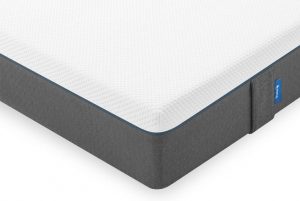 When it comes to mattress jargon, the Emma mattress wins the award for having the most associated with it. Look on the Emma website and you'll see plenty of phrases such as 'Progressive sinking technology' and 'point elastic'.
In the same way that the Nectar Sleep mattress is made from several layers of foam, the Emma mattress uses the same technique. This is so that the mattress gives the right level off support from the memory foam. However the memory foam layer is manufactured between two other types of foam, with a top layer of 'breathable airgocell foam' on the top in order to prevent you from getting too hot.
As well as a 200 night free trial, the Emma mattress comes with a 10 year guarantee.
FAQs for Mattress Trial Periods:
Do Serta sell mattresses in the UK?
Unfortunately not. Serta are a US based manufacturer and seller; unlike Casper that recently launched in the UK, Serta have no plans to at present.
Which mattress trial period is the longest?
DreamCloud offer the longest UK mattress trial period – it is a whopping 365 days, or a whole year. Nectar (the same company as DreamCloud) also now offer a similarly generous year-long trial period.
And which mattress company offers the shortest?
TEMPUR, the original memory foam manufacturer, offer a rather measly 30 day trial period. This isn't very long, considering that TEMPUR mattresses aren't cheap, but they are targeting a specific type of customer who perhaps doesn't care for trial periods.
Dormeo offer a slightly more generous 60 night trial – details are here.