A mattress topper can be a great alternative to buying a new mattress – they're nearly always going to be much cheaper than buying a mattress. Not only that, but with a wide range of toppers available you are bound to find one that's right for you and your sleeping partner.
If you're on a tight budget then you may be able to get a cheap or budget mattress, such as the Emma Original or the Emma Original Plus instead – these can be as cheap as £250, so not as cheap as a lot of mattress toppers, but still quite affordable for many.
Read my Emma Original vs Original Plus review here.
If you're intent on a mattress topper rather than a mattress, then here is my rundown of the best toppers in the UK right now. I manually test mattresses toppers all the time, in fact it has become a bit of a labour of love, so if you have any feedback on my findings, please do tell me in the comments section below.
What are the main types of mattress topper?
There are four main types of mattress toppers:
Natural fibre mattress toppers
Synthetic mattress toppers
Memory foam mattress toppers
Latex mattress toppers
Here is more information on each mattress topper type:
What type of mattress topper do I need?
Natural fibre mattress toppers range in price from around £50 to as much as £300. And that's a lot.
But as the name suggests, they often contain natural materials such as wool, feathers, duck down or even goose down. Duck and goose down are very soft, but can play havoc on people who suffer from allergies. Wool is better for allergy sufferers, however it's not as soft. The same applies to feathers.
Synthetic Mattress Toppers
Synthetic mattress toppers tend to be made mainly from polyester. Another word often used to describe a synthetic topper is 'microfibre'. These are the cheapest type of mattress topper available and usually start at just £20 for a double-sized one.
Memory Foam Mattress Toppers
Memory foam mattress toppers are great for people who suffer from allergies. Also sometimes known as visco-elastic mattress toppers, they are very soft because they mould around the contours of your body. Some people do not like the sinking feeling that memory foam provides, but it's a personal preference. People also tend to find them quite hot. People who weigh more tend to sink more into memory foam, so if you weigh more than 16 stone then it's probably one to avoid.
Latex Mattress Toppers
Latex mattress toppers are made from rubber, which is also a natural material. These are probably the most expensive type to buy, as prices start at around £100. However this is still considerably cheaper than even the cheapest mattress available from most mattress retailers.
When it comes to popular opinion, most people think that natural materials are better than synthetic ones. However, when it comes down to it, it depends on your personal preference and how you like to sleep.
1. Best Synthetic Mattress Toppers
If you are just looking for a cheap and cheerful mattress topper for a spare bed, or you're on a budget, then a synthetic mattress topper will probably be the best bet for you. Here are two of the best:
Sealy Select Response Mattress Topper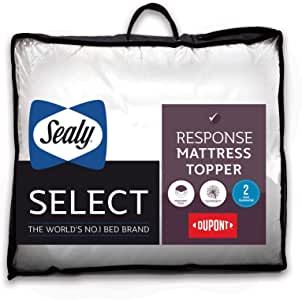 The Sealy Select Response mattress topper is just £25 and has a finely woven microfibre cover. It is main feature is the 'DuPont silk-like fibres', which although is synthetic is supposed to offer the smoothness of silk. Being synthetic it's also better for those who suffer from allergies than a mattress topper made from natural fibres. Sealey is one of the world's largest bed manufacturers.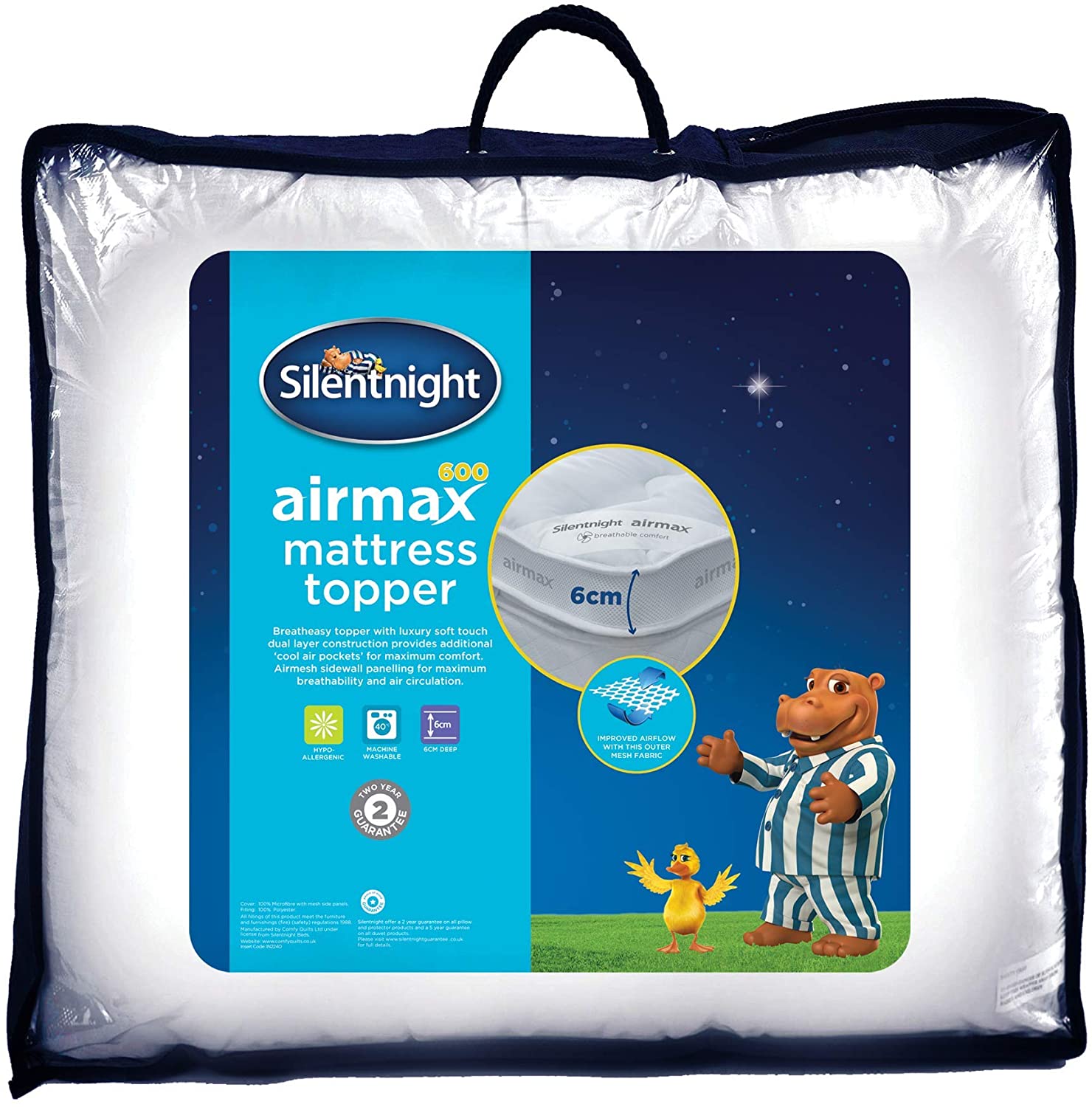 Silentnight Airmax Mattress Topper
When it comes to mattresses, one of the first UK manufacturers you're bound to think of is Silentnight. The Silentnight Airmax mattress topper is made from polyester, which means that it has the added bonus of being machine washable. At just £49 for a king-size mattress topper,t he Airmax is a good choice as it has thousands of good reviews online.
2. Best Memory Foam mattress toppers
When it comes to memory foam mattress toppers, you're spoiled for choice as there are literally dozens of them available. Here are three that we think are the best:
Panda Mattress Topper
The Panda mattress topper is priced at £159, but the good thing about it is the fact that it comes with a 30 night home trial period. This means that if you don't like it they will arrange to come and collect it and offer you a refund (subject to their Terms and Conditions).
A home trial is nothing new when it comes to buying a mattress, but for one to be offered with a mattress topper is actually quite rare. So Panda themselves obviously think their mattress topper is good, and judging by the reviews online it would appear that the majority of their customers agree. Unlike traditional memory foam mattress toppers, the Panda topper contains memory foam that is mixed with a gel.
The result of this is a topper that doesn't make you feel too hot. It also features a cover made from bamboo, making it naturally antibacterial and highly breathable. At 50mm thick it is also quite substantial compared to other memory foam toppers on the market.
Silentnight Impress Mattress Topper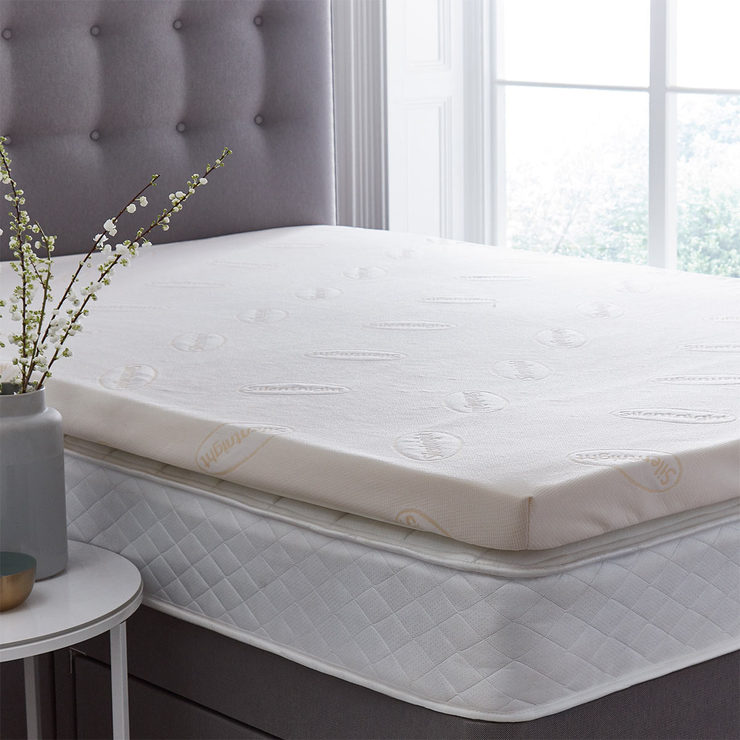 The Silentnight Impress memory foam mattress topper comes highly rated and is available in both 25mm and 50mm thicknesses, for £50 and £130 respectively. If you can afford it, it's definitely better to get the 50mm thick variant.
Being made from memory foam – a synthetic material – it's great for those who suffer from allergies. If you don't like the sinking feeling that memory foam has to offer, then this might not be the mattress topper for you though.
Tempur 7 Mattress Topper
The Tempur 7 mattress topper costs a staggering £925, which is about the same price as a good mattress. But why is it so expensive? Well, Tempur are famous for their luxurious memory foam. Alongside NASA they developed memory foam mattress technology that has so far been unparalleled by rival mattress manufacturers. When you consider that their cheapest mattress is around £2,000 you may think that £925 is quite a good price for what you get.
3. Best Natural Fibre mattress toppers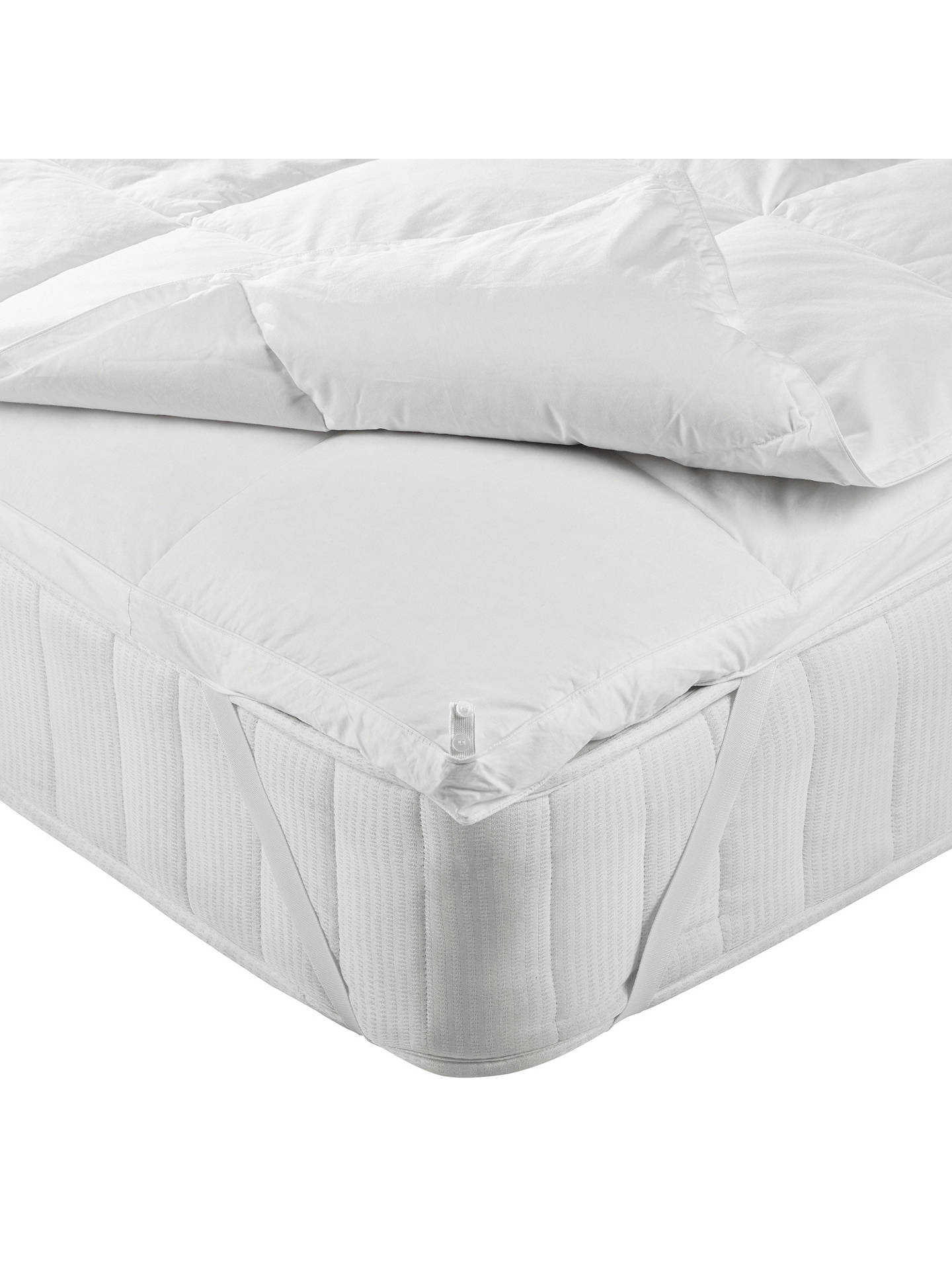 The John Lewis and Partners Goose Down mattress topper is actually a 70:30 split of goose down and goose feather. Goose down is very soft but it's also very expensive. Generally speaking, the more down within a mattress topper, the more money it will cost.
The feathers add firmness to the topper, so they're important too. It's all about getting the right balance which it appears John Lewis and Partners have done perfectly here. Because it contains a lot of natural fibres, this is not recommended for anyone who suffers from allergies.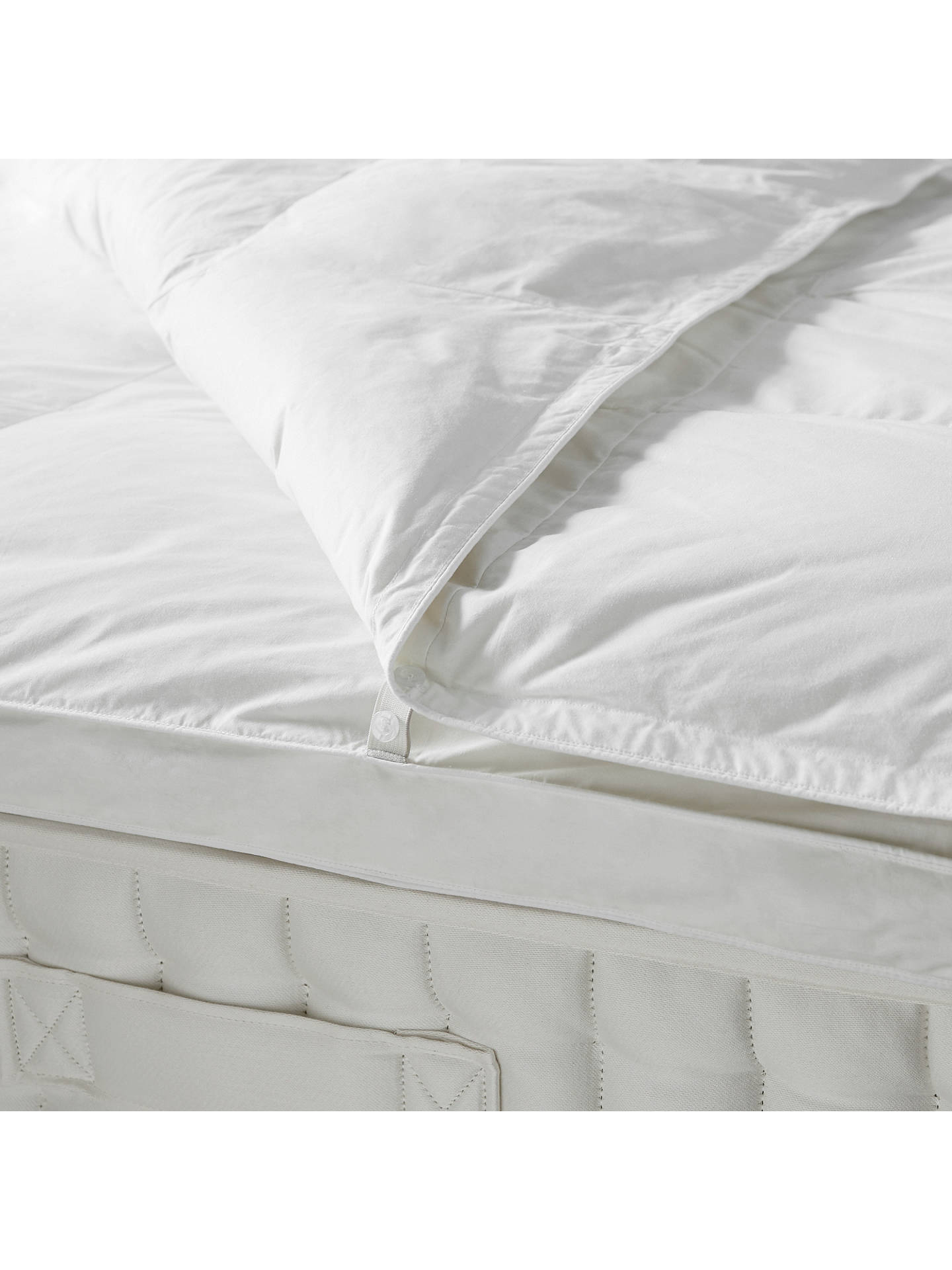 If you're looking for a little bit more firmness, then John Lewis and Partners also have a natural Duck Down mattress topper, which has a 50:50 split of duck down and feathers. It has been rather cleverly sealed so that dust mites aren't a problem. This makes it suitable for people who are allergic to dust mites, as well as those who have asthma. At £140 you get a lot for your money, but don't forget that with that kind of money to spend you could be looking at some mid-range mattresses instead.
Best Latex mattress toppers
As latex mattress toppers are quite pricey, there's not that much demand for them.
As a result there isn't a huge market so there aren't that many retailers that sell them. Yanis is probably the best-known brand for latex mattress toppers. They offer two different latex toppers, with the only difference between them being the thickness.
Not to be confused with latex mattresses, the cheaper topper option is 50mm and costs £225 for the king-size variant. The thicker version is 80mm thick and costs £305 for the same size. With latex being a natural material it is good for those who suffer from allergies, and it's a good alternative to memory foam. Some people don't like the 'sinking' feeling that you can get from a memory foam mattress topper, so a latex topper is a good alternative in this instance.
Any other toppers I need to consider?
My personal recommendation. This one's a bit "out there".
The Slumberdown Airstream is perfect if you want a cooler mattress topper that'll soften up a mattress but still has plenty of support. It's designed with so-called Airstream technology, this provides little air pockets that allow air to flow through the whole thing.
A great alternative to memory foam , this topper is filled with a polyester filling, so quite likely to be similar to your pillow, just a lot more stuffed! If you're looking for a really soft topper than this won't be quite right, but if you're looking for something a little softer with good support but you don't want memory foam then this is the topper for you.
The cover is quite soft, a microfibre material, so it's quiet under your sheet and there are the all-important elastic straps to keep it to your bed.
Why You Can Trust WhatMattress
We're completely independent from any mattress company. We've spent countless hours curating and reviewing mattresses that anyone can buy in the UK, and have been doing so since 2018.
Mattresses tested:




82

Total hours testing:




602

Pillows tested:




24

Total hours testing:




183

Duvets tested:




35+

Funds spent on testing:




£7,500+
So what actually *is* a mattress topper?
In order to increase the level of comfort and support provided by a mattress, many people in the UK are now cchoosing to add a mattress topper. It adds a padded layer in between you and the mattress and changes how the surface feels overall as you sleep.
Memory foam, latex, feather/down, wool, microfiber, and many more materials are available as mattress toppers. The variety of mattress toppers available means that you can tailor your sleeping experience to your specific needs and tastes.
To change the hardness, softness, or general feel of a mattress is the primary function of a mattress topper. If you find that your mattress is too hard but would still like the benefits of a softer surface, a thick mattress topper may be the answer. On the other hand, a firmer topper can aid in spinal alignment and the relief of pressure spots if your mattress is lacking in support.
You can use a mattress topper for temperature control, to alleviate allergy symptoms, or to give your back and hips some more support.
Most mattress toppers have straps, elastic bands, or fitted sheets to keep them in place while you sleep. They are also detachable, which facilitates cleaning and upkeep of the mattress topper and base.
In a nutshell:

So in summary, you can tailor your sleeping experience to your tastes and unique needs with the help of a mattress topper, which is a versatile and inexpensive way to improve the quality of your mattress.
What are the benefits of a mattress topper?
A mattress topper is the perfect way to:
Soften up a very firm mattress
Add extra support
Protect and extend the life of a mattress
Get rid of the feeling of lumps
Save money!
Amazingly comfy and cooler than memory foam, the Airstream topper will revolutionise your mattress comfort. The topper is a whopping 4.5 cm thick so it's deep enough to support your contours keeping your spine nice and straight.
What's more, it's proven to be significantly cooler than memory foam thanks to Slumberdown's clever Airstream technology. So you'll stay cool and comfy all night long. Plus it's made in the UK.
How do I pick the best mattress topper?
When it comes to choosing the best mattress topper, there isn't a one-size-fits-all answer. The type of topper that works best for you depends on your personal sleeping style, preferences, and any specific needs or considerations you may have.
For side sleepers or individuals who experience back pain, a memory foam mattress topper can be a great option. Memory foam provides a firm yet flexible surface that molds to the contours of your body, offering excellent support and alleviating pressure points. However, it's important to note that some people find memory foam to be too hot, and it tends to be more expensive compared to other options.
If you're looking for a soft and comfortable layer of padding, feather or down mattress toppers are worth considering. These natural materials provide a plush and cozy feel, making them popular among front sleepers. Keep in mind that feather or down toppers can be more expensive and require regular fluffing to maintain their shape and loft.
Those with allergies may prefer microfibre or hollowfibre mattress toppers. These synthetic materials are often treated with anti-allergy chemicals, providing a hypoallergenic sleeping surface. However, they can retain heat and tend to flatten over time, so it's important to consider these factors.
If you're seeking a versatile option suitable for all seasons, a wool mattress topper could be the answer. Wool is a natural, biodegradable material known for its excellent temperature regulation properties. It keeps you warm in winter and cool in summer, providing a comfortable sleep environment year-round. It's worth noting that wool toppers can be on the heavier side, so make sure to consider the weight and ease of handling.
Read this next...
Was this article helpful?
How we reviewed this article:
Edit History:
Our experts continually monitor the mattress & sleep tech space, and we update our reviews & articles when new information becomes available.
1st June 2023


Current Article - By Carrie Taylor

7th June 2023


Checked & Reviewed - By Jean Marshall

14th August 2020


Copy Edited - By Anthony Maxwell

9th June 2023


Reviewed - By Anthony Maxwell
WhatMattress has strict sourcing guidelines and we try to rely on peer-reviewed studies, academic research institutions, and medical associations where possible.