An emperor bed is the largest bed size that is widely available in the UK.  And of course if you have an emperor bed then you will need an emperor-sized mattress to put on it.
Whether you prefer a firm mattress or a softer one, a mattress for an emperor bed is going to always be big and heavy. Even larger than a superking size mattress, an emperor mattress can be almost 7ft in length.
Bizarrely, there is no standard size for emperor mattresses though. Different retailers sell emperor mattresses at different sizes, with the smallest being 200cm x 200cm and the largest being 217cm x 215cm.
On an almost 7ft wide bed, the extra 20cm might not make a huge difference, but if you're fortunate enough to have an emperor bed then you need to make sure that your bedframe is large enough to accommodate the size of the mattress.
Below are my top picks for the best emperor bed mattresses:
Soak and Sleep Wool 2000 Pocket Sprung Emperor Mattress
| | |
| --- | --- |
| Type | Pocket sprung |
| Size | 200cm x 200cm |
| Price | £600 |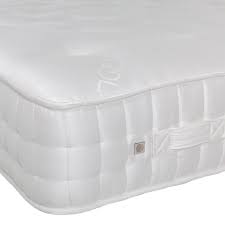 At £600, the Soak and Sleep Wool 2000 is probably one of the cheapest emperor bed mattresses that you can buy, so it's definitely worth considering. If you prefer a pocket sprung mattress over a memory foam one, then the Wool 2000 would be a good buy.
It has over 2,000 springs, which although is a high number, is comparatively low when you consider its size. There is no standard measurement for the firmness of any mattress, but generally speaking a higher spring count offers more support for heavier people. As well as having a high spring count, the Soak and Sleep Wool 2000 is also 280mm deep, which is another sign of quality.
The Wool 2000 comes with a 5 year guarantee which is probably about average in the mattress market. There is also a 100 night trial period to make sure that the mattress is right for you. However, you must use a mattress protector in order to make a claim on this.
Vispring Plymouth Supreme Pocket Spring Emperor Mattress
| | |
| --- | --- |
| Type | Pocket sprung |
| Size | 200cm x 200cm or 215cm x 215cm |
| Price | £1,499 / £1,699 |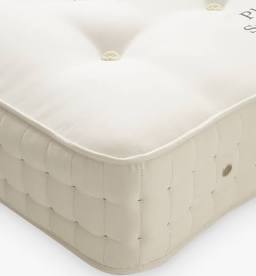 You may not have heard of Vispring, but they actually invented the pocket spring mattress more than 100 years ago. Since then they've remained one of the most respected brands in the UK mattress market. They are also known as a more premium brand, with some of their products costing in excess of £6,000.
The fact that they have won the best mattress award from Which? Several times speaks volumes. They also have faith in their own products, which is illustrated by their 30-year guarantee – which is probably the longest guarantee we've ever seen on a mattress.
The Plymouth Supreme mattress I actually one of their cheapest ranges, but it still has several signs that it's a great quality mattress. The sides are stitched by hand to stop them from being too soft, and they also have a high spring count at 1,200. Anything spring count over 1,000 is considered good, so at 20% more this is a good buy. What's more, this spring count refers to the number of springs you'd get on a king size mattress, so the number on the Vispring Plymouth Supreme mattress is probably nearer 2,000. As with most pocket sprung mattresses, the Plymouth Supreme can be turned regularly. It is recommended that this one is turned with the seasons. However, weighing a massive 78 kilograms it's not going to be something that can be easily done without a helping hand.
Harrison Spinks Thornton British Wool Mattress
| | |
| --- | --- |
| Type | Pocket sprung |
| Size | 200cm x 200cm |
| Price | £2,050 |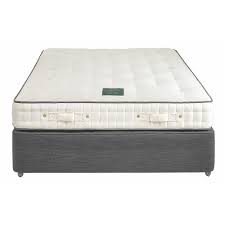 Harrison Spinks is a premium mattress manufacturer which makes mattresses under their own name as well as for the John Lewis and Partners Natural Collection line of mattresses.
It's not the cheapest mattress that money can buy, so it's no wonder that there is a good specification as standard as well as the ability to customise it somewhat. Even at over £2,000 it still represents good value for money.
As you would expect for a price this high, the Thornton British Wool Mattress has a high spring count, so it offers plenty of support. The emperor size mattress boasts over 5,000 springs – so many that they won't fit on a single row. Another sign of quality is the fact that this mattress is made from natural materials. Like the Vispring mattress, this one also has hand side stitching to stop it collapsing at the edges under load.
The great thing about this mattress is that you can decide how firm you want it to be when you order it. You can choose anything from soft to very firm. The general rule of thumb is that heavier people of people who sleep on their front will tend to prefer a firmer mattress than lighter people or people who sleep on their back or side.
John Lewis and Partners Ultimate Angora Emperor Pocket Spring Mattress
| | |
| --- | --- |
| Type | Pocket Sprung |
| Size | 210cm x 210cm |
| Price | £7,200 |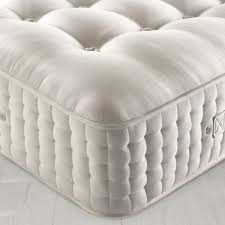 Although more than £7,000 is a staggering amount to pay for a mattress, when you consider what you get for the money you can see why it isn't really as much as it first sounds. As mentioned previously, the John Lewis and Partners Ultimate Collection is made by a company called Harrison Spinks. This manufacturer make the best mattresses that money can buy.
The emperor size of this mattress contains over 33,000 springs – which is considerably more than the usual 1,000 to 2,000 even when considering that they are arranged in rows of smaller springs. As well as the impressive spring count, when you buy the Ultimate Angora Emperor mattress from John Lewis and Partners, you are also paying for the quality manufacturing using an impressive number of natural materials including horse hair, Egyptian cotton, British Fleece Wool, Goat angora, Silk and cashmere to name but a few. Therefore, if you're an allergy sufferer this may not be the best mattress for you, as natural materials tend to gather more dust than foam mattresses.
The huge material lost probably somewhat contributes to the weight of this mattress. At 192kg for the emperor size, this is probably the heaviest mattress we have seen to date. That is over 20 stone so it will no doubt require more than one person to turn it. The Ultimate Angora mattress also comes with a 7 year guarantee.
Was this article helpful?
How we reviewed this article:
Edit History:
Our experts continually monitor the mattress & sleep tech space, and we update our reviews & articles when new information becomes available.
6th March 2023


Current Article - By Carrie Taylor

21st March 2023


Checked & Reviewed - By Jean Marshall

17th August 2020


Copy Edited - By Anthony Maxwell

24th June 2023


Reviewed - By Anthony Maxwell
WhatMattress has strict sourcing guidelines and we try to rely on peer-reviewed studies, academic research institutions, and medical associations where possible.