Looking for the perfect mattress can be overwhelming with so many options available. Two popular choices in the UK are the Simba Hybrid Pro and the Emma Premium mattresses – in fact these are probably the best-selling mattresses in the whole of Europe. Both boast advanced sleep technology and luxurious comfort, but which one is right for you? Let's dive into a comparison of these two premium mattresses to help you make an informed decision.

Simba Hybrid Pro:
Pros:
Innovative 7-layer construction
Good balance of comfort and support
Cooling properties for a comfortable sleep
200-night sleep trial and 10-year guarantee
Impressive eco-credentials
Cons:
Expensive compared to some other options
Strong off-gassing smell at first
Cover cannot be washed (you get a free mattress protector)
View the full Simba Hybrid Pro review here.
Emma Premium:
Pros:
Good support and pressure relief
Machine washable cover
Breathable cover and foams to regulate temperature
Multiple awards for quality
200-night sleep trial and 10-year guarantee
Cons:
Some people may find it too firm
May not be as durable as some other options
So briefly, the Simba Hybrid Pro is slightly firmer and has more layers than the Emma Premium, making it a good choice for those who prefer a firmer mattress or have back pain. The Emma Premium, on the other hand, has a softer feel and is better for side sleepers or those who want a more plush mattress.
Comparison: Top Cover
The Simba Hybrid Pro features a hypoallergenic and breathable top cover made of a unique blend of wool and polyester, which is designed to regulate temperature and wick away moisture. The cover is also removable and machine washable for easy maintenance.
On the other hand, the Emma Premium Mattress comes with the award-winning UltraDry™ breathable cover, which is moisture-wicking, temperature-regulating, and easy to remove and wash. The Diamond Cover is an optional upgrade that offers extra comfort and a honeycomb pattern for better breathability, but it doesn't come cheap.
Both covers have their unique advantages, with Simba's cover offering a natural wool blend that feels just more 'quality'.
🏆 Winner: Simba Hybrid Pro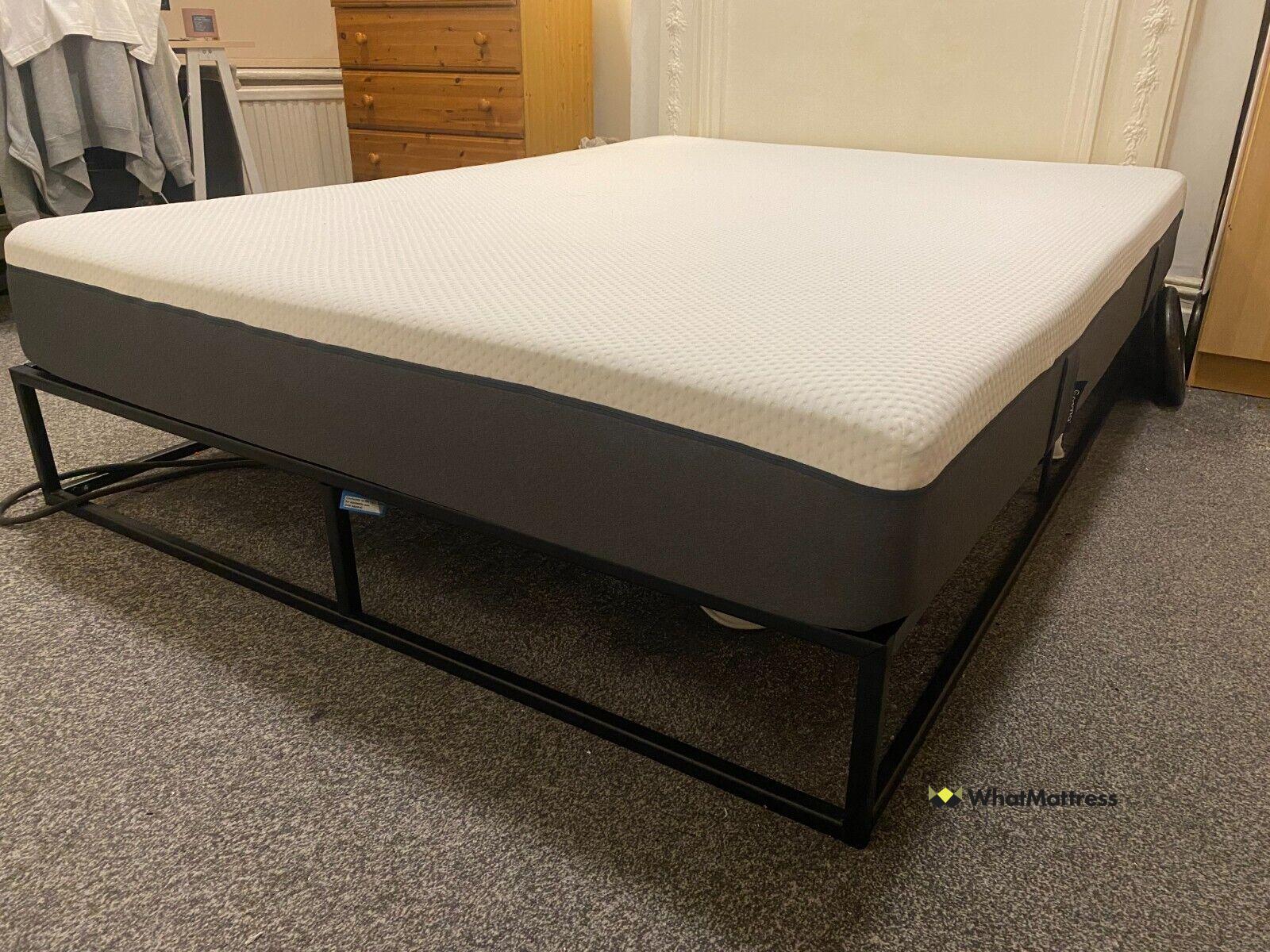 Comparison: The Layers
The Simba Hybrid Pro mattress has 7 layers, each with a specific purpose:
Breathable sleep surface: A soft top cover made of hypoallergenic, breathable and sustainable materials to keep you cool and comfortable. The cover is not washable but you get a free mattress protector.
Simbatex layer: A layer of synthetic latex designed to provide responsive comfort and support that contours to your body shape.
Micro pocket springs: A layer of 5,000 conical pocket springs that provide targeted support and pressure relief.
Open-cell foam with graphite: A layer of open-cell foam infused with graphite to help regulate your body temperature and draw heat away from your body.
Visco memory foam with graphite: A layer of memory foam infused with graphite to provide pressure relief and added cooling.
High-resilience foam: A layer of high-resilience foam that provides a supportive base for the mattress.
Zonal support base: A layer of firmer foam divided into 7 zones to provide targeted support for different parts of your body.
Next, here's an overview of the layers in the Emma Premium mattress: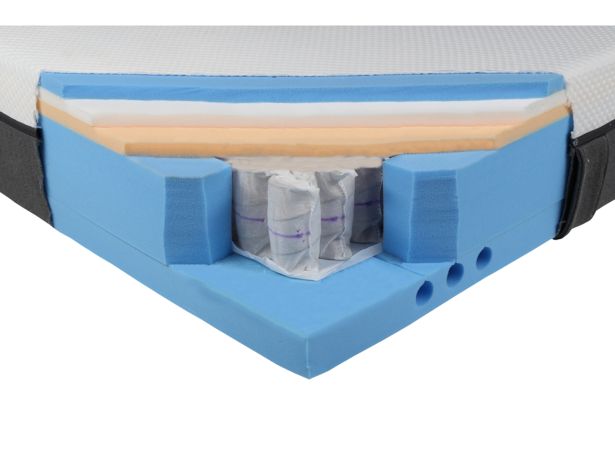 UltraDry cover: The Emma Premium mattress featurse a UltraDry breathable cover to keep you cool and dry while you sleep. This premium temperature-regulating cover is moisture-wicking, easy to remove and washable.
Halo Memory Foam: The innovative Halo Memory Foam layer adapts and molds itself to the shape of your body for targeted spinal alignment, ultimate pressure relief and body-hugging comfort.
Point Elastic Airgocell foam: This groundbreaking layer enhances breathability and regulates temperature by absorbing and then evaporating sweat so that rising temperatures shouldn't disturb your sleep.
Visco-elastic memory foam: Developed by astrophysicists, this adaptable layer works with Airgocell foam to relieve pressure and reduce motion transfer for out-of-this-world comfort.
Pocket springs: Focus on 5 different zones (head, shoulders, lower back, thighs, and feet) that provides specific types of support for the different parts of your body.
HRX base foam: The High Resiliency Extra foam layer provides sufficient counter pressure and is designed to keep your spine evenly aligned for maximum relief, rest, and recovery in any sleeping position.
Overall, the Emma Premium mattress has a similar focus on spinal alignment and pressure relief, but achieves it through a rather intersting combination of foam layers and pocket springs compared to the Simba Hybrid Pro which is more… basic (of course, it's still quite a detailed mattress inside!). What swayed it is that the Emma Premium also has a layer of visco-elastic memory foam, which is not present in the Simba, and uses a different type of base foam for support.
🏆 Winner: Emma Premium
Comparison: Firmness
The Simba Hybrid Pro mattress is designed to have a medium-firm feel, which means it offers a good balance between softness and support. This makes it suitable for most types of sleepers, including those who prefer to sleep on their back, stomach, or side.
But annoyingly the Emma Premium mattress is also designed to have a medium-firm feel (generally, most mattress brands use this "medium-firm" designation but it doesn't mean much).
Ultimately, both mattresses offer good support and comfort, but the Simba Hybrid Pro may be a better choice for those who prefer a slightly firmer feel, while the Emma Premium may be more suitable for those who prefer a softer mattress.
I suspect that a lot of people will find the Simba to be the better fit here, even though it's firmer, because most people actually benefit from a firmer (rather than a soft) mattress.
🏆 Winner: Simba Hybrid Pro

TIP: View my Emma Original vs Emma Hybrid Premium comparison for a side by side review.
Design (Appearance)
The Simba Hybrid Pro and the Emma Premium both have a contemporary design that isn't breaking any new ground, so to speak.
Firstly, the Simba Hybrid Pro's top cover is white with a delicate geometric pattern, and the sides are a dark grey colour. The mattress features modest branding thanks to the Simba logo's embossment in the upper right-hand corner. Though the cyan is a bit garish.
The top of the Emma Premium mattress, on the other hand, is white and grey with a honeycomb-esque pattern. The mattress has grey piping around the perimeter to draw attention to the edge. The top cover of the Emma mattress features a large, black emblem of the company.
Both mattresses are available in just one standard colour. However, if you want even more airflow, you can get the Emma superior with a Diamond Cover, which has a superior honeycomb pattern.
The Simba Hybrid Pro appears more uniform to me, because of its consistent thickness across the entire mattress, whereas the Emma Premium has elevated regions where the pocket springs are positioned, giving it a somewhat more contoured look. Both mattresses have a sleek, modern look that would be at home in most UK bedrooms.
🏆 Winner: none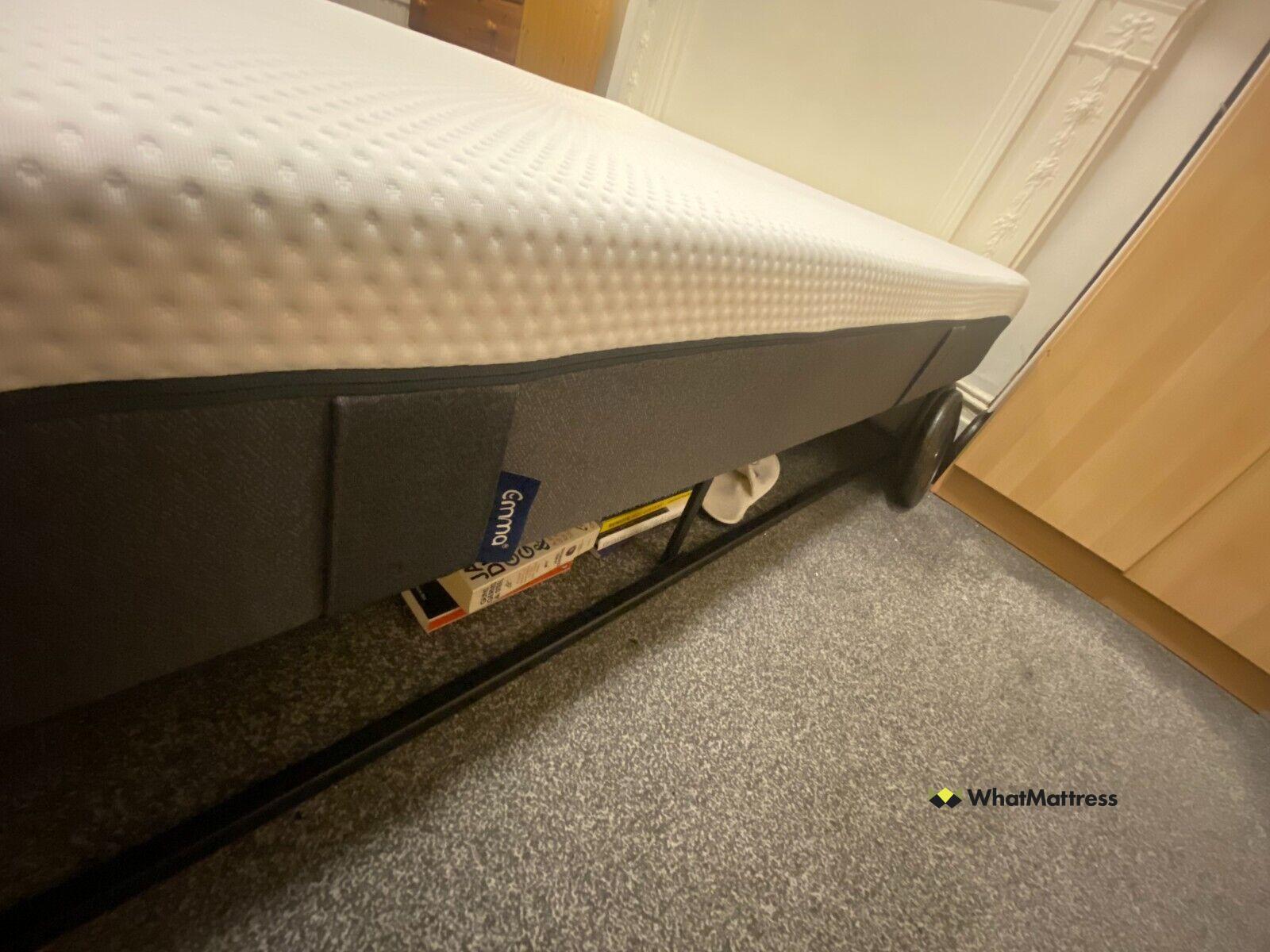 Allergies
The Simba Hybrid Pro mattress is hypoallergenic, meaning it's made with materials that are unlikely to cause an allergic reaction. It has a hypoallergenic sleep surface that helps prevent the buildup of dust mites and other allergens, making it ideal for those with allergies or asthma.
Similarly, the Emma Premium mattress is also hypoallergenic, and features an UltraDry™ breathable cover that is moisture-wicking, easy to remove and washable. The cover is designed to regulate temperature and prevent the buildup of allergens such as dust mites.
So in short, both mattresses are great options for those who suffer from allergies or sensitivities. I can't pick a side!
🏆 Winner: none!
Why You Can Trust WhatMattress
We're completely independent from any mattress company. We've spent countless hours curating and reviewing mattresses that anyone can buy in the UK, and have been doing so since 2018.
Mattresses tested:




82

Total hours testing:




602

Pillows tested:




24

Total hours testing:




183

Duvets tested:




35+

Funds spent on testing:




£7,500+
Sleep Types
Here's a summary of the sleep types and who may benefit from eithe rmattress:
Simba Hybrid Pro Mattress:
Suitable for most sleep positions
Ideal for those who want a medium-firm feel
Recommended for those who tend to sleep hot due to its breathable and cooling top layer
Great for those who want a responsive mattress that contours to their body
Emma Premium Mattress:
Recommended for those who prefer a firmer mattress
Ideal for back sleepers and those who need additional lumbar support
Suitable for those who tend to sleep cool due to its open-pored foams and AeroFlex spring technology
Good for those who want a motion-isolating mattress to minimize disturbance from a restless partner
Eco-Credentials
Thankfully, Simba's Hybrid Pro and Emma's Premium mattresses are both manufactured here in the UK.
Simba Sleep takes a lot of obvious pride in its dedication to the environment and its use of eco-friendly materials and packaging. The foams are safe and don't contain any dangerous chemicals like formaldehyde or heavy metals, and the company uses recycled plastics for the mattress covers. To further lessen its influence on the planet, Simba Sleep ships its products through a company that offsets its carbon emissions. It's also B Corp registered, and all their mattresses are CertiPUR and OEKO-TEX certified.
Emma Sleep is similarly committed to environmental protection and they also have a modern slavery statement. Though a German company, the OEKO-TEX and CertiPUR certifications guarantee the safety of the company's products for human use and the absence of dangerous chemicals.
In addition to its commitment to sustainability, Emma Sleep employs recyclable materials in its packaging. But overall, I think Simba have the edge here.
What's all this about CertiPUR?
CertiPUR and OEKO-TEX approvals are valid for both companies here, but if you don't know what that means, then just know that CertiPUR is a certification programme that guarantees the content, emissions, and longevity of the foam used in a product.
And the OEKO-TEX standard is a certification programme that verifies a product does not contain any toxic chemicals. Both approvals guarantee consumers that the product's components are of the highest quality and safety standards.
🏆 Winner: Simba Hybrid Pro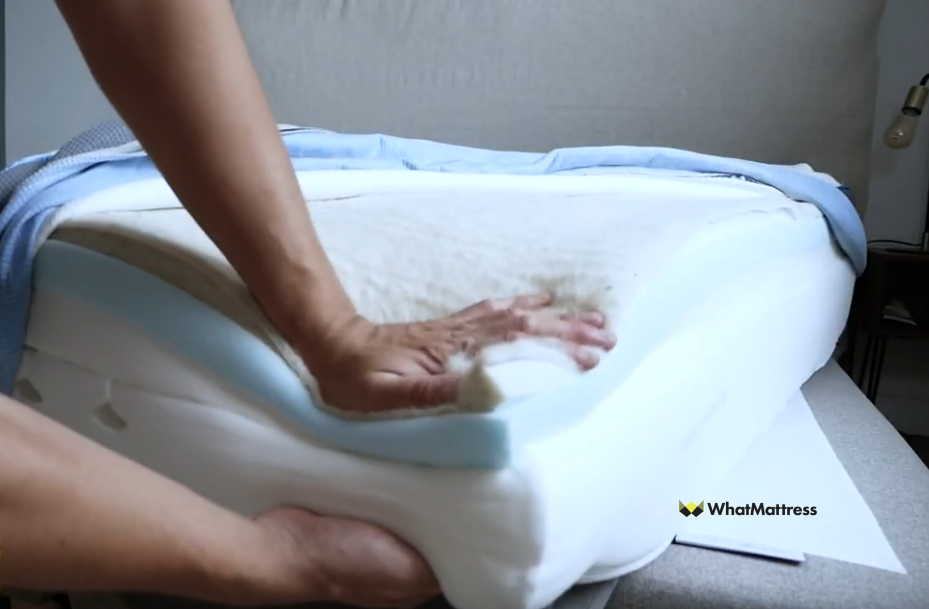 Heat retention
The natural wool layer in the cover of the Simba Hybrid Pro mattress is hypoallergenic, as I already mentioned, but it also has another feature: it helps regulate temperature by wicking away moisture and providing optimal airflow. By promoting ventilation and preventing overheating, the high-tech zoned support base layer creates a pleasant and restful sleeping environment. Those who tend to get too hot throughout the night may like the Simba Hybrid Pro's cooling gel layer, which aids in heat dissipation and  temperature regulation to provide a cooler sleeping surface.
Similarly, the Emma Premium mattress has state-of-the-art temperature management technology including open-pored foams and an AeroFlex spring system that promotes airflow. Airgocell foam, used in the top layer of this mattress, has an open-cell structure that allows air to circulate freely, hence reducing the likelihood of overheating. The UltraDry technology incorporated into the cover of the mattress does a great job of wicking away moisture and maintaining a comfortable sleeping environment.
So, this one is based on my personal tests where I slept on both of these mattresses, so your mileage may vary. But I would easily say that the Simba is the winner here given it's superior heat-wicking properties.
🏆 Winner: Simba Hybrid Pro
Prices: Compared
The Simba, at first glance, appears to be the more expensive – however, Simba often do up to 40% off the price of the Simba Hybrid, as well as the Hybrid Pro. All things considered, there's not really much in it, but if you can get either of these at a significant discount (and not the other) then of course you should favour that one! 🙂
Click here to view all my Simba discount codes – I make sure to update them whenever I find a new code.
And here for my Emma discount codes page.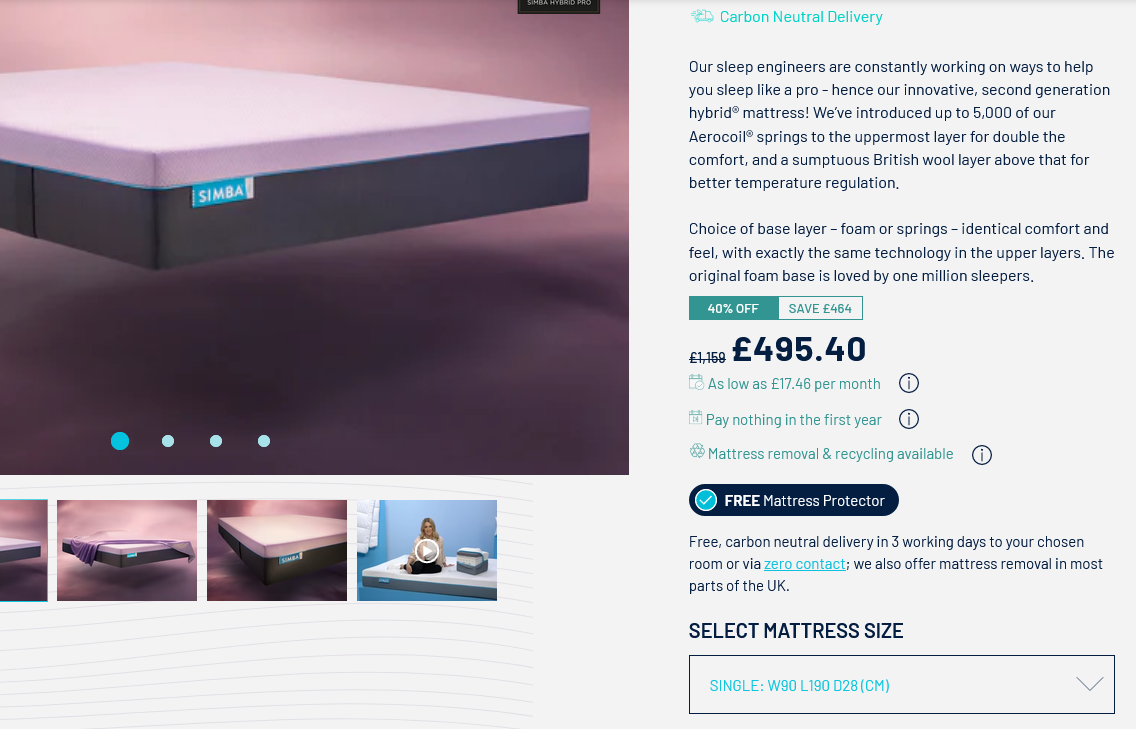 More from WhatMattress...
Sleep Trials
The Hybrid Pro mattress from Simba comes with a whopping 200-night risk-free trial period. This allows the buyer a sufficient amount of time to try out the mattress and determine if it's a good fit. Simba provides a 100 percent money-back guarantee and free mattress pickup throughout the trial period if you wish to return the mattress. To give your body time to acclimatise to a new mattress, Simba suggests giving it at least 30 nights of sleep before making a final decision.
The Emma Premium mattress also, funnily enough, comes with a whopping 200-night risk-free trial period. Emma will schedule a pickup of the mattress and offer a full refund if you are dissatisfied at any time during this trial period. Because it takes your body some time to acclimatise to a new mattress, Emma suggests sleeping on it for at least 100 nights before making a decision to return it, interestingly.
Both of these trials are lengthy and, for comparison, Brook & Wilde only offer 100 nights, and Hypnos none at all!
In conclusion, the Simba Hybrid Pro and Emma Premium both provide extensive sleep trials of 200 nights – so it's impossible to pick a 'winner' here.
🏆 Winner: none
Delivery & Weight
Weight:
The Simba Hybrid Pro's weight ranges from 31kg (for the single) to 54kg (for the super king), depending on the size of the mattress.
The weight of an Emma Premium mattress varies from 19kg (for a single) to 43kg (for a super king).
Delivery (UK):
Standard P&P to mainland UK is free with the purchase of a Simba Hybrid Pro and takes between 3-5 business days. In addition, for a cost of about £40, you can have your order delivered on a certain time and day.
Emma Premium: Standard shipping to most of the UK is free of charge and take 2-3 business days. This is slightly quicker than Simba.
So in summary. The delivery times and weights for both mattresses are about the same, with the Simba Hybrid Pro being somewhat heavier than the other in some sizes.
🏆 Winner: Emma Premium
Verdict
So it's clear that the Simba Hybrid Pro and the Emma Premium both have several advantages, after careful consideration and analysis.
However, the Simba Hybrid Pro is superior to the Emma Premium in terms of overall performance. Its 7-layer design provides unrivalled support, pressure relief, and relaxation. The Simba Hybrid Pro is a great option for the eco-conscious consumer because to its hypoallergenic design and impressive environmental credentials. Despite the Emma Premium's many advantages, such as its low price and stellar reputation, the Simba Hybrid Pro offers a more luxurious and restful night's sleep for similar money (assuming there's a sale or discount available).
🏆 The Simba Hybrid Pro slightly pips Emma to the post and is, in my opinion, the best option overall, and the one I would personally go for.
Let me know in the comments what you think!