The age-old advice when choosing a mattress is, that you should pick one that's quite firm. I've heard it countless times and will probably continue hearing it.
Whether you are a light or a heavy person, up until recently it was thought that a firm mattress was good for the body. After years of research, experts have determined that this may not be the case.
Experts agree that you need a mattress that is supportive as opposed to simply being firm.
What's the difference? Well, a firm mattress does offer a good amount of support if you are a heavier person. This is because it will help your spine to remain straight throughout the night.
If you are a heavier person and you choose a mattress that is too soft, then you will tend to sink into it. This will result in your spine not being straight – and not having a straight spine for prolonged periods of time can result in aches and pains in the back. It can even cause lifelong health conditions such as chronic back pain – if you are looking for a mattress for back pain, read this .
There is no universal advice for whether you fall into the 'heavy' or 'light' category unfortunately.
However, experts generally agree that if you weigh over 16 stone a firm mattress will offer you the best amount of support. So here are 5 of the best firm mattresses available today.
Silentnight Pocket Ortho 1400
| | |
| --- | --- |
| Mattress type | Pocket sprung |
| Firmness | Firm |
| Depth | 260mm |
| Price | £389 |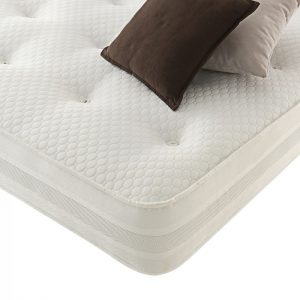 Without doubt, Silentnight is probably one of the best-known mattress manufacturers and retailers in the UK. No list would be complete without a Silentnight recommendation. There's a reason why they are so well known is because they produce quality mattresses in the mid-range price sector. Because Silentnight are a big retailer you will find their products in all of the leading bed stores as well as online. If you shop around you should be able to get quite a good deal on their products.
As the name suggests, the Pocket Ortho 1400 is a pocket sprung mattress. Pocket sprung mattresses are probably the most commonly chosen in the UK. They offer great support and don't provide that sinking feeling that comes with most memory foam mattresses.
They are also considerably cheaper than most quality memory foam mattresses. And because air can get between the springs it also prevents the mattress from becoming too hot when you lay on it. The Silentnight Pocket Ortho 1400 has a spring count of 1,400 which is a great amount of support, and plenty if you weigh up to 16 stone.
Brook and Wilde Lux
| | |
| --- | --- |
| Mattress type | Hybrid |
| Firmness | Firm |
| Depth | 280mm |
| Price | £749 |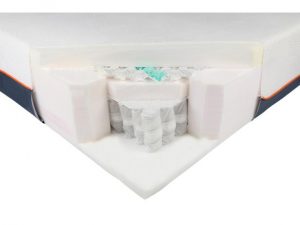 The Brook and Wilde Lux mattress is known as a 'bed in a box'. This is since it comes rolled up or compressed for easy delivery. The advantage of this is that such mattresses are considerably cheaper than the ones you will find in a bed showroom. The disadvantage is that you can't try before you buy, so it can be a bit of a gamble. Fortunately, most bed in a box mattress providers offer a trial period. Brook and Wilde allow you to receive a refund for your mattress within the first 100 nights if it is not right for you. It also comes with a 10-year guarantee so if you do like it you can be confident that it will last the test of time.
The Lux mattress from Brook and Wilde is known as a hybrid mattress. This means that it features both a layer of pocket springs and foam. Hybrid mattresses are thought to represent the perfect compromise. This is because the memory foam layer offers a good level of regular support. The pocket springs prevent the sinking feeling that some memory foam mattresses can have. Also, because there is a layer of springs it adds a breathable layer to the mattress which prevents the memory foam from heating up and becoming too hot when you lay on it. The Brook and Wilde Lux is a great mattress if you are looking for one that is firm and has all the advantages of memory foam as well as pocket springs.
Hypnos Walters
| | |
| --- | --- |
| Mattress type | Pocket sprung |
| Firmness | Firm |
| Depth | 260mm |
| Price | £849 |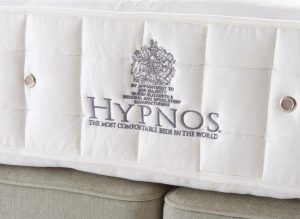 Hypnos is a more premium brand when it comes to mattresses. Like the company Sleepeezee Hypnos also has a royal warrant, which is a sign of quality. Hypnos have won countless awards for their products, including best manufacturer from the National Bed Federation.
The Hypnos Walters mattress is a more traditional style of mattress that contains pocket springs as opposed to memory foam. This is not one of the most expensive mattresses that Hypnos has to offer, but for the specification of the Walters you get excellent value for money.
The king size version of this mattress has a spring count of 1200, which is not considered high but will provide a perfectly adequate level if support for someone weighing up to 16 stone. Unlike the majority of pocket sprung mattresses, the Hypnos Walters cannot be flipped, and has to therefore be rotated instead. Being able to flip a mattress is thought to prolong its life.
As well as a royal warrant, the Walters comes with other features that mark excellent quality. These features include hand side stitching and a tufted finish. Coupled with an impressive depth of 260mm, this mattress is a great pick if you're looking for affordable quality.
Vispring Realm
| | |
| --- | --- |
| Mattress type | Pocket sprung |
| Firmness | Firm |
| Depth | 210mm |
| Price | £1,399 |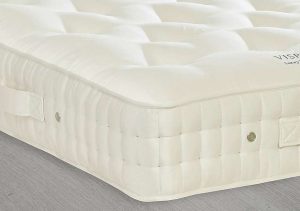 Vispring are one of the only mattress companies out there who will recommend the optimum mattress firmness based on your weight. According to their website, if you weight more than 16 stone then you should choose a firm Vispring mattress. If you weigh more than 20 stone then an extra firm Vispring mattress will probably be better suited to you.
This echoes the general rule of thumb that a firm pocket sprung mattress is best suited to anyone over 16 stone. However, this advice should be taken with a pinch of salt, as there is no universally-accepted scale for grading the softness or firmness of mattresses.
Not many people have heard of Vispring. They are in fact are one of the more premium brands of mattresses in the UK. The majority of the mattresses that they offer cost between £1,000 and £3,000. However for many years they have been at the cutting edge of mattress technology. They were even the company to invent the pocket sprung mattress.
John Lewis and Partners Natural Collection Fleece Wool 8400
| | |
| --- | --- |
| Mattress type | Pocket sprung |
| Firmness | Firm |
| Depth | 230mm |
| Price | £1,299 |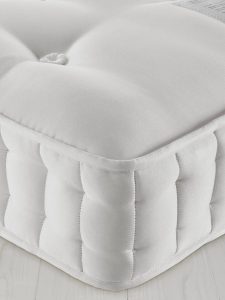 John Lewis and partners are renowned for their quality, so you can almost guarantee that a mattress with their name on it is going to be one of the best. The mattresses sold by John leis and partners are actually made by a company called Harrison Spinks. Harrison Spinks won awards from the National Bed Federation.
The Natural Cotton Fleece Wool 8400 is just one of 18 mattress available in the John Lewis and Partners mattress collection. The reason that it is considered a good is because it can be flipped over. The cheaper mattresses in the same collection cannot be turned over. Being able to flip a mattress is thought to be a sign of longevity.
It also features hand side stitching which of course is another sign of quality. The spring count is a staggering 84,00 but of course this is spanned over several layers. So it is likely that only around 2,000 of these springs will be full size. The rest are mini springs which will have a much more subtle impact.
Was this article helpful?
Do I need a firm mattress if I'm not very heavy?
If you weigh less than 16 stone (224kgs), then you probably won't need a 'firm' mattress. Instead you will probably be more comfortable with a soft mattress
I weight 14 stone should I get a firm mattress?
If you prefer to sleep on a firm mattress then by all means get one, but it is generally believed that someone weighing 14 stone would be more comfortable on a mattress of medium firmness
How we reviewed this article:
Edit History:
Our experts continually monitor the mattress & sleep tech space, and we update our reviews & articles when new information becomes available.
28th February 2023


Current Article - By Carrie Taylor

17th April 2023


Checked & Reviewed - By Jean Marshall

7th October 2020


Copy Edited - By Anthony Maxwell

12th June 2023


Reviewed - By Anthony Maxwell
WhatMattress has strict sourcing guidelines and we try to rely on peer-reviewed studies, academic research institutions, and medical associations where possible.