When it comes to buying a new mattress, most people choose pocket sprung over memory foam. Although memory foam mattresses are becoming increasingly popular, most of us stick to what we know and love. Even after deciding that you'd like a pocket sprung mattress, the choices don't end there. There is a wide range of different pocket sprung mattresses available to buy. Here are some tips to help you get the best value for money when you next buy a pocket spring mattress online.
Check to see if the mattress has won any awards
Although this shouldn't be the only factor that you consider when buying your next mattress, it's still something to bear in mind. The National Bed Federation is probably the most reputable awards body when it comes to mattresses.Here are some recent winners:
Another way to check whether a mattress is any good, is to see what other people who have purchased it have said. That's where websites such as Trustpilot and other reputable websites come in handy. Highly rated pocket sprung mattress brands at the moment include:
Sleepeezee – a mid-priced mattress brand that has a royal warrant
Silentnight – probably the most popular mattress brand in the UK, they also sell beds
Sealey – another well-known brand that is owned by Silentnight
Check the price
The phrase 'You get what you pay for' is something that rings true when it comes to buying a new mattress. It is a nice feeling to get a bargain, but there are some things that you shouldn't scrimp on. A mattress is one of those things because not only do you spend up to a third of your life on one, but a quality mattress will also support you properly so that you get a good night's sleep and are less prone to suffering an injury.
Another phrase to consider is 'If something seems too good to be true then it probably is'. You will see plenty of mattress retailers out there offering as much as 70% off a mattress that supposedly costs £2,000. If you're getting a £2,000 mattress for £600 then the chances are it's only really a £600 mattress. This is fine, but you should shop around as you'd probably get a much better mattress for the same price if you were to shop with the more reputable manufacturers and retailers.
Check the spring count
In a nutshell, the more springs a pocket sprung mattress has the better. A spring count of 1,000 or over is usually a sign of a better-quality mattress. Some pocket sprung mattresses have as few as 600 springs, which isn't going to offer you the right level of support that you will need.
For those who aren't particularly heavy, 1,000 springs should provide ample support during the night. However if you weigh a bit more than the average person then you might be better off purchasing a mattress that has a higher spring count – up to 2,000.
As the spring count is an important factor when determining the quality of a mattress you will see some manufacturers claiming that their products contain many thousands of springs. The advantages of this high number of springs diminishes over about 2,000 because the springs are often smaller and are arranged in rows so don't offer the same support as a single row of 1,000 springs.
Check whether the mattress is quilted or hand tufted
A good sign of a quality mattress is if it has been hand tufted as opposed to quilted. This isn't a cast iron rule of course, as there are many quilted mattresses available that are also of a good quality. However, if you find a mattress that you like and it has been hand tufted then you can pretty much guarantee that it's a good quality mattress. A hand tufted mattress is able to offer more stability than a quilted one.
The disadvantage of a hand-tufted mattress is the fact that they have to be turned regularly. Whereas quilted ones do not require any form of rotation. Bear in mind that buying a mattress that doesn't require flipping or turning is a lot easier to look after, but people who own mattresses that have been regularly turned or flipped often report that their mattress has lasted a long time before needing replacement.

You can look at a quilted or no-turn mattress in one of two ways. It's sometimes the way it has to be due to the high-quality topper on the mattress. This is because it wouldn't make financial sense to put one at the bottom of the mattress as well). Or it could be a sign that the bottom half of the mattress has been made with much cheaper and less supportive materials than the top.
Check the stitching
Just like with the hand tufting of a mattress, hand side stitching is also a sign of a mattress that is of superior quality. Hand side stitching enables the mattress to offer more support on the edges so it will be less likely to sink around the perimeter. Machine stitching is unable to achieve this, so it's easy to tell when seeing a mattress in person whether it has been hand side stitched.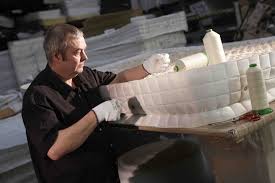 So how do you know if a mattress contains hand side stitching when you are buying online? As it is an indication of quality, it is usually described as a feature of the mattress. So the chances are if you're looking at a mattress and there is no mention of the side stitching, then it has probably been done my a machine. And there is nothing wrong with that. It is all about being armed with the knowledge to get yourself the best mattress for your money.
Check the cover
When it comes to buying a comfortable mattress, the cover is more important than you think. You may use a bed sheet and a mattress protector on top, but the cover can still be felt. So look for a mattress that has a woven cover. The alternative is a stitch-bond cover, which is a cheap way of manufacturing a mattress. It will affect how comfortable it is. Like coil springs, stitch-bonding is an outdated technology for mattresses and is only really used for the cheapest of mattresses.
Look for woven natural fabrics such as damask or cotton. Like many aspects within the mattress world, there is usually a lot of scientific terminology that doesn't actually mean anything. It pays to ignore this, and opt for something that you understand, such as a woven cotton cover.
Was this article helpful?
How we reviewed this article:
Edit History:
Our experts continually monitor the mattress & sleep tech space, and we update our reviews & articles when new information becomes available.
28th July 2020


Current Article - By Anthony Maxwell

1st April 2021


Checked & Reviewed - By Jean Marshall

28th July 2020


Copy Edited - By Anthony Maxwell

10th June 2023


Reviewed - By Anthony Maxwell
WhatMattress has strict sourcing guidelines and we try to rely on peer-reviewed studies, academic research institutions, and medical associations where possible.