If you're suffering from neck pain, then you will no doubt appreciate the importance of a decent pillow.
Not only can ongoing neck pain make you uncomfortable throughout the day, but it can also affect your sleep. Of course, a decent night's sleep is vital for many reasons, so inadequate sleep will naturally bring its own host of problems.
In some cases of persistent neck pain, shockingly it may even be your pillow that is the main culprit. Why? Because if you have an incorrect pillow setup then it can cause excess pressure on your neck, whic leads to pain. Prolonged periods of being in this condition (ie. when you sleep), can cause the pressure to build up and things will only get worsen.
Back pain may also be linked to a similar condition caused by your mattress rather than your pillow – find out more here about the best mattress for back pain.
What sort of pillow do I need?
In order to alleviate or prevent neck pain, your pillow will need to have a few specific characteristics:
First, the pillow needs to be firm or hard enough that it can support the head at the correct, healthy angle.
At the same time, the pillow needs to be soft enough that it can reduce pressure on sensitive pressure points.
This is where memory foam comes into play and why it is a good material for the construction of pillows.
Which leads nicely onto my most recommended pillows for neck pain sufferers:
Best UK Pillows for Neck Pain
1. EVE Memory Foam Pillow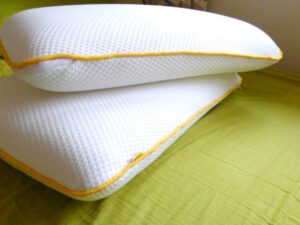 We're tried and tested the memory foam pillow from EVE, and we're more than impressed with it. For the price, it seems relatively simple in construction. However it seems to be one of those "if it ain't broke, don't fix it situations"
There's no fancy technology here, just a memory foam pillow with small holes to allow air flow, wrapped in a washable hypoallergenic cover.
Buying an EVE? Make sure to check out my EVE Discount Codes page first and save some easy money!
Considering it's not 100% customisable like some other memory foam pillows, we found that it is firm enough to correctly support the neck and spine, while at the same time being soft enough to reduce pressure around the neck area. It costs £59, which is the mid-range price, but we think it's worth more. If you use a voucher code you'll be able to get it even cheaper. What's more, the EVE pillow comes with a 14-night trial period. If you don't like it, just send it back for a full refund. Find out what we thought about it here.
2. Emma Pillow (standard)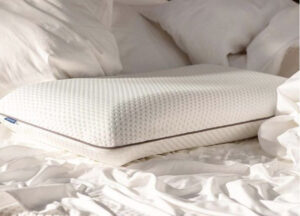 Another pillow that we have tried and tested, the Emma pillow is also good for those who suffer from neck pain. It's nice and soft, which provides immediate relief to your neck as soon as you place your head on the pillow. The three layers of foam that make up the construction of the Emma pillow allow for a good level of support. So like the EVE memory foam pillow, the Emma pillow is the full package.
Priced at £49, the Emma pillow is a little bit cheaper than the EVE pillow.
For the money you get a lot more pillow-technology, but one thing that we found with the EVE pillow is that a lot of this is unnecessary. After the correct amount of support, the next most important thing from a pillow is the cooling ability. The Emma pillow has this nailed down with it's middle layer of 'cold regulating foam'.  If you suffer from neck pain, this is a good bet if for any reason you don't want the EVE pillow.
3. AmazonBasics Memory Foam Pillow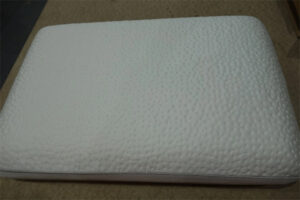 When it comes to mattresses and pillows, many people wouldn't even consider that Amazon had a roll to play. However, a lot of their bed products are very highly rated. The AmazonBasics memory foam pillow is no exception. In fact, on their website it is rated more highly than the Emma pillow. The flagship feature of the Amazon memory foam pillow is the fact that it's made with something known as 'ice silk'. In terms of moisture content, apparently it is a good match with the natural moisture of out skin.
The result of that is that is that the pillow appears silky, smooth, cool, breathable, antistatic and anti-ultraviolet.
Like the EVE pillow it has a cover that is easily removable to clean. If you're looking for longevity then this is an important feature. And another thing that it has in common with the EVE pillow, is the fact that it's nice and simple – just a lump of decent memory foam in a quality, washable cover. The price is enough to sweeten the deal even further. It's only around £30 which is considerably cheaper than most other memory foam pillows. And although it doesn't come with any home trials as such, because it is an Amazon product it's fairly easy to return. It's a good memory foam pillow for the price, so if you've not got a large budget then it's well worth a punt.
4. Nectar Pillow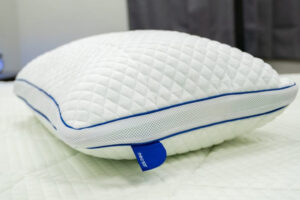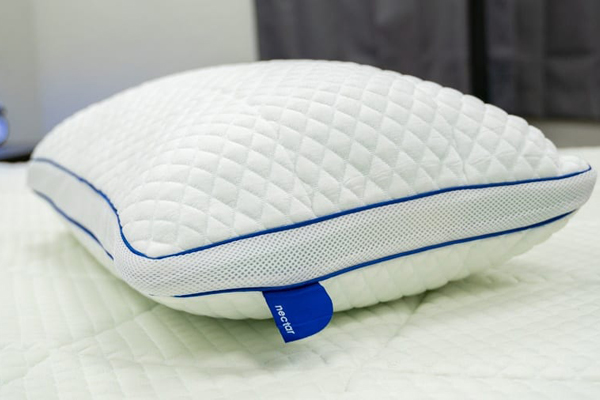 We can't talk about memory foam mattresses or pillows without mentioning Nectar. Their mattress is one of the best-selling memory foam mattresses available in the UK. The Nectar pillow (see my review here) is also  apparently flying off the shelves. Probably the best thing going for it is the fact that it is customisable.
The Nectar pillow was designed in such a way that you can add or remove foam from one of the layers as required to get the right level of support and comfort for your individual needs. This is achieved by filling one of the layers with small pieces of memory foam instead of one large piece. The pieces are the optimum size as well. They are small enough that you can't feel each individual piece digging into your head throughout the night. At the same time, they are large enough to work together to provide support. Like all good memory foam pillows, the Nectar pillow has cooling technology. Pricewise it's pretty solid as well. For £70 you get two pillows, so that works out at just £35 each. If you have a Nectar memory foam mattress and are happy with it then the Nectar pillow is a no-brainer
5. Simba Hybrid Pillow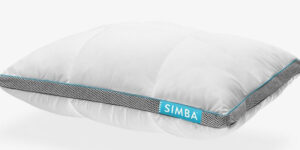 The Simba Hybrid is another pillow that contains many smaller pieces of foam in one of the layers. These pieces can be added and removed to provide you with your desired amount of support and comfort. At £99, it's almost three times more expensive than the Nectar pillow. This is because the small pieces of removable foam within are about the only similarity between the two pillows.
The Simba hybrid pillow, like the Simba Hybrid Original mattress, went through a lot of design and testing before release, so pretty much every avenue has been visited when it comes to creating a decent pillow. Everything has been considered – it even comes with a little bag to store your unwanted foam pieces should you need them at a later date.
In addition to the 100% customisable layer, the Simba Hybrid pillow also has a dedicated cooling layer at the top. Underneath this – where the pillow can be customised – is a cooling vent. The bottom layer features a soft yet durable fill which allows the pillow to retain it's shape. Although one of the more expensive options for memory foam pillows, the Simba Hybrid contains years of product research and intuition – which in our eyes makes it well-worth the extra cash outlay.
So… Which neck pillow is actually the best?
There is a plethora of different pillows available out there, which are marketed as being able to prevent or alleviate neck pain. From our experience, the ones that are most effective at this are – at least in part  – made from memory foam. For this reason, all five pillows are made of memory foam. If you're on a really tight budget then you may not find the above recommendations useful. In our opinion and with our experience with neck pain, it is far better to spend more on a pillow that you know will support your neck properly than to risk buying cheaper pillows made from sub-standard materials.
FAQs about Neck Pain & Suitable Pillows
Can a pillow get rid of my neck pain?
Yes, in many cases the pillow you use will alleviate neck pain. The majority of neck pain is caused by use of the incorrect pillow, so a good pillow may get rid of it completely.
I find memory foam pillows too hot. Are there any others available for neck pain?
There are many pillows out there that will help with neck pain, but from our experience memory foam ones work the best. A lot of memory foam pillows have been designed with excess heat i mind, so it's well worth trying one.
How many pillows do I need?
People sleep differently and therefore require a different pillow setup. In our opinion if your pillow is striking the correct balance between offering support and relieving pressure then you will only need the one.