The general advice is that softer mattresses are better for lighter people. This is because softer mattresses tend to be made from memory foam as opposed to pocket springs. Memory foam provides more all-round support. However it can also give you a sinking feeling if you are on the heavier side.
A mattress should keep your spine straight while you sleep. If you are a light person then your hips and shoulders simply won't sink into a firm mattress enough for it to provide you with the proper amount of support. If you are a heavier person on a soft mattress then you're going to sink into it too much. Therefore you won't get adequate support from it. As a general rule of thumb, use this table to decide which firmness of mattress is best for you:
| | |
| --- | --- |
| Weight | Mattress firmness |
| Less than 8 stone | Soft |
| 9 to 16 stone | Medium |
| 16 stone or more | Firm |
If you are heavier than the average person, a pocket sprung mattress is more suitable than a memory foam one. Try to look for one with a spring count of at least 1,000. This is because they tend to offer more all-round support. Beware of mattresses that have ridiculously high spring counts – especially if they are not very expensive. In such cases the springs are usually spanned over more than layer, which doesn't actually provide any extra support.
Silentnight Studio
| | |
| --- | --- |
| Mattress type | Memory foam |
| Firmness | Soft, medium or firm |
| Depth | 260mm |
| Price | £599 |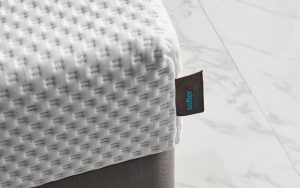 As mentioned earlier, Silentnight is probably the best-known brand of mattress in the UK. Their reputation means that they are often considered a solid mid-range choice for those hunting for a new mattress.
Silentnight mattresses tend to be pocket sprung, but more recently they have come up with some mattresses that contain memory foam in order to compete with all of the other companies that now offer them, such as Nectar Sleep, OTTY, etc. The result of this is the Silentnight Studio mattress. Unlike the majority of memory foam mattresses available, with the Silentnight Studio mattress you can actually choose from a soft, medium or firm mattress.
The Studio has won many awards since it became available, with one of them being the Best Buy award, which is about as good as it gets for a mattress. Silentnight sell their products all over the internet so there's no shortage of reviews to look at. There are thousands of people out there raving about this one, so it's got to be a good buy. Silentnight are well-known for their 60-night guarantee which means that if you're not happy with your mattress you can swap it for a mattress of a different firmness. You can't get your money back though.
Brook and Wilde Lux
| | |
| --- | --- |
| Mattress type | Hybrid |
| Firmness | Soft |
| Depth | 280mm |
| Price | £749 |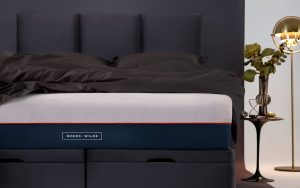 You may not have heard of this mattress brand before, but Brook and Wilde is definitely a company to look into. That is if you want an award-winning soft mattress for your bed. In addition to several awards for the Lux mattress, the company have also received many thousands of good reviews. And all on reputable review websites such as TrustPilot.
The Lux mattress from Brook and Wilde is known as a 'bed in a box' mattress. This is because it is compressed and packaged in such a way that it can be delivered with ease. Despite being very soft, it does in fact contain pocket springs as well as foam. In fact the Lux boats over 3,000 springs. As well as 1,000 pocket springs it also contains 2,000 mini springs so you're bound to get plenty of support from it. In addition o the springs is a layer of memory foam, which offers more consistent support. The memory foam in this particular mattress is breathable so you shouldn't have too much of a problem with it being too warm.
As well as a 10 year guarantee there is also a 100 night trial period which means that you are able to swap it for a mattress of a different firmness or request your money back if you are not happy with it in the first 100 days. As this mattress contains memory foam as well as springs, it cannot be flipped so should just be rotated.
Hypnos Premier
| | |
| --- | --- |
| Mattress type | Hybrid |
| Firmness | Soft |
| Depth | 270mm |
| Price | £1,249 |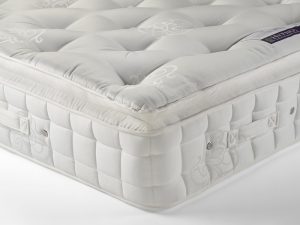 One of the few mattress brands out there with a royal warrant, Hypnos mattresses are a premium brand that offer excellent value for money. They are considerably more expensive than cheaper mattresses, but as a mid-range mattress you do get a lot for your money. The Hypnos Premier is a soft feel mattress, which has all the usual marks of being a good quality mattress including hand side stitching, which gives it more supportive edges.
Like the majority of the softer mattresses, the Hypnos Premier contains a built-in layer of memory foram at the top to offer more support. This also means that the mattress cannot be flipped in the traditional sense. However, it can still be rotated regularly I order to increase its longevity.
Sealey Teramo 1400
| | |
| --- | --- |
| Mattress type | Hybrid |
| Firmness | Soft |
| Depth | 290mm |
| Price | £550 |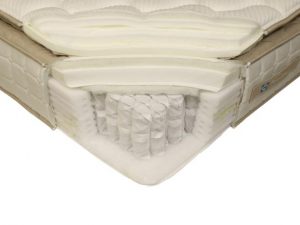 The Sealey Teramo 1400 is a pocket sprung mattress with a slight difference.  It also features a topper to add a bit of extra softness and support. Sealey are not as well-known as some other mattress brands, but don't let that put you off. Sealey mattresses are actually owned by the same company that owns Silentnight, which is probably the UK's leading mattress brand. Their mattresses are considered as a more premium option compared to Silentnight offerings.
The fact that the Sealey Teramo 1400 has a memory foam topper means that it cannot be flipped, so can only be rotated. This means that it may not last quite as long as more traditional pocket sprung mattresses. The number 1400 in the name of this mattress refers to the number of pocket springs that it contains. This amount of springs is thought to be a decent number in terms of support and comfort, should you be a lighter person. The centre layer of this mattress has been reinforced in order to support your back and core that little bit more. The word given for this is 'Posturepedic'.
Vispring Devonshire
| | |
| --- | --- |
| Mattress type | Hybrid |
| Firmness | Soft |
| Depth | 270mm |
| Price | £1,699 |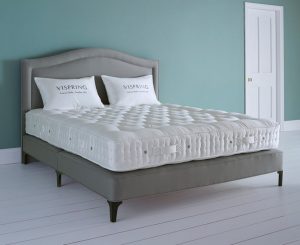 Vispring offer some great guidance with their mattresses. For their products, they recommend that you should opt for a soft mattress if you weigh less than 11 stone. The Devonshire is their softest offering, but is also one of the priciest mattresses in the mid-range market. Vispring aren't particularly well known, but they have been around for a long time. They are actually the inventors of the pocket sprung mattress. The great thing about the Devonshire mattress is the fact that despite being soft, it also offers plenty of support as it contains over 1,300 springs. So if you're a lighter person looking for a soft mattress that still offers plenty of support, the Vispring Devonshire is a great pick. If you weigh more than 11 stone then don't worry because the Devonshire is also available in medium and firm.
Was this article helpful?
How we reviewed this article:
Edit History:
Our experts continually monitor the mattress & sleep tech space, and we update our reviews & articles when new information becomes available.
1st March 2023


Current Article - By Carrie Taylor

21st May 2023


Checked & Reviewed - By Jean Marshall

1st March 2023


Copy Edited - By Carrie Taylor

12th June 2023


Reviewed - By Anthony Maxwell
WhatMattress has strict sourcing guidelines and we try to rely on peer-reviewed studies, academic research institutions, and medical associations where possible.