A good night's sleep is important to all of us. However not all of us want to spend £1,000+ on a mattress. Whether you're on a budget or you're shopping for a spare room, you might want something a bit cheaper.
There are so many different mattresses out there, that even the sub £200 market has some pretty good picks. And some of them have surprisingly decent specifications for that price bracket.
Some good advice if you're on a budget:
If you want a pocket sprung mattress, choose a brand that you've heard of. If possible, aim for a spring count of more than 1,000.
If you're looking for a memory foam mattress, look for one from a lesser-known company but with good reviews
Avoid coil sprung mattresses altogether as they are simply outdated and uncomfortable.
The following prices are for double mattresses. If you have a smaller or larger bed, then expect to pay less or more respectively.
Silentnight 3 Zone Memory Foam Mattress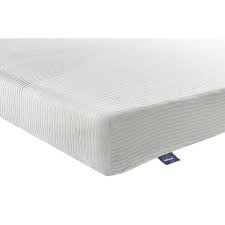 If you're looking for a cheap memory foam mattress from a brand you know and trust, then look no further than the Silentnight 3 Zone memory phone mattress. Probably the UK's biggest name in mattresses, Silentnight are well-known for their quality and competitive prices.
The 3 zone memory foam mattress from Silentnight comes with a three year guarantee (which is actually not very long for a mattress), and is highly rated despite being only 18cm deep.  Back in 2012 when it was first released it won many awards.
Memory foam is a good alternative to a pocket sprung mattress. It offers a more consistent level of support than springs because it's able to contour to the shape of your body and relieve common pressure points. The one downside to memory foam is the fact that you can sink into it. Some people don't mind this at all, whereas others don't like it much. Memory foam mattresses are also warmer than sprung mattresses. So be sure to bear both facts in mind if you are larger than the average person.
The great thing about memory foam mattresses is that they can be rolled up for easy delivery, so all you need to do is unroll them and give them some time to expand. But be aware, they will smell for a few days after opening.
Inofia Elegant Collection Mattress
| | |
| --- | --- |
| Type | Pocket sprung |
| Firmness | Medium |
| Price | £169 |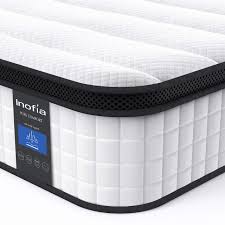 Inofia are not a very well-known manufacturer of mattresses, but don't let that put you off. They offer a brilliant specification for the sub £200 price point, and come with many great reviews. Although the spring count of this mattress is not stated, the great thing is that it also has a layer of memory foam. This means that you get the best of both worlds. For those who like the warm, sinking feeling of memory foam but want a firmer mattress, the Inofia could be the ideal compromise.
The Inofia also comes with a 10 year guarantee which is pretty good, and a 100 night trial. So if it's not quite right for you, you can always send it back. This is not often an option when you're buying something for less than £200. Despite being cheap, it's surprisingly deep at 270mm, compared to the 150 to 200mm depth of other mattresses in this price range. This is similar to the OTTY mattress range, but at a lower price.
Sleepeezee Classic Ortho 800 Pocket Mattress
| | |
| --- | --- |
| Type | Pocket sprung |
| Firmness | Firm |
| Price | £210 |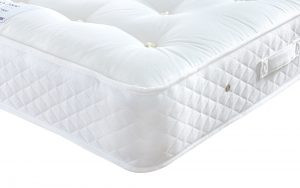 If you're looking for a cheap, traditionally made mattress from a bran that you've heard of, then the Sleepeezee Classic Ortho 800 is the perfect mattress for you. The brand has a Royal Warrant, but their budget mattresses offer great value for money.
Sleepeezee are definitely one of the highest rated sprung-mattress companies so they are well worth considering. The only letdown for this mattress is the fact that the spring count is fairly low. At only 800 springs this is below average so if you're heavy then you might find you sink into it a bit. Heavier people will be better off with a spring count of 1,000 to 2,000.
Not only does this contain pocket springs instead of the uncomfortable and outdated coil springs, but it also has a good depth of 240mm which is verging on the same quality as the top-quality mattresses.
In addition to a 5-year guarantee it also comes with a 60-night sleep trial. Unlike most other trials where you can get a refund, with Sleepeezee you can swap it for a different mattress so it's worth bearing that in mind.
Happy Beds Majestic 1000 Pocket Sprung Mattress
| | |
| --- | --- |
| Type | Pocket sprung |
| Firmness | Medium |
| Price | £180 |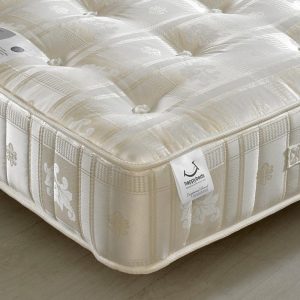 The Majestic 1000 has a higher specification than the aforementioned Sleepeezee, and is a little bit cheaper. So if you're looking for a pocket sprung mattress then this could be a great pick for you. The fact that it has a spring count of 1,000 means that it'll offer you plenty of support unless you are a particularly heavy person. The majority of people prefer a sprung mattress like this one as opposed to a memory foam mattress.
The Majestic 1000 also has a tufted top as opposed to a flat one, which is also another sign of quality workmanship. The fact that it is a pocket sprung mattress with no memory foam means that it can be flipped, so it should last a long time as well, making it even better value for money. At 250mm deep it's also a pretty good depthy for the price point. Some mattresses available at twice the price offer this depth. Research it online and you'll see that there are plenty of good reviews out there. In fact, this is probably the best mattress you can buy for under £200 today.
Vesgantti Pocket Sprung and Foam Mattress
| | |
| --- | --- |
| Type | Hybrid |
| Firmness | Soft/medium |
| Price | £165 |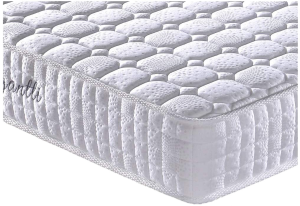 Just like Inofia, Vesgantti is quite possibly a brand of mattress that you haven't heard of before now. However it's worth paying attention to them because they offer a lot of mattress for the price. With many good reviews on Amazon and other review websites, this mattress is a good contender for the sub £200 price category. I will write a longer review of them shortly.
It's a hybrid mattress – made from a combination of  pocket springs as well as foam layers. It's unclear how many springs it contains though, so it's best to assume that it's in the region of 800. This means that it may not be suitable for a particularly heavy person.
As well as several layers of foam there is also a layer of memory foam. For the price it's also a thick mattress at 240mm deep. The fact that it contains foam means that it can be squashed into a box for much easier handling.
FAQs about sub-£200 mattresses
Which is the cheapest mattress in the UK?
Although I haven't reviewed it above, because I don't think it's a very good mattress, the cheapest single size mattress in the UK is available on Amazon.co.uk. It's currently for sale for around £39. No, that's not a topper, it's a full memory foam mattress – but it has very poor reviews. I have never heard of the brand "Vesconti" either, and cannot find any information on a) where it's manufactured or b) if it's even fire safety standards compliant.
So in short, I recommend you avoid buying uber-cheap mattresses like this; if you are on a budget then buying a decent mattress for £200 or less is entirely possible.
Are cheaper mattresses worth it?
If you are replacing your mattress often, for example if you are someone prone to heavy sweating, then it may be worth changing it much more frequently than the manufacturer's recommended period of 8 years. This seems like a long time if it's sagging too. I'm not fully convinced that mattresses today will last for 8 years anyway, particularly memory foam ones made in China cheaply.
There are, of course, many other ways to save money. In these tough times, buying a cheaper mattress might not be the best way to save. Remember that you can switch your energy provider at any time, and save money on your electricity bills. Another good way to save money is to stop upgrading to the newest iPhone every year. Keep your existing handset for 3-5 years and get a SIM Only deal from somewhere like this. Comparing prices is usually the way forward, via a price comparison webiste.
On the other hand, if you are getting only occasional use out of your mattress, then it doesn't make sense to spend a lot of money on it. For example if it's in your spare room then it'll likely only get used a few times a month – in cases like this, it doesn't make sense to spend £800 on a mattress like Simba or premium brands like Brook and Wilde.  Of course it really depends on a) your budget, and b) how much usage you're getting out of it. If it's an everyday usage thing, then spend more if you can afford it.