Nrem by SleepHubs is perhaps not the most well-known of the mattress brands. It used to be known as "Tweak Slumber" so make sure you look for reviews under that name, too.
On the surface it's just another hybrid mattress – similar to Simba and Nectar – but there is a twist: a replaceable system of foam inserts. Nrem is the only "customisable" mattress on the market to offer this functionality; these foam inserts are supposedly good for those with bad backs and pains and you can also customise the firmness inserts to select between firm, medium and hard. Nrem even include different replaceable inserts with each purchase.
But is the Nrem mattress actually worth bothering with, or is it just a fad? Is it an attempt to differentiate itself in an already crowded market?
At a glance:
Pros
Game-changing swappable layers
Machine washable cover
All the benefits of a Hybrid mattress
Cons
A bit pricey
30 night trial is quite short
Some concerns about hot sleeping
There are many people that swear by Nrem's unique idea — while others say it's a bit of a gimmick. Read on to find out more including my hand-tested review and if the Nrem should be your next mattress purchase or not…
A new kind of mattress?
Yes and no.
Nrem proudly proclaim their mattress as being "For Pain Sufferers". What this supposedly means is that it has been designed with comfort, or rather support, in mind. While a lot of mattress companies of course do design their mattresses with comfort as a priority, the Nrem mattress is a bit different. Like me you probably won't have even considered the possibility of having a mattress with multiple firmness ratings within the same mattress.  In other words: your partner can have a 'firm' mattress while you are on a 'soft' mattress — but it's the SAME mattress!
The way that Nrem do this is clever. They've invented a new, quirky patented design where each mattress has its own adjustable pads or layers. You simply add or subtract whichever layer you want, depending on the firmness required. If you want a softer mattress then Nrem luckily provide 4 different 'soft' rated layers; just place them onto the top of the mattress.
If you're worried about the possible "maneuverability" of these layers in the night, i.e. them coming apart and being really uncomfortable (as I was), then don't be. Nrem have designed them to fit snugly and it does seem impossible that they'll move around, given how tightly they fit together. Even if you sleep alone, there's no chance of them coming 'apart'.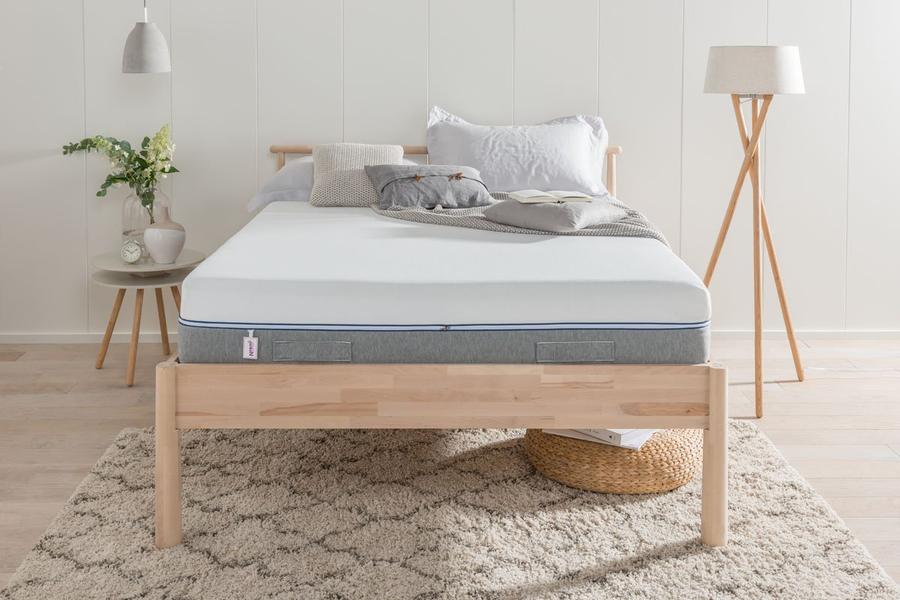 Split down the middle
The Nrem mattress design means that they have basically created two separate mattresses and merged them into one (for double sizes and up). Confused? Don't be. This is how the Nrem designers managed to create a truly unique mattress: essentialy allowing two partners to share the same bed, but with very different firmness ratings suited to each person's needs. It's a clever idea and I really like it, I hope more companies offer it.
Suffer from upper back pain? Try a firm insert under that section of your body. Does your partner prefer a softer mattress? Or need more comfort for an area of acute pain? They can cushion it with a soft insert exactly where they need it. Orthopaedic mattresses are very en vogue right now, but I think Nrem have really broken new ground here. If you're suffering from back pain then check out my other suitable mattress reviews here.
Note that you don't actually sleep ON the foam inserts; they are of course behind a washable cover. Here is the rundown of each layer inside each Nrem mattress… The Tweak Nrem mattress actually comprises five layers:
First layer – On top is a breathable, hypo-allergenic fabric cover that can be removed and machine washed at 30 degrees.
Second layer – a 4cm ("Viscool") "cooling comfort layer" that cushions your body, while also wicking away moisture and preventing you from overheating.
Third layer – reflex foam
Middle Layer: A pocket spring layer which is a combination of pocket springs. Some of the springs are supportive AGRO springs and the rest are Harrison Spinks micro-springs. The number of the springs can go up to 2,000 depending on the size of your mattress.
Bottom Layer: The base layer of this mattress which is made of highly resilient foam.
Thankfully, Nrem provide a page dedicated to clarifying how to setup your new mattress here.
Nrem: What else is there to know?
The main thing is that while this is a hybrid mattress, it's not your regular memory foam hybrid. Nrem have used what they call "reflex foam" which they claim is more reactive to pressure.
And according to my testing I can pretty much vouch for this – if you roll around on a regular memory foam, then it doesn't respond straight away. Indeed it can take up to an hour to fully adjust (sink) to your body's shapes or sometimes even longer. Of course the benefit of this is you don't really notice it when you're laying there. But with reflex foam here, it's much more responsive and will sink or adapt to your body's shape within a few minutes. It's very different if you're used to a normal foam or pocket spring, but with time I got used to it.
Nrem do offer a 'white glove' delivery service too – if you opt for this, then your mattress-in-a-box won't actually be delivered in a box…! Instead, it will come shrink wrapped in a large plastic wrapper and be delivered to your room of choice.
The mattress itself was fairly heavy at 30KG, this is just about possible to carry for the average person but if you're going up stairs or are infirm in some way then it's definitely worth paying extra for their white glove delivery service. I had to get help to lug it round my twisty staircase, and this blog post suggests I wasn't alone!
In practice, configuring the mattress was a straightforward process. The stretchy cover zips open and closes easily, and the foam inserts are corrugated on the underside, so you just slot them in the order you want onto the base below. Bear in mind that the foam does have a lot of friction, so you can't just slide the inserts in, but positioning each insert is easy.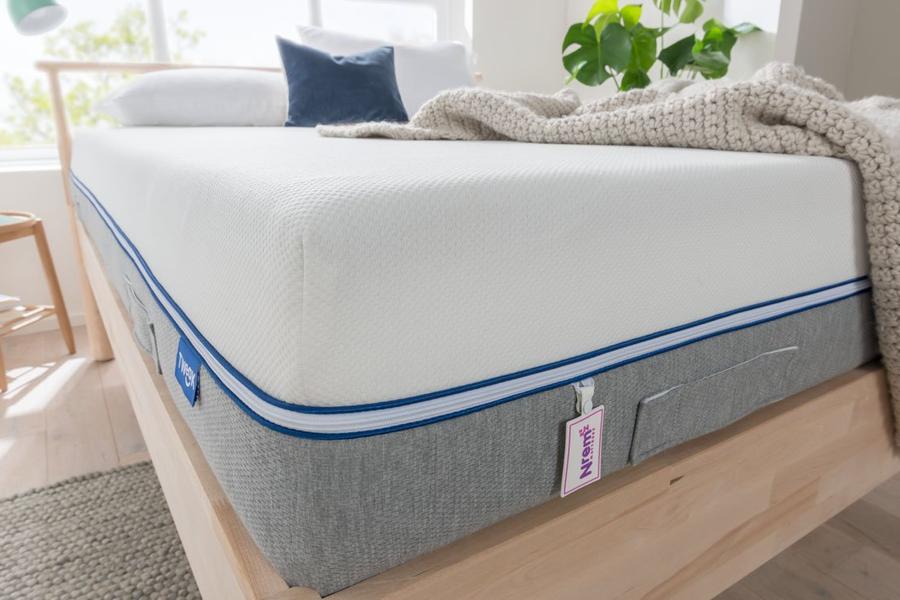 A few drawbacks…
The Nrem is a great mattress, almost revolutionary and yet so simple an idea. I don't know why others haven't followed – perhaps they will.
That said, I did find it to be quite a hot mattress. And other reviews I have found online tend to agree with me. If you're a hot sleeper then you may want to re-consider, or read my article on hot sleeper mattresses.
Whether the Nrem will succeed in its mission to help chronic pain for everyone is harder to review because pain is subjective, and can change over time – but that's the point of this mattress: you can rearrange it. Tweak says: "Whilst the mattress can not cure chronic pain conditions, it can help you to get more comfortable at night, giving you a better night's sleep". And let's not forget, you do pay a premium for that customisation – around 25% more than other brands like Emma.
Customising your Tweak mattress
"Customising" a mattress is probably an alien concept to you – most people just buy it, open it, let it expand, worry about the smell for a few days, then forget all about it. The Nrem mattress gets my vote for anyone with back or neck pain. It's also a fantastic solution for anyone who's tired of compromising on the firmness of their mattress, or shares a bed with a restless partner. If you're on a regular memory foam mattress now then you'll definitely notice the change in the foam too, whether "reflex foam" is right for you or not, is hard to tell.
But remember that Nrem do a 30 night trial. While this isn't as long as Nectar (who offer a 365 night trial), it's perhaps just about long enough to gauge if the mattress is right for you. It's a shame that the trial period is not a little longer, though.
Other brands to consider:
Cheaper Hybrid: OTTY Sleep
Longer trial: Nectar
Most tested/reviewed/better known: Emma
Rating:
Nrem is rated 4.3 / 5 on Trustpilot.
Is there a trial period?

Yes. The Tweak Slumber Nrem mattress comes with a great warranty (10 years) so you can feel very confident about this product. As per above, you also have 30 nights to try this mattress and if you are not happy with it then you can return it free of charge and get a full refund.
If you've been researching mattresses for a while then you'll probably be thinking right now that, hmm,  30 days isn't that long, compared with other brands. For example, Nectar or even DreamCloud provide a full 365-night trial, that's a whole year, of trying out their mattresses. But they retail at higher price points, so that's something to bear in mind.
Will it fit my bed frame?
The sizing for all Nrem mattresses is UK specific, so it should do, unless you have an older IKEA bed which uses European sizing. The mattress comes in 4 sizes (single, double, king and super king) so check if your old base is compatible.
How much does the Nrem mattress cost?
As you can probably guess, it's not the cheapest – what with the customisation available, the Nrem mattress sits at the top-end of the "mid" price range in the UK:
Discount code for SleepHubs
Please note that the prices above exclude any discounts, but it's possible to use a voucher code for Tweak Slumber and save up to £125 off the above prices…!
To get this discount of £125 off, just use my exclusive voucher code below:
Please note that presence of voucher codes or promotions does NOT indicate my support for this particular product or brand. I try to be as unbiased as I can be.
Conclusion
The N:Rem mattress is a bit of a game changer if you've long suffered from different sleeping needs to your partner.
If you've got back problems or concerns, then being able to customise the firmness levels for EACH side of the bed is a huge plus. The Nrem does come with some drawbacks though, such as not being suitable for some very hot sleepers, and the lack of any sort of lengthy trial ("only" 30 nights). It's also not cheap, but if you want something to aid with back pain then it's definitely worthy of your consideration.