Are you tired of the same old memory foam mattresses? Ready for something natural and new? Look no further than latex! Often overlooked but packed with benefits, latex mattresses are the sleeper hit waiting to take the bedding world by storm. But don't be fooled – quality comes at a price.
As you're in the market for a latex mattress, you've probably seen a load of 'best of' articles on Google. But most of these are talking about American latex mattresses not sold over here in the UK. All of the below mattresses I have reviewed/tested, are for sale in the UK.
So which latex mattress is best for us Brits?
️‍🔝 Top 3 latex mattresses (UK)
Below, I will tell you all about my top latex mattresses in the UK and why I decided upon them – and how I tested them out.
What is a latex mattress?
Firstly let's start with the materials. Latex is simply another name for natural rubber.
Plastics & acrylics have replaced natural rubbers in a lot of things – as plastic is cheaper to produce, and that's certainly the case for mattresses too. Most memory foam mattress are made of what's called "PU foam" – or in other words plastic-based foam. Latex, on the other hand, is more of a 'natural' product and comes from the rubber tree.
Now, let's explain what's inside a latex mattress.
Most latex mattresses are actually hybrid mattresses. That is, they have a layer of latex but also a pocket spring layer too.
If you see something called an "all-latex" or pure latex mattress then that means there is no spring/coil layer, and it's just quite literally made almost exclusively of latex. These are quite rare – but it's still possible to buy an "all-latex" mattress in the UK – and I've selected a few here in my list.
What's better about latex mattresses?
Compared with normal memory foam, the main benefit is that they are more comfy.
And that isn't just my personal opinion, most experts agree with me. Latex offers a softness just not found in regular plastic-based mattresses. The best way to describe it is, have you ever bought an organic cotton t-shirt and compared it to a polyester t-shirt? That is the level of difference here. Side-by-side the differences are much more noticeable, too.
What's more, latex mattresses are pretty bouncy. If you like soft mattresses, then a latex one may be just right for you.
The other benefit to latex mattresses is that they are not moisture retentive, nor heat retentive. In other words, they're good at wicking away heat from the body. For all of the benefits of memory foam, a lot of people find them too hot. If you're a hot sleeper then latex mattresses are definitely worth a look.
Overview: Latex mattresses
I have made a list of the benefits & drawbacks, when comparing latex to memory foam mattresses:
Pros
Bouncy and comfy
If you're a "toss and turner", then bounce absorption is much higher
If you're a hot sleeper, then latex is great at wicking away heat
Minimal 'new mattress smell'
Will last longer than memory foams typically
Cons
Generally, if you're shopping on a very tight budget, then my advice is to consider a regular memory foam mattress rather than latex. Why? Because these are built using man-made materials, so they are nearly always cheaper than latex.
I've written a guide here on the cheapest mattresses you can buy right now in the UK. Don't think you can't get a decent mattress for less than £200, as you really can.
What about latex mattress toppers?
To improve the comfort of your bed without breaking the bank, if your budget is tigher, then consider a latex mattress topper.
They can lengthen the life of your mattress while adding a new level of comfort and support. Latex toppers are an excellent option for individuals on a tighter budget who yet like a luxurious bed because they should last far longer than memory foam or down toppers.
Those who suffer from allergies or sensitivities can rest easy knowing that latex is a hypoallergenic, antibacterial, and dust mite-resistant natural substance. If you're wanting to upgrade the quality of your sleep without maxing out the budget, a latex mattress topper may just be the way to go. 🙂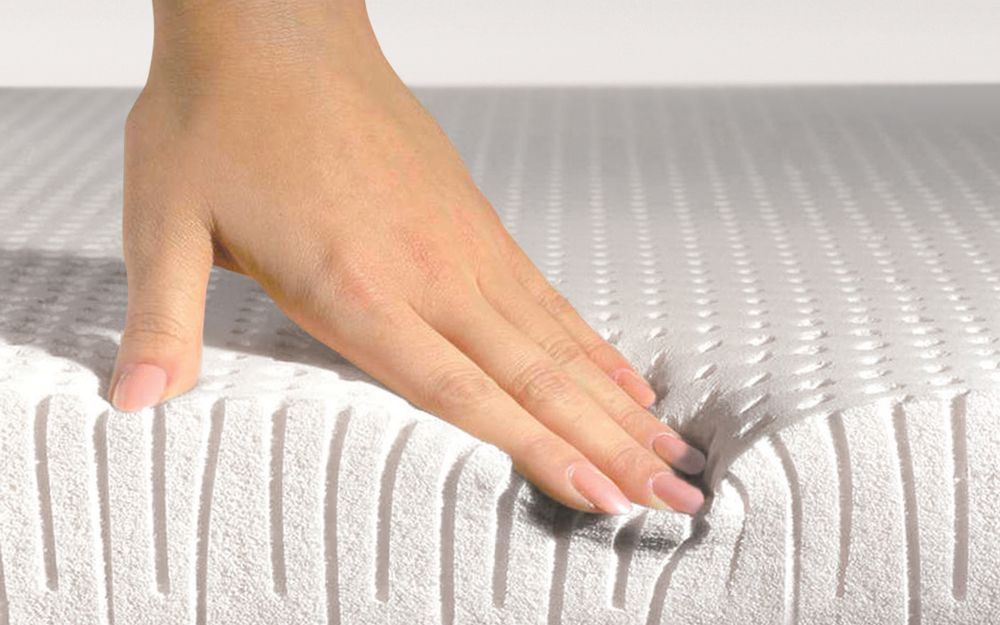 Aren't latex mattresses dangerous!?
A quick note about fire retardant latex and the UK regulations. A website visitor has asked me if latex mattresses are fire retardant – because if they are made of 100% latex then they presumably cannot be fire retardant, as latex itself isn't flame/fire retardant.
Let me clarify: to be able to sell a mattress in the UK legally, it MUST meet or exceed fire regulations. An "all latex" mattress ( made of supposedly "100%" latex) will still have fire inhibitors added to it, such as natural carbon, but this just isn't included in the headline "100%" figure. A bit misleading perhaps, but that's the price we pay for safety. There is more information here.
So to be sure: all of the latex mattresses I've reviewed here, are completely safe and meet all fire regulations in the EU and UK (as are all mattresses reviewed on this website).  Double-check your own latex mattress if not buying one of these, to be completely sure!
Summary: Top 5 latex mattresses
Without further ado, here are my very best recommended latex mattresses, all available to buy today in the UK online or in some stores:
1. Simba GO Hybrid – Best Overall
The Simba GO Hybrid mattress is a great choice for those who want an eco-friendly sleeping experience and I'm so glad that Simba have finally launched it in the UK.
It's obvious that Simba have gone to greath lengths here to create a mattress that is both comfortable and sustainable: the GO Hybrid is made from a mix of new and recycled fibres, organic latex and even organic cotton for the cover; it's also 100% recyclable. And Simba even uses a carbon-neutral courier service for delivery.