Latex mattresses aren't as popular as memory foam ones, but with the various campaigns to buy more 'natural' products, I anticipate that latex will be the next big thing before long. Latex mattresses also have plenty of other benefits as well to consider – but do tend to be fairly expensive.
If you're in the market for a latex mattress, then you've probably seen a load of 'best of' articles on Google. But most of these are talking about American latex mattresses not sold over here in the UK. So which latex mattress is best for Brits? Here I will tell you all about my top five latex mattresses and why I decided upon them…
What is a latex mattress?
Firstly let's start with the materials. Latex is simply another name for natural rubber.
Generally, plastics & acrylics have replaced natural rubbers in a lot of things – as plastic is cheaper to produce. Most memory foam mattress are made of what's called "PU foam" – basically, plastic-based foam. Latex on the other hand is more of a 'natural' product and comes from the rubber tree.
Most latex mattresses are actually hybrid mattresses. That is, they have a layer(s) of latex but also a pocket spring layer too. If you see something called an "all-latex" mattress then that means there is no spring/coil layer, and it's just quite literally 100% latex. These are quite rare – but it's still possible to buy an "all-latex" mattress in the UK.
What is better about latex mattresses?
Compared with normal memory foam, the main benefit is that they are more comfy. And that isn't just my personal opinion, most experts agree with me. Latex offers a softness just not found in regular plastic-based mattresses. The best way to describe it is, have you ever bought an organic cotton t-shirt and compared it to a polyester t-shirt? That is the level of difference here. Side-by-side the differences are much more noticeable, too.
What's more, latex mattresses are pretty bouncy. If you like soft mattresses, then a latex one may be just right for you.
The other benefit to latex mattresses is that they are not moisture retentive, nor heat retentive. In other words, they're good at wicking away heat from the body. For all of the benefits of memory foam, a lot of people find them too hot. If you're a hot sleeper then latex mattresses are definitely worth a look.
Pros and cons of latex mattresses:
I have made a list here when comparing to memory foam mattresses.
BENEFITS OF LATEX
Bouncy and comfy
If you're a "toss and turner", then bounce absorption is much higher
If you're a hot sleeper, then latex is great at wicking away heat
Minimal 'new mattress smell'
Will last longer than memory foams typically
DRAWBACKS OF LATEX
If you're shopping on a tighter budget, then consider a regular memory foam mattress rather than latex. As these are built using man-made materials, they are nearly always cheaper than latex. I've written a guide here on the cheapest mattresses you can buy right now in the UK. Don't think you can't get a decent mattress for less than £200 as you really can.
Aren't latex mattresses dangerous / not fire retardant?
A quick note about fire retardant latex and the UK regulations. A website visitor has asked me if latex mattresses are fire retardant – because if they are made of 100% latex then they presumably cannot be fire retardant, as latex itself isn't flame/fire retardant.
Let me clarify: to be able to sell a mattress in the UK legally, it MUST meet or exceed fire regulations. An "all latex" mattress ( made of supposedly "100%" latex) will still have fire inhibitors added to it, such as natural carbon, but this just isn't included in the headline "100%" figure. A bit misleading perhaps, but that's the price we pay for safety. There is more information here.
So to be sure: all of the latex mattresses I've reviewed here, are completely safe and meet all fire regulations in the EU and UK (as are all mattresses reviewed on my website).  Double-check your own latex mattress if not buying one of these, to be completely sure!
My top 5 latex mattresses
Without further ado, here are my very best recommended latex mattresses, all available to buy today in the UK online or in some stores:
1. Dunlopillo Royal Sovereign – from £1249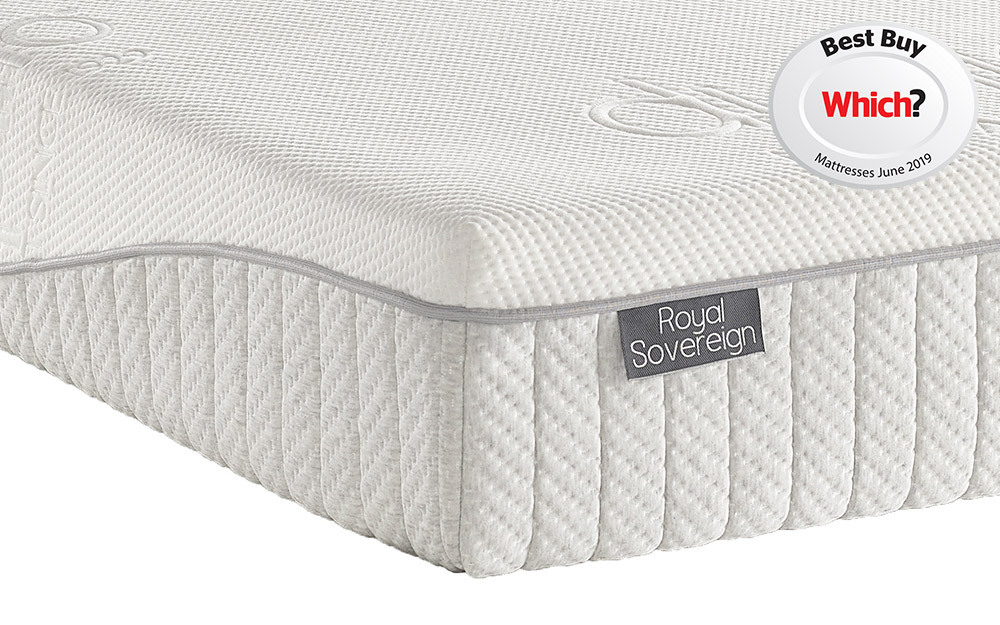 Yes, I know – very expensive. But bear with me.
If you've never heard of Dunlopillo before, know that they're one of the oldest brands in the UK and have been selling latex-based bedding products for ages. They're not cheap by any means, so if you're on a tighter budget feel free to skip this one. But I just had to put it at the top spot because it's an amazingly comfortable mattress. Coupled with a few Dunlopillo pillows, there's really nothing better – but it will probably cost you as much as a small car!
An interesting fact is that Dunlopillo actually pioneered the so-called "Dunlop latex", which is one of the main latex types available today.
What's so great about the Royal Sovereign? Well, firstly it's made of 100% all-latex. In other words, that's pretty much all the insides are made of – and bearing in mind that Dunlopillo state that it takes up to 500 days for a rubber tree to produce enough latex here for each mattress, you can start to see why it's so expensive. This is a premium product, make no mistake, but if you're lucky enough to afford it then go for it. It's also a Which? best buy.
PS: In case you're concerned, latex extraction does not harm the rubber tree at all, so there's an argument here for latex mattresses being extremely environmentally friendly when compared to memory foams.
My rating: 9.4 / 10

2. Silentnight Mirapocket 1000 – from £279
The 1000 here stands for the number of pocket springs inside this latest mattress, which incidentally isn't quite as many as expensive brands like Simba. But this is a budget latex mattress and will be affordable to most people on smaller budgets, so costs need to be cut somewhere.
Another way that Silentnight have kept costs down, is to make this a layered latex mattress. In other words, only the top layer is made of latex, the rest is other cheaper materials. While you will not get the full benefits of an all-latex mattress you will still be able to appreciate the finer qualities of what a latex mattress entails. And don't forget, Silentnight is one of the UK's leading and best-known bed brands in the UK, who offer a generous trial period.
If you're looking for a cheaper latex mattress and haven't had latex before, but don't want to break the bank, then consider the Mirapocket 1000.
My rating – 8.8 / 10

3. Dormeo Options Latex – from £499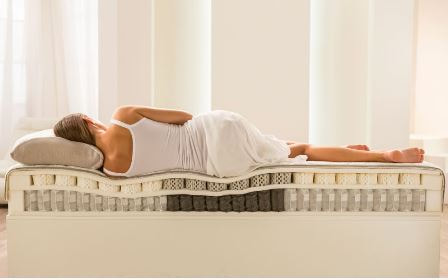 It's not the cheapest, but Dormeo mattresses often aren't (although the Memory Plus is an exception). This OctaSpring is a high-end latex hybrid mattress, and at 23cm thick it's one of the thicker ones I've seen! Plus, it comes with a 20 year guarantee, which is well above average for the mattress industry although – as always – it's worth checking the small print of what a warranty covers.
What is so-called OctaSpring? As per the blurb, the Octaspring 9500 Mattress boasts truly ground-breaking technology. The secret ingredient is the unique, eight-sided, 360-degree Octaspring. Octasprings are actually eight times more breathable than traditional memory foam! They work by drawing in fresh air and removing warmer, humid air through the breathable mattress border. The result is improved airflow and a cooler night's sleep.
Bear in mind because it's a latex hybrid it has some of the same features of a regular memory foam hybrid: it's not flippable (whether you think that's good or bad is a matter of opinion) and it also will wick away moisture. For that reason I've put it at number 3. You can read more on the drawbacks of hybrids here. Laying down on that sensual mattress made of latex cover though – hard to beat.
TIP: use a voucher code for Dormeo and save!
My rating – 8.2 / 10

4. WinkBeds EcoCloud (Kids size) – from £499
If you're looking for a mattress for your children then don't overlook a latex one for them either. WinkBeds are US based but now offer a wide variety in the UK, including a latex-based mattress in toddler size and up.
WinkBeds EcoCloud is a great latex mattress for kids. For starters, it's durable and shouldn't break down too quickly in the face of kids' rough-and-tumble use. Second, it offers good bounce, so kids won't feel like they're being swallowed up by the mattress. Third, the medium firm construction supports healthy spinal alignment, which is important for growing children.
My rating – 7.9 / 10
5. Sealey Nostromo Posturepedic Pocket 1400 Latex Mattress – from £595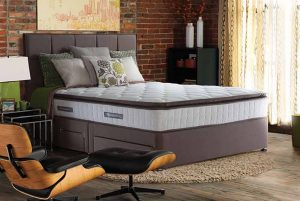 The Sealey Nostromo Posturepedic Pocket 1400 is the ideal mattress for those who want the best of both worlds. It's not a full latex mattress. In fact, it's predominantely a pocket sprung mattress, and it has a latex layer on top. This seems to be the ideal setup for a lot of people, as there are many glowing reviews of it online, and it's also won a Which? Best Buy Award.
Of the entire thickness of the mattress (just under 300mm), the latext layer is only about 25mm deep. This latex layer has been engineered in such a way that it adds to the overall comfort of the mattress by relieving some of the pressure from your body.
The rest of the mattress comprises of 1400 individual pocket springs. So you can rest assured that this mattress is very unlikely to sag, which is probably one of the most common complaints of a lot of mattresses nowadays. The mattress is finished with an anti-microbial Tencel cover, which is designed to regulate the temperature for anyone sleeping on it.
My rating – 9.2 / 10
Do latex mattresses have layers?
Yes, just like memory foam mattresses, a latex will likely have 4 or 5 layers, including a layer of pocket springs if it's a hybrid mattress.
If it's called an "all-latex" then it will not be made of anything other than latex!
Is latex a natural material?
Yes. It comes from the rubber tree and is basically just 'liquid rubber'.
If you're a sucker for technical information like me, then here's a bit more info:  latex is a actually made from a milky substance derived from the Hevea brasiliensis rubber tree, which is removed in a process similar to maple tapping. When transformed into a foam, this substance produces loads of tiny air bubbles, giving latex its soft and bouncy texture.
Synthetic (man-made) rubber can be produced through a chemical process, but boffins have not been able to produce a synthetic rubber that has all the properties of natural rubber. So, natural rubber cannot be replaced by synthetic rubber in most of its applications. This is why natural rubber is still very important to human society – and all mattresses I've reviewed here are natural latex only.
Although this video is from 2018, it is still very good:
FAQs
Is latex better than memory foam?
Not necessarily. It just depends on your personal preference. If you are looking for a mattress that offers durability, lots of "bounce" i.e. movement, and wicks away heat from your body, then a latex mattress should be worthy of your consideration. But that said, they aren't the cheapest mattress to buy – and memory foams have some benefits over a latex anyway.
Do latex mattresses ever sag?
Yes. All mattresses will eventually sag, even a handmade one by a high-end company like John Ryan By Design. However, a latex mattress by its very nature is more robust than a memory foam one, and should last longer. Of course, that is reflected in the price – but a latex mattress will generally have a longer warranty period too.
What are the advantages of latex?
Nowadays everyone wants a "natural" product, and although it's debatable what that means, there's no denying that a plastic-based memory foam mattress is going to be worse for the environment than one made of a natural product like rubber (latex). Latex also has other advantages as discussed above: wicking away moisture and heat from your body, they should also last a bit longer. However don't make the mistake of thinking that latex mattresses are always "organic" or "chemical free" – believe me, latex-based mattresses don't look anything like latex does in its natural state!