You might not have heard of Dormeo before now but they have been around for more than 15 years in the UK. Their claim is to use "award-winning materials" in their products, including their very own patented memory foam. I'll analyse this more further down the review, but to summarise: this memory foam they call Ecocell®. Dormeo claim it is highly breathable as well as being hypoallergenic, i.e. safe for any of us who may be prone to allergies.
Interestingly, this mattress has won several highly coveted awards – but is it actually any good? Let's find out.
Dormeo actually offer several different memory foam mattresses in the UK:
Memory Classic
Memory Plus
Memory Fresh
For the purposes of this review, I am reviewing the middle one, which happens to be their best-selling mattress too, the Dormeo Memory Plus. It is also the most affordable mattress (i.e. the cheapest) that they offer. Is it a good budget choice or are there better, cheap mattresses available for less than £200?
Pros & Cons of the Dormeo Memory Plus
I know how much readers like to view the positives and negatives of mattresses easily 'at a glance', so here it is:
Pros
Supportive and comfortable
Not excessively warm
60-night money-back guarantee
Cons
Not particularly thick
Expensive at full price – use a discount code (see below)
Non-removable cover
Quick facts and stats
| | |
| --- | --- |
| Mattress Type | Memory foam |
| Size | Double |
| Softness rating | 6/10 |
| Memory effect | High |
| Warmth rating | Average |
| Weight | 18kg |
| Length | 191cm |
| Width | 135cm |
| Depth | 18cm |

Brief History of the Dormeo Mattress
Bear with me on this, it's kinda useful. This is the original Dormeo product that started it all for the company. As a result, it is one of their most popular and successful products, and all of their subsequent products have been based on this mattress. The Dormeo Memory Plus memory foam mattress was one of the first memory foam mattresses to be a rotated design, too; this means that you do not need to flip it at all. All you need to do is rotate it 180 degrees every now and then, so that the head and toe positions are reversed.
Be aware that most memory foam and hybrid mattresses nowadays are 'no flip'. Whether this is a positive or a negative is up for discussion, but just be aware of the drawbacks.
Dormeo Memory Plus: Cover
The Dormeo Memory Plus memory foam mattress contains two layers which are wrapped in an outer cover. The cover has carbon fibres woven into it, which form an anti-allergenic surface to sleep on. This works well, in my opinion, because the carbon fibres create a barrier which prevents the dust particles in the air from entering the mattress composition.
Dormeo call this "Florentine" but I am not quite sure what this means, apart from perhaps being a marketing term. Perhaps it's the styling of the stitching as it looks a bit Italian? (Interestingly, Dormeo claim their mattresses are sometimes "Italian designed").
The cover is also made in such a way that it is hygienic, as Dormeo use anti-bacterial, anti-dust mite and anti-fungal sanitised protective materials. Not only does this create a sleep surface that is hygienic, but it also stops the development of tiny fungi which is an extremely common irritant for those who suffer with respiratory conditions such as asthma.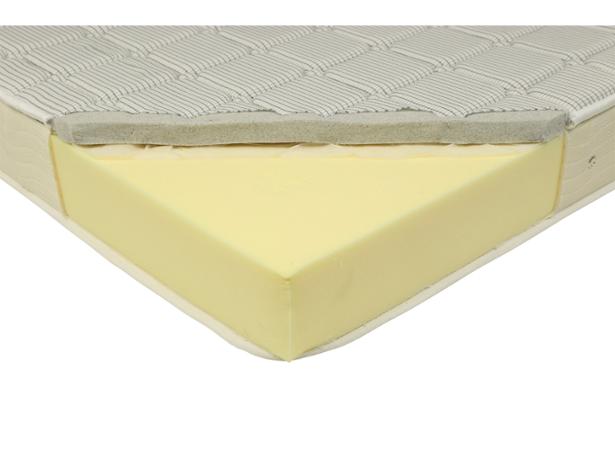 Construction & Layers
As above, there are only two layers here in this budget mattress. Nowadays there are sometimes five or even six layers – such as with the Simba Hybrid. But of course more layers means a higher price; this Dormeo often retails for way less than £300. For comparison's sake, the Simba Hybrid can cost up to £800!
Anyway, onto each layer in more detail…
Layer 1: The first of the two layers that make up the construction of the Dormeo Memory Plus memory foam mattress is the memory foam itself, which uses Dormeo's latest technology.
To help make sure that the memory foam can fulfill its duty of relieving pressure throughout years of use, Dormeo have been constantly improving and upgrading the quality of the materials within the memory foam. The result has been the striking of the perfect balance between softness and support. The memory foam layer is the layer that moulds to all the contours within your body when you lie down to provide you with comfort and support.
The foam itself responds to the position and the shape of your body while you lie on it, but then returns to its original shape when not in use. The Dormeo Memory Plus memory foam mattress features a thicker layer of memory foam than many rival brands.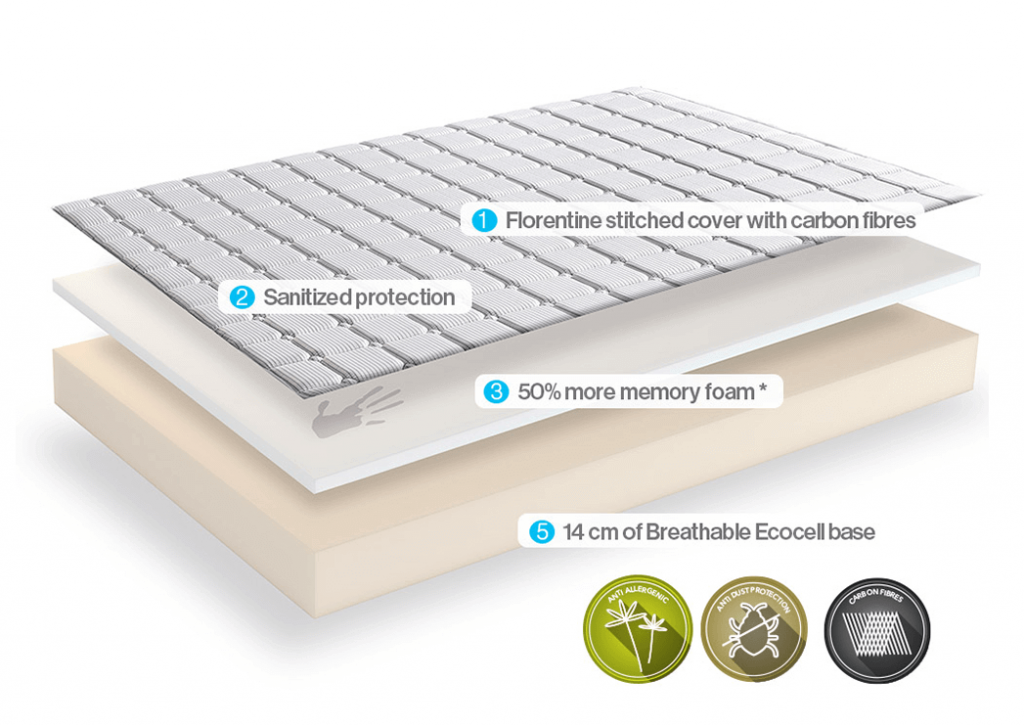 Layer 2: The second layer within the Dormeo Memory Plus mattress is the aforementioned "Ecocell" layer. This layer is designed and engineered to have a permanently elasticated 3-dimensional cellular structure. This allows more air to flow throughout the mattress while simultaneously offering the support where you need it – on specific pressure points within the body. It has been designed in such a way that it guarantees support that adapts to the points where the pressure emerges from.
The elastic properties of this layer means that uncomfortable pressure points that would usually cause you to toss and turn during the night are reduced, this increasing the quality of your sleep.
The Dormeo Memory Plus mattress also features four air vents on the sides, allowing air to both flow through the mattress as well as escape. This makes the mattress breathable, which means that the heat from your body is removed and your mattress is kept clean with fresh air.
The total thickness of the Dormeo Memory Plus memory foam mattress is 17cm. The Ecocell layer is a rather thin 14cm deep and is topped by a 4cm layer of HD memory foam. This is quite thin overall – and I would have liked it to be a bit thicker, to give better bolster support. The side support is lacking a bit, too, owing to the thickness (or lack thereof).
You may want to measure your fitted sheets to make sure that this mattress isn't too shallow to fit. Of course it's not hard to tuck in the sheets underneath if that's the case – but food for thought…
I tested this mattress with both a spring slatted bed as well as a divan and it felt pretty decent, although not quite as soft as other more expensive mattresses such as the luxurious DreamCloud. For comparison's sake, I would say that it's very similar to the OTTY in terms of comfort. If you are looking for a firmer mattress – for example if you are a side sleeper – then this is definitely one to watch out for. I think this is the reason that the Dormeo Memory Plus has been awarded "Best Buy" by publications such as ExpertReviews.
Dormeo mattress: Sizing
Thankfully, Dormeo mattresses in general are available in a wide range of UK sizes. These are UK spec, not EU spec, so will fit nearly every bed in the UK:
| | | |
| --- | --- | --- |
| SIZE | DIMENSIONS | PRICE (excl. discounts) |
| Single | 90x190x17 cm | £529.99 |
| Small double | 1200x190x17 cm | £549.99 |
| Double | 135x190x17 cm | £629.99 |
| Kingsize | 150x200x17 cm | £779.99 |
| Super kingsize | 180x200x17 cm | £899.99 |
It's a shame that there is no kids/toddler size, if you are looking for a mattress for your kids then read this first.

NB: These prices are before discounts – see below as there are huge discounts available on these.
Voucher codes for Dormeo Memory Plus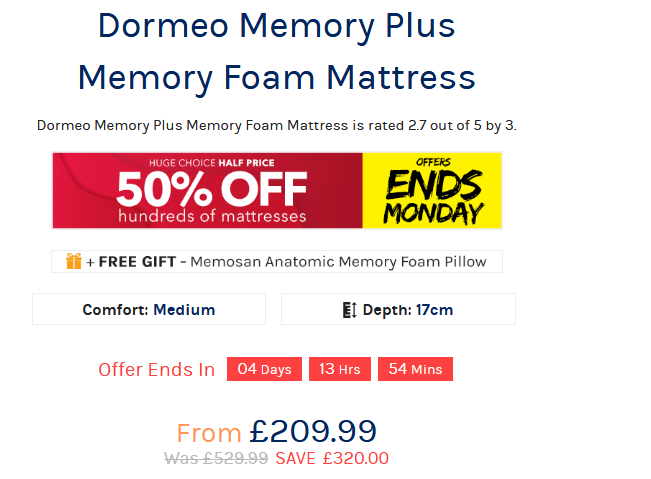 Dormeo often do discounts and promotions across their entire range, and given that the Memory Plus is their best-selling product, it's a given that these discounts apply to this mattress too.
Currently there is a -50% off sale, at the time of writing this review. I have noticed that Dormeo often run sales events, so it's always best to wait rather than pay full price. If you are struggling to get a discount then I have included a voucher code below for you.
Guarantee and Trial
There is a 60-night trial here. For a budget mattress, this is about average in terms of length: you aren't going to get a 365 night trial for a cheap mattress like this, like you would with a DreamCloud mattress for example, but frankly 2 months is plenty long enough to get to grips and see if it's right for you. If it's not, then Dormeo will take it back and refund you (or donate it to charity).
Payment options available
Debit cards
PayPal
Klarna (finance)
The ability to use Klarna and split payment into three, at 0% interest, is one I would recommend personally as I have used it many times. Of course if you aren't comfortable paying for something on finance then don't.
FAQs
Are Dormeo made in the UK?
It isn't clear where they are made exactly, Dormeo say their mattresses are made in Europe. I think they are made in Italy or Romania, according to some sources, but I am awaiting confirmation. They don't appear to be made in the UK at least.
What awards have Dormeo won?
According to their website, they have won the Which? Best Buy three times, the ExpertReviews Best Buy once, the Good Housekeeping Institute 2018 award, and the Apex Awards 'Winner' once. If you're into award-winning brands from the industry, then Dormeo should be of interest!

What firmness is Dormeo Memory Plus?
It is medium-firm to firm. I have given it a 8.2 out of 10 which indicates quite firm. Bear in mind, there is no industry-agreed firmness scale.
Dormeo Memory Plus mattress review: Verdict
If you're paying full price then rivals like Nectar and Emma offer much more. As long as you're aware that a Dormeo Memory Plus can be bought for significantly less than the "RRP" price, however, this becomes a moot point as I don't think many people are buying it at full price, full stop.
Many bed-in-a-box mattresses are regularly discounted, but – that said – the savings which Dormeo give its Dormeo Memory Plus are so ludicrously generous that it feels impossible to review it in the same way as any other mattress. It's basically a budget budget option, and you get some great features for this price. If you're on a tighter budget and need a memory foam rather than a pocket spring for example, then go for it.