lThe UK sleep market is saturated with Simba mattresses due to their well-deserved reputation for superior comfort and construction. It seems you can't read any mattress advice online without hearing about how well-recommended Simba mattresses are.  If you have ever slept on a Simba mattress, then you'll only know to well what all the fuss is about. If you've got children then the importance of a good night's sleep for them. In this review, we will discuss our experience with the one and only Simba children's mattress and give our thoughts on it.
The Simba Hybrid kids mattress: Quick facts
There's a lot of information in this in-depth review of the Simba Hybrid kid's mattress. So for those of you who are in a rush or just want a quick lowdown, we've made a list of the main pros and cons for you:
Pros
Excellent balance between support and comfort.
Provides fantastic comfort and support in all sleeping positions.
High-quality craftsmanship and durability ensure long-lasting performance.
Suitable for children of various ages, thanks to its 190 cm length.
Hypoallergenic cover promotes a healthy sleeping environment.
Breathable open-cell foam and graphite infusion keep the mattress cool.
Titanium Aerocoil springs distribute body weight evenly for optimal support.
Eco-friendly and carbon neutral production process.
Cons
One of the more expensive options in the kids' mattress market.
Slight off-gassing odor may be present upon unboxing, but it dissipates quickly.
The Simba Hybrid kids mattress is developed with children over the age of three in mind. This mattress is great for kids who sleep on their back, stomach, or side and its adaptability makes it a good choice for both people who like to maintain a single sleeping posture throughout the night as well as those who tend to combine sleeping positions.
The mattress is also a great option for individuals with limited room because it is narrow enough to fit on most beds. In addition, since it is hypoallergenic, this mattress is a good choice if your child suffers from asthma or any other allergies and therefore would benefit from a healthier sleeping environment.
The Simba Hybrid kids mattress is a must if you're looking for complete peace of mind that your child is going to get a comfortable and safe night's sleep. The support, comfort, and pressure relief provided by a high-quality mattress are not to be underestimated, and we are aware of this. There are several advantages to spending a bit more and getting a Simba mattress for your child.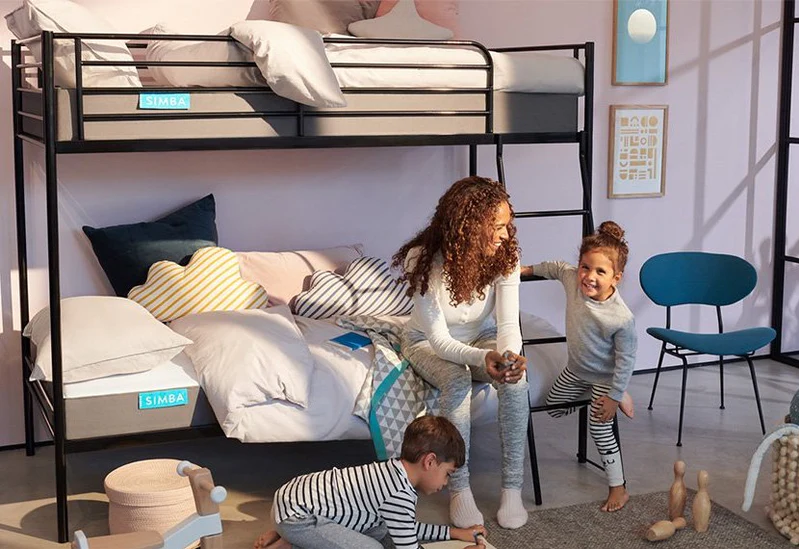 How it's made
The Simba mattress is a high-end option for kids due to its many convenient features. Here we'll go through each of features individually. Similarly to the original Simba Hybrid mattress, the Simba Hybrid kids mattress is made from five layers. And although it's only 160mm deep compared to the 250mm depth of the adult size, it is more than adequate for a child's lesser weight. So let's go into a bit more detail with the layers:
Layer 1: Cover
The Simba mattress has a hypoallergenic cover, so those worried about allergies or sensitivities may rest easy. The cover's hypoallergenic characteristics make it a good option for kids who suffer from allergies or asthma.
The cover is not just hypoallergenic but also incredibly plush and pleasant to sleep on. You may rest assured that your youngster will have a restful night's sleep.
The Simba mattress cover is also made to be breathable and temperature neutral. It promotes excellent air circulation, keeping the mattress cool and inviting all night long. The moisture-wicking properties of the cover ensure a dry and clean sleeping environment.
The Simba mattress is hypoallergenic, soft, and breathable so your child may sleep soundly and healthily.
Layer 2: Open-cell foam
The Simba mattress, to your relief, has an open-cell foam layer, which eliminates the typical problem of heat retention seen in foam beds. The open-cell foam utilised in this mattress provides greater ventilation than that of conventional memory foam, making for a cooler and more pleasant night's sleep for your youngster.
The unrestricted movement of air through the foam's open cells aids in cooling and ventilation. This is especially important in the warmer summer months to ensure your child has a comfortable resting surface by preventing the buildup of excess heat.
Moreover, graphite is embedded within the open-cell foam layer of the Simba mattress. This enhancement of the foam's cooling qualities aids in maintaining a comfortable temperature and prevents overheating. Your little one won't have to worry about overheating or getting wet while sleeping.
The Simba mattress features cutting-edge open-cell foam and cooling graphite technology. This ensures that your child has a restful night's sleep without being overheated. Your youngster will sleep well on this carefully crafted mattress in the loft of the bed.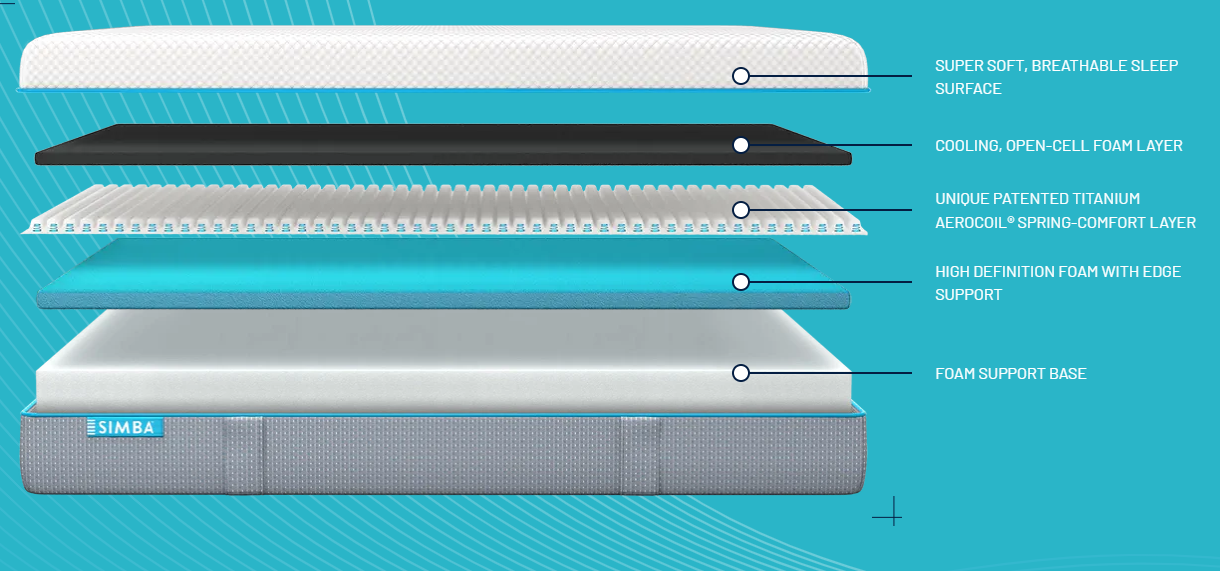 Layer 3: HD foam
There are two main reasons why edge support is so important for a mattress. To begin with, it guarantees that all of the sleeping space provided by the mattress is fully utilised. The second benefit is that it aids in motion isolation, but this is less important for the Simba mattress. However, edge support is still necessary for a child's safety and comfort.
When compared to adults, kids are more likely to sleep upright on the edge of the bed. A lack of enough edge support in the mattress can cause the child some discomfort and instability when they sleep near the sides. The high-definition foam mattress found on the Simba Bed, which has reinforced edges to prevent this from happening, is one solution.
The high-density foam utilised in the mattress increases the durability and support, especially in the corners. That way, you know your kid will be safe and sound even if he or she has to sleep towards the edge of the bed. Your child's slumber will be undisturbed by unevenness or a sinking feeling thanks to the strengthened edges that keep the surface flat.
The high-definition foam and reinforced edges of the mattress found in the Simba Bed ensure that your child will have a pleasant and safe night's sleep, regardless of where they choose to lie in the bed. Put your mind at ease knowing that your youngster will have plenty of edge support during the night.
Layer 4: Pocket springs
When cut in half, the Simba mattress reveals a layer of Titanium Aerocoil pocket springs right in the centre. Weight distribution and maximum support are the primary functions of this layer. The word "titanium" may conjure up images of a really firm mattress, but be assured that this one is not. Instead, it provides a medium-firm feel that works for a wide range of sleepers and sleeping styles.
The mattress's longevity is enhanced by the use of titanium springs. Titanium springs raise the already legendary longevity of pocket sprung mattresses to a whole new level. Considering that the normal weight of a youngster is less than 30 kilogrammes, these mattresses are essentially indestructible. You may rest easy knowing that the mattress can handle regular use and won't lose its shape over time.
The Titanium Aerocoil pocket spring layer in the mattress of the Simba Bed provides your child with stable support and even weight distribution. Because of its medium-firm texture, it's suitable for those who prefer a combination of softness and firmness in their mattress. You can rest assured that your youngster will have a comfortable and long-lasting sleep surface on this mattress because of the incorporation of strong titanium springs.
Layer 5: Supportive foam base
The Simba mattress has five layers total, the thickest of which is a support base made of high-density foam. Since the foundation layer is in charge of the mattress's overall stability, it makes sense to choose high-density foam, which is noted for its durability. High-density foam provides constant, unfaltering support because of its stiffness.
Despite the firmness of the support structure, this mattress has a medium-firm sensation. This is due to the fact that, in contrast to the strong support base, the other layers of the mattress provide a softer and more comfortable sleeping surface. Your youngster will have a restful night's sleep because to the mix of a high-density foam support base and softer layers on top.
The Simba mattress has a high-density foam support base, which provides stability and durable support for your child. Your kid will have a good night's sleep on this mattress because it has kept its form and has a nice, supporting medium-firm feel.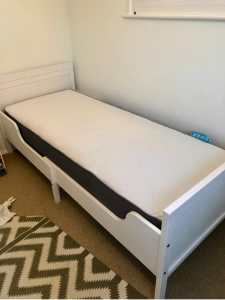 Here at WhatMattress we take mattress research seriously - all our product tests are done as fairly and honestly as possible.
That's quite a bold claim, but we're proud of the attention to detail that you're hopefully seeing within our reviews. Our methodology sets us apart from many other review websites. I like to think this is because WhatMattress is only run by two people - Carrie and Anthony. Over the years we've hand-tested multiple mattresses, pillow and other bedding products - so that you don't have to!
Every single mattress is put through its paces using the following tests:
We make sure to live with the mattress for at least a week.
We always sleep on the mattress we're testing - every single night.
We will always be 100% honest when we weigh up the pros and the cons of each mattress.
And in most cases, we've bought the mattress ourselves and haven't been given a free one.
CertiPure foam in the Simba Hybrid kids mattress
The CertiPUR certification of the foam used in the Simba mattress guarantees that it is safe for your child and the environment. CertiPUR is an authoritative body that voluntarily analyses and tests foam for use in sleep products. Both the European Union and the United States hold this certification in high regard.
The Simba mattress has earned the CertiPUR seal of approval after being tested for composition, emissions, and durability. It guarantees that no toxic substances like formaldehyde, metals, or flame retardants were used to make the mattress's foam. The mattress's low volatile organic compound (VOC) emissions, as confirmed by CertiPUR certification, contribute to improved indoor air quality.
Sleep soundly on the CertiPUR-certified Simba mattress, knowing that the foam used in its construction has passed rigorous testing for both human and environmental toxicity. This certification shows that Simba cares about making sure your child has a secure and comfortable sleep environment.
Completely carbon-neautral
Carbon dioxide emissions, primarily from the burning of fossil fuels, are hazardous to human health, especially the lungs. Carbon dioxide also adds to the greenhouse effect, which speeds up global warming. It's essential to back and buy from businesses who make carbon neutrality a top priority, like Simba and its offerings.
Simba's commitment to carbon neutrality entails accounting for and mitigating carbon emissions at every stage of manufacturing. This carbon neutrality pledge supports sustainable practises and helps reduce negative effects on the environment. You may check Simba's carbon neutrality and learn more about their environmental efforts by visiting their website.
You can help the environment and the fight against climate change by purchasing goods from carbon neutral companies like Simba.
Suitable for ages 3 and up
Children above the age of three are the target audience for the Simba mattress. Please keep in mind that infants and toddlers are not the target audience for this mattress. Because of its size and characteristics, it may be used by kids as young as three and last far into their teenage years.
This mattress will last for many years, making it a good investment for your child's bedroom. This mattress is an excellent long-term investment in your child's sleep health and well-being since, with regular care and cleaning, it will continue to provide a comfortable and supportive sleeping surface for many years.
Top Hybrid Mattresses: Comparison
Read this next...
Was this article helpful?
How we reviewed this article:
Edit History:
Our experts continually monitor the mattress & sleep tech space, and we update our reviews & articles when new information becomes available.
6th June 2023


Current Article - By Anthony Maxwell

6th June 2023


Checked & Reviewed - By Morag Park, Ph.D.

31st May 2023


Copy Edited - By Anthony Maxwell

6th June 2023


Reviewed - By Anthony Maxwell