In the USA, Dreamcloud are a highly-recognisable brand of mattress but over here in the UK it's fair to say that they haven't really made much of a splash… yet. You've heard of Simba and Emma but probably only recently heard of Dreamcloud. Maybe you saw a Facebook advert and it piqued your interest…
One of the UK's fastest-growing brands of pillowtop mattresses, the Dreamcloud is one to watch. By the way, if you've never heard of "pillowtop" before, that means it has a very soft, luxurious upper layer – if you like laying on comfy layers like soft clouds then don't overlook the Dreamcloud. But this mattress, although incorrectly sometimes called a pillowtop, is actually a hybrid mattress. That means it's a combination of both a pocket spring and a memory foam. Anyway, enough technical information for now. What you really want to know is: is the Dreamcloud mattress worth buying?
Pros and cons of the DreamCloud
Let's get down to the nitty-gritty right away.
PROS
Pillowtop first layer gives great comfort
Well reviewed and received
365 night trial
Lengthy 'freedom' warranty
CONS
Not flippable (like all hybrids)
Not the cheapest to buy
Limited sizes, i.e. no EU sizes
Not machine washable, protector required
In a nutshell the Dreamcloud Luxury mattress is best described as a mid-range to premium-range mattress, similar to the Brook & Wilde range or even the more pricey Tempur range. If you are in the market for a higher-end mattress with comfy support and a long extended warranty period then definitely consider the DreamCloud – but be aware of the drawbacks.
DreamCloud Luxury Mattress: History
A brief history of this mattress to start: It launched in the United States all the way back in 2018, but has only recently come to the UK and Europe. You may not have heard of the parent company – called Resident Home (link) – but you will have more than likely heard of some of the other mattress brands they own, such as Nectar.
And the similarities with Nectar vs Dreamcloud don't stop there – there is a 365-night trial on every purchase. That's pretty generous, when most companies offer 'only' 100-nights.
About the Layers
There are actually four (4) layers here, in this hybrid mattress.
Breathable foam, also called a pillowtop
Polyfoam layer
ActivEdge™ coils (pocket springs)
Finally, a dense HD foam base layer.
The first layer
The top layer is the softest pillow-link layer I have come across in a mattress, it's as simple as that. DreamCloud call it 'DreamPlush' and the outer cover is made of a mix of cotton and polyester, inside it's regular memory foam.
Memory foam is generally considered to be heat-retentive so not ideal for hot sleepers, however the DreamCloud claims to overcome this by offering a second layer below of coils or springs. These are designed to wick away heat and sweats.
Don't forget as well that memory foam mattresses are not bare. In other words, they are wrapped in various textiles and fabrics in the form of the outer cover: you do not ever lay directly on the foam. That is why the main consideration of yours should arguably be what the outer cover is made from, and how well it wicks away heat.
Polyfoam Layer
The second layer is the regular foam one. This is thinner slightly than the first/top memory foam layer but it's equally important. This is polyfoam not regular memory foam so it doesn't stay moulded in shape for as long. Unlike memory foams which obviously "remember" your contours, polyfoam will revert to standard form much quicker.
One thing to note is that, like several other brands, the Dreamcloud is Centi-PUR Certified. This means that it is made without the use of mercury or lead, and does not emit high levels of VOCs. Read more on why VOCs can be dangerous here.
However, you will probably notice if you do buy it, that the Dreamcloud is not immune to the 'new mattress smell' sadly – read my tips on how to limit this here. It's just part and parcel of a hybrid/foam based mattress unfortunately.
ActivEdge Coil Layer
Unlike some hybrid such as the Simba Hybrid, DreamCloud have used full-size springs inside their coil layer here. They are 150mm (15cm) deep, so pretty big and you won't find any of those 50mm tiny springs here.
One of the famous drawbacks of cheaper pocket sprung mattresses is that they don't have much side support. So if you are laying on the very edge of the mattress you may drop off onto the floor as the support can be completely non-existant at the outer edges. DreamCloud claim this isn't the case here with their so-called ActivEdge layers, but I am still waiting for clarification as to exactly what this is.
In my product testing I can confirm that the outer springs – that is, the coils nearer the left and right hand sides – did feel firmer than the rest of the springs toward the centre of the mattress. As to whether this is truly accurate or not, I will await an update from either DreamCloud or a website visitor such as yourself. Please fill out the comment form below and let me know!
What is the maximum weight limit?
Update: One interesting tidbit… DreamCloud say that there is NO maximum weight limit to their mattresses, as they are bolstered to support 'any' weight. I found this hard to believe; avid readers will know that every other mattress comes with a weight limit. For example, the Eve Sleep mattress has a combined weight limit of 22 stone – not much for two larger adults.
I was alerted by a website visitor that they had finally found a mattress suitable for heavier people; their combined weight is 42 stone and the user (Rebecca) claims that the DreamCloud is holding up perfectly well, with minimal to no sagging.
On to the design and visuals…
The look of the DreamCloud Luxury mattress may be important to some people and not others. After all most of us will cover it up with a fitted sheet. So does it really matter how it looks? Well, yes and no.
There is only one colour option available for the DreamCloud and that is the white top and bronze sides, as per the image below. The double-tufted look may not be for everyone but it's entirely possible to cover it up with a standard sized UK fitted sheet if you're not keen. I personally think it looks luxurious and high-end as it is, but always cover my mattresses over with a protector. This is particularly important as the outer fabric is NOT machine washable.
Thankfully, DreamCloud sell a cheap mattress protector here, for around £40, but this should really be thrown in for free in my opinion when spending so much on a mattress.
Dreamcloud Sleep: complaints & reviews
According to Trustpilot, the UK version of Dreamcloud is rated 4.2 out of 5. This compares reasonably well with other brands like Simba (4.3 / 5), Nectar Sleep (4.4 / 5) and Eve (4.2 / 5). There isn't a huge amount of variation in terms of the review websites and how they rate the bigger mattress brands.
One thing I did notice about the reviews for DreamCloud are that they are "invited". You can see below in the screenshot, next to the green stars, it says "Invited". This means that DreamCloud – like other mattress brands too – are inviting their customers to add a review. Usually this is done under the guise of a chance of winning a refund, i.e. if you review us we will randomly select you for a refund.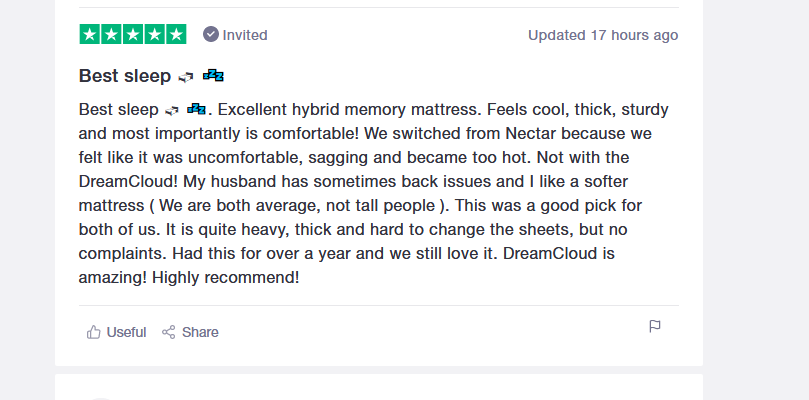 So of course this means that the inevitable result is that people are reviewing the checkout and purchase process, and possibly short-term usage of the Dreamcloud mattress. In other words, you aren't going to find many longer term reviews here of the product itself. It's a shame, but for that, you will need to keep reading as I have done a hands-on review here.
It's worth noting that sorting by 1* and 2* shows a few niggling issues, but mainly with delivery. During COVID-19 this is not surprising and longer delivery times are to be expected. I could not find many negative longer-term reviews on Truspilot, interestingly.
DreamCloud Pricing in the UK
Although this list is updated often, please check the Dreamcloud website before buying to verify the prices. I have excluded any discount code for Dreamcloud, this is the full RRP.
| | | |
| --- | --- | --- |
| SIZE | DIMENSIONS | PRICE |
| Single size | 90x190x29 cm | £849 |
| Double size | 135x190x29 cm | £949 |
| King size | 150x200x29 cm | £1,049 |
| Super king size | 180x200x29 cm | £1,149 |
Please note: prices and availability are subject to change…
Get £250 off with voucher
DreamCloud are running a promotion giving £250 off ANY mattress. That means that for example the Single will be reduced from £849 down to £599.
You may note from the above pricing table, that there are only four sizes available in the UK. This is a shame, as I would have liked to have seen a toddler size for kids and smaller people, or even a small single. If you are looking for a kid's mattress then check out my reviews here first.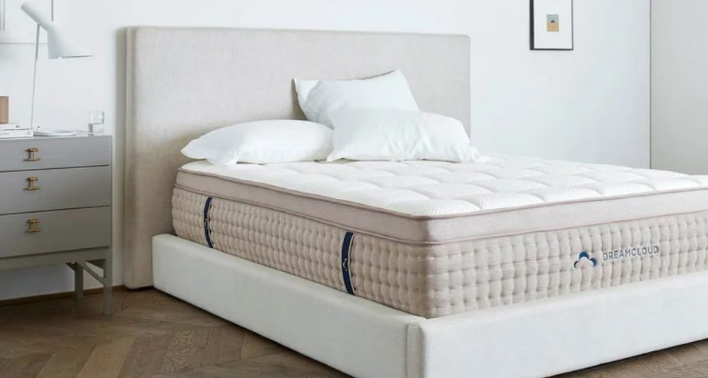 FAQs
Is the Dreamcloud Luxury mattress worth it?
If you're after a luxury mattress then you're probably considering between Tempur, Brook and Wilde, and DreamCloud. Well I have to say based on price alone, the Tempur range are just too expensive. There are pros and cons to both the other two, but on balance I would say that DreamCloud have the slight edge. Why? Because they are more established, in the USA at least, and the 365-night trial is a clincher.
How long is the night trial?
The number of nights you will get, to try out your new DreamCloud mattress is exactly one year, or 365 nights. That's very generous, and should give even the most discerning buyer enough time to make up their mind. Note that most brands offer 100 – 200 nights now.
How much is the Dreamcloud mattress in the UK?
The pricing is listed above in the table; the cheapest single starts at £849 before any discount. That's a lot, but this is a luxury/higher end mattress. NB: If you are looking for a cheaper mid-range mattress then check out OTTY Pure, one of my favourites.
Verdict: at a glance
Here is a quick rundown of the good and bad points of the DreamCloud (UK model):
Certi-PUR certified (what's this?)
Made in the UK
29cm deep (about average, will fit most standard sheets)
Not machine washable outer cover
365 night trial
Forever warranty
Quite pricey but oozes quality
My verdict?
If you are in the market and are lucky enough to be able to afford the DreamCloud then I'd say go for it. There's very little on the market here in the UK that can even compare to the quality of the DreamCloud mattress. But make sure to use one of the Dreamcloud discount codes to save around £200 off, first.