Tempur are a well-known mattress brand in the UK. They have been one of the top manufacturers of mattresses in the world for years now, initially they were the first company to produce memory foam mattresses. They offer a range of different mattresses including:
Tempur Original mattress
The Tempur Cloud mattress
Tempur Hybrid mattress
Tempur Sensation mattress

All four of the above mattresses by Tempur are available in three different variants:
Supreme version (210mm deep)
Elite version (250mm deep)
Luxe version (300mm deep)
As you can see, the main difference between each of the variants lies within the depth of the mattress. The different depths are achieved by adding or removing foam layers. For the sake of this review, we will be looking at the Elite version of the 4 different mattresses on offer. Not only is the Elite version the most popular product, but with a depth of 250mm it also compares more closely to many other mattresses on the market today, including the Nectar Sleep, Emma and OTTY mattresses.
As the market has diversified, more companies have appeared. Only a few short years ago, you would have only been able to buy a Tempur mattress if you wanted a memory foam. Nowadays there are hundreds of mattress companies. The reason for the explosion in mattress-in-a-box companies lately is because the memory foam patent expired for Tempur – more information here.
If you need a voucher code for Tempur UK then I'd suggest to use this:
Overall, it is definitely worth considering what some people still call the 'best' and original premium mattress company, Tempur. Here is my review:
Tempur Mattress Composition
As far as mattresses are concerned, Tempur are rivaled by no other company. While other mattress brands have tried to replicate their products in the past, none have come close thanks to their composition of Danish materials combined with their closely-guarded secret formula for building one of the most supportive mattresses that money can buy.
The secret formula that Tempur use in their products originated from a material that was developed some 30 years ago by a group of NASA scientists. The material was designed by NASA to offer support to astronauts during takeoff. As you can imagine, to support people against some of the greatest forces that they could ever face, something very special is needed. After developing such a superior material, someone had the brilliant idea of commercialising it and that is how the brand that we know as Tempur was born.
As well as being made from superior materials, Tempur mattresses are also tested year after year for quality and longevity to make sure that the highest possible standards are constantly met.
One thing worth considering about Tempur mattresses, is the fact that they cannot be flipped. The main advantage of this being that you don't have to remember to flip the mattress from time to time, as mattresses can be very heavy. Tempur do recommend that you rotate the mattress periodically though so that your weight is more evenly distributed across the entire mattress throughout its life.
Tempur Mattress Cover
One sign of a quality mattress is the fact that it has a cover. All Tempur Elite mattresses include a removable top cover made from polyester and a small amount of elastane. This means that you can completely remove the top cover and put it in the washing machine at a temperature of up to 60°C. This alone is a great plus point for the Tempur mattress, as the top cover is the part that is directly in contact with the body, and is therefore more likely to get dirty. Tempur mattress covers are also OEKO-TEX certified, meaning that they are safe for human use due to being free of harmful chemicals.
As well as a removable cover, the lower half of the Tempur Elite mattress covers can also be removed and washed at temperatures up to 60°C. It is worth noting here that the cover on the Tempur Hybrid mattress is labelled as 'Dry clean only'. Either way, the covers have labels with washing instructions so as long as you refer to those you will know how best to clean it.
All four Tempur mattresses have their own unique design, which is a good indication of the attention to details used by Tempur during the manufacturing process.
Tempur Mattress Layers
Like all quality mattresses, Tempur mattresses are constructed with multiple layers. Each layer has its own role to play within the mattress to offer the best possible support for your body.
| | |
| --- | --- |
| Tempur Extra Soft layer | This is a soft layer within the mattress and is the main layer that provides the comfort and cushioning effect |
| Tempur Comfort layer | This is a foam layer which has been designed to be more flexible than standard polyurethane foam used in many mattresses. This is the uppermost layer on a Tempur mattress |
| Tempur Support layer | This layer contains visco-elastic cells that adapt to your body and mould around it. Strategically placed in the centre of the mattress, it's role is to eliminate any pressure inconsistencies |
| Precision Micro Coil layer | This is a layer of springs that are over double the height of the springs in most other mattresses, offering more support |
| Durabase layer | This is the most dense of all of the layers, helping the mattress to keep its shape over time in order to increase longevity |
The 4 different Tempur mattress models use various combinations of the above layers, in order to achieve varying levels of firmness and support, depending on what people need or prefer.
Tempur Original mattress layers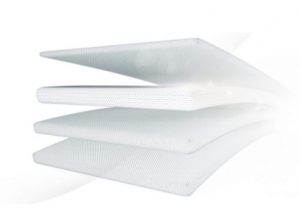 The Tempur Original contains 4 layers. If you're not looking for a mattress for a specific need or condition (such as an orthapedic mattress), then the Tempur Original is a good choice, as it is well-balanced. Sometimes this is called Tempurpedic, which is a branding name and nothing more.
The Tempur Original mattress consists of the following layers:
| | |
| --- | --- |
| Layer | Depth |
| Tempur comfort layer | 30mm |
| Tempur support layer | 90mm |
| Durabase layer | 65mm |
| Durabase layer | 65mm |
Tempur Cloud mattress layers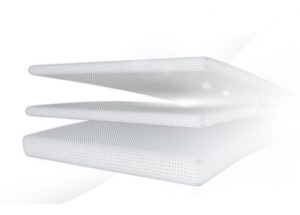 The Tempur Cloud contains more of the softer upper materials, a layer for your support and a layer of Durabase foam at the bottom. If you're a stomach sleeper and are looking for a softer mattress with a slower response, then the Tempur Cloud could be ideal for you.
| | |
| --- | --- |
| Layer | Depth |
| Tempur Extra Soft layer | 70mm |
| Tempur Support layer | 70mm |
| Durabase layer | 110mm |
Tempur Hybrid mattress layers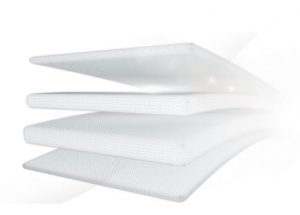 The main difference between the Tempur Hybrid and their other products, is the fact that the Tempur Hybrid contains both foam and springs. The mixture of slow-response from the foam and fast response from the coils offer lasting support, and make it quite frankly one of the best mattresses you can buy.
| | |
| --- | --- |
| Layer | Depth |
| Advanced Tempur layer | 40mm |
| Dynamic Support layer | 80mm |
| Precision micro coils | 100mm |
| Durabase layer | 30mm |
Tempur Sensation mattress layers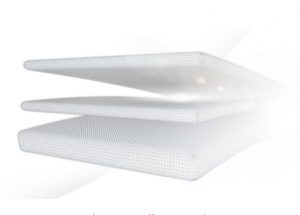 If you're a back or a side sleeper, then the Tempur Sensation is probably going to be the best Tempur mattress for you. It combines the Tempur comfort material with Dynamic Support foam as well as the Tempur Support foam. This gives the mattress more 'bounce-back' properties compared to their other models. However, you still get the pressure-relieving properties of the foam layers.
| | |
| --- | --- |
| Layer | Depth |
| Tempur comfort layer | 20mm |
| Tempur Support layer | 40mm |
| Dynamic Support layer | 40mm |
| Durabase layer | 110mm |
Tempur Mattress Firmness
Unfortunately there is no industry-wide scale in order to measure and compare the firmness of a mattress. Each manufacturer will have their own definition of the terms soft, medium and firm. We always try and give our best estimate of the firmness rating so that you can compare all of the different mattress models between all of the mattress manufacturers out there. Here's our view on the firmness of the 4 Tempur mattresses available in the Elite variant:
| | |
| --- | --- |
| Tempur model | Firmness rating |
| Tempur Original | 5.5/10 |
| Tempur Cloud | 4.5/10 |
| Tempur Hybrid | 6.5/10 |
| Tempur Sensation | 7.5/10 |
Tempur Mattress Trial Period and Warranty
Like many mattress providers in the UK, Tempur offer a trial period so that you can buy with complete peace of mind knowing that you will be able to get a mattress that suits your needs. Tempur offer a generous home trial period of 100 nights. The only stipulation with this trial period is that Tempur require you to try it for at least 60 nights before you decide to return it. This is a good idea, because then you can be absolutely sure on whether or not the Tempur mattress is right for you.
In the longer term, the Tempur mattress is also guaranteed for 10 years. This is about the average life of a mattress anyway. During this time, Tempur guarantee that their mattresses will retain at least 95% of their height, and suffer from no lumps or bumps. Seeing as these are the main flaws that occur in mattresses as the years pass, this is a very good guarantee and should give you complete peace of mind.
Tempur Mattress Delivery information
Due to the popularity of Tempur mattresses, there is unprecedented demand for them. As a result, the time between placing your order and receiving your mattress is usually between 14 and 28 days.
Order online at uk.tempur.com and you'll receive free nominated day delivery on any mattress, as well as free setup. This is a handy perk, as it can often require 2 men to move the mattress upstairs and on to a bed. Many mattress companies will only deliver to your door.
For a small fee of £30, Tempur will also remove and dispose of your old mattress.
Tempur Mattress Price and Sizes
Like all other mattress companies, Tempur offer each of the 3 variants of their 4 models in a range of different sizes to accommodate most size beds. All 4 Tempur models are priced the same, it is only the  3 variants that differ in price. The following prices are for the various sizes of the Elite variant of all Tempur mattress models:
| | | |
| --- | --- | --- |
| Size | Dimensions (length x width x depth) | Price |
| Single | 90cm x 190 cm x 25cm | £1,729 |
| Double | 135cm x 190cm x 25cm | £2,399 |
| King size | 150cm x 200cm x 25cm | £2,799 |
| Super king size | 180cm x 200cm x 25cm | |
Above prices exclude any coupon code or promotion, but read below if you need a discount.
You'll probably be thinking "Tempur are expensive…" and there is no denying that they aren't cheap. If you are in the market for a cheaper mattress under £200 then check out my reviews here.
However where Tempur really excel is in their brand history. As above, they've been selling mattresses across the USA and the UK for decades, and know their market. If you're lucky enough to not be concerned about the pricing and are happy to pay more for quality, then a Tempur UK mattress should be near to the top of your shopping list. Now that they are owned by Sealy, another high-end mattress producer, you can be sure of getting a good night's sleep.
Another similar brand in this space is Brook and Wilde, except they are British. Read my review on Brook + Wilde here.
Tempur UK voucher codes 2021
Note that Tempur do often offer vouchers, coupons and promo codes to save money off your next mattress purchase. I've managed to find a voucher code here, if you are shopping at Tempur UK then make sure to use this voucher:
If you need a comfort size, then Tempur can also help you with that. Simply contact them for a quote.
All of the prices above include the Tempur Sleep System which consists of the following and is worth over £950:
Tempur Comfort Pillows – these provide the same pressure-relieving comfort for your head as the mattress does for your body. You get 1 pillow for the single size mattress and 2 pillows for the other sizes.
Tempur-Fit Classic Quilt – a temperature-regulating duvet that is designed to keep you both cool in the summer and warm during the winter.
Tempur-Fit Mattress Protector – an ultra-thin, waterproof and breathable protection layer to help keep your mattress fresh and clean at all times.

Frequently Asked Questions
How thick is the Tempur mattress?
All 4 models of Tempur mattresses are available in a Supreme, Elite and Luxe version. These are 210mm, 250mm and 300mm deep respectively. In this review we are looking at only the Elite variant, as this is a very common depth among other brands of mattresses and is therefore more comparable.
How much weight can a Tempur mattress withstand?
With a maximum of 2 persons lying on it, the Elite variant of all 4 models of Tempur mattress can withstand up to 23 stones (146kgs) per side. This is considerably more than the majority of other mattresses available on the UK market.
Do Tempur make a Pocket Sprung mattress?
Out of the 4 different mattresses that Tempur make, only one of them contains pocket springs. However, it is technically known as a 'hybrid' mattress because it contains both pocket springs and memory foam.