Emma versus Eve, it sounds like a biblical stand-off. And although they may 'only' be mattresses, finding the best one for your needs is the really tough bit. The internet is awash with dodgy reviews, thinly-veiled sales websites and much worse! You may be asking yourself, where do I start…?!
Hopefully I have the answer you've been searching for. Below I've written my honest, genuine review after testing both products myself and also scouring the internet for the best & worst bits of each mattress.
Just a quick note: both Emma and Eve now do different types of mattresses in the UK respectively, but for this comparison it's worth pointing out that I am comparing the Emma Original and the Eve Original.
Read each individual review here:
Or scroll down to the bottom of this comparison review to see my mattress comparison table.
Tip:  View all my Emma Sleep discount codes here.
Quick intro: Emma or Eve?
Firstly a quick bit of clarification.
Both of these mattresses are regular memory foams, and have both been for sale for a number of years now in the UK and Europe. You could say that they are arch enemies or competitors as they operate in the same space: the everyman mattress. While Eve Sleep dominated the market in the early years, Emma have lately caught up and even surpassed Eve in terms of popularity in the UK according to Google Trends.
Being arch competitors, each brand has since brought out a newer, more expensive "hybrid" model, which has a number of benefits over regular memory foams. But one of the negatives of a hybrid is the cost.
Since you're here, you're probably only interested in the regular memory foam model or the "Original". They're good value for money, but if your budget can stretch to a hybrid mattress then they are certainly worth a look.
Emma and Eve are both large companies: One is German (Emma) and the other is British (Eve or Eve Sleep as it's often called). That is surprisingly where the differences pretty much end, because both of these mattreses are practically identical in terms of features, as you're about to find out 🙂
Which has the best cover?
Emma Sleep
Emma mattresses come with covers made of 100% polyester, a man-made fibre. While that has some advantages (such as being fairly resistant to water, and being hypoallergenic), it also has some envorinomental drawbacks. Polyester is basically a plastic polymer, so isn't a 'natural' fibre at all. It's also quite cheap to produce, compared with cotton.
As you can see from this photo, the Emma Original has a two-tone effect: the bottom part is the base protector. It has been created to be rip-resistant on the bed's wooden slats, and makes it easy to maneuvre, which is also the thinking behind adding four handles to the Emma.
Eve Sleep
Eve covers are slightly different, as they are 98% polyester and 2% elastane. Note that Eve mattress cover is also split into two different parts: a top cover and a base cover. Worth pointing out that the top cover is not machine washable – you are meant to wash it by hand-wash only. However the entire Emma cover is fully machine-washable up to 40C. There are four handles to allow you to move the mattress around easily, just like with the Emma.
Eve's cover is hypoallergenic, which means it has been designed not to cause allergic reactions. A nice addition is that the Eve mattress cover is Oeko-Tex certified which means it has been vigorously tested to make sure that no harmful chemicals were used during the manufacturing process.
As these are both memory foam mattresses they are not flippable. In other words you need to keep them up the same way all the time, you cannot turn them 180 degress and sleep on the "back". This is because of the way they are made – more on this below.
Summary: Covers
Entire Emma cover is machine washable
Eve cover isn't – only top cover
Eve cover is hypoallergenic
Neither are flippable, i.e. can't be turned over
Firmness and special needs
The firmness of the Emma mattress is quite well-known, particularly this model (Emma Original). But a firm mattress can get a bad rap for no reason: a firmer mattress actually works well if you're a back sleeper. This is because the mattress cannot sink too much or your spine and hips will be out of alignment (a big no-no).
Likewise if you're after a softer mattress, for example if you're a side sleeper, then the Eve mattress will probably fit the bill.
Overall though, there's not a huge amount of different in the firmness that I noticed. If you're after a very soft mattress then I'd probably recommend the DreamCloud rather than the Eve. It didn't feel particularly squishy to me, compared to some pillowtop mattresses available.
Layers
Both of the Emma and Eve Original mattresses have three layers, and they are all pretty much exactly the same as each other. I've included a photo cross-section below for Eve, but it could equally be for Emma. If you want more information on the layers on each one then check my individual review pages (Emma, Eve).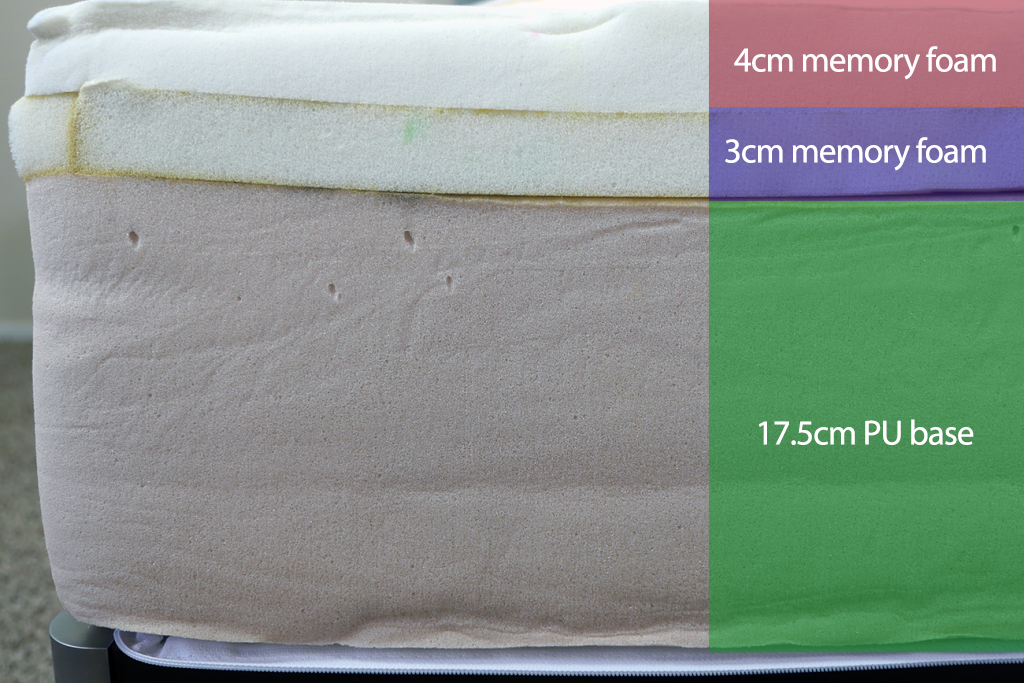 Pricing & Discounts
Emma mattress: Prices
Thankfully, Emma mattresses are available in a wide range of UK sizes. These are UK spec, not EU spec, so will fit nearly every bed in the UK:
| | |
| --- | --- |
| Size | Price |
| Single mattress | £299 |
| Small double mattress | £449 |
| Double mattress | £499 |
| Kingsize mattress | £579 |
| Super kingsize mattress | £649 |
Update: Emma now offer an Emma Cot mattress for toddlers read my review here but if you are looking for a mattress for your kids then read this first.
Eve mattress: Prices
| Size | Price |
| --- | --- |
| Single (90cm x 190cm) | £349 |
| EU Double (90cm x 200cm) | £399 |
| Petite Double (100cm x 190cm) | £449 |
| Small Double (120cm x 190cm) | £499 |
| Double (135cm x 190cm) | £549 |
| EU Double (140cm x 200cm) | £599 |
| Kingsize (150cm x 200cm) | £629 |
| EU Kingsize (160cm x 200cm) | £699 |
| Super Kingsize (180cm x 200cm) | £749 |
| Emperor (200cm x 200cm) | £799 |
| 7′ x 7′ (215cm x 215cm) | £899 |
Please note: These prices above are BEFORE any discount code:
If you're looking at these prices and thinking that they are too expensive, then check out my cheapest mattresses guide: a lot of mattresses can be had for £200 or even less.
And if you're lucky enough to be thinking that you can go a bit higher, then thankfully there are many latex mattresses available. Higher-end mattresses like Dormeo, or Brook + Wilde are also worth a look if your budget can stretch to nearer £1000.
Valid Voucher Codes & Deals (UK)
Both manufacturers often have deals, sales events and voucher codes to bring the prices of their mattresses down. Because the UK mattress-in-a-box industry is so competitive, they are all vying for your attention, and one of the ways they do this is to offer generous discounts off the RRP.
I've collected the best voucher codes here:
Discount code for Emma:
Discount code for Eve:
Sizing differences between Emma & Eve
One area where Eve really shine is the availability of loads of different mattress sizes.
While Emma are restricted to the regular UK standardised sizes (singles, doubles, kings), Eve offer a multitude of different EU and UK sizes as well as Emperor size. If you have an older IKEA bed then you may have found that some mattresses just don't fit; this is because they are EU size.
Eve Sleep even offer (ocassionally anyway…) a huge California King size aka 7 footer, so if you're looking for an EU sized memory foam mattress then Eve are going to be high on your shopping list 🙂
Summary: Pricing & sizing
Emma is cheaper, particularly when using a discount code
Eve offer way more sizes and variations, i.e. "petite double"!?
Side-by-side comparison
If you're like me then you probably want a visual representation of each mattress, compared side by side:
| | | |
| --- | --- | --- |
| | Emma Original | Eve Original |
| Type | Memory Foam | Memory Foam |
| Layers | 3 | 3 |
| Cover | 100% polyester with handles | 98% polyester, 2% elastane with handles |
| Layer 1 | Airgocell® (3cm) | Evecomfort® (4cm) |
| Layer 2 | Memory Foam (2cm) | Memory Foam (3cm) |
| Layer 3 | Polyfoam Base (19cm) | Polyurethane Base (17.5cm) |
| Total Depth | 25cm | 25cm |
| Max Weight (2 people) | 20 stone | 18 stone |
| Manufactured in | Britain | Britain |
| Firmness | 7.4/10 | 6.6/10 |
| Delivery | Free, 2-5 days | Free, 1-3 days |
| Return cost | Free | Free |
| Trial | 100 nights | 100 nights |
| Warranty | 10 years | 10 years |
| Pricing* | £299 – £649* | £349 – £899* |
| | | |
| | | |
*Prices shown are before discount – use one of my voucher codes and save!

Which has the best reviews?
If you put any emphasis on Trustpilot ratings, then you'll be interested to know that Emma is rated 4.4 / 5 on Trustpilot.

Eve is rated slightly higher currently at 4.5 / 5 on Trustpilot. So there's not really much in it.
I don't personally put too much focus on Trustpilot reviews anyway, because they are nearly all just short ten word reviews of the shopping experience. What we really need is reviews of the product itself: weeks, months or even years later, after lots of usage.
To get that kind of long-term review we need to look on places like Amazon, where many customers will gladly leave a review 6+ months later. I've scoured Amazon and found the most interesting reviews for you (taken from here -read them if you like).
Most of the negative reviews on Emma mention: poor customer service/returns policy, and the strong 'new mattress smell'.
Most of the negative reviews on Eve mention: poor side support, strong 'new mattress smell', and being firmer than expected.
Ultimately each mattress has its drawbacks and there is no perfect mattress here. But you can make the buying decision easier if you consider my conclusion:
So which is best? The showdown
I would say buy the Emma if:
You are price conscious as they are cheaper than Eve
You have a standard-sized bed
You want a machine-washable cover
You prefer a firmer mattress
I would say buy the Eve if:
You have a non-standard / EU sized bed
You prefer to buy from a British company (Emma are German)
You want a mattress with a hypoallergenic cover
You prefer a medium-firm mattress, e.g. for side sleeping
Summary: Which to buy?
Overall, the Emma Original just about edges ahead over the Eve. It comes down to price, there are very little differences otherwise. Make sure to use an Emma voucher code to get the cheapest price:

Was this article helpful?
Does the Emma mattress smell?
Actually, they both smelled to start with. I've written about that smell before, and you're going to sadly get it whichever mattress you buy here.Such is the nature of memory foam.
Which is the cheapest to buy?
Assuming you are using the current discount codes available above then the cheaper brands, after any voucher is redeemed, is Emma. It works out about 12% cheaper overall, as an average across all the sizes.
How we reviewed this article:
Edit History:
Our experts continually monitor the mattress & sleep tech space, and we update our reviews & articles when new information becomes available.
26th April 2023


Current Article - By Carrie Taylor

13th May 2023


Checked & Reviewed - By Jean Marshall

25th September 2020


Copy Edited - By Carrie Taylor

23rd June 2023


Reviewed - By Carrie Taylor
WhatMattress has strict sourcing guidelines and we try to rely on peer-reviewed studies, academic research institutions, and medical associations where possible.