If you're new to mattresses, then you might not be familiar with Brook + Wilde. But that's going to change if recent developments are anything to go by, as they are quickly becoming one of the most popular UK mattress brands. But should you buy one? I'm going to review as honestly as I can the pros and cons of this brand. Here's a starter for ten:
Brook and Wilde: At a glance
Pros
Luxury, higher-end mattresses
More layers of foam than any other brand
Customise the firmness level to suit you
100 night trial
Cons
Pricier than other brands – but use a Brook & Wilde discount code
Fairly long delivery times
Newer entrant, so less feedback/history than some others
Cover not removable on some models
If you're new to mattresses, then you might not be familiar with Brook + Wilde. But that's going to change if recent developments are anything to go by, as they are quickly becoming one of the most popular UK mattress brands.
And this is for good reason – Brook + Wilde are aiming their mattresses at a different segment to many others. Firstly, they are the only UK mattress company that allow you to choose your firmness level. Secondly, they claim to offer more layers than any other memory foam mattress on the market.
Big claims, but are they worth considering? Let's find out.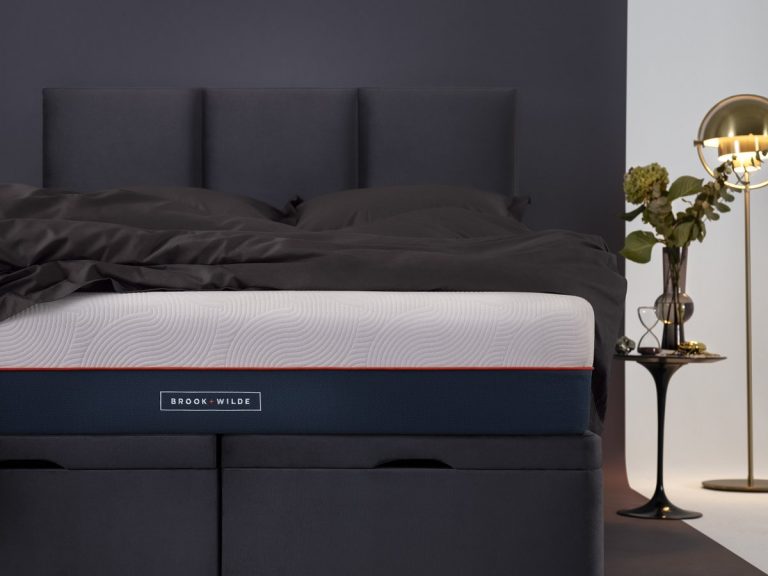 Brook + Wilde history
Although they are relatively new to the mattress scene, Brook + Wilde's staff have a long history in the bedding and mattress markets. Co-founders Tyler and Jonathan Coulson are veterans in the industry, apparently. When he was a director at Dreams, Tyler launched another mattress business called Hyde & Sleep, in collaboration with Jonathan's marketing agency.
Hyde & Sleep became a hugely successful brand and now turns over £10m plus per annum and is profitable. They are hoping to replicate that success here again.
Pitching itself as Britain's 'most premium' mattress brand, B+W offers similar promises you'll get to its rivals i.e. 100 night trial, optional mattress recycling and free shipping. The Brook + Wilde Lux mattress -that I review here – is "perfectly crafted to give deep and restful sleep", according to its maker – and its overwhelmingly positive reviews appear to back up the claim. So does it live up to the hype? I am always looking for the best mattress, so have reviewed the Brook + Wilde mattress to find out.
Here's everything you need to know about the Brook + Wilde mattress range…
A closer look at the mattresses
There are currently two different mattresses available from Brook + Wilde: The Lux, and the Elite. Neither are cheap, but you get what you pay for, as I'm about to explain.
The "Lux"
Each Brook + Wilde Lux is 28cm deep – that's pretty much the same thickness as other brands. The Lux, cheaper of the two models, boasts comfort and breathability.  Note that the Lux is a hybrid mattress, which combines the comfort of memory foam with the support of no less than 3,000 pocket springs.
These springs are distributed across two of the mattress' six (yes, six) layers. A durable breathable mattress cover sits on top, following by a cooling layer of memory foam designed to mould to your body, and eliminate motion transfer if your partner is prone to wriggling around in the night. Beneath that is the first layer of 2,000 mini pocket springs, engineered to move in tandem with your body as you turn in your sleep, and reduce pressure points. An additional layer of extra-dense supportive foam aids spinal alignment and helps support your shoulders.
Finally, there's also another layer of 1,000 larger 135mm pocket springs is beneath that, providing the bounce and push-back your mattress needs. This combined gives the Lux a luxurious feel and a premium effect that other cheaper mattresses just cannot pull off.
The "Elite"
The Elite, also a hybrid, is even more luxurious than the Lux, as it has 8 layers rather than 6. Naturally, it costs more – see pricing below.
These additional 2 layers bump the number of springs up to 3,500 (versus 3,000 in the Lux). The Elite also has a – big plus here  – removable cover. If your budget can stretch to the Elite model, then it's definitely the creme-de-la-creme of mattresses in the UK; indeed it's impossible to fault almost!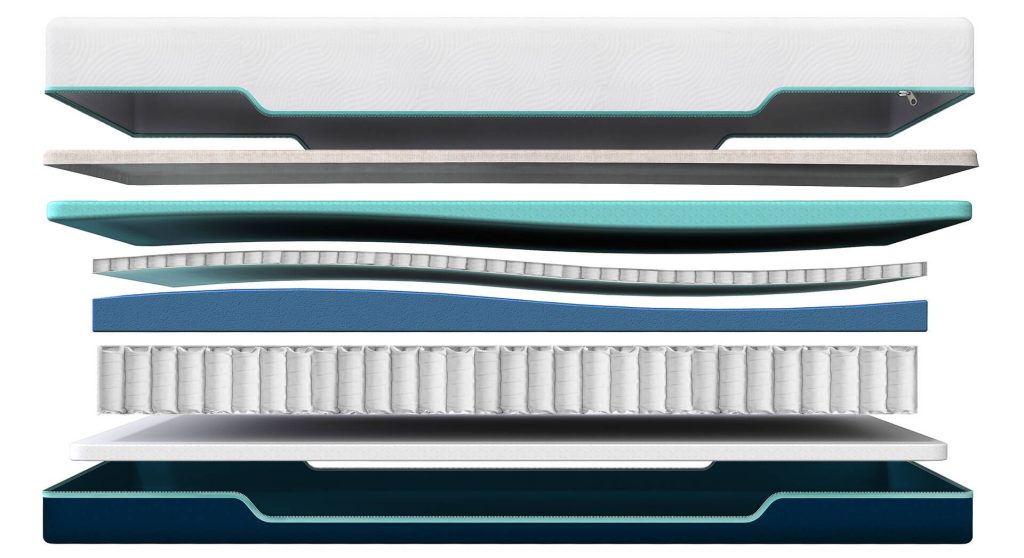 Brook + Wilde Mattress Drawbacks (Negatives)
Due to COVID-19 there are/were some delays with delivery and this is reflected on their Trustpilot page. I am waiting for confirmation that the delivery times are still as advertised on their website – they claim that if ordered today, your Brook + Wilde mattress will be delivered within 10 days, but a lot of the reviews on the above link suggest that it will take much longer.
The other main drawback is the price.

If you were to compare this to the Emma or Nectar mattresses, these are obviously mid-level; whereas Brook + Wilde are aiming for the "high-end" or premium market. It remains to be seen if it's worth the price, but I will update this review when I have manually tested this product out myself.
A better comparison might be with newcomer Owl + Lark mattress, who are selling a luxurious cashmere and wool hybrid mattress. But it isn't cheap, starting from £1100.
Brook + Wilde covers – are they any good?
The cover of the Brook and Wilde Lux mattress features a two-colour design, but it's not washable. The top part is white with a visual pattern and the bottom part is navy.
The two parts are separated by an orange line. It's a clean and simple design that is pleasant to the eye. The cover is very breathable and seems quite durable. It's also hypoallergenic so anyone with an allergy can feel confident using this mattress. On the sides, they have placed 4 handles so you can move it easier which is good practical thinking.The cover feels soft and in general, I liked it. It's not the best one I have seen but it's a good quality one. Unfortunately, as said above, it is not machine washable so you have to spot clean it when needed. Overall, I think they did a good job here but if you need washable then go for the Elite.
FAQs about Brook & Wilde

How firm is a Brook + Wilde mattress?
As mentioned above, Brook + Wilde are different to other mattress makers as they offer the option to choose your firmness level. This is particularly useful if you've got orthopaedic problems.  Each mattress can be tailored, so that it is one of four comfort levels.
These are:
SOFT. Sinking into a luxurious marshmallow like mattress is a wonderful feeling. Our soft mattress is supportive, but with extra levels of coziness.
MEDIUM. The perfect balance of support and sink. Our medium mattress combines softness and resistance to give outrageous levels of comfort.
FIRM. For those of you looking for a firmer level of support while maintaining superior comfort levels. Less springy, but more supportive and just as gorgeous.
While the medium option occupies the middle ground between coziness and being supportive, Brook + Wilde likens the 'soft' to "a luxurious marshmallow", and the 'firm' is described as "less springy, but more supportive."
Personal preference is key: remember that within the 100-night trial, you have the option to try all three if you're not quite sure which is right for you. While the medium is ideal for side- or back-sleepers, we found it had a little too much give for front-sleepers – if this is your usual preference, the 'firm' could be a better option.
Compared to a pure-foam (memory foam) mattress, the Brook + Wilde Lux mattress has a decent spring to it – largely provided by the second layer of larger 135mm pocket springs. You don't sink too far into it, and it returns to its original shape promptly.
A quick note about sizing: There are only four UK sizes available: single, double, king and super king.  While this will be fine for most customers,  note that if your bed is from IKEA for example it may not fit well as there is no EU sizing. Competitors such as Emma and Simba have a larger range, which also incorporate US and EU sizes.
Is there a mattress trial?
Yes. Regardless of which mattress you choose from their range, each Brook + Wilde mattress comes with a 100-night trial. This is pretty standard in the industry but it should be long enough to gauge how well you get on with your new mattress.  And that ability to dial the firmness up and down (for free) during that trial period – rather than just opting for a refund – is a big selling point.
🤑 Do Brook and Wilde do promo codes?
Yes, surprisingly for a premium brand, there are some significant discounts available too. All you need to do is use a coupon or voucher code and the discount will be instantly applied.
View all Brook and Wilde discount codes here.
The best coupon I have seen is a whopping -42% reduction, which at the time of writing is still valid. So grab a promo code / discount today on your Brook + Wilde mattress, if you think it's right for you, using my special coupon below:
If you're an NHS worker then there is a 50% saving on Brook & Wilde Lux mattresses available from websites like NHSDiscounts or Blue Light Card. What's more if you're in receipt of Universal Credit then you may be able to get a discount on the Social Tariff scheme too.
User Reviews for Brook + Wilde
Individual inclination is a major factor with regards to picking a mattress and there are numerous components that can decide its degree of solace and backing for you – your weight, style, or any current medical problems: for example, if you have backpain. I likewise just tried one of the three solidness choices accessible. In light of this, to give an adjusted picture I've additionally collected over a hundred online reviews and surveys to assist you with settling on an educated choice. After all, there's no better way to gauge how good something is than by looking at its reviews.
Please note that these reviews were assessed on external websites like Trustpilot – NEVER rely on reviews on a store website itself, they are easily faked.
In light of the 114 reviews currently visible for the Brook + Wilde Lux on Trustpilot, most of the reviewers were happy. It has a normal rating of 4.6 stars out of 5 – truth be told, 96 percent of the reviews are five stars, with 4 percent at four stars. Numerous commentators depict their experience as the greatest night's rest they've had.
Albeit a few clients found the bedding they at first purchased wasn't exactly reasonable for their requirements, they applauded the straightforwardness with which it could be traded for one of the other two choices.
Fantastic delivery and mattress – 10/10 recommend

Utterly phenomenal delivery service – it took less than 10 minutes! Would also highly recommend the mattress – we went for 'Firm' and had previously been sleeping on a 10+ year old one so the difference was pretty obvious. Sleeping well and as a diabetic who often gets quite warm during the night, the memory foam does work to keep you cool. Have recommended to friends and family – thank you!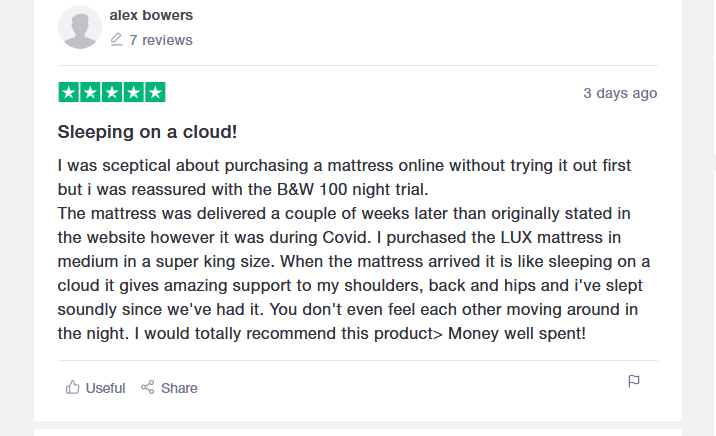 Payment Options
Debit/Credit Card
Amazon Pay
Apple Pay
PayPal
Financing available
Other reviews for B&W
Which?.co.uk review here (behind paywall)
Brook + Wilde mattress price revealed
The Brook + Wilde Lux mattress sits at the premium end of the mattress-in-a-box UK market. At full price, a single Brook + Wilde Lux mattress costs £499; a double £699; a king £799; and a super king £899. This puts it on a par with the Nectar mattress.
Brook and Wilde's white glove delivery is free as you would expect when spending this much, which means two delivery people carried the mattress all the way into my bedroom and removed all the packaging for me, which I thought was a nice touch.
Here's how the Brook + Wilde Lux mattress RRP compares to that of its rivals (UK pricing, updated February 2021):
Brook + Wilde Lux: £699 (single), £799 (double), £899 (king), £999 (super king)
Simba Hybrid: £449 (single), £649 (double), £749 (king), £849 (super king)
Emma Original: £429 (single), £649 (double), £699 (king), £799 (super king)
Eve Original: £349 (single), £599 (double), £699 (king), £799 (super king)
Nectar Sleep mattress: £499 (single), £699 (double), £799 (king), £899 (super king)
The Casper: £400 (single), £600 (double), £700 (king), £800 (super king)
OTTY Hybrid: £374 (single), £549 (double), £649 (king), £749 (super king)
As you can see, OTTY are generally the cheapest.
Are these prices not accurate currently? Let me know here.
If you're still reading this far, then great! Don't forget to check out the range of accessories and add-ons that Brook + Wilde do here.
The unboxing experience of Brook + Wilde, like most of these companies, is well tailored and feels exclusive. There are several unboxing videos on YouTube such as this one:
If you're into packaging then in this area Brook and Wilde truly shine. The mattress is vacuum–sealed and rolled in a neat 100cm x 50cm 50cm box for transportation. Delivery is within 3 days of order, this is one of the shortest delivery periods currently available for the "bed in a box" industry here in the UK (but note the point above about COVID-19 delays).
The mattress is delivered using a two-man service, similar to OTTY. Note that if buying accessories such as pillows these will be sent by DPD and not via the white-glove delivery service.
Conclusion: Are Brook & Wilde any good?
The Brook + Wilde mattress range consists of two different mattresses, the Lux and the Elite. Personally I'd choose the Lux, as it's cheaper to buy, and the differences between the two different models aren't enough to justify the price hike.
If you time it right, you can buy the Lux in King-size for £849 and combine it with the 'Free iPad' offer that Brook + Wilde are currently running. This effectively means you are getting an iPad worth £349, which if you deduct from the current price of £849 for the King, means you're getting a premium memory foam mattress for only £500.
Sadly this offer isn't always on, but Brook and Wilde do often run special promotions. In the event that the iPad offer isn't running, you can still get the 40% off discount using this voucher: