Simba Sleep is a UK-based company that offers three 'main' Hybrid mattresses: the Simba Hybrid, the Simba Hybrid Pro, and the Simba Hybrid Luxe. In this article, I'll be taking a closer look at the last of these, the Hybrid Luxe, as well as comparing their features & prices to help you determine which one is the best fit for your needs. I'll also cover why this mattress is so expensive, and why a firmer mattress might suit you more than you think.
Pros:
10 layers of luxurious comfort
Bamboo/wool layer for impressive temperature regulation
Superior support from many springs
Excellent motion isolation & pressure relief
200-night sleep trial and 10-year guarantee
Eco-friendly foam and recyclable materials
Cons:
Higher price point compared to other Simba models
Cover is not machine washable
So does the Luxe actually deliver on its promises? My hands-on review will examine the mattress in detail, covering its features, benefits and downsides, and how it compares to other hybrid mattresses offered by Simba – I'll also look at how this luxury mattress stacks up against others on the market so you can make an informed decision.
At a glance
Firmness
8/10
Price
From £947.40
Sizes
5 (Single to Super King)
Depth
31cm
Trial
200 nights
Warranty
10 years
Cover
Non-washable (comes with protector)
Layers
10
Let's start with the basics:

Brief rundown: Differences
I know that it can be confusing try to choose between all these different mattresses!
Here's a quick clarification of the main Simba Hybrid models – I've excluded the Simba Essential mattress here because it's not really related.
| Model | Foam Layers | Spring Layers | Cooling Layer | Depth | Price (single) |
| --- | --- | --- | --- | --- | --- |
| Simba Hybrid | 2 | 1 | None | 25cm | £479.40 |
| Simba Hybrid Pro | 4 | 2 | Bamboo-infused wool | 28cm | £694.40 |
| ➡️ Simba Hybrid Luxe | 6 | 3 | Bamboo-infused wool | 31cm | £947.40 |
NB: For a better idea, I suggest that you read the full Simba Hybrid Pro vs. Simba Hybrid Luxe page I've created here.
Simba Hybrid
So, let's start from the top, with the original Simba Hybrid mattress. According to Simba, this is their most popular mattress – often simply called 'the Simba mattress'. It's a medium-firm hybrid mattress and has been around since 2018, featuring a combination of foam and springs to provide adequate support and comfort. The mattress is made up of five layers, including a breathable sleep surface, a layer of open-cell memory foam for pressure relief, a layer of pocket springs, a high-density foam support base, and a non-slip base to prevent slipping.
While the Simba Hybrid mattress is the cheapest option in the Simba Hybrid range, it is worth me pointing out that, based on feedback I've received, it feels a lot softer than many people expect it to. Additionally, this mattress lacks the bolster support found in the other two mattresses, and it does not contain a natural wool layer either.
Simba Hybrid Pro
Moving on to the Simba Hybrid Pro, this mattress is essentially an upgraded version of the Simba Hybrid mattress. With seven layers, including a natural wool top layer and 5,000 extra springs, the Simba Hybrid Pro offers better support and a slightly firmer feel than the Simba Hybrid. However, this mattress is also significantly more expensive, starting at £931 for a single mattress and going up to £1,731 for a super king-size mattress.
Finally, we have the Simba Hybrid Luxe, and this is obviously what I am going to focus on here in this review. In short, it's THE most advanced mattress in the Simba Hybrid range (though the Simba GO Hybrid has recently been launched – which is even more expensive). With a whopping 10 layers and an additional 5,000 springs over the Hybrid Pro, the Luxe offers the best support of the three mattresses. It is also the firmest of the three, making it suitable for, arguably, more people.
However, as I said, all this does come at a high price: namely, starting at almost a thousand quid for a single mattress. And that's a lot.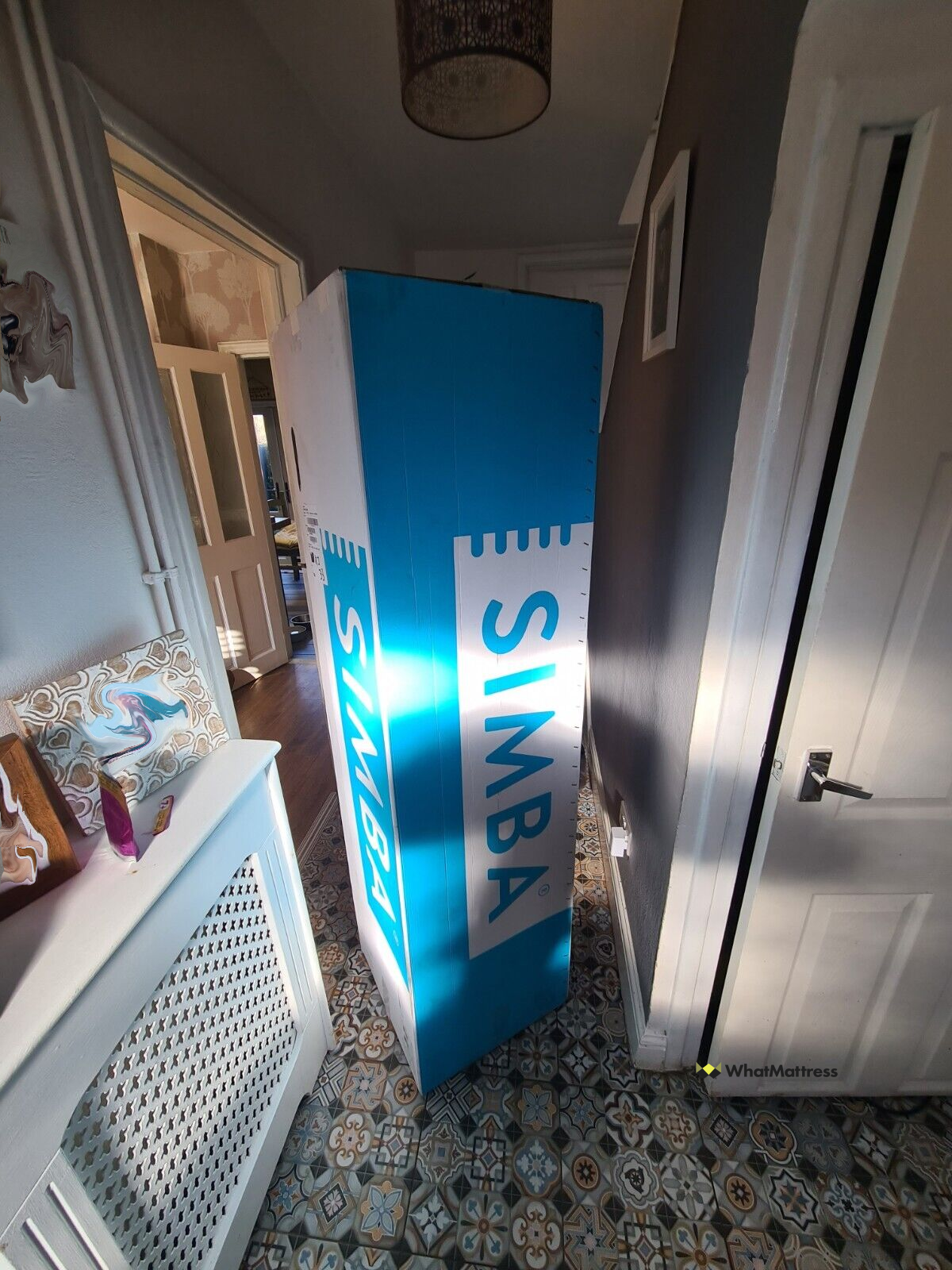 Simba actually introduced this range-topping Hybrid Luxe mattress to the UK market in 2021, so it's still quite new. With three layers of springs, 31cm thickness and a plush sleeping surface featuring bamboo and wool, this mattress is undeniably comfortable and feels very premium.
In this review, I'll delve into the construction and features of the Simba Hybrid Luxe, as well as explore its competition and whether it's worth the investment.
About the Layers
The Simba Hybrid Luxe is a premium mattress, with a frankly rather complicated 10-layer design.
Briefly, this consists of two layers of titanium Aerocoil springs, each with 2,500 springs, for maximum comfort. After these, is a layer of high carbon steel Aerocoil springs that aid in pressure relief and support. Below that is a high-density Simba-Pure foam layer and a zoned base of supporting foam. In addition to the open-cell Simba-Pure foam comfort layer, the mattress features a layer of bamboo-infused wool for temperature and moisture regulation. And there's the the open-cell construction of the top cover, which is removable, makes for a comfortable and cool night's sleep.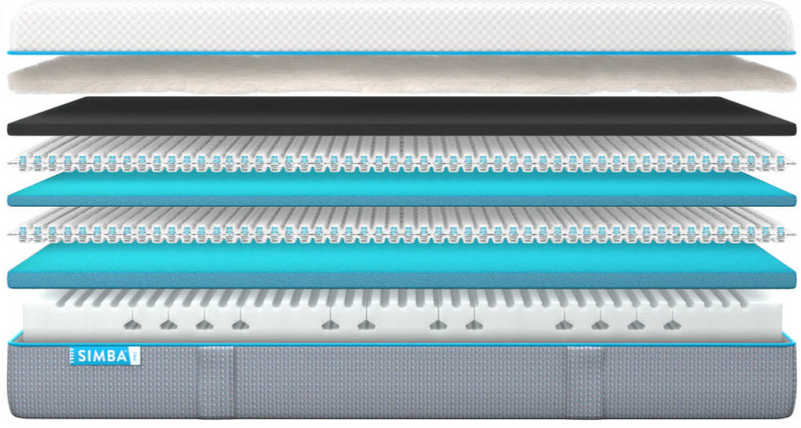 Phew! Here's a closer look at each individual layer:
Breathable cover: The top layer here, like most of the covers in the Simba range, is hypoallergenic and designed to keep you cool and comfortable during the night. It features an open-cell design that allows air to circulate freely.
Simbatex foam layer: The 2nd layer is a Simbatex foam layer, which essentially means its been infused with something – in this case with graphite to help draw heat away from the body. This open-cell foam has 30 times more airflow than traditional memory foam, which helps regulate your temperature.
Titanium Aerocoil spring layer: The 3rd layer is the first of three spring layers in the Luxe mattress. This layer features double stacked titanium Aerocoil springs that cradle your body and offer pressure relief.
Simba-Pure foam layer: The 4th layer is a high-definition Simba-Pure foam layer. This foam is designed to provide support and help distribute your weight evenly.
Zoned foam base: The 5th layer is a zoned supportive foam base. This layer is designed to provide additional support where you need it most, such as your shoulders and hips.
Steel spring layer: The 6th layer is a high carbon steel Aerocoil spring layer. This layer is designed to provide maximum support and durability.
High-definition Simba-Pure foam layer: The 7th layer is another high-definition Simba-Pure foam layer with built-in edge support. This is meant to help keep you comfortable but also quite secure even when you're close to the edge of the mattress.
Microcoil comfort layer: The 8th layer is a microcoil comfort layer. This layer is made up of small, individually wrapped springs that provide additional comfort and support.
Bamboo wool comfort layer: The 9th layer is a bamboo wool comfort layer. This layer is designed to provide additional comfort and temperature regulation.
Supportive base layer: The 10th and final layer is a supportive base layer. This layer is designed to provide a stable foundation for the rest of the mattress, which Simba argue that it should last for years to come.