When you're comparing the best mattress brands, there comes a point where they all start to blur into one. If you're not careful then you start to lose the will to live! I have hand-reviewed all the biggest mattress-in-a-box brands in the UK — so that you don't have to; below I review the newest contender to the market – OTTY.
Note: This is a review of the OTTY Hybrid. For the OTTY Pure Hybrid, read my review here.
A quick introduction to OTTY:
OTTY Sleep Ltd are a UK-based company that sell a small range of different mattresses – some are memory foam, some are 'hybrid' mattress and some even boast charcoal layers. For the most part, the "OTTY Hybrid" is their best-selling model, so this is what I am focusing on mostly in my review here.
If you don't know what a hybrid mattress is, then it's basically a mix of different layers. Where mattresses normally only have one main layer, hybrids will have multiple different ones. Some layers will be pocket spring and some layers will be memory foam (or other types of foam). Want to find out more? I suggest you quickly read more on hybrid mattresses, including which hybrid is currently the best here.
For all active OTTY discount codes, click here.
Pros & Cons of OTTY Hybrid:
Pros
Cheapest price around for a hybrid mattress – significantly cheaper than trendy Simba
Small range of products so easy to understand
White-glove delivery service via Keen & Able
Cons
Some mattresses are made in China
Longer-term reviews aren't as positive
Not flippable
Overall, OTTY have mostly positive reviews, at the time of writing they are rated 4.6 / 5 on Trustpilot. There are some possible issues with long-term use — but be aware this isn't limited to OTTY, it is often regarded as a drawback to many cheaper memory foam and hybrid mattresses. More on this below.

Other mattresses by OTTY
As said above, I am focussing on the Hybrid mattress here mostly. But let's not forget that, like many other brands nowadays, OTTY also offer a few other mattresses in their range:
OTTY PURE (link) – a hygienic "charcoal lined" hybrid mattress, it claims to be the UK's first charcoal hygienic mattress on sale. A charcoal mattress claims to be antibacterial, and apparently eliminates odours, absorbs moisture, and regulates temperature. The OTTY Pure mattress also has their "tallest ever springs" (16cm) to ensure full support for your joints and back.
OTTY Flex
OTTY Essential
A closer look at OTTY: The layers
For the Hybrid mattress, there are 4 layers if you exclude the fabric outer skin (I will cover this later). The layers are:
Top layer: A 3cm Cool Blue Gel memory foam layer which is designed by OTTY and keeps the mattress in the right temperature during sleep.
Middle layer: A 3cm memory foam layer which is great for pressure relief.
Second layer: A 14cm layer consisting of 2000 capsule springs which adjust to your body weight while you are in bed.
Bottom layer: A 5cm high-density foam base layer which keeps the mattress all together and works as the base of the mattress.
Firmness and comfort
According to the Sleep Council, most people are looking for a mattress around the "Medium-Firm" mark, and this is where OTTY state that their Hybrid mattress appears.
After testing out the OTTY I have to agree with them, although it didn't feel quite as firm as the Nectar (which also claims to be Medium-Firm). Note that there is NO agreed standardised measure or definition of "firmness" — so in other words, all mattress companies are using their own determination and ratings. As an aside,  I'd love for the industry to get together and form an agreed "firmness scale" so that customers can easily compare brands and mattresses, but that sadly hasn't happened yet 🙁
So instead I am using my own "firmness scale" which isn't as scientific as it sounds; on the scale, the OTTY (with 10 being very firm), I would say that the OTTY mattress is a 6.8. That means that it is ideal for those who like their mattress to be slightly firmer than the "average" mattress.
Firmer mattresses are suitable for side sleepers because they don't sink as much. If you are a side-sleeper then definitely consider the OTTY.
Firmer mattresses are also good for orthopaedic use i.e. if you have back issues, but definitely read my article on mattresses for back pain first before buying any mattress!
Firmer mattress are NOT so good for front sleepers, as they don't have the full softness that means your body won't sink into the mattress as much – causing some possible aches and pains. If you are a front sleeper then consider other brands.
Considering it has large, 140mm springs and firm side supports, the first thing that struck me about the OTTY mattress was how small it compresses down after it has beens vacuum packed.
The only other bed-in-a-box mattress I've tested with comparably long springs – the Eve Hybrid – packs down just as small but measures only 180mm deep once fully expanded, which is 70mm thinner than the OTTY.
Delivery & White Glove service reviewed
OTTY use a company called Keen & Able to deliver their mattresses. For a small fee, they'll offer a "white glove" service where Keen & Able will unbox your new OTTY Mattress for you in your own home, place it on your bedframe, and even take any old mattress away (this may cost more, check with OTTY first). You can add these options in the checkout on the OTTY website when buying your mattress.
I am not really sure why anyone would want a "white glove" service unless they have mobility issues. Remember that, unlike days of old, these mattress-in-a-box companies ship their products in vacuum-packed, easy to carry cardboard boxes. A lot of them use regular couriers like DHL or UPS, so if a courier can lift it, then so can most people. But it's nice to have the option there, and Keen and Able have really good reviews too.
Note that mattress boxed (even when vacuum packed) can weigh a fair amount – about 25kg to 35kg – but other than that, it's really easy to transport the box around. Of course once you take the mattress out of the plastic wrapper, that's another story – it's definitely not going back in there!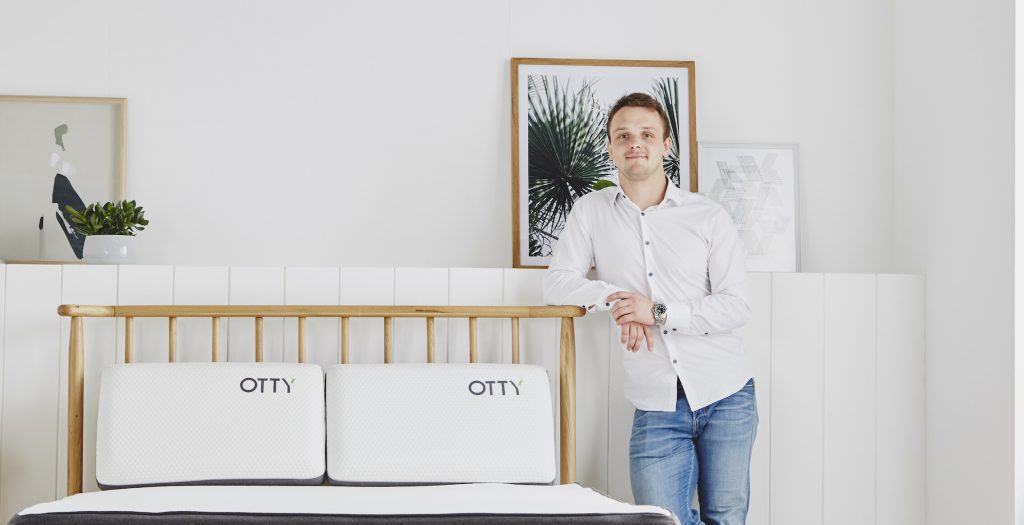 OTTY prices and costs
The OTTY mattress range is certainly a budget-friendly option. Indeed, the prices are about £150 cheaper than other "hybrid mattress" rivals like Simba Sleep.
The reason for that is likely because their mattresses appear to be made in China. I couldn't find much more information on this, apart from this article, but given that most products are made in China now, I don't see why it'd be any lower-quality than other brands. You may have concerns with buying anything from China – so if that's you, then maybe look at another brand.  If you're able to spend a bit more, and want a Hybrid mattress made in Britain (aside from Simba), then read my full, unbiased Brook + Wilde review here.
Back to OTTY, the business founder, Michal Szlas, states in this article that OTTY entered the market to try to bring down costs, similar to how Tuft & Needle operate in the USA. If you are budget-conscious, and want a hybrid or memory-foam mattress with a 100-night trial, then OTTY should definitely be worthy of your consideration. But don't think of this as a budget mattress because it has much the same make-up as higher-priced rivals.
Let's look at the pricing structure.
Here are the current prices at time of writing – excluding any OTTY discount codes:
As you can see from the above table, OTTY thankfully offer multiple mattress sizes to fit most bedframes, including Ikea ones that (used to) use EU sizing. For most customers, you will be looking at a regular UK double or UK King, but check your sizing first!
🔥 Psst… Secret voucher code
PLEASE NOTE: The above prices are without a discount code. However you can get a discount using my voucher code for OTTY below. It will give you a -£50 discount off the above prices, and you can use it as many times as you want.
Anything else worth knowing…?
OTTY offer 0% financing on all their products, via a company called DivideBuy. You can split the payments, without interest / 0%, from between 3 and 12 months, meaning an average double hybrid mattress paid off over 12 months will cost you about £42 per month.
Otty have a 100 night free trial, this is similar to Emma mattress and a lot of other brands, although Nectar offer a 365 night trial now. 100 nights should be enough to gauge if the mattress is right for you.
A quick glance at other "trial" periods from other brands puts OTTY right in the middle:
Nectar Sleep – 365 nights
Simba Sleep – 200 nights
Emma Sleep – 100 nights
OTTY – 100 nights
Sleepezee – ~10 nights
IKEA  – none?
Although you should definitely be aware of the drawbacks and limitations of these so-called "night trials", generally speaking they are hassle-free if you need to return the item back to the retailer and you are of course within the return period.
Just bear in mind that if you buy an OTTY mattress from any *other* place, i.e. other than through their website, then the 100-night trial guarantee may not apply. Make sure to read the smallprint first!
How long do OTTY mattresses last?
If you're still reading, then well done!
This is quite a long review so far, but I wanted to go where other review websites often don't venture – how well do OTTY mattresses last after 3/6/12 months of use?
This is where the OTTY mattress range loses a few points (but they're still one of my preferred brands). The shelf-life of memory foam mattresses (and therefore hybrid mattresses) is about 5-10 years. If you want to read more on why this is, then I have created this article to explain further.
But for the most part this won't affect most people, because nowadays the recommended period to keep your mattress is only 8 years. So if it fails after 10 years you probably won't know about it, as it'll already have been recycled. That's the theory anyway.
Note that some reviews by longer-term OTTY users are complaining that their mattress failed after a year, or sometimes less – usually by sagging. I am still investigating this and will update this article again shortly when I have spoken to some of these people. For now though, I will refer you to their "Limited warranty:
Deterioration causing the Mattress to have a visible indentation greater than one (1) inch that is not associated with an indentation or sag which results from use of an improper or unsupportive foundation or adjustable bed base.
Their warranty clearly states that if the indentation is "deeper than one inch" then it should be possible to make a claim under the 10 year warranty. As to whether that includes "sagging" I am not sure, nor how they are measuring it. If you have information or insight into this, please leave it in the comments below. Thanks!
Conclusion – is OTTY a good choice or not?
Obviously I can't tell you which mattress you "must" buy, as I try to be unbiased and neutral, allowing you to form your own opinion.
If you are budget-conscious and want a hybrid, then OTTY are definitely worth a look. Bear in mind the drawbacks of some memory foam/hybrid mattresses, e.g. they can't be flipped over, and their shelf-life is going to be <10 years in all likelihood.
If you're aware of those possible drawbacks, and don't mind them, then OTTY are definitely worth a look. Their prices are cheaper than other hybrids, and they come in at medium-firm like most mid-market brands (which is the firmness that most people want).
The addition of the pocket spring layer and the optional 'charcoal' hygienic layer might sway some into buying and I will update this review when I get my hands on one of those. OTTY produce one of my favourite mattresses because they are affordable, and some mattresses are just so ridiculously expensive nowadays that they aren't within most people's budgets.
NB: If your budget can't stretch to buying outright, then OTTY – like most brands nowadays – do also offer a 0% finance option.
Was this article helpful?
How long do OTTY mattresses last?
If you're still reading, then well done!
This is quite a long review so far, but I wanted to go where other review websites often don't venture - how well do OTTY mattresses last after 3/6/12 months of use?
Conclusion - is OTTY a good choice or not?
Obviously I can't tell you which mattress you "must" buy, as I try to be unbiased and neutral, allowing you to form your own opinion.
If you are budget-conscious and want a hybrid, then OTTY are definitely worth a look. Bear in mind the drawbacks of some memory foam/hybrid mattresses, e.g. they can't be flipped over, and their shelf-life is going to be <10 years in all likelihood.
How we reviewed this article:
Edit History:
Our experts continually monitor the mattress & sleep tech space, and we update our reviews & articles when new information becomes available.
27th March 2023


Current Article - By Carrie Taylor

27th April 2023


Checked & Reviewed - By Morag Park, Ph.D.

29th September 2020


Copy Edited - By Carrie Taylor

1st September 2023


Reviewed - By Carrie Taylor
WhatMattress has strict sourcing guidelines and we try to rely on peer-reviewed studies, academic research institutions, and medical associations where possible.