Looking for the best organic mattress in the UK to help you get a healthy and restful night's sleep? With so many on the market, finding the perfect one can feel overwhelming. The key is to know what you're looking for and what your body actually needs.
In this article, I'll guide you through everything you need to know about organic mattresses, including the benefits of sleeping on one, the top certifications to look for, and how to choose the right one for your individual needs. So, let's get started on your journey to a more sustainable, comfortable, and natural healthy sleep!
️‍🫵 Top Organic Mattresses (UK)
What *is* an organic mattress?
An organic mattress is simply one that's made from materials that have been grown without the use of harmful pesticides, chemicals, or synthetic fertilisers.
These materials are typically (but not always) certified by third-party organisations to ensure they meet specific standards for sustainability and non-toxicity.
While there is no such thing as a 100% organic mattress, as even the most eco-friendly beds may contain some synthetic components like adhesives or coils, truly organic mattresses are primarily made of organic materials like cotton, wool, or latex.
Should I buy one?
Organic mattresses are becoming increasingly popular as us Brits become more concerned about the environmental impact and health implications of traditional mattresses made with synthetic materials – like memory foam. These mattresses of course are often more expensive than non-organic options, but many people now feel that the benefits to their health and the environment are worth the investment.
When purchasing an organic mattress, it's quite important to look for certifications from reputable organisations like the Global Organic Textile Standard (GOTS) or the Global Organic Latex Standard (GOLS) to ensure that the materials used meet specific standards for sustainability and non-toxicity.
What are the most common natural mattresses?
Latex and latex hybrid mattresses are the two most common types of organic mattresses available.
Created from the sap of rubber plants and treated with either teh Dunlop or Talalay processes, latex has the consistency of foam and the sensitive characteristics of rubber. Organisations like GOLS place great importance on the processing method and chemicals used to create latex when deciding whether or not to certify it as organic.
Natural latex, on the other hand, is more difficult to work with because there is currently no governmental certification that is equal to the GOLS standard for organic latex. If a company claims to  have a natural latex version of their product, you should definitely ask what ingredients went into making it. It's possible that there's a lot of synthetic filler in some of the "natural latex" layers.
Blended latex typically contains anywhere from 20% to 40% of natural latex. The components of synthetic latex, on the other hand, need not include any natural rubber at all and that is why they're sometimes used in less expensive mattresses, but they don't last as long as organic or natural latex.
Some of the newer hybrid mattresses employ organic cotton and/or wool batting in place of latex. However, steel, commonly used for the coils in hybrid mattresses, is produced through chemical processes. To provide a greener final product, several companies give preference to employing recycled or upcycled steel.
BTW, a hybrid mattress is more likely to be eco-friendly if it also contains organic or natural materials – so when assessing a mattress for its eco-friendliness and lack of dangerous chemicals, it's crucial to take into account all of its parts and the materials used to make them.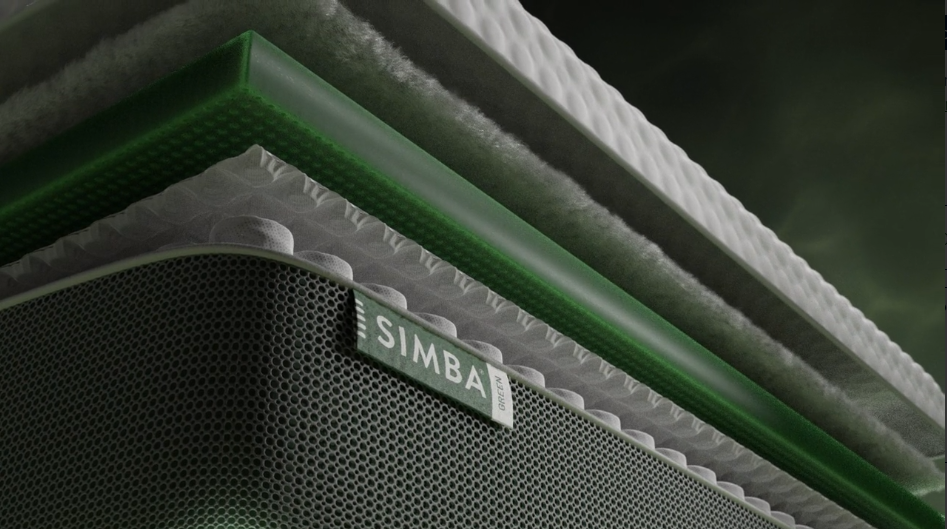 How do I know if a mattress is 'natural'?
Natural isn't a controlled term in the UK, so be cautious if that's all you can see being used in the marketing. It's often abused.
Instead, pay closer attention and look for specific things. As you search for an organic mattress in teh UK,  you'll no doubt come across numerous certifications, some of which may be more legitimate than others. To help you navigate this potentially confusing process, we've outlined three top certifications that have a proven track record in the mattress industry. While this list isnt exhaustive, it provides a good starting point for your research.
GOTS & GOLS
The first certification I recommend is the Global Organic Textile Standard (GOTS) plus also the Global Organic Latex Standard (GOLS), which are  bothwidely considered the leading certifications for organic mattress materials.
The GOTS certification requires a textile to contain at least 70% organic fibres to be certified as organic. The synthetic components in the textile must also meet specific standards for environmental impact and toxicology. Being honest, in most mattresses that carry this certification, the textile in question will be organic cotton and/or organic wool and these materials are often found in the cover, but can also be used in comfort, transitional, and support layers too .
The GOLS certification, on the other hand, requires latex in mattresses to be at least 95% organic to receive the organic certification. The remaining 5% or less consists of chemical agents that form the latex foam, and these must meet certain GOLS criteria as well. The standard also covers practices on rubber plantations where the latex is cultivated, as well as carbon emissions during production.
CertiPUR
Another certification that you may come across when shopping for mattresses is the CertiPUR-US or CertiPUR certification (they're the same). However, it's important to note that this award does not recognise organic or natural mattress materials; rather, it is awarded to the foams used in mattresses and other products.
In short, CertiPUR-certified foams do not contain components that have been linked to human health problems, such as ozone depleters, certain fire retardants, heavy metals like lead or mercury, formaldehyde, and phthalates that have been banned by the UK government. In addition, the certification also tests for VOC off-gassing, and certified foams must exhibit low VOC emissions for indoor air quality.
While all-foam, innerspring, or hybrid mattresses with polyfoam or memory foam layers will never be certified as organic due to the nature of the foam, the CertiPUR certification ensures that the foam does not contain anything harmful to your health.
OEKO-TEX
Next, we have the OEKO-TEX Standard 100 – another important certification to look for when shopping for an organic mattress here in the UK.
OEKO-TEX, an abbreviation (in German!) for the International Association for Research and Testing in the Field of Textile and Leather Ecology, examines fabrics for the presence of potentially dangerous chemicals.
The OEKO-TEX Standard 100 is a stringent evaluation of textiles that encompasses close to a hundred different criteria. To ensure that no harmful chemicals or elements, such as azo dyes, nickel, or formaldehyde, are present in the textile in any quantity, we will conduct tests on each and every component.
According to the degree of skin contact, the OEKO-TEX Standard 100 divides certified textiles into four distinct categories. Products in Class I are safe for infants and toddlers up to 36 months of age, while those in Class II are safe for children and people of any age. Class III is given to fabrics that are utilised largely away from the skin, such as pillow fill, and Class IV is given to textiles that do not come into direct contact with the skin. Class IV includes several of the components found in the mattress's innermost layers because they are never exposed to the user.
Be cautious
It's possible that there are no or very few organic elements in certain mattress styles, such as all-foam beds or innersprings with foam layers. For instance, some models may have organic cotton coverings, but the polyfoam and memory foam they utilise is often polyurethane-based and not certified as organic.
However, several businesses have made efforts to create non-toxic mattress foams in an environmentally friendly manner. Mattresses from these brands may be a more affordable option for the environmentally-aware buyer who doesn't like the feel of latex or who doesn't want to pay the high price of a certified-organic mattress.
Keep in mind that not all companies that claim to employ non-toxic ingredients or sustainable production methods actually disclose their procedures or have their products independently verified. Always check for third-party certifications and/or the manufacturer's website before making a large investment like a mattress.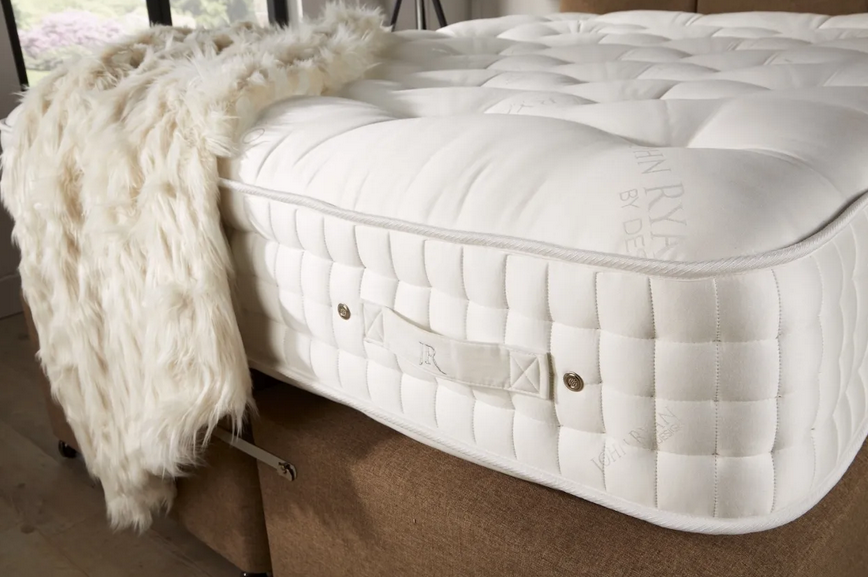 The benefits of an organic mattress
While the price point of organic mattresses may be daunting for some, it's crucial to consider the long-term benefits of investing in a mattress made with organic and/or sustainable materials.
Organic mattresses are known for their durability, which is a huge selling point for those who want to make a long-lasting investment. While the average lifespan of a mattress is around 6 to 8 years, beds with organic materials typically exceed this timeframe. For example, organic latex has natural resilience that allows it to bounce back and resist deep body impressions very well, resulting in a longer lifespan than blended or synthetic latex.
Lifespan
The average lifespan of a mattress with organic latex layers is around 9.5 – 10 years, while models with blended or synthetic latex have a lifespan of closer to 8.5 years..
Additionally, organic mattresses have a lower odour potential compared to models with synthetic components. When you unpack a mattress that's made mostly of foam, synthetic materials may release volatile organic compounds (VOCs) that can trigger headaches, nausea, fatigue, or other adverse health effects. In contrast, organic and natural materials used in mattresses, such as latex and wool, do not emit VOCs and have a much lower odour potential. While latex and latex hybrid mattresses may produce a temporary natural odour at first, this is not due to VOC off-gassing and usually dissipates after a few days.
Certified as meeting stringent sustainability and non-toxicity requirements, organic mattresses have also undergone extensive testing for a wide range of additional chemicals that could pose a risk to sleepers.
The OEKO-TEX Standard 100, the Global Organic Latex Standard (GOLS), and the Global Organic Textile Standard (GOTS) all verify that textiles do not contain any toxic components. You can be assured that your health is not at risk by purchasing an organic mattress so long as it has the appropriate certifications.
Last but not least, organic and/or environmentally certified mattresses are preferable for the world. Manufacturers of such mattresses are investing extra effort into minimising waste, cutting down on emissions, and generally helping the environment. Purchasing an organic mattress is a vote of confidence in businesses that care about the environment and their employees' well-being.
Why You Can Trust WhatMattress
We're completely independent from any mattress company. We've spent countless hours curating and reviewing mattresses that anyone can buy in the UK, and have been doing so since 2018.
Mattresses tested:




82

Total hours testing:




602

Pillows tested:




24

Total hours testing:




183

Duvets tested:




35+

Funds spent on testing:




£7,500+
Isn't this all just a load of marketing?
Not really.
When we talk about "organic" foods, for example, we're talking about those that come from farms that only use certified organic practises. In the UK, the Soil Association is responsible for establishing and upholding organic regulations. These regs specify requirements for plant cultivation, permitted manufacturing and proper product labelling and so on.
You may be surprised to know that there are also standards for organic materials set out by organisations like the Global Organic Latex Standard (GOLS) and the Global Organic Textile Standard (GOTS).
In contrast, "sustainable" refers to actions that prioritise current needs without jeopardising future generations' capacity to provide for themselves. While the term sustainability has several possible meanings, it is most commonly used to describe actions that have a minimal impact on the environment and do not deplete finite resources or threaten public health on a global scale.
What's 'sustainable' then?
Mattresses made in a "sustainable" fashion use only materials that are safe for the environment – though again, it's not a controlled term in the UK, so be cautious.
Mattress factories that take measures to limit their carbon output; brands who send their products using environmentally friendly shipping techniques are all examples of businesses that are doing their part to reduce their environmental impact.
You can find a lot of certifications for sustainably produced materials, such as the Rainforest Alliance accreditation for sustainable agriculture and forestry practises, while shopping for a green mattress. Keep in mind that the composition or other factors may prevent a mattress material made in a sustainable manner from being recognised as organic. While this may be true, it is not always indicative of a material's negative impact on the environment.
In the end, if you want to find a sustainable mattress, you need to look at the materials and production methods employed by each manufacturer. You can use this information to narrow down your search for a so-called "healthy", non-toxic, and ecologically friendly mattress.
How much do natural mattresses cost in the UK?
How long is a piece of string? 🙂
The cost of organic mattresses varies hugely, depending on the specific materials used and the brand. On average, an all-latex or hybrid organic mattress in a queen size can cost between £1100 and £1500. However, the use of extensive organic materials can easily drive up the cost beyond the £2000 mark. A good example is the Simba GO Hybrid, which at its most expensive and in king-size (without discount) costs over 2 grand.
While the price-point of organic mattresses may be higher than traditional mattresses, the long-term benefits of investing in an eco-friendly and non-toxic bed may make it a worthwhile expense. Organic mattresses offer numerous advantages, including increased durability, lower change of smelling, and environmental sustainability.
Ultimately, whether or not an organic mattress is worth it depends on your personal preferences, budget, and values. If you prioritise sustainability and non-toxicity in your purchasing decisions and have the means to invest in an organic mattress, then it may be a worthwhile investment for you. However, if the cost of an organic mattress is too high, there are other options available, such as non-toxic foam mattresses, that may still meet your needs and budget.
More from WhatMattress...
How do I dispose of my old mattress?
Okay, so you're coming round to teh idea of buying a natural mattress.
If you're looking to dispose of your old non-organic mattress, recycling or donating it is a more eco-friendly option compared to sending it to a landfill. Landfills release harmful chemicals into the air and can have negative effects on the surrounding environment. Recycling your mattress ensures that most of its components will be repurposed for other products.
However, it's worth noting that recycling a mattress will require transportation to the nearest recycling facility, which may be inconvenient for those living in rural areas. In the UK, many local councils offer a bulky waste collection service for old mattresses for a small fee.
Additionally, there are mattress recycling companies that will pick up your old mattress for a fee, but it's important to research them beforehand to ensure they follow eco-friendly practices.
Donating your mattress to a charity or a furniture bank is another option, but be aware that not all charities accept used mattresses due to hygiene concerns.
What about white-glove delivery?
Frankly, if you'd prefer to have your old mattress recycled by someone else, you may want to consider a "White Glove" delivery service offered by some mattress brands. This service costs more, but includes delivery of your new mattress, in-home assembly, and removal of your old one too: the couriers will then either donate or recycle the old mattress on your behalf. Easy!
Some of the most popular brands and stores offer white-glove delivery on bedding items, but it will cost you anything up to £60 extra:
Simba Sleep
Dormeo
And So To Bed
OTTY (on some items only)
Emma Sleep
Brook and Wilde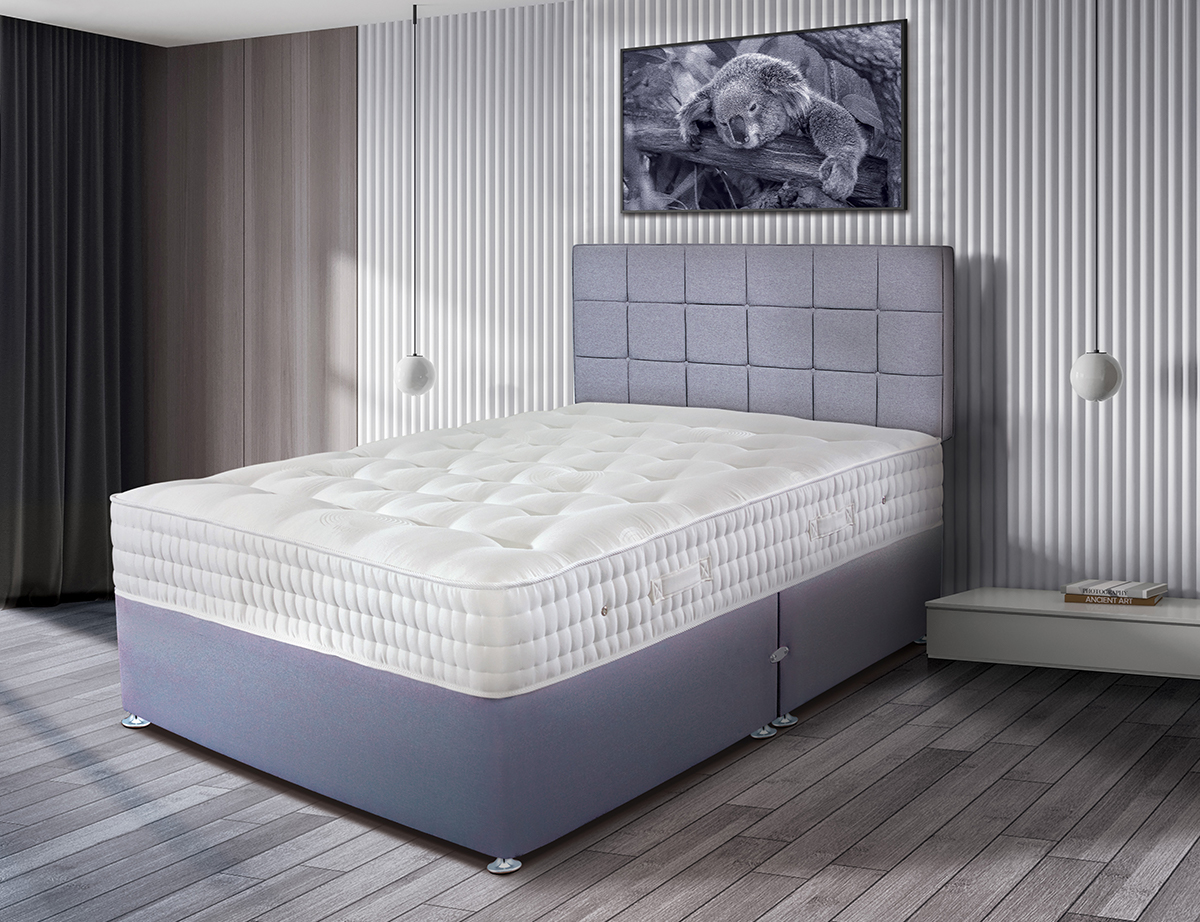 What about pillows & bedding?
Organic pillows are an excellent choice if you're looking for an eco-friendly and sustainable option. Just like with mattresses, pillows made with organic materials have certain advantages over synthetic options.
Organic pillows are typically filled with organic materials such as cotton, wool, or latex. Cotton and wool are usually used in batting, while latex is shredded and formed into a pillow shape. These materials are often hypoallergenic and resistant to dust mites and other allergens, making them ideal for those with allergies or asthma.
Latex pillows, in particular, are known for their durability and resilience. They can last for several years without losing their shape or support, which means you won't need to replace them as often as synthetic pillows. Organic cotton and wool pillows are also durable, but may not be as long-lasting as latex pillows.
When shopping for organic pillows, look for certifications like GOTS and GOLS to ensure that the materials are indeed organic. You can also consider certifications like OEKO-TEX Standard 100,  as I mentioned above, which tests for harmful substances in textiles in general.
Organic pillows are available in a variety of sizes and firmness levels, so you can find one that suits your sleeping preferences. They may be more expensive than synthetic pillows, but their longevity and eco-friendliness make them a worthwhile investment in the long run.
Here at WhatMattress we take mattress research seriously - all our product tests are done as fairly and honestly as possible.
That's quite a bold claim, but we're proud of the attention to detail that you're hopefully seeing within our reviews. Our methodology sets us apart from many other review websites. I like to think this is because WhatMattress is only run by two people - Carrie and Anthony. Over the years we've hand-tested multiple mattresses, pillow and other bedding products - so that you don't have to!
Every single mattress is put through its paces using the following tests:
We make sure to live with the mattress for at least a week.
We always sleep on the mattress we're testing - every single night.
We will always be 100% honest when we weigh up the pros and the cons of each mattress.
And in most cases, we've bought the mattress ourselves and haven't been given a free one.
What companies should I use?
In the UK, there are several brands that offer organic bedding products and pillows. One such brand is The Fine Bedding Company, which provides eco-friendly bedding made with ethically sourced and sustainable materials. Their bedding products include organic cotton sheets, pillows and duvets made with recycled materials.
Another UK brand, Panda London, offers bamboo bedding that is soft, hypoallergenic, and certified by OEKO-TEX Standard 100. They also use sustainable bamboo in the production of their products, which requires less water and pesticides than traditional cotton farming.
Similarly, Naturalmat offers organic bedding products such as sheets and pillowcases made from GOTS-certified organic cotton: they also use organic wool and latex in their pillows and mattress toppers.
Top Hybrid Mattresses: Comparison
Was this article helpful?
So what makes a mattress 'organic'?
A mattress is considered organic if it contains materials that are derived from specific, approved methods and meet the required standards. For instance, the organic latex used in mattresses must be at least 95% organic to receive the organic certification, according to the Global Organic Latex Standard (GOLS). Similarly, a textile must contain at least 70% organic fibres to be certified as organic, according to the Global Organic Textile Standard (GOTS).
Are organic mattresses worth the investment?
If you have the budget for it, an organic mattress is definitely something to consider. Natural mattresses endure longer than synthetic ones and are better for the environment because to the high-quality materials used in their construction. In addition to being checked for other dangerous compounds, they typically have a lesser odour potential.
How do I dispose of my old organic mattress sustainably?
Reusing or repurposing a mattress is a more eco-friendly option than throwing it away. In this way, we can be sure that the vast majority of our mattress scraps will find new lives somewhere. However, you'll need to get the mattress to a local recycling centre. Some mattress manufacturers provide "White Glove" service, which entails not only delivery but also set-up and removal of your old bed. The delivery men will give the old bed to a charity or recycle it.
How we reviewed this article:
Edit History:
Our experts continually monitor the mattress & sleep tech space, and we update our reviews & articles when new information becomes available.
27th April 2023


Current Article - By Carrie Taylor

8th July 2023


Checked & Reviewed - By Jean Marshall

27th April 2023


Copy Edited - By Carrie Taylor

29th August 2023


Reviewed - By Carrie Taylor
WhatMattress has strict sourcing guidelines and we try to rely on peer-reviewed studies, academic research institutions, and medical associations where possible.