Sciatica is a common complaint with many people, but is your mattress making it worse? Across the UK, people are suffering from sciatica-induced sleep difficulties, which have a wide range of documented, negative effects.
Note: sciatica is a specific type of pain,  it is rather different to most back/leg pains that are normally just categorised as general 'back pain'. If you have been diagnosed with general back pain, then read this article about which mattress is best for you.
Unlike generic back pain, sciatica always has a known source – the sciatic nerves. These are the body's largest nerves and there are five in total within the body; the roots run from the lower back and down the back of each leg all the way down to the toes. Sciatica can effect nearly any parts of the lower body.
What are the symptoms of sciatica?
Should these nerves be compressed in any way then it can lead to serious and very uncomfortable pain. The most common symptoms of sciatica are:
Lower back pain
Throbbing pain around the sciatic nerve areas
Tingling and numbness
Heat in the sciatic nerve areas
Muscle spasms
As you're reading this, you probably already know how terrible sciatica can be for sleep quality.
It can feel almost impossible to get to sleep when you suffer from a back pain, and when you do, you probably wake up several times through the night. If you have this condition and want to ensure that you can get the best possible night's sleep, then you will benefit from a mattress that is able to relieve the sensitive pressure points and prevents further back pain from developing.
Best Sciatica Mattresses (UK) – Updated
1. Nectar Sleep – Memory Foam Mattress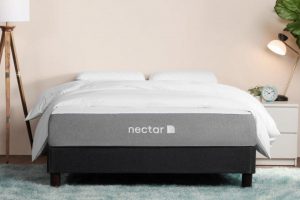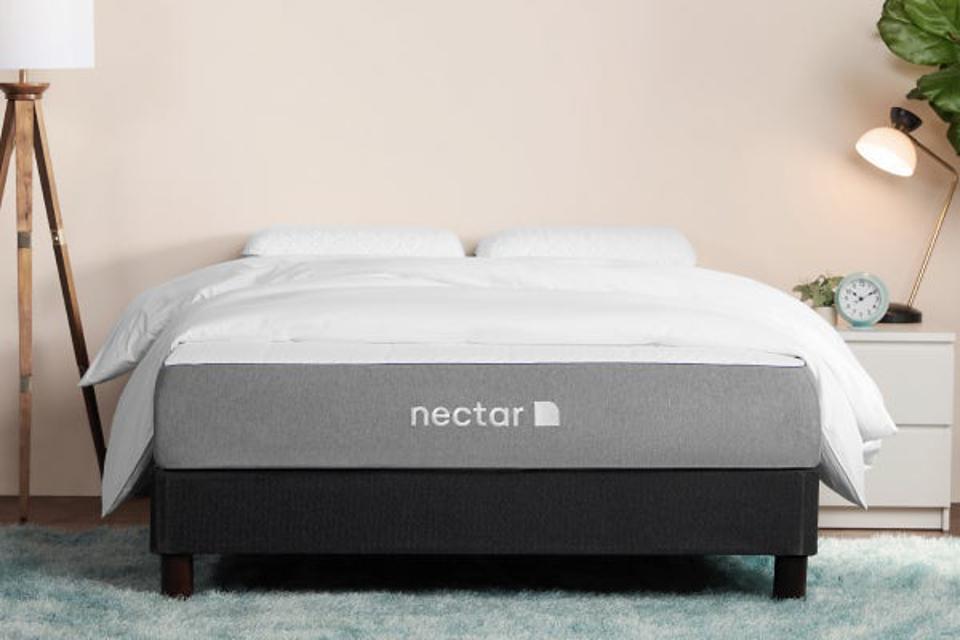 The Nectar mattress (read my review here) is a very popular mattress, generally, in the UK – even for those withot back issues.
It is a great choice for anyone who suffers with sciatica or any other type of lower back pain. Why? Because it consists of 3 layers, with 2 of them being memory foam. This is in addition to a supportive layer that offers 7 different zones of support. The result is a mattress that provides ample cushioning and plenty of support. This is without too much of the sinking feeling that it often associated with memory foam mattresses.
The great thing about the Nectar Sleep mattress is that you get a full year to try it out and make sure that it's right for you.
So if it's not, you know you can return it and get something more suitable. It also comes with a warranty for life, giving you complete peace of mind that you are buying a mattress that will offer good support for a long time. This makes the Nectar Sleep excellent value for money as it's very cheap compared to many other mattresses out there.
2. Emma Mattress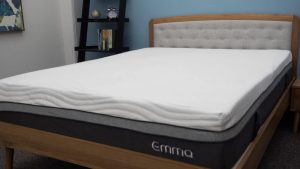 Emma Mattress, who you've no doubt heard of already, are another popular 'bed-in-a-box' mattress that are extremely popular across Europe, due to their low prices.
The Emma mattress has also been created with sciatica sufferers in mind. It consists of 3 layers of foam which not only offers support for your back but also pressure relief, breathability, and comfort. In terms of firmness the Emma mattress is often described as medium-firm, so it won't be too firm but at the same time not too soft. If you weigh very little then you may find a softer mattress more suitable.
The Emma mattress comes with a 100-night home trial, which is more than enough time to get used to it. It also comes with a 10-year guarantee so you know that you will get at least a decade out of the mattress before the quality begins to be compromised.
Read my full Emma mattress review here.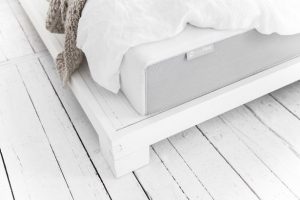 Ergoflex are much more established than other 'bed in a box' mattress providers but you probably haven't even heard of them…! But, they have been around for more than 10 years, which incidentally is also the length of their warranty. This proves that Ergoflex are well-received by consumers and that their products can stand the test of time.
Although the Ergoflex 5G has been designed to be comfortable for everyone, it is a particularly good mattress for those who suffer from chronic conditions such as sciatica, fibromyalgia, and other joint stiffness.
As well as the warranty, you also get a 30-night home trial period. While this is not as long as some other mattress companies, it should be long enough to get a proper feel for the mattress to determine whether or not it is right for you. Either way, a 30-night trial is much better than visiting a mattress store and lying on one for a minute or two before signing on the dotted line.
4. OTTY Hybrid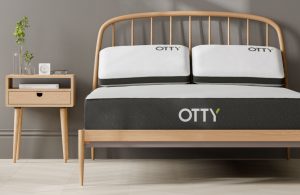 The OTTY Hybrid is a very popular mattress among those who suffer from sciatica and other chronic back pain. As well as a generous layer of memory foam, the OTTY mattress also contains pocket springs. This allows the mattress to be both supportive as well as comfortable, and it's the support from the mattress that relieves the symptoms of back pain such as sciatica.
Like the Emma mattress, the OTTY mattress comes with a free 100-night home trial and a 10 year warranty so you can buy with confidence. If for any reason the OTTY mattress doesn't relieve the symptoms of your sciatica, then you can return it for a full refund, subject to the terms and conditions.
How Sciatica Is Worsened by Poor Quality Sleep
Like most types of lower body pain, sciatica can get either better or worse when you lie down to sleep.
Depending on the position in which you sleep, the already compressed sciatic nerves will either experience a build up of pressure or experience some kind of relief. For anyone who suffers from sciatica, adjusting to the healthiest possible sleeping position and choosing a mattress that offers the right level of support are crucial. As well as investing in a good, supportive mattress, there are some bedtime habits that you can develop that will relieve pain and increase the quality of the seep that you get.
Have a warm bath. Warm baths can help to reduce muscle tension and prepare your body for sleep. Your body's core temperature drops when you get out of a warm bath, which initiates mechanisms within the body that trigger sleep.
Do some light stretches before bed. If your back tends to ache and feel stiff towards the end of the day, then some stretching can work wonders. This is not a permanent solution though, so it may be best to change your sleeping surface.
Elevate the knees. When in bed, you can use a good, comfortable pillow between your legs to keep them slightly bent and elevated. This will release the pressure off the sciatic nerves in the backs of your legs. It also eases the pressure on your lower back.
Best Sleeping Position for Sciatica?
When it comes to buying a new mattress for your sciatica, you will first need to consider the position in which you usually sleep.
Different sleeping positions require different variations of support, and that's without considering the sciatica element. Some positions are thought to help ease the pain of sciatica, whereas others can amplify them. In the end it depends on the individual, as people have their own preferences on how they like to sleep, as well as their own body's response to the pain of sciatica.
Side Sleeping – Does It Help?
Sleeping on your side is one of the healthiest positions possible in terms of the alignment of your spine, the support of your back, ease of breathing and even the health of your heart. However, side sleepers are more prone to numbness or tingling within the limbs – in particular if they have one of their arms underneath their pillows as they sleep.
You may also find that sleeping on your side helps if you have hip pain. I've reviewed the best mattresses for those who suffer from hip pain here.
Those who suffer from sciatica are already at risk from muscle pain as well as numbness. It is therefore important to choose a mattress that will not put pressure around the sensitive areas. For those who sleep on their side this includes the legs, arms, head, lower neck and back. Most side sleepers opt for a medium firmness mattress. However if you are fairly lightweight you may find a softer mattress more comfortable.
Back Sleeping
Sleeping on your back is a relatively healthy way to sleep. If you suffer from sciatica then this can be a very good sleeping position, as it allows even pressure across the back as well as offering consistent back support. However, if you suffer from sleep apnea, then sleeping on your back can be risky.
A firm mattress is ideal for someone who sleeps on their back, as this offers the most consistent support on key areas. However, someone who suffers from sciatica would benefit more form a medium-firm or even medium mattress. A firm mattress may irritate the sensitive pressure points too much.
Stomach Sleeping for Sciatica
Stomach sleeping is not recommended for anyone who suffers from any form of back pain, let alone Sciatica.
If you sleep on your stomach, then gravity will cause your mid-section to be pressed down into the bed. This will create an unnatural curve in the spine. It is for this reason that people who sleep on their stomachs tend to wake up in the morning with stiff and often achy joints.
If you suffer from sciatica and sleep on your stomach then change your pillow first of all. Then it's well worth trying to sleep in an alternative position – ideally on your side. It's easier than you think to train yourself to do this. Start off by placing a pillow between your legs. Alternatively, if you have an adjustable bed you will be able to raise your legs or torso in such a way that it will be impossible to sleep on your front.

Frequently Asked Questions
Which type of mattress is best for sciatica?
Any type of mattress will help relieve the symptoms of sciatica if it provides you with the required level of support. Memory foam or latex mattresses tend to be the most popular though.
What mattress firmness is best for lower back pain?
Sciatica causes the most pain in the lower back. Any mattress that optimally supports this area will be best for your lower back pain. A medium-firm or firm mattress will probably be better at supporting your lower back than a mattress that is too soft.
Is a hard or soft bed better for sciatica?
Neither a hard or soft bed will necessarily help with the symptoms of sciatica. It's not so much the firmness of the mattress that matters as the support that it gives you. Some people prefer to sleep on a hard bed whereas others prefer a softer mattress. If you're unsure, it's always a good idea to start with a mattress of medium firmness and then adjust accordingly.