Hot off the heels of my Brook + Wilde mattress review, here I am with another one: this time it's a memory foam mattress by Eve Sleep.
Generally speaking, memory foam mattresses offer the best mix of firm vs soft, and are the middle ground that most users are looking for. If you want to find out more about the best memory foam mattress, then read here. Here's my summary of why the Eve Sleep mattress is one of the better ones on the market today:
Avid readers will know that I strive for honesty. With that in mind, know that memory foams are ideal for back sleepers or those with back issues, i.e. orthopaedic (so-called) mattresses. However they may not be suitable for side-sleepers because of the way they sink down – this can create spinal aches after a few years of use. Most mattress review websites only focus on the immediate feel and use of the mattress. In other words, they don't bother with any longer-term feedback or reviews, but I do!
Pros and cons of Eve Original
PROS
Made in the UK
Well-reviewed, established brand
Firm enough for most use-cases
Good all rounder
100 night trial
CONS
Slightly garish colour: if you have thinner sheets it will show through
Might not last as long as other, more pricey brands
Some users will prefer the better support from a hybrid which Eve also sell
What type of mattress is the Eve?
The Eve mattress is a "combi foam" mattress, which means it's a mixture of memory foam on one layer, and poly foam on the other. Most people just refer to it as a "memory foam" but this isn't fully accurate, as most memory foams will be just 1-2 layers.
With a "combi foam", the benefits of this compared to hybrid mattresses (which also contain springs) are mainly cost and weight. Most people would struggle to lift a 40kg hybrid mattress (even when it's vacuum packed) but there's no need to worry with a combi.
The layers in the Eve are quite different to other mattresses such as the Emma mattress (despite the possible similarity in the naming). Here's an image of each layer, as you can see it consists of:
4cm memory foam
3.5cm polyfoam
16.5cm base foam
The memory foam upper layer is the most important of them all, perhaps. It is designed to give you breathability but also bolster and support. Like all memory foams it will sink to an extent but bounce right back after any pressure is relieved.
The polyfoam base (2nd layer) is slightly thinner, but almost as important as the layer above it. This layer acts as the main support or cushion for the person sleeping on the mattress. As sleepers sink "through" the top layer of memory foam gradually, they will come into contact with this more supportive layer of poly foam. Additionally, this layer is able to breathe better, according to Eve – therefore increasing air flow and helping to prevent heat retention issues that a lot of memory foams suffer from.
Finally, the base form layer (3rd layer) is the thickest of the lot, as 16.5cm or about 6 inches. This foam layer simply acts as a foundational base for the mattress, providing good shape and a strong base. In addition, this layer provides the deep compression support for the mattress.
About the packaging and unboxing: Each Eve Original mattress comes compressed, vacuum sealed and neatly rolled in a box. Simply unwrap it in your bedroom and the mattress will expand to its full size within a few hours, but keep reading below about avoiding that smell.
About the cover
The cover on the Eve Original might be the only part you can easily see, but it's often overlooked in favour of the layers inside. With the Eve Original mattress, the cover is made of polyester i.e a synthetic fibre. It's a shame it's not made of cotton but at this price point that would be hard to achieve.
The colour of the Eve mattress cover is their trademark yellowy-orange tone. It's a bit Marmite-y really, I am not a huge fan but of course it's easy to cover up. Although if you have thin mattress sheets (fitted sheets) then it may be quite difficult to mask that bright yellow, and it could show through. This is something to bear in mind, as most other brands are white/grey/cream or other neutral colours which will not show.
You will also want to wash your Eve mattress cover at some point in the machine, so make sure it's colour safe when you do!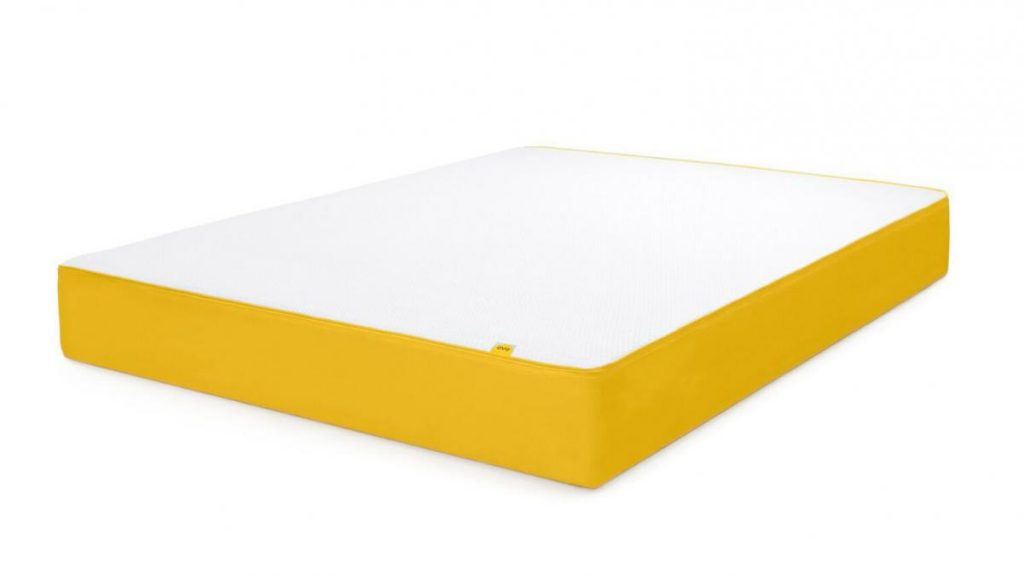 The Eve Original mattress: Firmness reviewed
With the slightly firmer feel and level of bounce, as with many other memory foams, the Eve Original does have a tendency to transfer energy from one side of the mattress to the other. You will want to bear this in mind if your partner is significantly lighter or heavier than you. Also, the motion transfer is not at quite the same level as a pocket spring or latex mattress, but it is a little more than your typical memory foam mattress.
As for the other typical stereotypes of a memory foam mattress like lack of side-support, I am happy to say I found this to not be the case with the Eve… The slightly firmer feel of the Eve played a positive role in the edge support. As a memory foam mattress, there tends to be a low level of expectation from the edges ability to support the sleeper.
That is not the case with the Eve mattress. With this firmer feel came stronger edges. During my sleep test, I forced myself to sleep on the edge and not once did I feel as if I was going to fall off the side of the mattress.
A lot of other reviews tend to agree with me here, like this one in the Independent.
What about sinkage?
It's hard to scientifically assess this, and there is no agreed industry-standard for mattress sinkage, so you will have to bear with me on this as I am writing about my own experiences only.
Test 1:
I laid down in the middle / centre of the mattress and spread my arms and legs out (i.e. lying on my back). I weight 11 stone almost exactly. After 6 minutes, I measured the sinkage at 4cm.
Test 2:
For this, I pretended to sleep on my side in the foetal position. After 6 minutes, the foam had sunk 7cm. This suggests that the mattress by Eve will sink more for a side-sleeper than it will for a back sleeper, but you must bear in mind this is not a scientific, peer-reviewed study 🙂
If you're not satisfied after buying the Eve, then — like other brands — they offer a 100-night trial or guarantee where they claim to refund and collect your mattress for free. In short, you can find out for yourself without any financial risk, if this mattress is right for you or not. However, you may want to bear in mind the hassle of returning a mattress (what will you sleep on in the mean time?) and make sure you read all my reviews before buying.
What about reviews of the Eve Original?
It's hard to find product reviews en masse for individual mattresses. You can easily find reviews for ALL 'Eve' brand mattresses, but for the 'Original' it becomes a bit trickier. That said, you can see on Trustpilot that Eve on the whole have very good reviews:
https://uk.trustpilot.com/review/www.evesleep.co.uk

How much does Eve Original cost?
In the UK, there are several sizes available, which is encouraging. Even if you have an EU-sized IKEA mattress then you will be able to find an Eve that fits. Prices are accurate at time of publication, and do not include any discount codes or offers.
| Size | Price |
| --- | --- |
| Single (90cm x 190cm) | £349 |
| EU Double (90cm x 200cm) | £399 |
| Petite Double (100cm x 190cm) | £449 |
| Small Double (120cm x 190cm) | £499 |
| Double (135cm x 190cm) | £549 |
| EU Double (140cm x 200cm) | £599 |
| King (150cm x 200cm) | £629 |
| EU King (160cm x 200cm) | £699 |
| Super King (180cm x 200cm) | £749 |
| Emperor (200cm x 200cm) | £799 |
| 7′ x 7′ (215cm x 215cm) | £899 |
NB: These prices do NOT include any discount code, but I have one below. Make sure to use it, if you are going to buy an Eve anyway.
Buying a mattress is a major purchase. Why not consider protecting your investment with a mattress protector? Eve do their own, which is on our list of top 5 mattress protectors.
🔥 Eve mattress Voucher Codes (Updated 2021)
Eve often run generous promotions WITHOUT the need to redeem a coupon. Luckily, these offers can often be combined with actual working voucher codes:
Did this discount work for you? Tell me in the comments below. Check out all other Eve voucher codes here. 
Eve Mattress: Sizes
In regards to sizing, just a quick note. Including the top cover and non-slip base, Eve claims the Original is 250mm deep but, in reality, I found it was closer to 240mm. Either way, it'll take standard fitted sheets and, like all-foam rivals Emma and Casper, the top cover is removable and can be washed at 40 degrees.
Strangely, the Eve Original is more expensive than the Hybrid. Normally, with other brands, the opposite is true.
With prices starting at £349 for a single and rising steeply to £600 for a double and £700 for a king, it isn't cheap. That's £100 more than the Eve Hybrid, which uses a combination of pocket springs and foam and costs £500 and £600 in the larger two sizes. The Eve Light – a mattress made from a mere two layers of foam – is cheaper still with double and king sizes costing £400 and £500 respectively.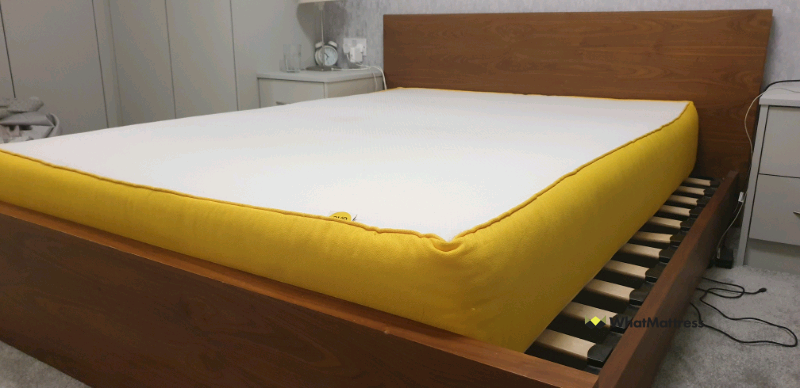 In terms of sagging and side support, there is some visible after 3 years of usage, but to be honest at this price it should be expected to an extent. If you want bolstered support at the sides (that actually works) then it's likely you'll need to up your budget a little, sadly.
FAQs
Are you a hot sleeper and is it right for you?
Despite its firmness and the lack of "sinkage" it offers, however, I did find the Eve Original a little warmer than its Hybrid counterpart.
For most months of the year, you can control this by using suitable bedding, but if you're the sort of person who gets very warm in bed, then memory foam is best avoided altogether.
What is the trial period for Eve?
Called the 'Eve home trial', you get 100 days to test out their mattress. If you don't like it then you can return it to Eve (or specifically, they will arrange for someone to collect it). Of course, this sounds great and carries no risk. But remember that unless you have another mattress, you will have to sleep on the floor if your Eve mattress has gone back. Something to bear in mind! More details here on the Eve website about their trial.
Anything else I need to know?
If you're still reading, then great.
Like most memory foam mattresses, the Eve mattress emits an "off-gassing" smell at first and, strangely, although this odour was more subtle than many of its rivals like the Brook and Wilde mattress, it also lingered for a bit longer… Having said that, I usually only noticed it when first lying down to go to sleep and not at any other point during the night, so it is by no means a deal breaker.
Conclusion & Verdict on Eve
The Eve Original has been around for a while now, launching all the way back in 2016 in the UK. Leaving aside the issues within the business, it is one of the more established, older brands in the mattress-in-a-box industry and sits at the mid-price range. Yes, there are cheaper brands – for example like OTTY – but if you want a mid-range on a medium budget then the Eve is worth considering.
The comfort and firmness levels are pretty inoffensive too. Unlike some foam mattresses, you won't ever feel like you've been enveloped in a giant marshmallow and the mattress remains supportive throughout the night, even when it warms up. The only caveat is that it's warmer than traditional pocket sprung mattresses, so if you get very hot at night, there are better options available.
Alternatives to consider:
Set on buying the Eve? Then get 25% off with my discount code. It will work for any Eve Sleep mattress, as long as it's full price (i.e. not already reduced):
This promotion should work with other Eve voucher codes but make sure to read the smallprint.