The Eve Premium Hybrid mattress is a glorious fusion of springs and foam. Containing 5 layers of next-generation foam and no less than 1,400 springs the mattress sits at 28cm deep. Eve claim that this medium-form mattress is suitable for all sleeping positions. So I thought I had better put that to the test and bought one. It's not the cheapest hybrid mattress available, but it's also far from being one of the most expensive.
So is it any good? The only way to find out is to lie on one and see.
So that's exactly what I did – read on to find out whether the Eve Premium Hybrid mattress is all it's cracked up to be or whether the the hype is all a load of foam.
Eve Premium Hybrid mattress: Quick facts
This review for the Eve Premium Hybrid mattress is quite in-depth. So if you don't have the time to read all the details then below for the main pros and cons that I came across:
Pros:
Luxurious five-layer design featuring high-tech foams and over 1,400 pocket springs
Good edge support and motion isolation
Above-average breathability for a foam mattress, thanks to its hybrid construction
1 year (365 night) trial period and a 10-year warranty
Made in the UK with eco-friendly materials
Cons:
Can be expensive, especially at full price
May be too firm for some sleepers, especially those who prefer a softer mattress
Some off-gassing smell upon first unboxing
May not be ideal for heavier sleepers as it may not offer enough support for prolonged use
| Feature | Details |
| --- | --- |
| Mattress Type | 🛏️ Hybrid (foam/spring) |
| Thickness | 📏 28cm |
| Firmness | 🛡️ Firmer |
| Trial Period | 🕰️ 365 nights |
| Warranty | 📜 10 years |
| Price Range | 💰 £1099+ £509.10 – Reduced! |
| Cover | 🛏️ Removable, washable |
| Comfort | 😌 Fairly soft |
| Cooling | 🌬️ Reasonable |
| Edge Support | 🔍 Good |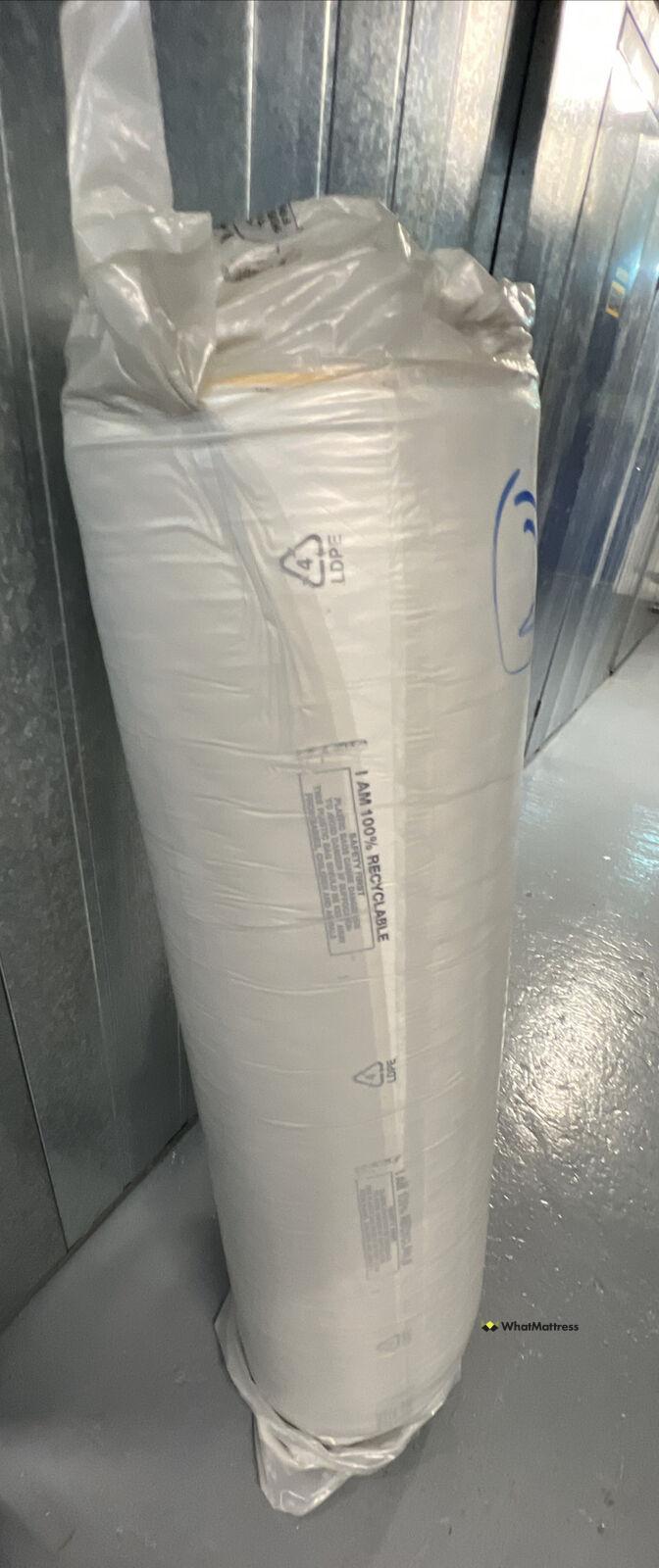 Eve Premium Hybrid design
As far as mattressses go, the Eve Premium Hybrid is actually quite innovative. The 5 layers of foam and pocket springs work together in harmony to give a pleasant and supportive sleeping surface, making for the best possible night's rest regardless of the position that you prefer to sleep in. So how is it comprised? Let's pull it apart to see.
The Eve Premium Hybird mattress is topped off with a washable cover that is quilted to give a sense of luxury. The cover is both antibacterial and antimicrobial thanks to the tiny silver strands that have been woven into the cover fabric. So this mattress quite literally has a silver lining. It's interesting to note that Eve don't count the cover as being one of the mattress layers. Although it makes perfect sense why that would be the case, Eve may have missed a trick there as mattress manufacturers seem to be using the layer count as a selling point for their products.
Underneath the cover the first layer is Eve's very own "float foam" layer that includes active cooling. As soon as you lie on the mattress it's this layer that is responsible for the pressure relief which feels quite soothing, and gives the mattress it's overall soft feeling.
Beneath the floatfoam layer is a layer of memory foam. This layer also helps to reduce pressure by hugging your body and contouring to its shape. This layer is infused with graphite which actively removes the heat from your body if you get too hot. How cool is that?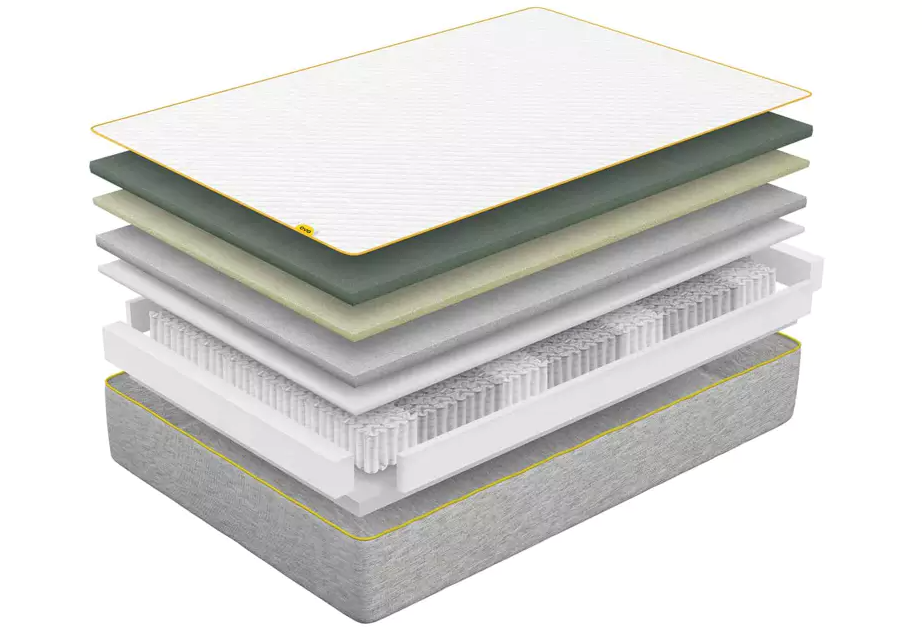 Supporting layers
So we've done the soft part of the mattress, now it's time for the support. This is where the third layer of the Eve Premium hybrid comes into play. This is another layer of much firmer foam which will help to keep your body posture correctly aligned after you sink into the softer foam layers above.
Next up is one of two layers of foam casing, which are designed with two things in mind. Firstly to protect the layer of mini springs underneath. This foam casing also adds some structural support to the mattress so you don't get that rolling off feeling on the edge of the mattress. We have to say that this works quite well, because the Eve Premium Hybrid is 28cm deep but doesn't have too much give at the sides.
The springs lie underneath the first layer of foam casing. All 1,400 of them. At just 12cm in height they can give a great coverage of support that will adapt to every movement during your sleep. And because springs allow air to travel in between them, it helps to make the entire mattress that much more breathable. This is great news for those who tend to sleep hot.