In this review, I will be comparing two of Eve Sleep's flagship mattresses, the Eve Premium and the Eve Premium Hybrid, to see which one is best for you. There are so many mattresses on the market right now, making it very difficult to choose the one that's best for you. That's where I come in; I'll break down the similarities and differences between these two mattresses so you can make a well-informed decision.
While similar in that they both include zonal support and advanced temperature control, there are notable variances in the two mattresses build quality, price, layers, and overall performance. If you're looking for a new mattress and have been thinking about the Eve Sleep brand, continue reading to find out which option is best for you.
Let's get stuck in…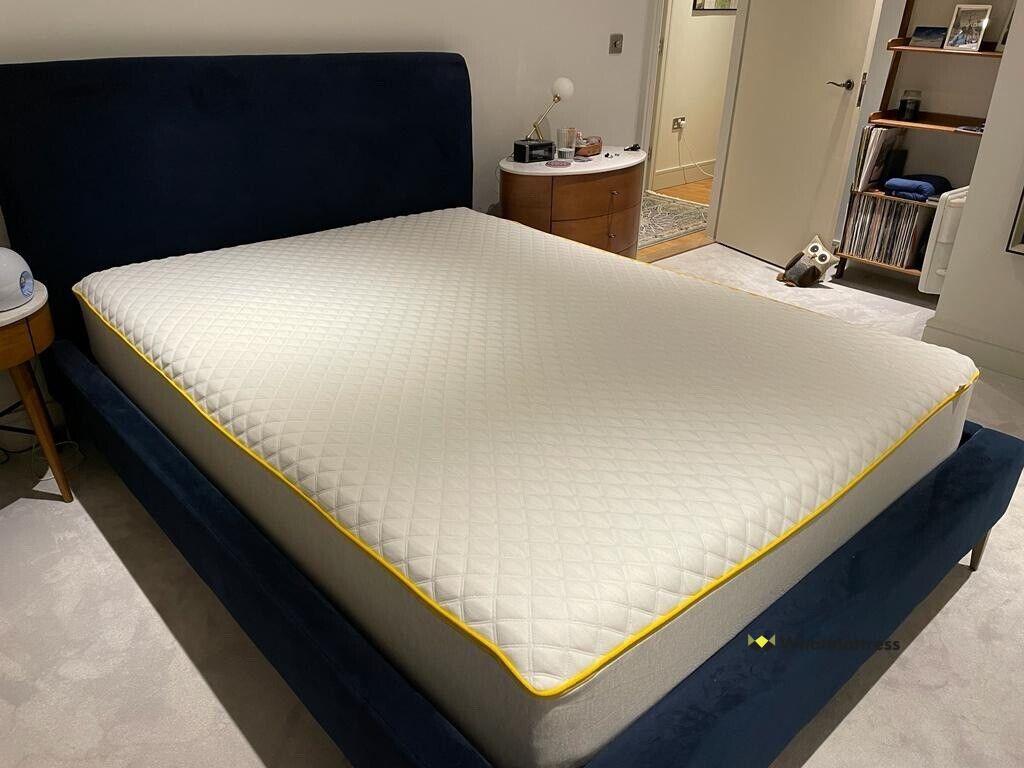 1. Eve Premium
Pros
Softer, pressure-relieving foam layers
Good support for back and stomach sleepers
Removable, washable cover with silver strands for antibacterial properties
CertiPUR and OEKO-tex certified for safety
Cons
Not much cheaper than superior Premium Hybrid
Some issues with edge support
2. Eve Premium Hybrid
Pros
Firmer than the Premium
Combination of foam and pocket springs = great pressure relief
Comfortable for more sleeping positions
Excellent cooling properties
CertiPUR and OEKO-tex certified for safety
Cons:
Read my full review of the Eve Premium Hybrid here.
Note: Unlike other websites I've actually tested BOTH of these mattresses and slept on them for some time. Be aware of other websites who provide no proof they've ever actually slept on either!
Here at WhatMattress we take mattress research seriously - all our product tests are done as fairly and honestly as possible.
That's quite a bold claim, but we're proud of the attention to detail that you're hopefully seeing within our reviews. Our methodology sets us apart from many other review websites. I like to think this is because WhatMattress is only run by two people - Carrie and Anthony. Over the years we've hand-tested multiple mattresses, pillow and other bedding products - so that you don't have to!
Every single mattress is put through its paces using the following tests:
We make sure to live with the mattress for at least a week.
We always sleep on the mattress we're testing - every single night.
We will always be 100% honest when we weigh up the pros and the cons of each mattress.
And in most cases, we've bought the mattress ourselves and haven't been given a free one.
At a glance
So both mattresses are superifically similar, but there are some key differences to be aware of:
| |  Eve Premium |  Eve Premium Hybrid |
| --- | --- | --- |
| 📏 Depth | 28cm | 28cm |
| 💰 Price (double) | £499 | £1099 |
| 😴 Firmness | 7 /10 | 7.5 /10 |
| 🌟 Layers | 4 | 6 |
| 🛌 Sleep Trial | 365 nights | 365 nights |
| 📜 Warranty | 10 years | 10 years |
| 🇬🇧 Made In | UK | UK |
🚩

Get 8% off
You can currently get 8% off the Eve mattress range – even the cheaper models! – using this discount code:
Cover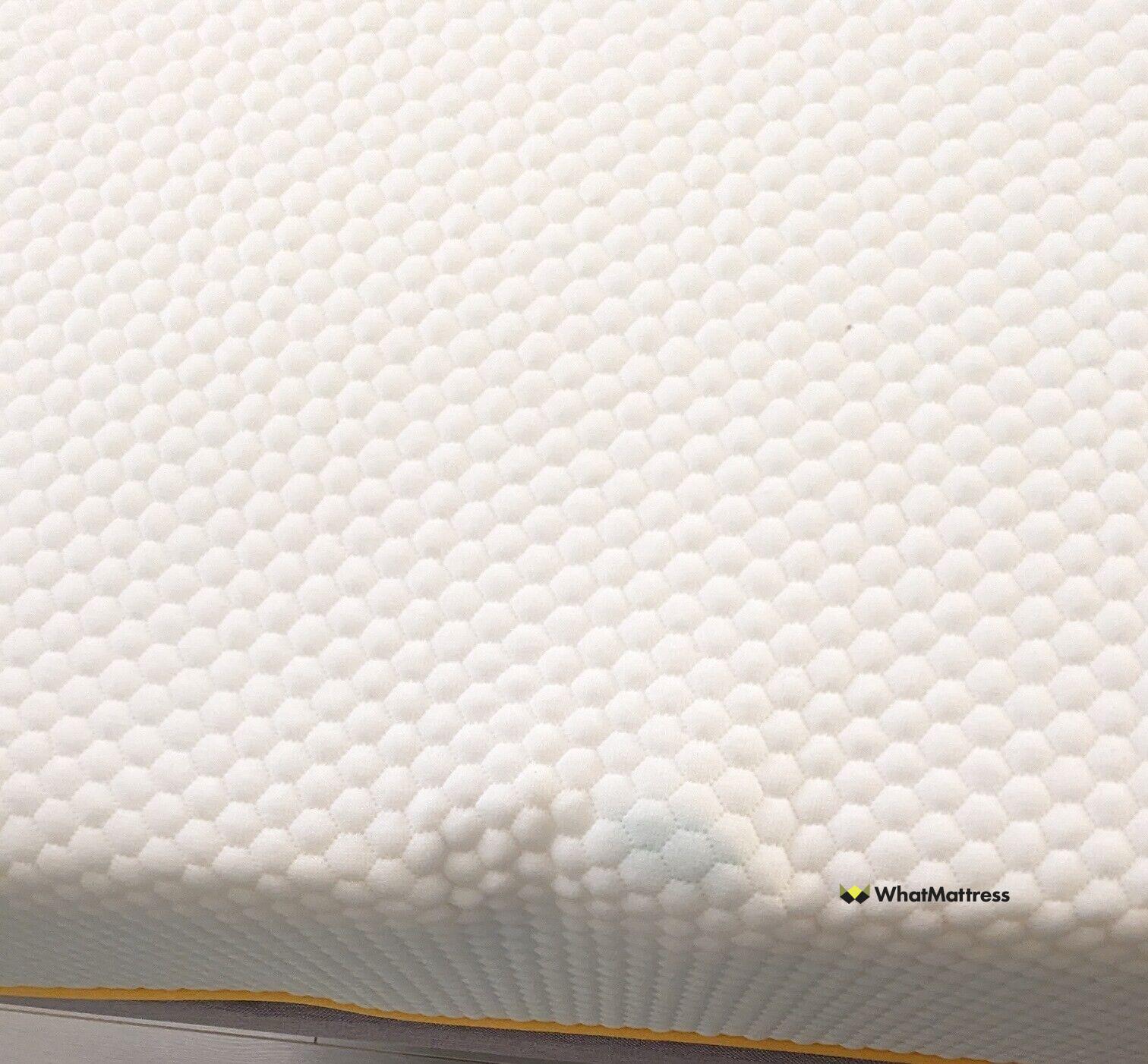 When it comes to the differences between the two mattresses, one of the most noticeable here is the cover.
The Eve Premium has a quilted top cover with silver strands woven into it. This gives the mattress a sleek, sophisticated look and also provides natural antibacterial and antimicrobial properties, helping to keep the sleep surface clean and hygienic. The top cover is also removable and can be machine washed at 40˚C, making it easy to maintain.
On the other hand, the Eve Premium Hybrid features a washable top cover made from a soft and breathable knit fabric. This cover is designed to be stretchy, so it moves with the mattress, allowing you to fully experience the benefits of its foam and spring layers. The cover can also be easily removed and machine washed, making it convenient to keep your mattress clean and fresh.
Layers
Both the Premium and the Premium Hybrid mattresses come with advanced pressure-relieving top layers, 7-zoned support technology, advanced temperature regulation, and antibacterial and antimicrobial properties. However, there are significant differences between the two mattresses here too, the Premium is an all-foam affair with four layers, while the Eve Premium Hybrid is a hybrid mattress with a combination of foam and pocket springs, made up of six layers.
In the following sections, I'll take a closer look at the individual layers of each mattress and examine the pros and cons of each.
Eve Premium: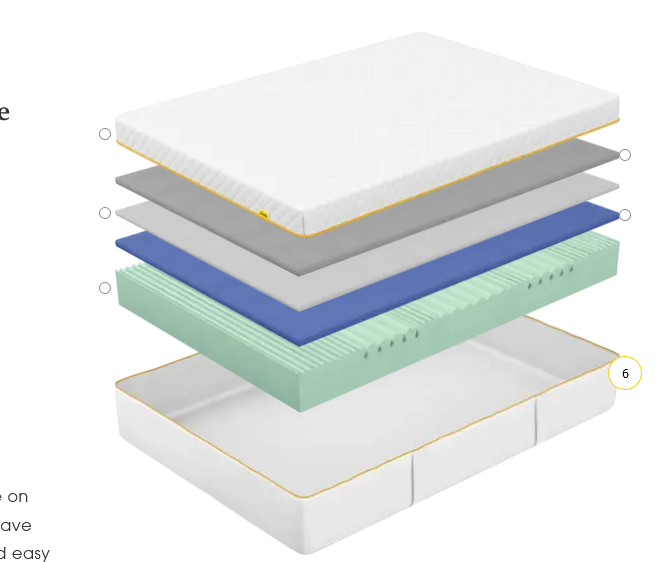 Top cover: The mattress is topped with a thick and quilted cover, infused with silver strands for antibacterial and antimicrobial properties. The cover is removable and can be machine washed.
Second layer: This brand-new Floatfoam layer provides a soft and comfortable sleeping surface, with excellent pressure relief and active cooling to regulate body temperature.
Memory foam layer: The foam layer beneath the second layer has a snug softness that hugs your body and provides additional pressure relief. The layer is infused with graphite to remove excess heat from the body.
Support layer: The third layer is a firmer foam support layer that keeps the spine aligned, ensuring a comfortable sleep experience.
Base foam: The base layer has seven contour zones that help prevent sagging and provide pressure relief to the shoulders and hips. It is perfect for all body types.
Anti-slip base: A non-slip coating keeps the mattress in place, and handles on the sides make it easy to move around.
Now let's take a look at the layers of the Eve Premium Hybrid mattress: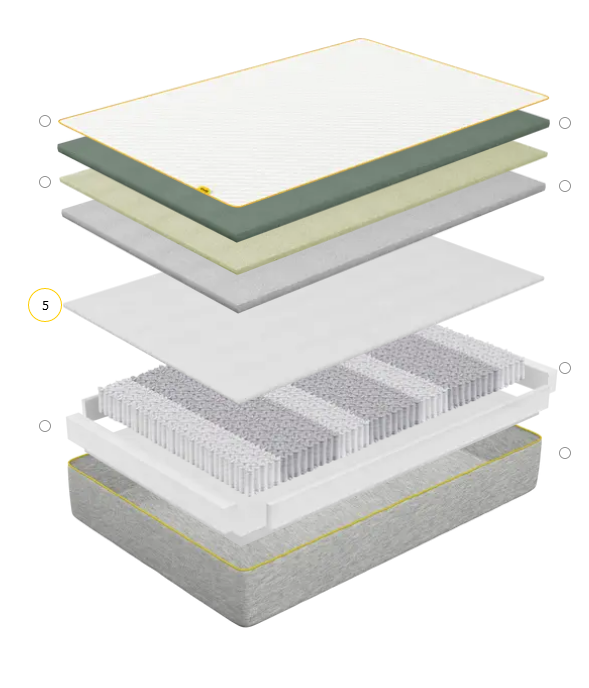 Top cover: Luxuriously quilted, washable top cover with antibacterial and antimicrobial properties
Second layer: Floatfoam layer with active cooling for indulgent softness and pressure relief
Memory foam layer: foam for active cooling for added light relief and graphite infusion to remove heat
Support layer:  with firmer foam to keep your spine aligned
Casing foam: Casing to protect and support the springs, as well as provide side support
1400+ full-size pocket springs for first-class support and breathability
Base foam casing to hold everything together and stabilize the mattress
Anti-slip base: to keep the mattress in place on your bed base.
tl;dr: the Premium Hybrid has an extra pocket spring layer. This adds a responsive layer of support that can improve the quality of sleep for a variety of people (but not all). These springs work by responding independently to pressure and movement, conforming to the shape of the body and helping to distribute wieght evenly to give support in a manner that foam alone may not.
For people who have trouble sleeping due to pain or discomfort, this generally can help by reducing pressure points. The springs are less likely to droop or indent with time compared to foam alone, therefore they can help to extend the mattress' overall resilience and lifespan.
Overall, then, the Eve Premium Hybrid's addition of springs may be a good choice for people in need of a mattress with extra support and longevity, or who have special sleeping requirements and are looking for pressure relief or spinal alignment.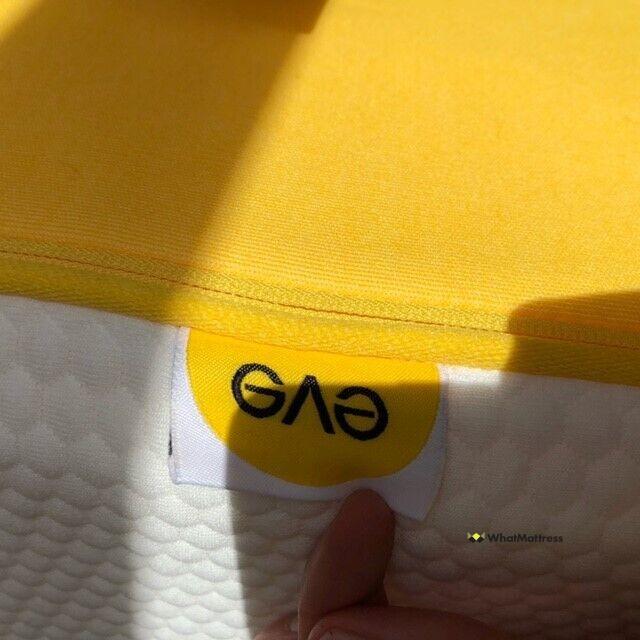 What's "Floatfoam" then?
As you can see from the above, the Eve Premium mattress features what they call a "Floatfoam layer".
This Eve Sleep-exclusive foam has a soft, responsive feel and firm support. To help you feel more like you're sleeping "on" the mattress than "in" it, Floatfoam strikes a happy medium between softness and support. The foam's open-cell constructio – which a lot of other mattress companies use but under differentn brand names -promotes airflow and ventilation, hence reducing the risk of overheating during the night. When used as intended, Floatfoam should be quite accommodating to different sleeping positions.
Why You Can Trust WhatMattress
We're completely independent from any mattress company. We've spent countless hours curating and reviewing mattresses that anyone can buy in the UK, and have been doing so since 2018.
Mattresses tested:




82

Total hours testing:




602

Pillows tested:




24

Total hours testing:




183

Duvets tested:




35+

Funds spent on testing:




£7,500+
Allergies & Safety
Both mattresses have earned the CertiPUR seal of approval in addition to the OEKO-tex certification. This approval guarantees that no potentially dangerous substances were utilised during the production of the mattress's foams. Ozone-depleting substances, PBDE flame retardants, heavy metals, formaldehyde, and phthalates are all examples.
With the OEKO-tex Standard 100 certification, both the Eve Premium and the Eve Premium Hybrid are certified free of any potentially dangerous chemicals. Not only does it protect the finished product, but it also covers the foam, fabric, and threads used to make the mattress.
The CertiPUR-US stamp of approval means their foam has passed rigorous durability tests and is safe to use because it conforms to industry standards. Independent laboratory testing and continuing monitoring are both part of the certification procedure to guarantee that the foam remains chemical-free .
Sizing
The Eve Premium and Eve Premium Hybrid mattresses are both, sadly, only vailable in three sizes, namely Double, King, and Super King. There is no Single size available for either mattress model.
Sleeping style
Here's a quick rundown of the sleeping styles suited to each. Note that this list isn't exhaustive.
Eve Premium:
Particularly good for:
Back sleepers: The firmness level and supportive base of the mattress make it a good option for back sleepers, as it keeps the spine aligned.
Stomach sleepers: The same supportive base and firmness make the Eve Premium suitable for stomach sleepers as well, as it prevents the hips from sinking too deeply.
Combination sleepers: The pressure-relieving top layers and responsive foam make it a good option for those who move around during the night.
Eve Premium Hybrid:
Particularly good for:
Side sleepers: The combination of foam and pocket springs provides a good balance of pressure relief and support, making it ideal for side sleepers.
Combination sleepers: The responsive foam and bouncy springs make it a good option for those who change positions during the night.
Hot sleepers: The breathable pocket springs and cooling foam layers help to regulate body temperature, making it a good option for those who tend to sleep hot.
You may also like...
Sleep Trials
Both the Eve Premium and the Eve Premium Hybrid come with a 365-night sleep trial, which allows you to test the mattress in the comfort of your own home. This is one of the best points about the Eve mattress range – only Nectar Sleep match it. If you're not completely satisfied with your purchase, you can return it for free within this period for a full refund.
Both mattresses also come with a 10-year warranty, which covers any manufacturing defects that may occur during this time. This provides peace of mind and shows that Eve stands behind the quality of their products.
Pricing
The two mattresses are priced at similar levels (the Premium Hybrid being about 10% more), though Eve do often run discounted sales on one but not the other.
If there's no discount currently or you want a discount for the one that's full-price, then use an Eve Sleep discount code from here.
Delivery
Unsurprisingly, the delivery is the same regardless of which Eve matterss you choose here.
Standard shipping of either the Eve Premium and Eve Premium Hybrid mattresses is free and takes between 5 and 7 business days. You can get your mattress faster for a fee if you select the speedier or next day delivery option.
You won't have to lift a finger to get one of these mattresses to the bedroom of your choosing, thanks to complimentary delivery. Both mattresses can be shipped to you in a small box and then unpacked to their full size once they arrive.
However, there may be a small surcharge for delivery to remote locations, such as the Scottish Highlands or islands, even though standard shipping is free. The checkout procedure will make this fee transparent, so you know precisely what it is before completing your transaction.
Verdict
It's evident that there are, surprisingly, quite a few differences between the Eve Premium and the Eve Premium Hybrid, despite the fact that both are high-quality mattresses with similar names!
If you're a side sleeper in need of more contouring and pressure relief, the Eve Premium's additional layers of foam are a great option. Bizarrely, if not on sale, it comes with a higher price tag than Eve's Premium Hybrid does.
The Eve Premium Hybrid, on the other hand, is a better option for stomach and back sleepers due to its unique Floatfoam layer, which provides extra bounce and support. If you share your bed with a spouse or pet, you'll appreciate the high quality edge support this mattress provides.
The 365-night sleep trial and 10-year warranty that come standard with both mattresses ensures you can "try it out" first and make an informed decision.
The truth is that your sleeping habits and preferences will determine which of these mattresses is best for you. The Eve Premium may be the better choice if you prefer a plusher feel and more contouring, while the Eve Premium Hybrid may be the better choice if you desire more support and bounce. Frankly, both of these mattresses are made to high standards here in the UK and thus are high-quality and well worth the money if you value your sleep.
Read this next...
Beta
🤖 Mattress Finder
Answer a few questions to help you find your next mattress. Use our extensive knowledge & research in this handy tool — it's free, no catches!
Was this article helpful?
What is the difference in firmness between the Eve Premium and the Eve Premium Hybrid?
Both mattresses have a medium-firm feel, but the addition of pocket springs in the Eve Premium Hybrid provides a slightly firmer feel compared to the all-foam Eve Premium.
Are the mattresses easy to clean and maintain?
Yes, both mattresses come with a removable and washable top cover, making them easy to keep clean and fresh.
Do Eve mattresses come with a sleep trial and warranty?
Yep. Both mattresses come with a year long sleep trial and a 10-year warranty, giving you ample time to decide if the mattress is right for you and providing longer term protection against any manufacturing defects.
How we reviewed this article:
Edit History:
Our experts continually monitor the mattress & sleep tech space, and we update our reviews & articles when new information becomes available.
25th April 2023


Current Article - By Carrie Taylor

24th July 2023


Checked & Reviewed - By Morag Park, Ph.D.

25th April 2023


Copy Edited - By Carrie Taylor

24th August 2023


Reviewed - By Carrie Taylor
WhatMattress has strict sourcing guidelines and we try to rely on peer-reviewed studies, academic research institutions, and medical associations where possible.