There are quite a few worrying myths in the mattress industry. Sadly a lot of people, as I have come to realise, still believe a fair number of them, particularly when it comes to back pain.
Often this is due to clever marketing from the mattress companies themselves. But it doesn't have to be like that. I have created this article to show you that suffering from a bad back doesn't have to mean buying a specific type or brand of mattress.
I've tried below to also decipher a lot of the mumbo-jumbo that is commonplace in the mattress industry in the UK. One thing to be aware of: I am not a chiropractor or expert on back pain but these observations that I have made are in tune with the same recommendations that the Sleep Council make. If you have any questions please leave your details in the comment section at the bottom, and I will try to help each and every one of you.
TIP: I also have a special article for those diagnosed with sciatica and which mattress to buy.
Which type of mattress is best for back pain?
Firstly, the differences between a mattress 'suitable for back pain' and an 'orthopaedic mattress' aren't huge. The key differences are:
If you have been diagnosed by a specialist and have an orthopaedic complaint, then consider an orthopaedic mattress.
If you are suffering from a generalised back pain that is ongoing but you haven't been diagnosed with a specific medical condition, then consider a mattress suited to back pain.
If you have been diagnosed by a professional, then I have written a "top 5" orthopaedic mattress review here.
The first thing to look for in ANY mattress suitable for back issues are the features, followed by the firmness rating.
Which features should I look out for?
Here is my summary of the very best mattress features for those with back issues and/or ongoing pain in their spine:
Mattresses should be relatively firm, but not too firm nor too soft.
The lighter you are, the more likely it is that you will need a softer mattress. If you are heavier, you will need a firmer mattress.
Try to get a mattress with a long trial period, to suit your needs if possible. Some now offer a 365-night trial.
If you're buying in a shop, don't go shopping when you're very tired. All the mattresses will feel nice, even the really hard ones!
Below I will clarify the points further, to make sure that you are clear on what each one means.
As always, I must state that if you have severe back issues then speaking to a licensed professional is a good idea, such as a chiropractor or even your GP.
How to choose the right orthopaedic mattress (Updated)
But how do you actually choose the right mattress for back issues…?
Quite simply: choosing the right mattress can minimise (or even prevent) the factors that may lead to, or aggravate, back pain. Too rigid a back will mean your body isn't relaxed. Too slouchy and you'll be sleeping with a bent spine.
And don't assume that a memory foam mattress is softer / more slouchy than a pocket spring mattress because that's not always the case.
Research by the British Chiropractic Association showed that of those experiencing back pain, 41% of women and 36% of men said that their pain could be brought on by a night's so-called 'rest'. That suggests to me that a bad matterss can exacerbate the problen, rather than solve it. Remember that we all come in different weights, shapes and sizes, but have one thing in common — we (mostly) spend more than a third of our lives in bed, so should choose our beds carefully. Which is better, a hard or soft mattress?
It sounds obvious, but the best mattress is a 'supportive one'. A 16 stone person sleeping on a mattress may not get the same support as a 10 stone person sleeping on the same mattress.
The best mattresses for back pain (UK)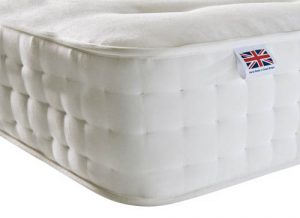 Rest Assured is one of a few smaller brands that are actually owned by the same company that owns the well-known Silentnight brand. The Rest Assured Adleborough 1400 has a brilliant specification for the price. It's a pocket sprung mattress – which is the more common alternative to memory foam. It also features a hand tufted finish, which is another sign of a quality mattress.
The Rest Assured Adleborough 1400 cannot be flipped or turns, so instead has to be rotated. When it comes to flipping, it's often considered beneficial to be able to turn a mattress as this is thought to greatly increase it's life. This mattress is also one of the only ones available that doesn't come with any form of trial period – so it's best to read many reviews or to go and actually try one out before purchasing. It does come with a 5 year guarantee though, which although is a long time, it's not very long in the world of mattresses.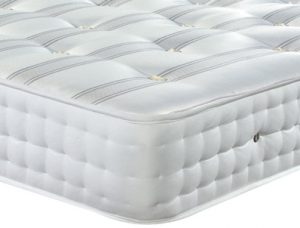 If you're looking for a quality mattress, then Sleepeezee is always a very goo bet. They are one of the few mattress brands to have a royal warrant. If that isn't a sign of quality then I don't know what is. Sleepeezee are also highly scored all over the internet and on reviews websites such as TrustPilot.
When it comes to firm mattresses, most of them are pocket sprung as opposed to memory foam. The Ultrafirm 1600 is no exception. With a spring count of 1600 this mattress is going to be very firm and supportive. It has 200 more springs than the previously mentioned Rest Assured mattress. Bit it's £100 cheaper so it is definitely a good buy.
Another good thing about the Ultrafirm 1600 when compared to the Rest Assured Adleborough 1400 is the fact that it can be flipped. This means that it can be turned over every once in a while. This reduces the risk of it sagging and therefore makes it last longer. At 240mm thick, it's a pretty standard for other similar mattresses within the same price bracket.
Like the Adleborough 1400 the Ultrafirm 1600 comes with a 5-year guarantee. In addition to this you can also take advantage of Sleepeezee's 100-night guarantee. This all helps you to ensure that you've made a good decision when you buy this mattress.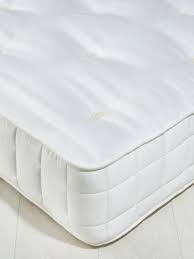 If you're looking for a quality mattress that has been made in the UK, then look no further than the John Lewis and partners Classic collection. The Ortho Support 1000 is a great extra firm mattress with 1,000 springs which will offer a good level of support as long as you are not too large or too heavy. If this is the case then you may consider purchasing the uprated version of the same mattress, which has a spring count of 1,600 so is sure to offer more support. If you weight over 18 stone though then it is likely that a mattress with a spring count of around 2,000 would be more beneficial to you.
Considering the price of this mattress, it features a number of signs of good quality.
As is the norm with a quality mattress, the Ortho Support 1000 has hand side stitching. This is a much more labour-intensive way of making a mattress, and also gives you more support on the edge of the mattress e.g. when you are sitting on the bed. The mattress can also be flipped or turned, which means that it won't sag and dip as much. All of this is in addition to the tufted top, which is a much more traditional way of holding a pocket sprung mattress together and is a sure sign of quality.
Although there is no free trial period, there is a 7 year guarantee for this mattress, which is considered as pretty good in the world of mattresses.
4. Reylon Ultimate Ortho Mattress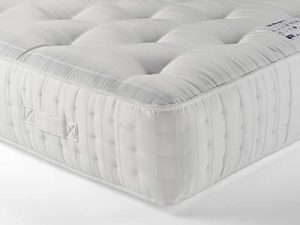 Reylon are a well-established brand of mattresses, popular in the United Kingdom. Being orthapedic, it's another pocket sprung mattress as the two seem to go hand in hand. This is because the alternative – memory foam – tends to be too soft. Othopedic mattresses tend to be on the further side of the scale.
In terms of the spring count, this is about average and what can be expected of an orthopaedic mattress. The thing that sets the Reylon Ultimate Ortho mattress apart from it's competitors though, is the thickness. It's 50mm thicker than similar mattresses by Rest Assured and Sleepeezee. This is sure to be a good choice for people who may have mobility issues. Or for those who just like to sleep on a higher bed.
Another great thing about this mattress is the fact that it can be flipped, which is thought to greatly increase its life. There are plenty of good reviews all over the internet about this mattress, so if you want a good mid-range orthopaedic mattress that won't break the bank but has all of the features you need, then this will be a good choice. Don't forget that a lack of sleep will affect you more than any mattress too, according to the Sleep Council.
How do you know which is the right mattress for your back pain? If you are lying on your side and are a side-sleeper, your spine should be parallel to the mattress and your spine should not sag (if so, the mattress is too soft). If it bows then the mattress might be too hard.
The longer you can spend lying on a mattress before you buy it, the more accurate this feeling will be. Your pillow should be an extension of this i.e. your neck should be a continuation of the straight spine and not too high or too low, I will cover that later.
Unlike other brands, Owl + Lark don't sell multiple different variations or products. They only sell one mattress, and they've thrown the kitchen sink into it – it's got a cashmere + wool + latex layer, and is also a hybrid (so has a memory foam layer and then a pocket spring layer). It is, in many ways, the 'best of both worlds'. But you have to pay a premium for it, and it's still a relative newcomer to the UK mattress scene. In other words, it's a bit difficult to gauge long-term feelings and reviews, but as time progresses I'll be sure to update my review.
FAQs about back pain & mattresses
How long should I trial a mattress for?
Nowadays with the advent of mattress-in-a-box companies everywhere, most of them are online-only. So actually physically testing the product might be difficult. Note that a handful of mattress brands such as Simba Sleep do have concessions in some John Lewis stores, meaning you can try out the mattress there in the shop itself.
But for the most part, the majority of brands like OTTY or Emma Mattress do not offer any sort of physical testing beforehand, so you will need to rely on their 100 night trials – there are even some companies that offer 365-night trials now.  Note that there are occasionally some issues with these trials, but for the most part they do exactly what they say on the tin – if the mattress isn't right for you, then they will take it off your hands, give you a refund, and then likely recycle the mattress (or give it away to charity).
What is exactly is an "orthopaedic mattress"?
As per the above, and according to the Sleep Council, the term "orthopaedic" doesn't really mean much. An orthopaedic mattress generally means that – according to the manufacturer anyway – the mattress may be on the firm side. These are suited to those with back issues, but be aware it's an unregulated term that is open to interpretation. In other words, there is no standard definition of what makes up an orthopaedic mattress. Even the spelling can vary – sometimes it's spelled orthopedic.
'Most of the terminology is impressive-sounding jargon to persuade you to part with your hard-earned cash, without any real evidence. A bad mattress can exacerbate back pain…'
So how firm are orthopaedic mattresses?
Orthopaedic mattresses are generally rated firm or extra firm.
This additional firmness allows your body weight to be more evenly distributed across the mattress, relieving painful pressure points while maintaining a natural spinal alignment. Mattresses with orthopaedic support help reduce pain, improve sleep quality, and decrease stress levels. Orthopaedic mattresses aren't restricted to being used by those with back and joint pain, either.
An orthopaedic mattress is also a suitable choice for users who simply prefer the supportive feel of firm mattresses. Some companies also offer orthopaedic bed mattresses with medium firmness levels. These medium orthopaedic mattresses are suitable for users who require additional comfort and cushion layers alongside back support to help them get to sleep.
Opting for a more expensive make such as a Dormeo might be an idea, but make sure you research first.
What if I am lighter/heavier than my partner?
If you're a heavier person then read my top 5 mattress guide for heavier folk.
I actually get asked this question a lot. There are thankfully now some companies in the UK making split or customisable mattresses. This allows you to pick a 'firm' and 'soft' side – for the SAME mattress! It's actually really affordable too despite what you may think; a Nrem mattress for example starts at £399 for the single.
There are also zip together beds, also knowsn as a zip-and-link.
One final complication to consider is to analyse the way you sleep. It can also affect the firmness of the mattress that you need, for example if you sleep on your side, you need to look for a slightly softer mattress than someone who sleeps on their back. This is because side sleepers put extra pressure on their shoulders and hips, so don't generally want a very firm mattress.
How do I sleep longer if I have back pain?
The most important lesson to take away from this article, is try to adopt a sleeping position which creates less physical stress on the back. For example, lying on your side is better than lying on your front with your neck twisted to one side.
Keep moving and avoid being in any one position for too long. No matter how comfy the position may initially feel, the longer you stay in one position, the more this will 'load joints'. If your partner moves around a lot at night, try separate beds for a while as your partner's movement could aggravate YOUR back condition!
Drink water. Keep well hydrated; dehydration can make muscles ache.
Don't leap out of bed first thing in the morning. After you have woken up wake up, try some gentle stretches.