Hypnos, a British company with almost a 100 years of history making mattresses, has recently launched the Wool Origins 6 as part of their Wool Origins range. This mattress is promoted as an all-natural, back-friendly option that'll help you get a better night's rest.
With so many mattresses to choose from in the UK, I know how hard it can be trying to find out if the Hypnos Wool Origins 6 is the right mattress for you. Here's where I step in with my critique – I've been reviewing (and sleeping on) different mattresses since 2018, so have done the legwork for you, putting this mattress through its paces so you can make an informed decision.
Read on to learn everything you need to know about the Hypnos Wool Origins 6, whether you're in the market for a new mattress or just curious about its features and benefits.
Hypnos is a British brand – you may have heard of them because their mattresses feature in Premier Inn hotels. With a wealth of experience and expertise in the mattress industry, dating back to the Edwardian era, the brand has earned a loyal following, as well as royal warrant – cementing its reputation as a seriously "heritage" brand that knows its products well.
The brand's Wool Origins collection features a range of mattresses made from natural materials, including this the Wool Origins 6, which is the brand's entry-level wool mattress. It's also the best-selling Hypnos mattress in the UK. But is it any good?
Pros:
Made of natural, sustainable materials
Red Tractor-assured wool layers
ReActive Pro pocket springs for tailored support
High-tension edge springs for maximum sleeping surface
Jersey fabric cover is soft and plush
Hand side-stitched for better edge support
Chemical-free
Made in the UK
Cons:
No sleep trial offered
Limited firmness options (only medium or firm)
High price compared to other mattresses on the market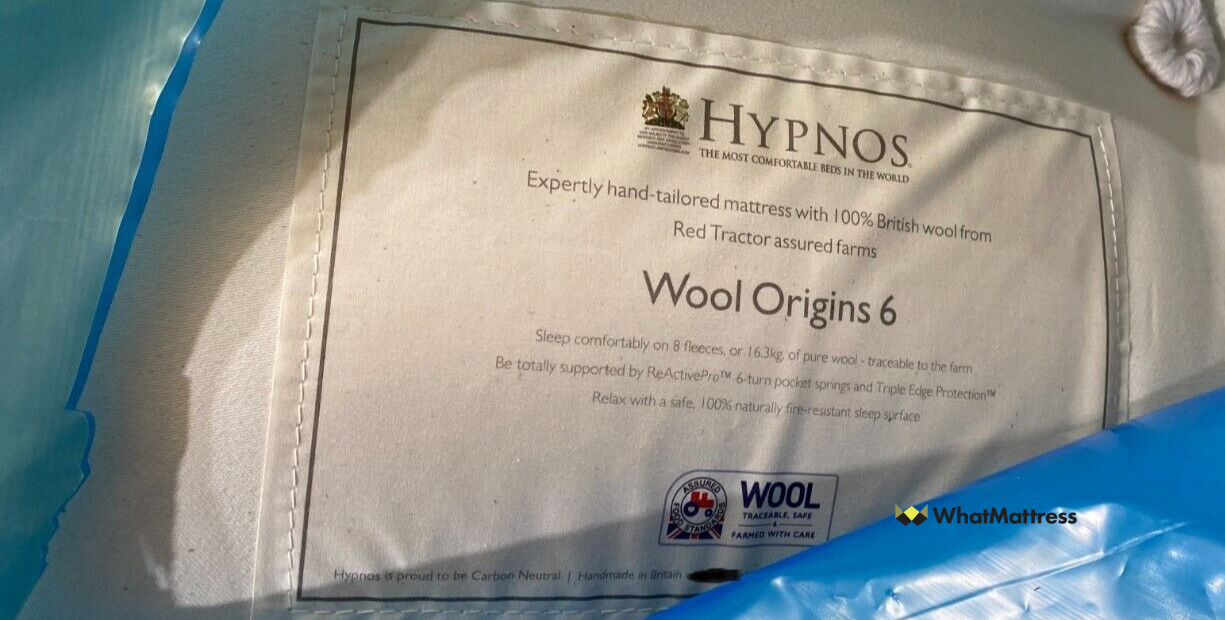 Overview of the Wool Origins 6
The Hypnos Wool Origins 6 mattress is a pocket-sprung mattress that is available in a range of sizes, including Single, Single Extra Length, Extra-Wide Single, Small Double, Double, King, Continental King, Super King, Small Emperor, Zipped Super King, Emperor, Zipped Small Emperor, and Zipped Emperor. You can't fault Hypnos' dedication to offering as many sizes as possible!
| Size | Dimensions (cm) |
| --- | --- |
| Single | 90 x 190 |
| Single Extra Length | 90 x 200 |
| Extra-Wide Single | 107 x 200 |
| Small Double | 120 x 190 |
| Double | 135 x 190 |
| King | 150 x 200 |
| Continental King | 160 x 200 |
| Super King | 180 x 200 |
| Small Emperor | 215 x 215 |
| Zipped Super King | 2 x 90 x 200 |
| Emperor | 240 x 215 |
| Zipped Small Emperor | 2 x 107 x 215 |
| Zipped Emperor | 2 x 120 x 215 |
The mattress is designed for seasonal turning, unlike many other types of mattress such as hybrids, and it comes with a 10-year guarantee. Though there's no sleep trial available for this mattress, some stores do offer their own 60 day trial – more information on this later.
Hypnos prides itself on using only natural fibres in their mattresses, which means they're free of dodgy man-made foams (and there isn't a carcinogenic chemical in sight). And what's more, once the mattress reaches the end of its life, it is fully recyclable, making it an environmentally conscious choice – most mattresses sold in the UK, even today, still aren't recyclable.
What does 'zipped' mean?!
I'll explain using an example: a "Zipped Super King" mattress is essentially two smaller mattresses zipped together, creating a larger sleeping surface. This is useful if you want to change the firmness of one side of the bed without affecting the other, or if you have different preferences to your partner. It also makes it easier to move the mattress around as it's essentially two separate pieces.
Hypnos Wool Origins 6: Layers
The Hypnos Wool Origins 6 mattress has eight wool layers, which are really quite good at regulating temperature, keeping the sleeper warm in the winter and preventing overheating in the summer months. The wool used in this mattress is fully traceable too, as the mattress is Red Tractor assured, indicating that the farms that produce the wool adhere to high standards in animal welfare and environmental protection.
The pocket-sprung design of the mattress means that each spring is housed in its own pocket, providing more targeted support and better movement isolation. The Hypnos Wool Origins 6 mattress also features triple edge support, which includes high-tension springs along the edge of the mattress and hand-stitched side stitching to prevent sagging.
Overall, the Hypnos Wool Origins 6 mattress offers natural, supportive sleep solutions for those who prioritise environmentally-friendly choices. The wool filling and pocket-sprung design when combined provide excellent temperature regulation and targeted support, while the triple edge support ensures durability and longevity of the mattress. This is a premium mattress, so the pricing is reassuringly expensive as to be expected.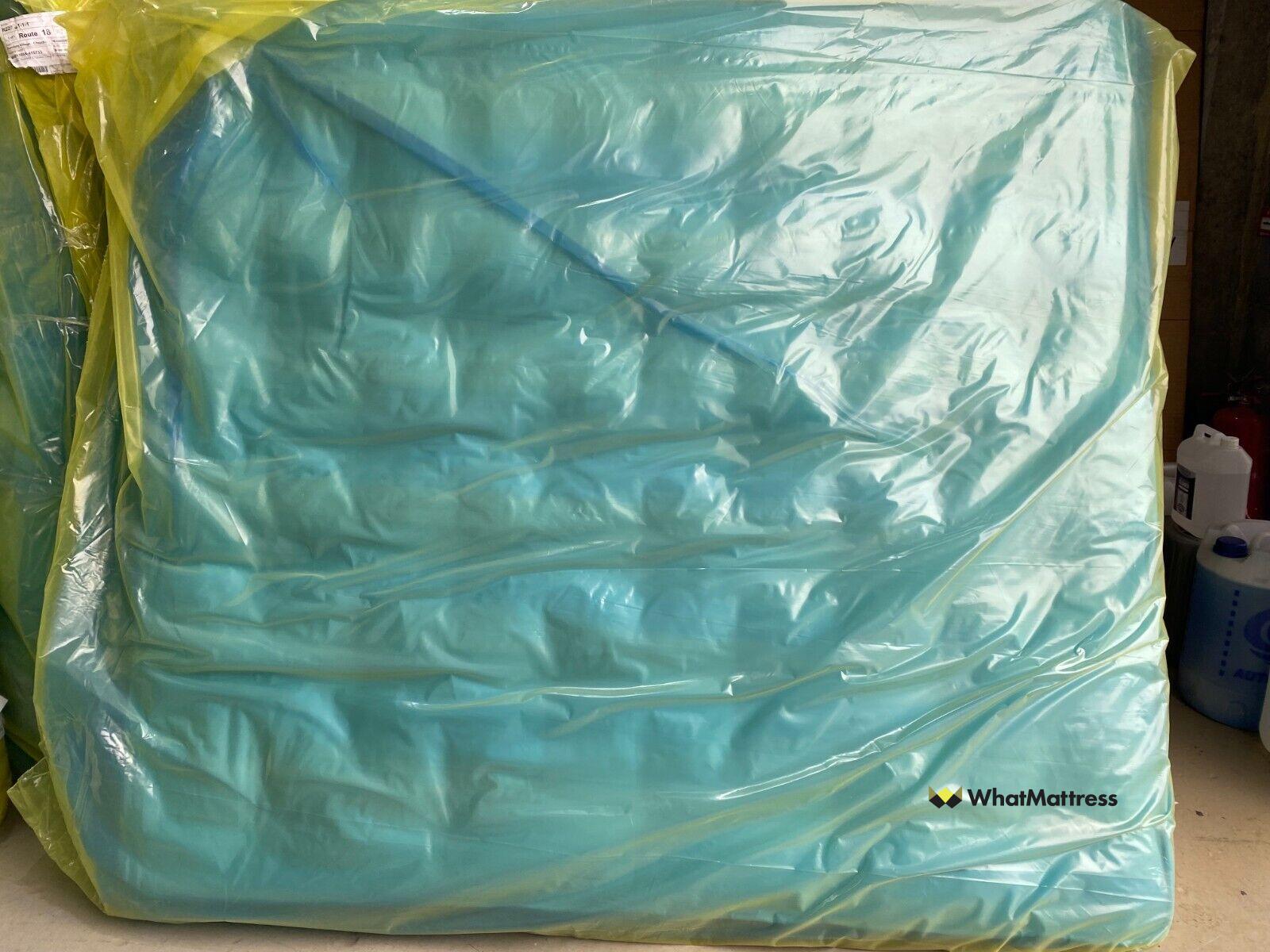 Hypnos Origins 6: Firmness Rating
The Hypnos Wool Origins 6 mattress exceeded my expectations for both comfort and support – and that's bearing in mind the already high hopes I had for such a premium mattress!
Curiously, this particular mattress comes in both medium and/or firm options – called medium and firmer – meaning you can customise exactly how you want it. Obviously, the firmness rating of a mattress is a crucial factor in determining the level of support and comfort it provides, so this is something you need to consider.
Here at WhatMattress we rate mattress firmness on a scale from 1 to 10, with 1 being the softest and 10 being the firmest. It's subjective, but we feel it works.
The medium firmness option of the Wool Origins 6 mattress sits at around 6 out of 10, making it a great option for those who prefer a balanced level of support and comfort. Honestly, this level of firmness is arguably suitable for most body types and sleeping positions and I'd actually be more included to call it medium-soft.
The firmer option, on the other hand, sits at around 7 out of 10. This firmness level is more suited to people who suffer from back pain and require extra support in particular (or if you just happen to prefer a firmer mattress!).
Note that sleeping on a firmer mattress can help align the spine and alleviate pressure points in the hips, neck, and shoulders, making the latter a great option for those who need additional support. However, it's worth noting that a firm mattress may not be comfortable for everyone, and the lack of free trial here means you'll need to research it first to avoid having to send it back.
Why You Can Trust WhatMattress
We're completely independent from any mattress company. We've spent countless hours curating and reviewing mattresses that anyone can buy in the UK, and have been doing so since 2018.
Mattresses tested:




82

Total hours testing:




602

Pillows tested:




24

Total hours testing:




183

Duvets tested:




35+

Funds spent on testing:




£7,500+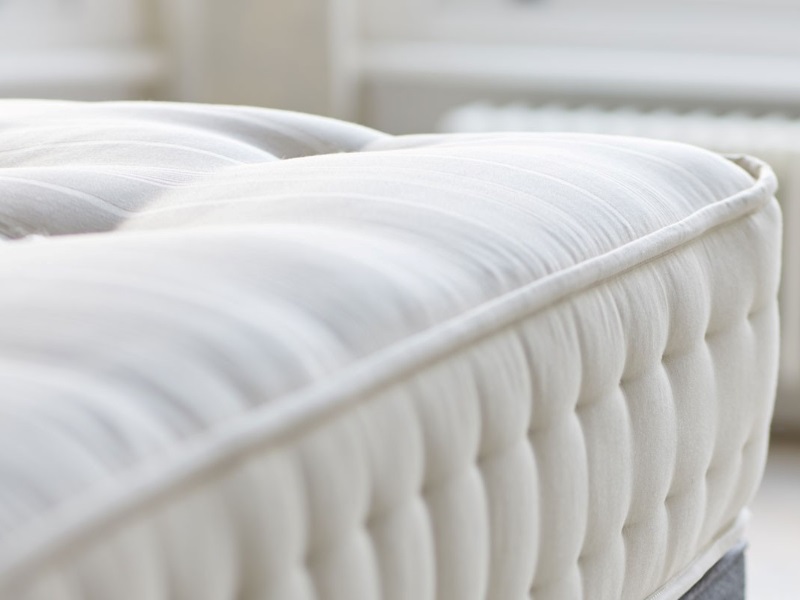 Usage & Test results
My tests lasted almost 3 weeks – be aware of websites claiming to test mattresses for months on end; this just isn't feasible if you're in the business of testing mattresses, because there are just so many that need to be tried.
In any case, I'm happy to report that the test results were mostly positive. When I turned over, I didn't feel pinched or stuck in the mattress; I went for the medium firmness in my testing, which is the more popular choice in the UK – although the firmer version certainily shouldn't be overlooked.
Frankly, the Origins 6 mattress provided remarkable support, and I experienced literally zero discomfort in any of the common sleeping positions (on my side, stomach, or back) throughout the entire testing period of 2 weeks. This helped me get a good night's sleep despite my achy muscles.
Moving on, the Origins 6's temperature regulation is actually one of its most impressive features. The 8 (yes 8!) wool fleeces used to make the mattress were absolutely fantastic, keeping me warm and comfortable even on the chilliest nights and keeping me from becoming too hot in the summer. Since I tend to sleep hot during the night, this was a huge help in maintaining a pleasant sleeping temperature.
The pocket-sprung construction of the bed meant that my partner's tossing and turning during the night did not even wake me up, either; I was able to get a better night's rest and feel revitalised in the morning without the usual interrupted sleep.
Here at WhatMattress we take mattress research seriously - all our product tests are done as fairly and honestly as possible.
That's quite a bold claim, but we're proud of the attention to detail that you're hopefully seeing within our reviews. Our methodology sets us apart from many other review websites. I like to think this is because WhatMattress is only run by two people - Carrie and Anthony. Over the years we've hand-tested multiple mattresses, pillow and other bedding products - so that you don't have to!
Every single mattress is put through its paces using the following tests:
We make sure to live with the mattress for at least a week.
We always sleep on the mattress we're testing - every single night.
We will always be 100% honest when we weigh up the pros and the cons of each mattress.
And in most cases, we've bought the mattress ourselves and haven't been given a free one.
It may be too soon to tell how long-lasting this mattress will be, but if it's any consolation, it still looks brand new in my bedroom, despite heavy use by both my nieces (and me?!) as an indoor trampoline. Amazingly there are no visible sagging signs anywhere, even on the sides of the mattress.
Why? Because the triple-sided edge support and strong pocket-sprung design should ensure the mattress will last as long as possible – be under no illusion, this isn't your average cheap memory foam mattress designed to only last 2-3 years.
What's this about Talalay Latex?
This is the 'type' of latex used here in the Hypnos Origins 6. Whether Talalay latex is better for mattresses than other types of latex or materials depends on personal preferences. Talalay latex has some advantages over other types of latex, such as a more consistent cell structure, which provides more even support and pressure relief. It is also known for its hypoallergenic and breathable properties, which can be beneficial for those with allergies or who tend to sleep hot.
However, Talalay latex mattresses are also generally more expensive.
Cover: Is it any good?
With its breathable sleep surface woven from eco-friendly cotton and viscose, the Hypnos Wool Origins 6 mattress cover feels pretty special: highly smooth and velvety to the touch. The jersey material is hypoallergenic, breathable, and moisture-wicking, making it a great choice for people with sensitive skin or allergies.
By the way, the high-tension edge springs that surround the whole perimeter of the Hypnos Wool Origins 6 mattress are one of its most notable features. During the night, you won't have to worry about rolling off your bed thanks to the secure and supportive edge system that will help prevent dipping and extend the life of your mattress. This contracts with mattresses that tend to sag at the sides without bolster support, such as the Emma Original.
The fact that the Hypnos Wool Origins 6 mattress can withstand flames without the use of chemical flame retardants is reassuring. Providing adequate fire protection without resorting to the use of chemicals has always been a challenge for mattress manufacturers – though I can confirm I didn't actually test out this fire-retardant claim!
About the springs
The ReActive Pro pocket springs in the Hypnos Wool Origins 6 mattress work to contour to your body for a personalised sleep experience.
According to several experts, the ideal depth for a mattress is a minimum of 10 cm for the top layer and 15 cm for the core. The Hypnos Wool Origins 6 mattress has a depth of 29 cm, which is well within this recommended range. The depth of a mattress is particularly important for heavier individuals as a deeper mattress provides better support.
If you sleep on your side and have a lower body mass index (BMI), a hybrid mattress may be preferable – for example, the Simba Go. There are quite a few similarities with that mattress here: it's eco-friendly, very soft and quite pricey. 😉
Back to the Origins 6, the firmer version of the mattress in particular, I'd recommend for stomach and back sleepers, though both are okay honestly. When compared to the softer version, though I didn't test out both, experience tells me that in order concentrate pressure in the hips, neck, and shoulders, a firm mattress provides more uniform relief across the entirety of the body.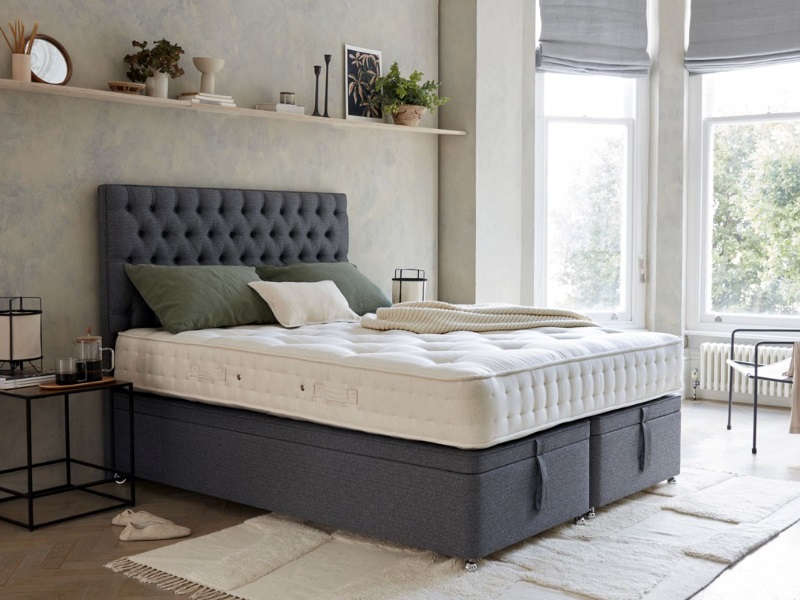 Note that either versions definitely cannot be considered an orthopaedic mattress: if you're looking for such a mattress, one that might do wonders if you suffer from chronic back discomfort, then consider the Simba Hybrid Pro instead.
Here are the results for the medium firmness mattress:
👍 Sleepers who will benefit:
Back and stomach sleepers
Those who prefer an average firmness mattress
People with back pain or joint pain
Couples who need motion isolation
Hot sleepers (the mattress has cooling features)
👎 Sleepers who won't benefit:
People who like the feeling of sinking into the mattress
Heavy individuals (may need a mattress with more support)
Those with orthopaedic concerns
Is wool safe? Can I be allergic to it?
Surprisingly, the answer is yes, you can be allergic to wool. Wool fibres can cause skin irritation, itching, and even breathing problems in some people. However, allergies to wool are uncommon, therefore most folk should be able to safely sleep on wool mattresses.
What other mattresess should I consider?
The eco-friendly Simba GO Hybrid is the nearest thing to a competitor, in my opinion.
Now, it's a hybrid mattress, so it uses graphite, foam and springs to provide support and comfort, with four layers, including a breathable sleep surface, a layer of Simba's patented foam, a layer of mini pocket springs, and a layer of support foam. The GO Hybrid has a medium-firm feel andits eco-credentials really stand out.
On the other hand, the Hypnos Origins 6 is a pocket-sprung mattress that uses wool as its main filling. It has eight fleeces (layers) of wool, which makes it great for temperature regulation, and a triple edge support system for better edge-to-edge support. The Origins 6 has a medium tension, which is suitable for most people.
In terms of size, both mattresses offer a wide range of options, including single, double, king, super king, and emperor — though the Origins 6 offers more sizes, including small emperor, zipped super king, zipped small emperor, and zipped emperor.
What about the Hypnos Wool Origins 8?
There are a few key differences between the Hypnos Wool Origins 6 and Wool Origins 8 mattresses to be aware of, as follows:
The Wool Origins 6 has a single layer of pocket springs for stability, whereas the Wool Origins 8 has two layers of pocket springs.
The Wool Origins 6 is a medium mattress, while the Wool Origins 8 is a medium-soft mattress, i.e. the Wool Origins 8 is even softer than the 'medium' version of the Wool Origins 6.
Talalay latex and wool make up the comfort layer in the Wool Origins 6, while wool, alpaca, and Solotex fibres do the same in the Wool Origins 8 (hence being even softer).
The Hypnos Wool Origins 8 – naturally – costs even more than the Wool Origins 6 because of its improved design and higher-qualtiy materials used in its construction.
Should I be worried about the lack of trial period?
Certainly not!
Not all mattress manufacturers have sleep trials available, and that doesn't mean they don't believe in the quality of their product. Some businesses use sleep trials as a promotional tactic only, i.e. to reassure potential buyers that they are making the right decision and to force the sale. There's a distinctly less "pushy" approach here from Hypnos, which I like.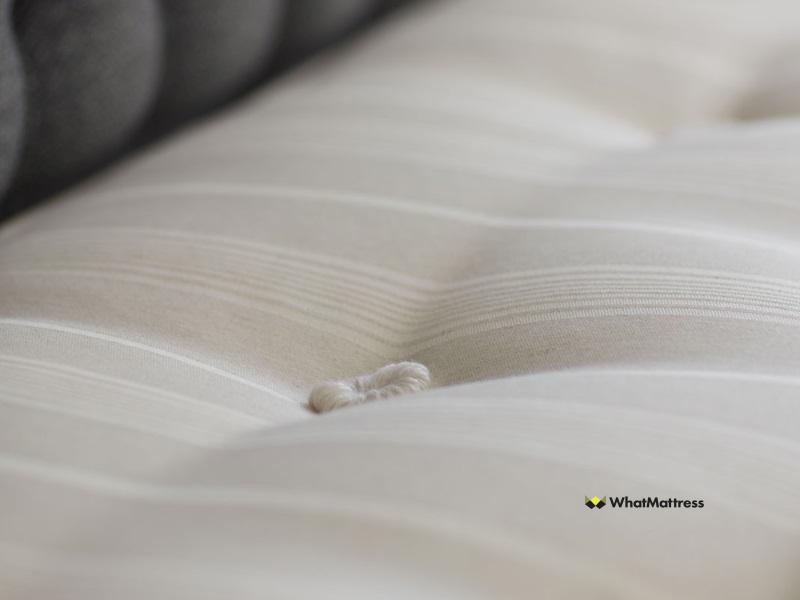 Pricing (Updated)
The above prices won't last forever, they are part of a promotion.
Verdict: Is it any good?
The Hypnos Wool Origins 6 mattress is a fantastic premium mattress for anyone looking for a soft or medium firmness pocket-sprung mattress with natural fillings; it passed all of my tests with flying colours. Wool filling is Red Tractor guaranteed, meaning it originates from farms with stringent policies on the treatment of animals. The eight layers/fleeces of wool in the mattress do a great job of regulating temperature and providing wonderful support for my hips, shoulders, and back. The movement isolation is also excellent; my partner's movements did not wake me up once.
| Feature | |
| --- | --- |
| Firmness | ⭐⭐ Medium & Firmer (2 options) |
| Support | 🏋️‍♂️ Pocket Spring |
| Comfort Layer | 🛌 Talalay Latex |
| Cover Material | 🧵 Polyester-Viscose Blend |
| Warranty | 📜 10 Years |
Overall, the Hypnos Wool Origins 6 is a luxurious "hotel" style mattress that puts emphasis on comfort, resilience, and environmental friendliness – the holy trinity. It's clearly built to last and I suspect it'll go on and on for decades. The use of natural fibres and pocket springs means that it's free of plastic-based foams and fire-retardant chemicals, making it totally recyclable at the end of its (probably long) life.
Made in the UK to exacting standards, you can rest assured that it will last. The lack of a sleep trial is unfortunate, but the Hypnos warranty/10-year guarantee should put anyone's mind at ease.
In conclusion, the Hypnos Wool Origins 6 mattress is a fantastic buy that more than justifies the higher price tag. Spportive natural fillings and pocket springs make this a good choice for people of average weight. It's ideal for anyone who wants to sleep soundly on a mattress that doesn't hurt the environment and doesn't break the bank.
Read this next...
Was this article helpful?
Where is the Hypnos Origins 6 made?
The Hypnos Wool Origins 6 mattress is proudly made in the UK, in Buckinghamshire, which means that it meets the high-quality standards and durability that are expected from authentic UK manufacturing.
Can the cover of the Hypnos Wool Origins 6 mattress be removed and machine washed?
No, the cover is not removable and should not be machine washed. You can clean the surface with a mild detergent and a damp cloth.
Does the Hypnos Wool Origins 6 mattress come with a sleep trial?
No, the Hypnos Wool Origins 6 mattress does not come with a sleep trial. However, it comes with a 10-year guarantee. But some stores offer their own trial period.
How we reviewed this article:
Edit History:
Our experts continually monitor the mattress & sleep tech space, and we update our reviews & articles when new information becomes available.
20th April 2023


Current Article - By Carrie Taylor

20th April 2023


Checked & Reviewed - By Morag Park, Ph.D.

20th April 2023


Copy Edited - By Carrie Taylor

20th April 2023


Reviewed - By Carrie Taylor
WhatMattress has strict sourcing guidelines and we try to rely on peer-reviewed studies, academic research institutions, and medical associations where possible.