When it comes to buying a mattress, many companies sell "orthopaedic" versions suitable for back pains. Although it sounds like something special, an orthopaedic mattress is really one that is extra firm. Extra firm mattresses are not to be mistaken with firm mattresses, which many people find comfortable to sleep on. If you have back problems or spinal issues, then consider this type of mattress.
Some of the best mattresses for those with back problems are by well-known brands such as Emma, Eve and OTTY.
Saying that, despite being known as orthopaedic mattresses, extra firm mattresses aren't necessarily always good for your back. What's best for your back is a very individual thing. It all depends on the level of support being offered by the mattress. You need to find the right mattress that suits your weight and build. Firmer mattresses tend to work best for heavier or larger people. Conversely, lighter or smaller people will be best suited with a soft mattress.
If you are of the heavier build and know that you can sleep better when lying on an extra firm mattress, then an orthopaedic mattress is probably going to be right for you. As with any type of mattress, there are several signs of quality to look out for. This also applies when shopping for an orthopaedic mattress.
There's no standard industry-wise agreement as to the firmness of a mattress, so one manufacturer's 'extra firm' could be another one's 'firm'. The below mattresses are all marketed as being orthopaedic. This guide should be useful if you like a firmer type of mattress to sleep on.
1. Rest Assured Adleborough 1400 Pocket Ortho Mattress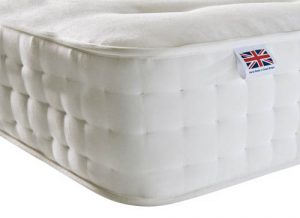 Rest Assured is one of a few smaller brands that are actually owned by the same company that owns the well-known Silentnight brand. The Rest Assured Adleborough 1400 has a brilliant specification for the price. It's a pocket sprung mattress – which is the more common alternative to memory foam. It also features a hand tufted finish, which is another sign of a quality mattress.
The Rest Assured Adleborough 1400 cannot be flipped or turns, so instead has to be rotated. When it comes to flipping, it's often considered beneficial to be able to turn a mattress as this is thought to greatly increase it's life. This mattress is also one of the only ones available that doesn't come with any form of trial period – so it's best to read many reviews or to go and actually try one out before purchasing. It does come with a 5 year guarantee though, which although is a long time, it's not very long in the world of mattresses.
2. Sleepeezee Ultrafirm 1600 Pocket Sprung Mattress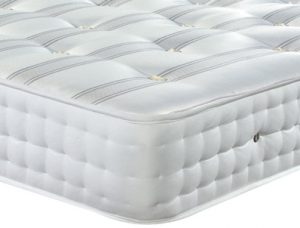 If you're looking for a quality mattress, then Sleepeezee is always a very goo bet. They are one of the few mattress brands to have a royal warrant. If that isn't a sign of quality then I don't know what is. Sleepeezee are also highly scored all over the internet and on reviews websites such as TrustPilot.
When it comes to firm mattresses, most of them are pocket sprung as opposed to memory foam. The Ultrafirm 1600 is no exception. With a spring count of 1600 this mattress is going to be very firm and supportive. It has 200 more springs than the previously mentioned Rest Assured mattress. Bit it's £100 cheaper so it is definitely a good buy.
Another good thing about the Ultrafirm 1600 when compared to the Rest Assured Adleborough 1400 is the fact that it can be flipped. This means that it can be turned over every once in a while. This reduces the risk of it sagging and therefore makes it last longer. At 240mm thick, it's a pretty standard for other similar mattresses within the same price bracket. Like the Adleborough 1400 the Ultrafirm 1600 comes with a 5-year guarantee. In addition to this you can also take advantage of Sleepeezee's 100-night guarantee. This all helps you to ensure that you've made a good decision when you buy this mattress.
3. John Lewis and Partners Classic Collection Ortho Support 1000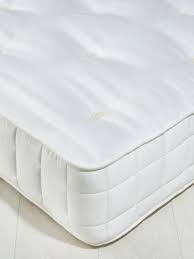 If you're looking for a quality mattress that has been made in the UK, then look no further than the John Lewis and partners Classic collection. The Ortho Support 1000 is a great extra firm mattress with 1,000 springs which will offer a good level of support as long as you are not too large or too heavy. If this is the case then you may consider purchasing the uprated version of the same mattress, which has a spring count of 1,600 so is sure to offer more support. If you weight over 18 stone though then it is likely that a mattress with a spring count of around 2,000 would be more beneficial to you.
Considering the price of this mattress, it features a number of signs of good quality. As is the norm with a quality mattress, the Ortho Support 1000 has hand side stitching. This is a much more labour-intensive way of making a mattress, and also gives you more support on the edge of the mattress e.g. when you are sitting on the bed. The mattress can also be flipped or turned, which means that it won't sag and dip as much. All of this is in addition to the tufted top, which is a much more traditional way of holding a pocket sprung mattress together and is a sure sign of quality.
Although there is no free trial period, there is a 7 year guarantee for this mattress, which is considered as pretty good in the world of mattresses.
4. Reylon Ultimate Ortho Mattress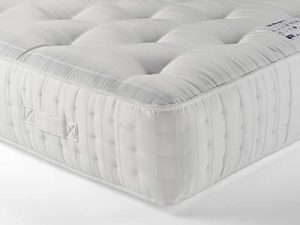 Reylon are a well-established brand of mattresses, popular in the United Kingdom. Being orthapedic, it's another pocket sprung mattress as the two seem to go hand in hand. This is because the alternative – memory foam – tends to be too soft. Othopedic mattresses tend to be on the further side of the scale.
In terms of the spring count, this is about average and what can be expected of an orthopaedic mattress. The thing that sets the Reylon Ultimate Ortho mattress apart from it's competitors though, is the thickness. It's 50mm thicker than similar mattresses by Rest Assured and Sleepeezee. This is sure to be a good choice for people who may have mobility issues. Or for those who just like to sleep on a higher bed.
Another great thing about this mattress is the fact that it can be flipped, which is thought to greatly increase its life. There are plenty of good reviews all over the internet about this mattress, so if you want a good mid-range orthopaedic mattress that won't break the bank but has all of the features you need, then this will be a good choice. Don't forget that a lack of sleep will affect you more than any mattress too, according to the Sleep Council.
5. Tempur Helsinki Mattress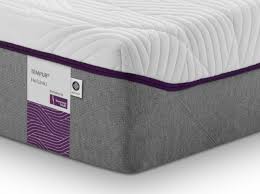 Bizarrely, the Tempur Helsinki isn't actually sold by Tempur themselves. Instead it is a mattress that can only be bought exclusively from Bensons for Beds. Bensons for Beds are probably one of the best-known bed retailers in the UK. They are also closely affiliated with the mattress maufacturer Silentnight. Unlike most mattresses that are marketed as being orthopaedic, the Tempur Helsinki is actually made from foam as opposed to pocket springs. This goes against the general consensus that memory foam mattresses don't offer as much support as pocket sprung ones.
When it comes to memory foam mattresses, Tempur are probably the most famous name in the industry.
Tempur themselves claim that their products do not contain just any old foam. Instead, the contain a foam that is composed of a secret formula. You may already know that Tempur used some of the materials that were created by NASA. They then used them to make their own mattress.
Foam mattresses are thought to have some benefits over spring mattresses. Numerous reports have suggested that memory foam mattresses can outlast spring ones. They are also not as prone to the sags and dips that can be very common with aging pocket sprung mattresses.
If you suffer from allergies then memory foam may be a better option for you. It won't collect dust in the same way that a pocket sprung mattress does. Also, foam is not a natural product, and natural products are usually the ones that cause the most common allergies among people. The Tempur Helskinki comes with a pretty good 10-year guarantee too. So if you want a firm memory foam mattress that will last a long time, this is a safe bet.
FAQs
What's different about orthopaedic mattresses?
The only real difference between a normal mattress and an orthopedic one is the firmness. Ortho mattresses are very firm when compared to mattresses marketed as 'soft' or 'firm'.
Will an ortho mattress help my bad back?
Some people find that an extra firm mattress can relieve the symptoms of their back pain. However a mattress is a very subjective thing. One person can find a mattress perfect while another person can find the same mattress very uncomfortable.