Simba are getting bigger and bigger in the UK as more Brits switch to their affordable memory foam mattresses. The good news is that, while they are quite cheap already, it's entirely possible to reduce the price even further by using a "Simba discount code". I've updated my list so you don't have to search far and wide.
Tip: If you're new to Simba Hybrid mattresses then make sure to read my full Simba review here before buying.
The mattress-in-a-box industry in the UK is highly competitive, so make sure to use a voucher code on your next mattress purchase. Whether it's for Simba or any other leading brand such as Emma, Nectar or others, there are multiple discounts available across the entire product range.
Working Simba promotion deals & codes 2023 (Updated!)
I make sure to check and verify my Simba discount codes every day. Yes – every single day, and it's the same for other brands too. I like to make sure that my readers are able to get a discount wherever possible. If you find a non-working discount code here please alert me in the comments and I will update it ASAP.
FAQs about Simba
Do Simba discounts work with their pillows?
Yes. The discounts apply to the entire product range sold by Simba. So that means all their hybrid mattresses, Simba pillows, and other accessories.
Are Simba mattresses soft? What is the firmness?
There is no universally-agreed firmness or softness scale so you have to rely on the manufacturer to tell you how firm a mattress is. Or, look at reviews like this or other ones online.

Anyway, it's easier to explain if we go through each of the 5 layers. Unlike most mattresses that have 4 layers, Simba have the extra "Hybrid" layer (the blue one) that, they claim, makes all the difference.
Here is each layer in detail:
Layer 1: Simba's cover layer is made with hypoallergenic air flow in mind. It is made of a synthetic blend and breathes easy.
Layer 2: Open-cell foam is the first comfort layer that is more responsive than memory foam while still dissolving away pressure point pain.
Layer 3: 2,500 conical pocket springs adjust to your spine and sleeping position and adapt seamlessly so you won't disturb your partner.
Layer 4: A high definition foam layer offers a transitional supportive layer, focusing on edge support and subtle pressure relief.
Layer 5: The foundational base foam has zones to support the spine in an ergonomic way. These zones also help air movement to keep things cool.
Is the 200 night trial a scam?
Simba claim that they're confident you'll 'feel the difference' with your Simba mattress after one night. But just in case, they have given customers a few more nights to sleep on it, so to speak… Originally offering 100 nights, after competition from the likes of Eve upped theirs, Simba now offer a 200-night trial too.
Note that some companies like Nectar even offer a 365 night mattress trial. But 200 nights should be plenty long enough for even the most picky user to decide if the mattress is right for them or not. Just make sure to check the stats box below, making sure that you're within the weight limit, and the sizing fits your bedframe.
Is the Simba Hybrid worth buying?
Let's first look at the pricing. Simba are not the cheapest brand – but often they have discounts or sales on. Here is their current pricing after discounts, but excluding any coupons (these can be used to reduce the prices further):
| | | |
| --- | --- | --- |
| | Dimensions | Price |
| Simba Hybrid Single | 90x190x25 cm | £384.30 |
| Simba Hybrid Small double | 120x190x25 cm | £524.30 |
| Simba Hybrid Double | 135x190x25 cm | £524.30 |
| Simba Hybrid King | 150x200x25 cm | £594.30 |
| Simba Hybrid Superking | 180x200x25 cm | £664.30 |
| Simba Hybrid EU single | 90x200x25 cm | £419.30 |
| Simba Hybrid EU double | 140x200x25 cm | £559.30 |
| Simba Hybrid EU queen | 160x200x25 cm | £629.30 |
*prices and availability may be subject to change, prices above exclude discount codes.
Do Simba actually do discount codes?
Simba Sleep do: but not often. Normally the discount is available automatically. For example, you go to the Simba website and add something to your cart, and any discount, where eligible, will be added automatically.
Currently they're doing a -30% discount off offer on ALL products such as this one.
Where do you enter your code or gift card? First you must add the product to your cart and then you will be presented with this screen on the next page. The box to enter your coupon is to the right: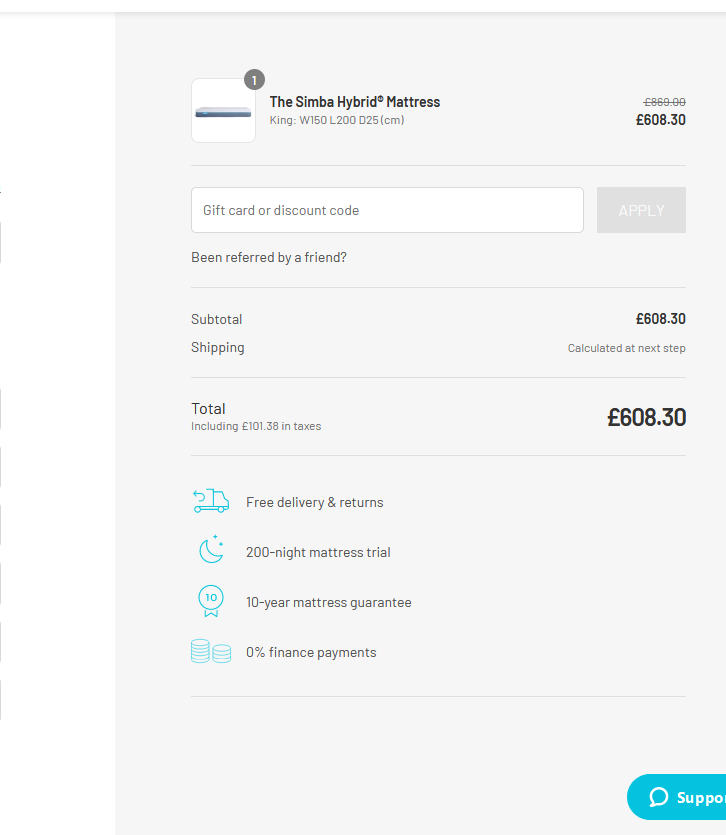 Types of vouchers (updated)
Some examples of Simba discount codes, past and present:
Halloween offer, 30% off
Free delivery over £150
Get 25% off keyworkers
Chosen delivery slots (free)
Make sure to keep reading to find the best promotions available on your next mattress and get a good night's sleep without breaking the bank.
Keyworker & NHS Staff discounts – do they work?
Like other mattress companies, Simba do offer a discount for those who are classed as keyworkers and NHS staff.
As valued members of the emergency services, eligible people must confirm that they are in fact legitimate keyworkers. There is more information here on the Simba website. You need to verify using the Blue Light Card service or the Health Service Discount system first, to get a discount (link).
The type of discount available varies. But at the time of writing, it is a generous 40% off.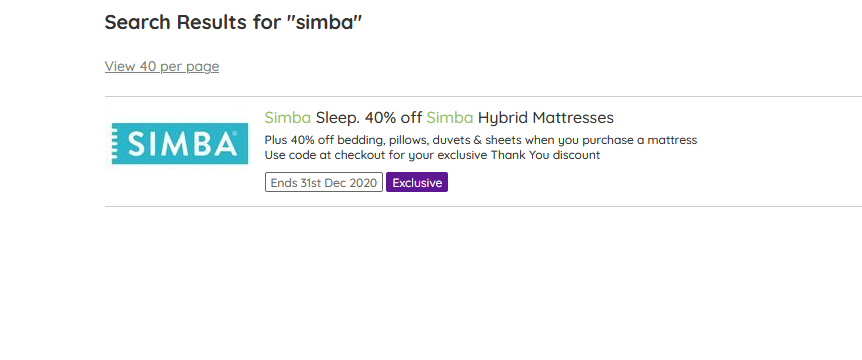 Other coupons related to Simba Sleep:
If you cannot find any working discounts above for Simba, then we recommend this Simba promo code article.