When one of your main hobbies is to review mattresses, you get to know the industry rather well. And I don't just mean the mattress part. I thought I knew petty much all there was to know about pillows too. Until I left my TV on after watching a film one night and woke up to see one of those long advertisements for a pillow called "MyPillow". I'd certainly never heard of it before, even though it was being described as the 'world's most comfortable pillow'.
After a bit of research, I found that MyPillow have been around for more than a decade. Founded by a chap called Mike Lindell, MyPillow have already taken the US by storm. Apparently they have sold nearly 50 million of them across the globe. And now that they are infiltrating the cutthroat UK pillow market, I naturally I had to get hold of one.
Buying a MyPillow was easy, as all I had to do was keep watching the advert and then visit their website. What wasn't so easy was the idea of parting with £120 for something that I was literally going to dribble over every night. Fortunately, after a bit more digging, I found a MyPillow promo code, which I'll share with you below. This means that I was able to get the MyPillow for half of the RRP at just £60.
MyPillow Promo Code
For those of you who don't already know, I am a stomach sleeper. I am fully aware of the disadvantages of sleeping on my front, but I can't help it. Even when I try to fall asleep on my back, I wake up to find myself lying on my stomach with one hand beneath my pillows and the other on top. Seeing the 'MyPillow' advert on the TV was a stroke of luck, as I had recently been waking up every morning with backache, which I believe might be due to my current pillows getting old.
When the MyPillow arrived, I was immediately pleasantly surprised. I obviously didn't watch the TV advert properly, because I was only expecting to take delivery of a single pillow. I like to sleep with two pillows so you can imagine my excitement when I realised that I had received two. This is because they were offering a Buy One, Get One Free deal on top of the 50% off. So with the combined discounts that's a saving of 75%. This is great news for you readers, as it means I can give a more accurate review because I can compare it directly to my current pillow setup.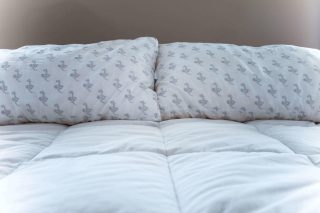 Key Features of MyPillow
MyPillow keep things nice and simple. They only sell three different products. The main one is the MyPillow Premium. Alongside this they also sell a variety of different pillow cases, as well as a travel pillow. The MyPillow Premium boats the following features:
100% cotton cover
Made from chunks of polyurethane (memory) foam
Option of three different fill levels for different firmness.
Machine washable and dryable
60-Day Money Back Guarantee
10-Year Warranty
How Firm does MyPillow need to be?
As mentioned earlier, MyPillow comes with three different options for firmness.
| | | |
| --- | --- | --- |
| Colour code | Fill level | Firmness |
| Yellow | Least | Soft |
| White | Medium | Medium |
| Green | Most | Firm |
This makes for quite a lot of choice, especially if you tend to use more than one pillow. The great thing about the MyPillow website is the fact that you can choose the right firmness level to suit your needs. Pillow firmness is fairly subjective, so usually just comes down to what you prefer. However I have gone to the trouble of making this quick pillow firmness guide to help you choose if you're not sure. I opted for the White code for both pillows, which is medium firmness. I tend to prefer medium firmness in my bed, and I also felt like it was a good mid-way point for my review.
MyPillow Review – Updated
It's not really possible to try MyPillow out as soon as you open the delivery packaging. This is because it has been compressed (similarly to 'bed in a box' mattresses), for ease of shipping. The foam chunks within the pillow will need a bit of time to do their thing and expand. Apparently this can be sped up by placing the pillow in a tumble dryer on a high setting for 15 minutes or so. If you don't own a tumble dryer then it's best to give the pillow between 8 and 12 hours to expand to its true size.
MyPillow boasts a patented interlocking fill, but my first impression was that it was a pretty simple invention. The cotton cover is quite thin, so you can literally feel the composition of the pillow. To me it felt like little more than different sized chunks or memory foam all put into a case.
For Back Sleepers
To try and make the review as fair as possible, I tried the three most common sleeping positions. Although I tend to sleep on my front, I also tried it while lying on my back and on my side. I have to say – although not my usual sleeping position – I found MyPillow much more comfortable when lying on my back. The medium firmness of the White coded version seemed perfect for this sleeping position.
For Side Sleepers
One thing I noticed when sleeping on my side with the MyPillow, was the fact that I could feel the chunks of memory foam pressing against my cheek. The different-size chunks of foam within the pillow meant that different-sized pieces of foam were pressing against various parts of my face which made it quite uncomfortable for me. I don't think that it would be possible for me to get comfortable enough to fall asleep in the side position with the MyPillow. I tend not to sleep on my side much though, so maybe this is an issue that many side-sleepers already have with memory foam pillows.
For Front Sleepers
For some reason, I didn't have the same issue when sleeping on my front. I could steel feel the various chunks of foam within the pillow to some degree. However, this did not feel uncomfortable. This could simply be because I am a seasoned front-sleeper and am used to the extra pressure on my face. I've had the MyPillows for a few weeks now and as of today am currently still using them, and I've had no issues with regards to comfort at all when sleeping on my stomach.
Probably the best feature of MyPillow is the ease of cleaning them. As long as you follow the instructions in the booklet that come with the pillow, you'll be pleased with how well it dries after being cleaned. It doesn't retain its shape very well after being in the washing machine, so it will need a bit of plumping and fluffing up afterwards. This is however only a minor irritation.
MyPillow Review: Summary & Facts
Pros:
Good value for money (when using promo code and offer)
Made in the UK
Easy to clean
Has a 60-day and 10-year warranty
Cons:
Not worth the RRP
Filling feels quite lumpy
Loses its shape when cleaning
Overall I would say that this is a good pillow to sleep on, and is well worth paying £60 for two of them. I would be hesitant to spend much more than that though. Considering the RRP of one single MyPillow is £120, I don't think this would offer good value for money. There are a fair few alternatives out there that are more comfortable at the £30-per-pillow price point. There is also the fact that MyPillow consists of cheap materials. So even at a whopping 75% off, you still feel like you have overpaid. When it comes down to it, MyPillow is just some shredded foam in a cotton case.
Frequently Asked Questions
Is the MyPillow any good?
If you're looking for a popular pillow from a trusted company that is easy to clean, then MyPillow could be the pillow for you. However there are better alternatives out there within the same price range, so make sure you use a promo code to get the best value for money.
How much is MyPillow?
The RRP of MyPillow is £119.90. However, they are currently offering two pillows for this price. Combine this with the 50% off promo code above and you can get 2 MyPillows for £59.95, meaning it costs less than £30 per pillow.
Does MyPillow offer a Trial Period?
MyPillow doesn't come with a trial period as such. However, they do offer a 60-day money back guarantee if you're not happy with your purchase. So you can buy with confidence knowing that if there are any issues then you will get your money back.
What about the owner/company, should I care?
If you consider yourself an ethical shopper then you want to look up Mike Lindell. He is a "Marmite" figure – some people dislike him, some people love him. I am not going to make a comment here, particularly because a lot of it is not relevant to the UK and involves US politics. But if you are concerned about the ownership of any company then you should do your own research.