Wool is a great material for mattresses, because it is completely natural and highly breathable. It's very rarely used in memory foam mattresses, but instead tends to be found only in pocket sprung mattresses.
Despite memory foam mattresses becoming increasingly popular, pocket sprung mattresses are the bestselling mattress type in the UK and have been for many years. The reason why wool is used in mattresses is because it is generally claimed to help you stay cool while in bed… but is this true? Let's find out…
1. Millbrook Wool Luxury 1000 pocket sprung mattress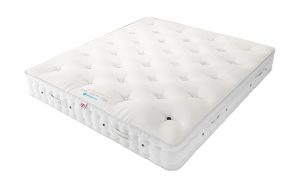 Millbrook are a great choice if you want a wool mattress that's reasonably priced. They come with a 60 night free trial, which is handy. If you don't get on with one of their mattresses and you contact them within 60 days, then you will be able to swap it for something more suitable. Please note that you can only switch mattresses – you won't be able to get your money back.
The Wool Luxury 1000 is one of the cheapest in the Millbrook range, and -as the name suggests – contains 1,000 pocket springs. This should be adequate for the majority of people, however if you're a heavier person it's well worth considering something a bit firmer. Millbrook offer wool mattresses with a higher spring count to offer you a bit more support if you need it, or you can simply compare some of our top chosen firm mattresses.
The main reason the Wool Luxury 1000 comes recommended by me, is because it is one of the cheapest available, but you still get a lot of the features associated with premium mattresses. In addition to the 60-night guarantee the mattress will also come with a 10-year warranty. Another great thing about this mattress is that it contains layers of springy 100% fleece wool sourced from Hampshire on both sides, so you can flip the mattress from time to time in order to increase it's longevity.
For the price, the mattress is also pretty thick, at 250mm. The 10-year guarantee is also worth another mention as it's quite generous given the price point of the mattress. You will be forgiven for not having heard of Millbrook before as they're not that well-known. However they offer a solid product for not much money so are will worth some consideration.
2. Sleepeezee Wool Supreme 2400 pocket sprung mattress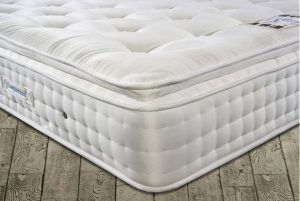 Sleepeezee are one of the best popular mattress brands in the UK, because they have a royal warrant. This means that they supply a royal household. Being a big brand, they also sell a number of wool mattresses, including the Wool Supreme 2400. It's not their cheapest offering, but we think tat it represents the best value for money across their range.
The mattress is constructed of a double layer of 100% British wool, which is situated on top of two layers of pocket springs. It then has a permanently fitted topper for extra comfort. Unfortunately, this means that the mattress cannot be flipped, however you can still rotate it every now and then in order to try and reduce the sags and dips that may appear over time.
The 2400 in the name of the mattress refers to the number of pocket springs that it contains. Given that this mattress contains two layers of springs, it's likely that each layer will contain 1,200. It is often regarded that anywhere between 1,000 and 2,000 springs on a single layer will offer a decent amount of support for all but the heaviest of people.
3. John Lewis and Partners Natural Collection Fleece Wool 8400 mattress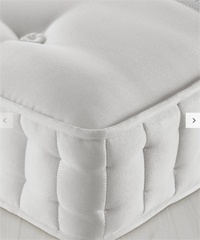 Mattresses in the John Lewis Natural collection are actually made by a company called Harrison Spinks. They're a good brand of mattress who are popular in the US but haven't really made much of a launch over here yet. Saying that, they recently won the best manufacturer award from the National Bed Federation in 2018. The springs that feature in this mattress also won their own award last year. This isn't the only wool mattress in the John Lewis and Partners Natural collection; in fact there are several, ranging between £950 and £1,400 in price.
The Fleece Wool 8400 model ticks about every box that there is to be ticked when it comes to buying a pocket sprung mattress. It contains three different layers of British wool which have been blended with other layers. Of course as the name suggests it also boats 8,400 springs. However it's important not to put too much weight into the spring count. While a spring count of over 1,000 is essential in our opinion, there are only so many springs that can fit into a single layer. This means that mattresses with higher spring counts will probably have smaller, less supportive springs instead of larger more supportive ones.
This is another mattress that can be flipped, which helps to prolong its life. The only disadvantage of that is the fact that it could be quite heavy to lift in sizes larger than double. It also comes with a 7-year guarantee, which is fairly long for a pocket sprung mattress. If you're looking for a very long guarantee then you may be better off looking for a memory foam mattress of some description. This mattress also comes in either medium or firm. The medium version is suitable for people who weigh up to 16 stone, and the heavier is best suited to people who weigh in excess of 16 stone.
4. Herdysleep wool mattress
By purchasing a Herdysleep product, you're allowing a traditional trade to continue. Herdysleep mattresses use a full Herdwick fleece in each one. Like the previous offering from John Lewis and Partners, this mattress is also made by Harrison Spinks. It has a very large spring count of 7,000. Note that this figure includes a single layer or regular sized springs alongside a layer or two of miniature springs. This isn't a massive problem as it will still offer a lot of support.
You cannot flip this mattress though, as it only has a single layer of Herwick wool, cotton and cashmere. Instead, to avoid getting dips and sags from using the same parts constantly, it is recommended that you rotate this mattress every now and then. The general opinion is that flippable mattresses last longer, but there have been no real studies conducted to reflect this.
This mattress comes with one of the longest guarantees available for a pocket sprung mattress, which is 10-years.

5. Happy Beds Signature 2000 pocket sprung mattress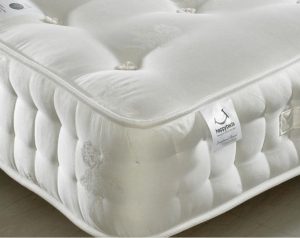 You may or may not have heard of Happy Beds. They are a budget mattress brand, but if you're looking for a cheap wool mattress that doesn't look cheap. The mattress has a wool, cotton and cashmere filling. It is also one of the cheapest wool mattresses you can buy. Known as a 'pillow topper' mattress, the Signature 2000 has a topper which is permanently fixed to the mattress. This means that it cannot be flipped in order to increase its life. So to prevent unwanted dips and sags it's a good idea to rotate it every once in a while. With a spring count of 2,000 it will offer plenty of support even for heavier people. Mattresses with a spring count of over 1,000 offer sufficient support for most people.
Another advantage of the Happy Beds Signature 2000 is the fact that it is very deep. At 330mm it's one of the deepest mattresses you can buy – especially within this price range. Some mattresses that cost 5 times more than this one are not even this deep.
Another great thing about the Signature 2000 is the fact that it is made in the UK. It comes with a 5 year guarantee but unfortunately no trial period. This not surprising when you are paying just over £300 for a wool mattress, though.
What's the cheapest wool mattress available?
Wool mattresses aren't cheap. However if you're on a budget but still want the benefits of a natural wool mattress then consider a wool mattress made by either Millbrook or Happy Beds.
How are wool mattress made?
The making of a wool mattress is a surprisingly interesting process. The below video gives a quick insight into how it's done – so you have a better understanding of why they tend to cost a bit more than traditional pocket sprung mattresses.
FAQs for Woll Mattresses (UK)
What is a Wool Mattress made from?
As the name suggests, a wool mattress contains wool. Some mattresses contain 100% fleece wool, whereas others can also contain cotton and cashmere.
When it comes to mattresses, a pocket sprung mattress made form wall is the traditional choice. So if you prefer something a bit more traditional in your bedroom, then you won't go far wrong with any of the below suggestions.
Do Wool Mattresses contain springs?
Wool is just one material that is used to fill mattresses. It is always used alongside pocket springs. If you're looking for a mattress that doesn't contain springs, then consider memory foam instead, or possibly a combination of the two: a hybrid mattress.
A good example of a hybrid mattress is the Simba Hybrid – read my review here. Note that the Simba isn't wool based though.