You've heard of the Emma mattress for adults. Now there is a toddler-size foam mattress perfect for young sleepers. What's more, it will fit most cots and Moses baskets and is also surprisingly affordable. But is it worth buying a toddler memory foam mattress full stop – or are they just a gimmick?
You probably don't need me to remind you that buying the wrong expensive mattress can often create more problems than just buying a cheapy one. And the same logic applies to mattresses for babies & kids. A bad mattress can create long-lasting back and neck problems, as well as spinal issues. That applies to adults as much as it does to kids. I've already reviewed the Emma Hybrid and Emma Original mattresses – both available in the UK already in "small single" size – but for something a bit smaller, they have now released the 'Emma Cot' mattress. This is a dedicated mattress for kids up to 6 years of age… but should you buy it? Read on to read my verdict.
Tip: Don't forget to read my top babies and kids mattresses article before deciding which one is right for your family.
Emma Cot Mattress: Sizing
Surprisingly for the UK, where we normally get a reduced product line, the Emma Cot mattress is actually available in two sizes: 60 x 120 cm and 70 x 140 cm.
The smaller size is ideal for children under 3, while children from ages 3-6 can sleep comfortably on the larger 70 x 140 cm mattress. Be aware that these are really intended for one child only.
Emma Cot Mattress: Layers & What's Inside
It's worth pointing out first of all that Emma don't claim this to be "memory foam" but rather they call it "open pore" foam. What that means, after stripping away all the bullsh*t, is that this is a general foam – i.e. a cheaper foam than which they use in their adult-size mattresses.
That may not be such a bad thing, though. Remember that the shelf-life of an adult Emma mattress is purported to be 8-10 years, yet for a toddler spec mattress it will be much less. In fact most people will only keep their cot mattress for about 4 years. Before long, your child will be too big for it, so that makes sense. To add memory foam to the entire mattress would also make it prohibitively expensive. So by adding regular PU-type foam here, Emma are making the product more affordable and mass-market.
There are also several other layers here:
Layer one –  a super soft outer cover that is removable and machine-washable at 40°. The zip has cleverly been concealed in a tiny pocket to prevent any accidental injuries or scratching of surfaces – like the adult-spec Emma mattress.
Second layer – In addition, Emma Cot mattress also has a waterproof inner cover to protect it from any accidental leaks and spills and is said to be water reistant rather than fully waterproof.
Third layer – The core of the mattress is composed of open-pored foam that is durable and firm enough to fully support your child's body. It also aids the healthy development of your child's spine and keeps their head well-supported. As per the marketing glurb, Emma claims that he foam is also "breathable, which helps keep your baby cool and comfortable throughout the night". I will assess this claim further down…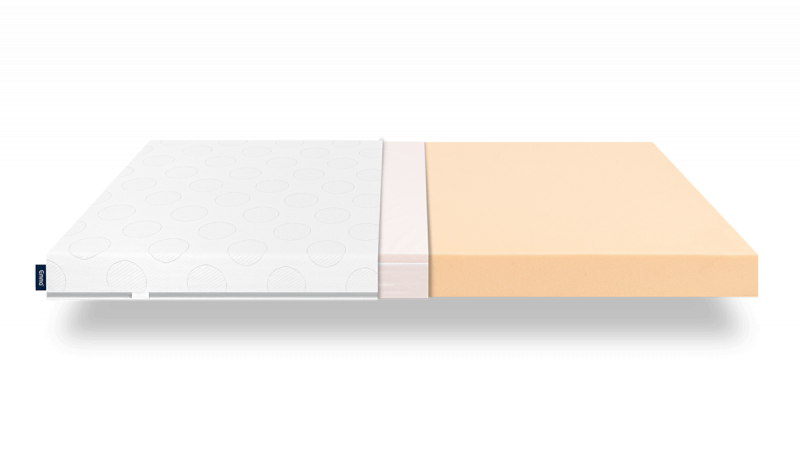 Emma Cot Mattress: Firmness
Emma don't give a specific rating value for the Emma Cot mattress  — but they do claim that it is firmer than their regular adult offerings. And this is certainly true. If you've read my Emma Original review, you'll know that I gave that a firmness rating of 6.8 / 10. For comparison's sake I'd give the "Cot" mattress here a much higher rating of 8/10.
Emma has intentionally made this a firmer mattress, though. They claim it's important for growing spines and bones, to be assisted by a firm support system and to reduce sagging. And places like HappyBeds generally agree. Of course, it must also be comfortable: a mattress that is too firm will simply not be used, and become a waste of money!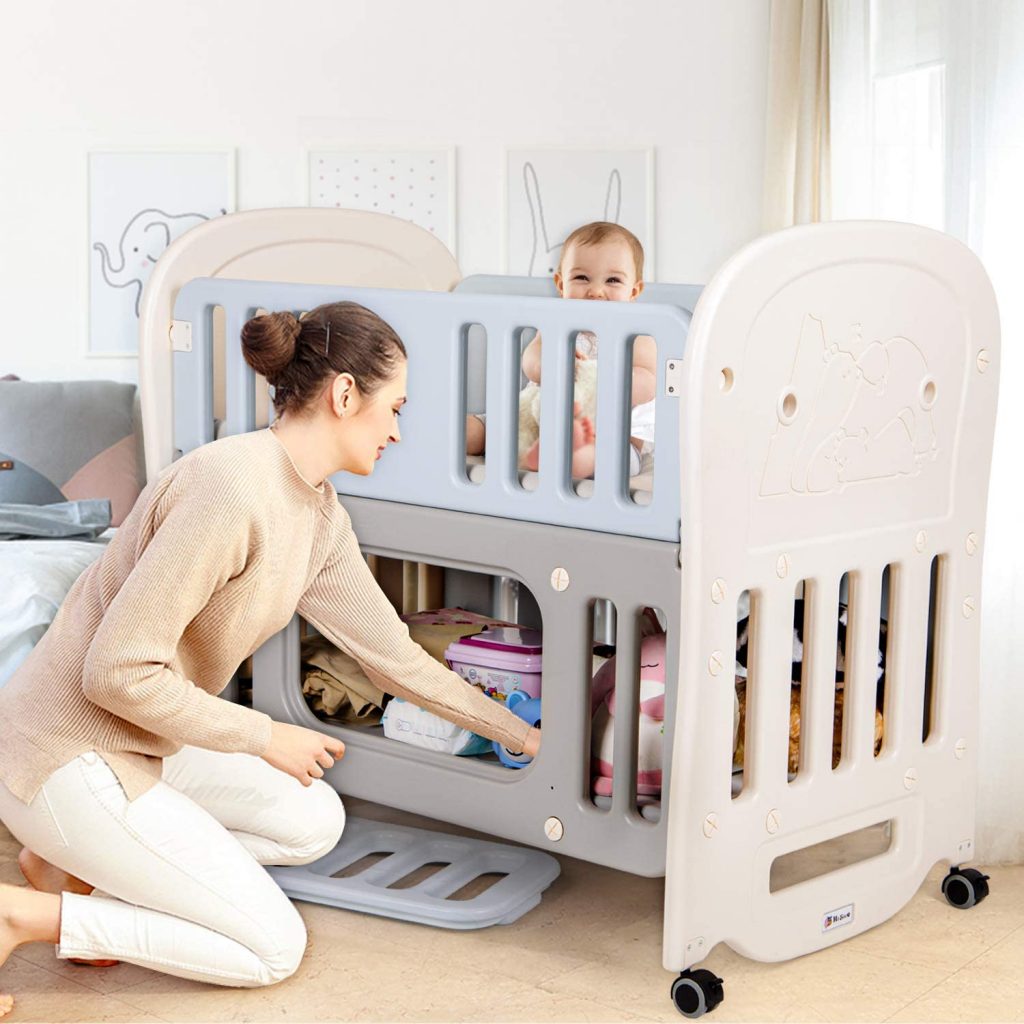 Anything else?
The Emma Cot mattress meets all the safety and regulatory requirements set by UK law, meets the requirements of BS EN 16890 and BS 7177, and is fully OEKO-Tex certified, like the OTTY Pure (sadly not available in child sizing yet). This means that materials used comply with strict environmental, health, and safety standards.
If you are concerned about hypoallergenics, then Emma have the following information to hand on their website for the mattress cover:
Pricing
At the time of writing, the Emma Cot mattress which includes free delivery to the UK, costs £159 (inc VAT) for the smaller size, and £179 (inc. VAT) for the larger size.
Use a voucher code to save on your Emma Cot:
There are often discount codes for the Emma Cot available so keep checking back if none work. I try to test these Emma coupons daily.
Conclusion on the Emma Cot
Not content with dominating the adult market in the UK, Emma have now launched the smaller Cot version. Overall it's a much more basic mattress than the "Emma Original", but then it's also significantly cheaper. And ultimately a lot of the technology found in the larger adult hybrid variants wouldn't work in a young child's mattress anyway.
You're paying a bit for the name with the Emma Cot; there are some other smaller cot mattresses available for less money, but if you use a discount code then you will get 20% – 40% off the RRP on the Emma website (sadly I don't think it's sold anywhere else, so there's little point in doing a price comparison. I have yet to see 'Renewed' Emma Cots for sale either).
FAQs on the Emma Cot mattress
How do I choose the right baby mattress?
A toddler size mattress isn't all about size – it's also about firmness and materials. In fact, that's probably more important Why? Because during the night, a toddler's spine can grow up to 1.5cm as the intervertebrate discs in between their vertebrae fill with water. As this process takes place, both the spine and neck should be firmly supported and held in a neutral sleeping position. The mattress itself must be firm enough to provide this support, but soft enough that your child is actually comfortable staying in roughly the same position throughout the night.
You also need to consider heat retention. With any memory foam, they will retain a certain amount of body heat. If this is a concern – i.e. if your child's bedroom gets very hot – then consider a latex or pocket spring instead, ideally.
What is so special about a cot mattress?
Up until recently, the smallest size mattress you could get in the UK was a "small single". Nowadays we have more choice and there are now not only one but TWO different 'toddler' size mattresses. Emma let you pick between two different sizes, depending on the age of your child.
So in short it's just a smaller mattress that fits into a cot and is perfect for babies and children under 6. The sizes available are:
Are pocket spring mattresses better for toddlers?
Some may say yes. I am not a health professional so I cannot advise you, but common sense suggests a pocket spring is better than memory foam because it is firmer. There are several pocket spring mattresses available in toddler size and I will review them here shortly. However, as long as you opt for the firmer type of foam mattress it should be fine for most babies and kids.
Are Emma Cot mattresses made in the UK?
It would appear so, as regular adult sized ones are indeed made near Derby. I am awaiting confirmation on the "Cot" size, though.