Good or bad? Here is my Nectar mattress review for 2023, updated with all the latest opinions and insights. As avid readers will know, I try to be as HONEST and UNBIASED as I possibly can be, and hand-review as many products as I possibly can. Please leave your comments & thoughts at the bottom in the comments section!
But is it worth buying? Or should you opt for another decent memory foam mattress supplier? Read on how to find out!
Are Nectar Sleep mattresses good?
Every one of these points here are discussed in more detail further down in my review below; but if you want a quick overview of the positives & negatives of Nectar mattresses then here they are:
PROS of Nectar Mattress

365-night trial, the longest available
More 'cooling' than other memory foams (assessed below)
CO2 neutral company
Old mattress removal included free
CONS of Nectar Mattress

The 365-night trial might not be all its cracked up to be
Some may prefer a hybrid mattress for better support e.g. for side-sleepers
Not as cheap as some other brands
If you only want a mattress, not a bundle, there are cheaper alternatives
Below I will delve into *each* of these positives/negatives and loads more. Please pull up a chair and read through this entire review if you have the time – it may pay dividends later.
Check out my full list of Nectar vouchers here.
A quick look at the layers…
Let's start with what's inside the mattress.
Each Nectar mattress has four layers of different foams and materials that make up each one. So what are Nectar mattresses made of?  Here's a rundown of each of them:
Nectar Adaptive Cooling Cover: A proprietary material that's been "designed to draw heat from your body" and "circulate fresh air as you shift and turn" in your sleep. Nectar claim that their mattress "responds" to changes in temperature – in other words the warmer it gets, the more that the moisture evaporates. To put this into simple English: you won't get too hot or clammy overnight.
Nectar Smart Sleep Layer: This layer is made from a type of memory foam – a familiar component in mid range mattresses. But this fourth-generation foam is up to 30 times more breathable than rival materials, helping to regulate your body temperature as well as adjust to your sleeping position.
Pressure-relieving Layer: A secondary layer of memory foam that absorbs energy and works to keep any pressure you're feeling at a minimum. In other words, it helps to keep you sleeping in an optimal condition.
7-Zone Support Layer: The bottom (and biggest) layer, which offers a mixture of comfort and firm support that's aimed at the hips and shoulders. These are both vital areas of the body to target to ensure you wake feeling comfortable and well-rested.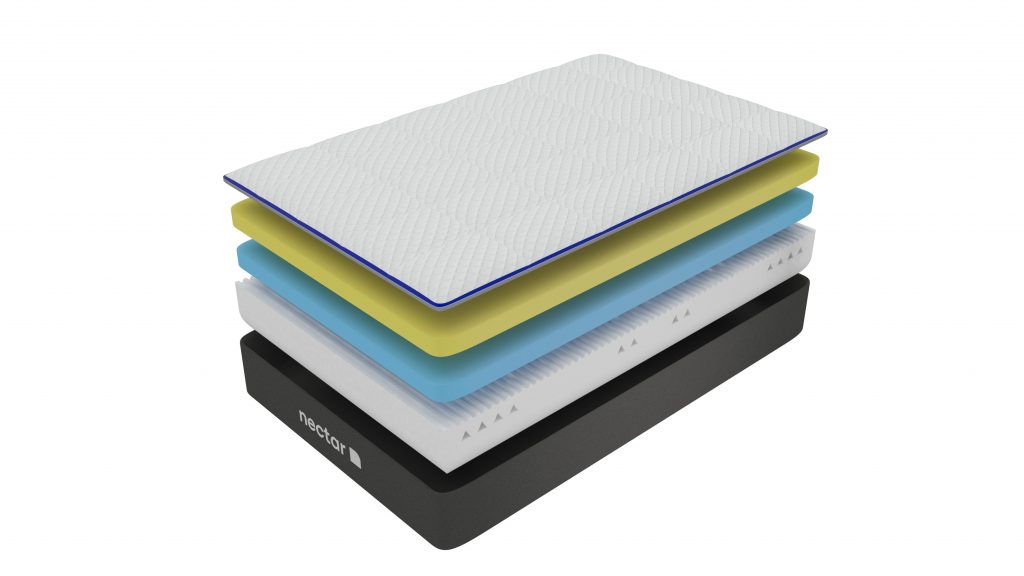 Nectar Sleep: Reviews of the mattress itself
It's important to note that most mattress companies ask their users to leave a review pretty quickly after purchase. Some of them before the mattress have even arrived! And often they will include incentives to encourage you to do that – for example, some companies offer a 'chance to win back your mattress' i.e. a refund if you leave a review, as mentioned in this Guardian article.
My point is that many reviews you might have read will be reviewing only a small part of the mattress – the delivery, the packaging, even the ease-of-use of the website.
But one of the big positive points of Nectar is them apparently being "very highly rated" or even one of the "best rated", according to websites like Slumbersearch here. But is this accurate?
To try to find and read reviews of the actual day to day usage of the mattress becomes a bit harder. But this is what I have attempted here, using the Trustpilot page reviews for Nectar.
How do I find long-term Nectar mattress reviews?
This is actually easier than you may think.
Simply load up each Trustpilot review page for each mattress seller, hit Ctrl + F (on desktop) and then search for specific keywords like "year" or "month". This will highlight any reviews from people who are longer-term users of the mattress, and give you a clearer idea of what to expect after 1,2 or even 5+ years of usage!
Here are some examples: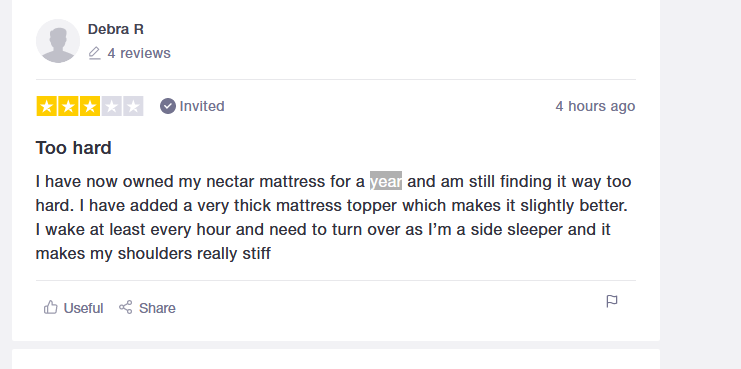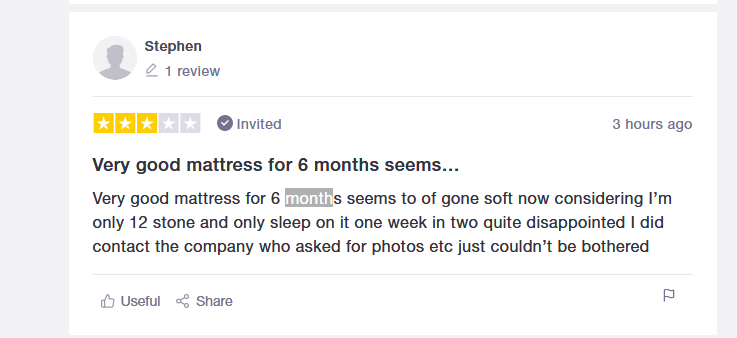 I have selected the first two reviews that have come up, using the above methodology. While they are reasonably critical of the longer-term use, these kinds of drawbacks are NOT unique to Nectar Sleep. Generally speaking, all memory foam mattresses will not stay firm for more than a few years, according to various experts.
How long do Nectar Mattresses last for?
The average replacement time for most people (i.e. how often they change their mattress) is about 9 years — and indeed this is getting less and less with every passing year.
So if you are looking for long-term usage, you may want to consider another type of mattress. For example, pocket-sprung mattresses tend to live a bit longer. Or you may want to consider (if your budget can stretch that far) a more 'Premium' or hand-made mattress.
Back to the Nectarsleep reviews…
Currently, at the time of writing, Nectar (as a company/all products…) are rated 4.3 / 5 on Trustpilot, which is good to very good. To compare this to other brands:
*Data comes from Trustpilot or equivalent, accurate as of 03/01/2021. If this is out-of-date please tell me. 
Therefore using the above data alone, it's clear that Nectar are one of the better mattresses, when using Trustpilot reviews as a barometer anyway.
Best Rated Mattresses UK (2023)
The top all-round mattress in the UK according to WhatMattress users in 2023 is Emma Hybrid Premium. It's surprisingly affordable, and outperforms all other hybrid mattresses in terms of comfort. It also doesn't sag as much as other rival hybrid mattresses, even after a couple of years of testing.
Nectar are actually owned by the same company as DreamCloud, called Resident. Avid readers of my website will know that DreamCloud are one of the best rated mattresses you can buy – they have won many awards, but they are fairly expensive. I like to think of Nectar as being a slightly cheaper, mass-market version of the DreamCloud mattresses.
The good thing about DreamCloud and Nectar is that they both offer a full year trial, this is one of the longest free trial periods for any mattress. That's right, a full 365-nights. More on that in the next section.
Nectar Mattress Review: Returns & Trial
If you're concerned about shorter term usage, for example if the mattress is not comfortable enough or perhaps is too firm, then you will be pleased to know that Nectar offer one of (if not THE) longest nights trial period today in the UK: a whole __year__ or 365 nights!
That is a considerably longer period than Simba (200 nights), who are the second-highest in the night-trial stakes. 🙂
Nectar claim that they will collect the mattress at any point you aren't satisfied in the first year. I have to reserve judgement on this, but going by other mattress brands that I've looked at, this doesn't always run smoothly.
The devil is in the details as always, and you may wish to review the Nectar dedicated returns page here to see if they meet your expectations.
Tell me about the Nectar warranty…
In addition to the trial, comes an "unlimited" warranty. Much like Kia Motors offer a 7 year warranty, Nectar also offer a very long one too.
For this next part of this Nectar mattress review, let's look at something more interest. Note that their Mattress Warranty does NOT cover the following:
Any Mattress or Mattress Cover which has been subject to misuse, neglect, accident or used in violation of instructions, including instructions to place the Mattress on proper bed frame.
A normal increase in softness of the foam pressure-relieving material which does not affect the pressure-relieving qualities of the Mattress.
Comfort preference.
Defects caused by physical abuse or damage to the structure and/or cover material, including but not limited to, burns, cuts, tears, liquid damage, or stains.
Mattresses or Mattress Covers sold "reconditioned", "used", "returned", "previously owned", or any other similar wording indicating that the Mattress or Mattress Cover is not "new" or of "first quality", or has previously been purchased or used by another consumer.
FAQs about Nectar Mattress
Here are the top questions and answers for Nectar mattresses in the UK.
Are Nectar mattresses made in China?
No. Nectar mattresses sold in the UK are made in Britain, according to their website.

Are Nectar Certi-PUR approved?
Yes! According to MattressCompare, they are. You can read more about Certi-PUR and why it's best to buy a Certi-PUR mattress here. Their packaging is also FSC-approved meaning it has previously been recycled where possible.
One last point on their 'green' credentials, Nectar are also working in partnership with ClimatePartner to offset their carbon footprint:
…This is achieved by working with leading green solutions organisation ClimatePartner, to calculate the carbon footprint from our manufacturing process, find strategies to reduce this, and offset the remainder. This leaves our final product, fully carbon neutral when delivered to your door.
Nectar Mattress pricing in the UK
Nectar mattress prices are low compared to competitors, without sacrificing comfort or quality. It's almost impossible to find a cheaper mattress with the same level of quality.
| Mattress size | Nectar cost |
| --- | --- |
| Single | £599 |
| Small Double | £699 |
| Double | £699 |
| King | £799 |
| Superking | £899 |
| California King | N/A |
These prices are accurate as of 03/04/2021 and do not include any Nectar discount codes or vouchers.
As you can see, Nectar aren't the cheapest, but they also aren't as pricey as more premium brands such as Brooke & Wilde.
But is this a fair comparison? Probably not… Where Nectar pricing really shines is in the bundles that they do.
Strangely, it is CHEAPER to buy a bundle (which includes the mattress), 2 pillows, and a sheet, than it is to buy the mattress alone!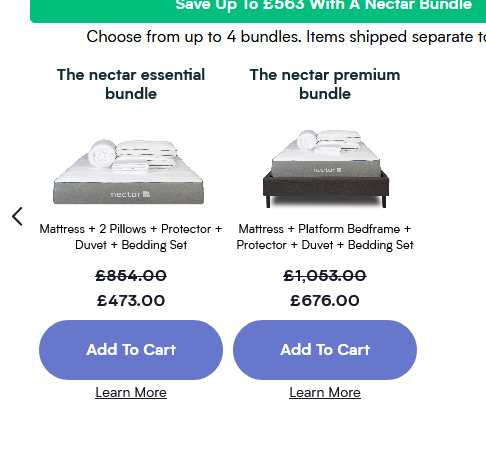 Buying this bundle in the above image means you're actually saving -£100, and you get the extras thrown in. If you aren't looking for a whole new bedding set then perhaps this won't appeal, but if you are, then this bundle does look like a super deal to me. And it isn't the only one either, the Nectar website has many bundles like this for all different mattress sizes.
Nectar are also now selling a wide range of furniture and bed frames which I have not reviewed here but intend to cover in a later post.
Conclusion: Nectar Sleep review, are they any good?
Are Nectar mattresses any good? In short, yes. They get consistently higher ratings than other companies like Emma and Eve. Speaking of Emma, read my comparison of Emma vs Nectar mattresses side-by-side here.
While they are not a British company, Nectar products sold here are made in the UK. If you're looking for a medium-firm, affordable memory foam mattress then it's really hard to fault Nectar. If you're not happy, you can always send it back: you get a full year to decide.
If you are planning to buy a Nectar mattress then make sure to use one of my mattress discount codes – you can often get anything up to 40% off. And if you wish to proect your investment then Nectar offer their very own mattress protector. Alternatively, you can try one of our top 5 recommended mattress protectors.
Top Mattress Brands: Side-by-Side Comparison