Here in the UK, the OTTY brand is well-known for producing mattresses that are both luxurious and reasonably priced. I've got my hands on OTTY's budget hybrid offering, the Aura, which comes in at an even more wallet-friendly price point than the original OTTY Essential mattress. But does the cheaper price mean inferior quality?
The OTTY Original and the new OTTY Aura are both hybrid mattresses – that just means that they both contain pocket springs as well as memory foam. You would be forgiven for thinking that the similarities between the two mattresses end there, but that's not the case; at first glance they're really similar to each other but then things change quickly.
So let's open the box and see what it's made of…
OTTY Aura: Quick facts
Pros:
Affordable price point
Side bolsters give greater edge-support
Hybrid design = memory foam and pocket springs for better comfort
Reduces motion transfer for couples
Convenient delivery in a box
Decent enough temperature regulation
10-year warranty
Cons:
Some may find it not quite firm enough
Heavier people and stomach-sleepers won't like it
100-night trial is a bit short
Limited sizing
Feature
Detail
🛌 Firmness:
Medium-firm (6/10)
🛏️ Composition:
Hybrid (pocket springs + memory foam)
💰 Price:
Starting from £349 (Single)
🔬 Features:

Side supports (thicker foam)
HD reflex foam
1000 individually encapsulated pocket springs
Removable, machine-washable cover
Good temperature regulation
100-night trial period and 10-year warranty
A quick note: A lot of other review websites haven't updated their OTTY Aura review, since the product was revitalised by OTTY a few months ago. Please be assured that this review here is of the latest OTTY Aura Hybrid model, for 2023, and not the old model (which was called OTTY Essential).
OTTY Aura Hybrid: Composition
OTTY have made the Aura using a fairly modest (for 2023!) five layers. Here's a rundown, including the cover:
Luxury thick knit cover that creates a soft sleeping surface and is machine washable at 40 degrees.
Blue Foam layer – The OTTY Aura is able to mould to your body and provide unparalleled comfort for a restful night's sleep.
Specially designed Reflex Foam that adds additional support on top of the pocket spring layer.
The Aura's pocket springs are larger (14cm) than many competing mattresses, providing a medium-firm rating and excellent support while minimising motion transfer.
The mattress includes side/bolser supports that create a wider sleeping area, allowing you to comfortably sleep near the edge of your bed.
The base layer of the Aura provides a solid foundation that ensures the mattress is durable and long-lasting.
OTTY's jointed air-flow support sides not only provide edge support but also permit airflow for a cool night's rest. The total height of all of the above is 23cm (230mm), which is 20mm thinner than the OTTY original mattress.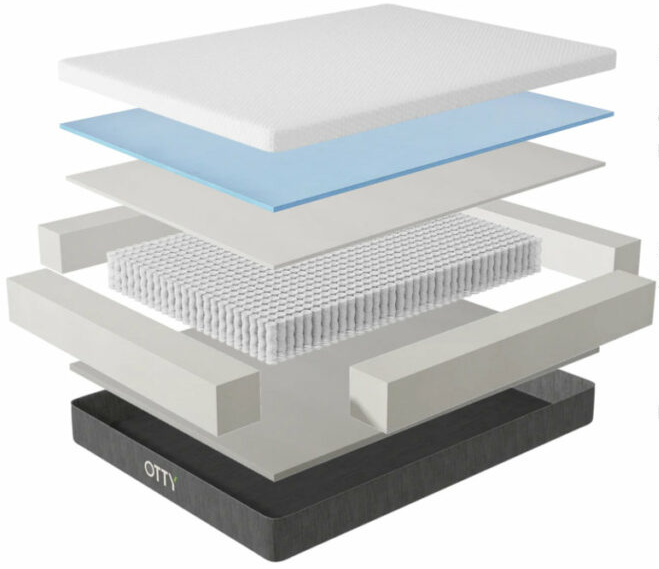 What's the cover like?
The cover of a mattress is more important than you may think. Manufacturers put a lot of time and effort into getting it right, and this is more than apparent with the Aura.
The cover on the Aura is made from 97% Polyester and 3% Spandex. This gives it a thick-knit feel while still being flexible, and makes it durable as well as comfortable to lie on. The design itself can only be described as stunning (for a mattress, at least) and it would appear to be aimed at younger people due to the edgy design. The upper portion of the cover is white, and the portion underneath is a dark grey colour and features OTTY logo.
Significantly, the cover can be removed and washed in a washing machine at 40°C. In my opinion any mattress at this price point should have a removeable, machine-washable cover so the fact that the Aura features one is nothing to write home about. However I like the fact that the cover can be washed at 40°C instead of the usual 30°C, as this is much more commensurate with the kind of soiling that a mattress will endure. It also means that washing the cover on the Aura is effortless – just chuck it in the machine with your other clothes.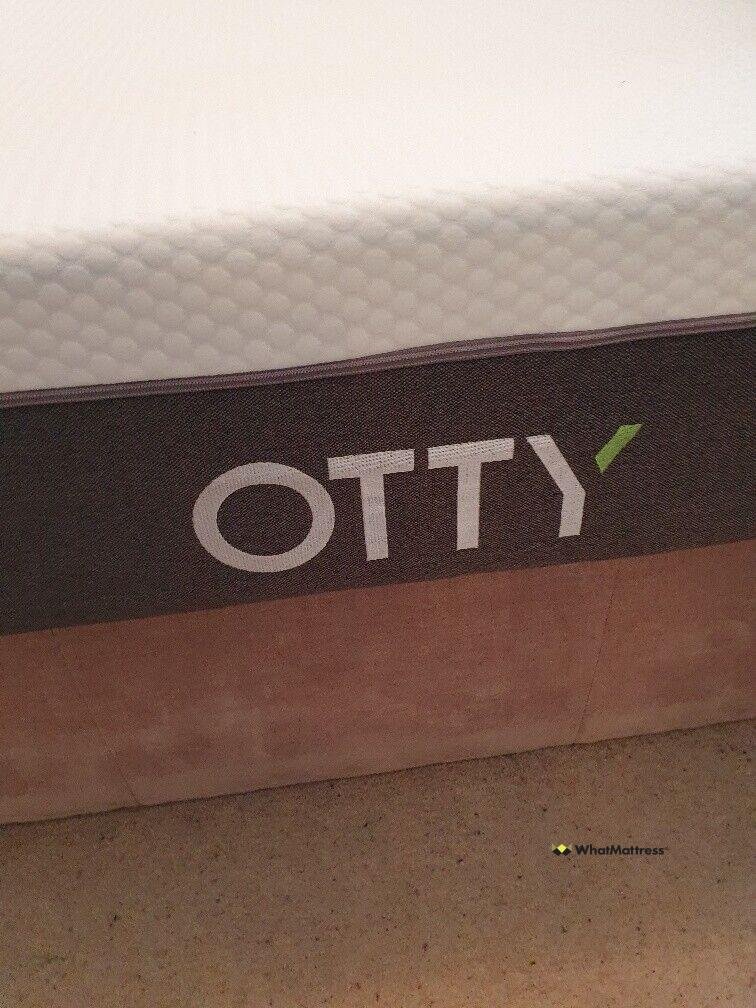 The fact that the cover's made predominantly from polytester not only makes it permeable but it also contributes greatly to the it's ability to maintain a comfortable temperature throughout the night. And it dries pretty quick after washing! When it comes to the cover on the Aura mattress, OTTY have nailed it.
Why You Can Trust WhatMattress
We're completely independent from any mattress company. We've spent countless hours curating and reviewing mattresses that anyone can buy in the UK, and have been doing so since 2018.
Mattresses tested:




82

Total hours testing:




602

Pillows tested:




24

Total hours testing:




183

Duvets tested:




35+

Funds spent on testing:




£7,500+
OTTY Aura: firmness review
The OTTY Aura Hybrid is a one-firmness-fits-all mattress available only in medium firmness. To be honest it's difficult to quantify the firmness of a mattress as there is no commonly recognised scale and it's quite a subjective thing that depends on a myriad of factors.
OTTY themselves give it a firmness rating of 6, where 1 is very soft and 10 is very firm. For what it's worth I agree with them. It's not at all soft but is by no means as firm as many other mattresses. Medium is probably the best word to describe the firmness, and I'd even go as far as saying that it is a tad softer than the OTTY original mattress. The fact that the original and the Aura are both hybrid mattresses consisting of a combination of memory foam and pocket springs gives them a comparable feel and behavior.
So how does it compare for different sleeping positions?
During test, when I slept on my back, the mattress immediately adjusted to my weight. The pressure reduction was just average, but the support for my back was excellent. Since it's difficult to receive adequate pressure relief with a mattress that's only 20cm deep, I wasn't surprised to find this to be the case. At this cost, though, reliable support is more important, and this mattress didn't disappoint there.
As you shift to the side sleeping position the springs respond swiftly, resulting in a steeper sink rate. I was actually pleasantly surprised by how well my mattress supported my back in this position. It was quite relaxing, and I felt like I was being held up. If you tend to sleep on your side then the OTTY Aura is a great mattress at this price point.
Word of warning for stomach sleepers
Switching over to my stomach I found that the mattress supported my stomach posture quite nicely. This was a great sleeping position for me because it aligned my hip and shoulders perfectly. Once again, I found the pressure reduction to be only adequate. So, if you frequently sleep on your stomach then there are more supportive mattresses out there. The Aura in my opinion is not quite firm enough.
Here at WhatMattress we take mattress research seriously - all our product tests are done as fairly and honestly as possible.
That's quite a bold claim, but we're proud of the attention to detail that you're hopefully seeing within our reviews. Our methodology sets us apart from many other review websites. I like to think this is because WhatMattress is only run by two people - Carrie and Anthony. Over the years we've hand-tested multiple mattresses, pillow and other bedding products - so that you don't have to!
Every single mattress is put through its paces using the following tests:
We make sure to live with the mattress for at least a week.
We always sleep on the mattress we're testing - every single night.
We will always be 100% honest when we weigh up the pros and the cons of each mattress.
And in most cases, we've bought the mattress ourselves and haven't been given a free one.
One of the most common gripes I have with mattresses that contain springs, is the sides. Many manufactures can't seem to prevent the sides of their mattresses from collapsing when you sit on the edge. It's not a huge problem because you don't sleep on the very edge, but it is something that annoys me. So the good news is that on the Aura the "support sides" (basically thicker bits of foam) do an excellent job of providing edge support, and the entire mattress feels equally comfortable as you get closer to the edge.
It does "give" a little on the very edge still, but not so much that it makes me feel unstable when getting in or out. Honestly, the fact that this mattress is only 23cm thick probably has a greater influence on that.
Ideal for:
Combination sleepers who switch between different positions during the night
Side sleepers who need good pressure relief for their shoulders and hips
Back sleepers who require proper support for their spine and lower back
People who sleep with a fidgety partner and need good motion isolation
Those who prefer a medium-firm feel
Not ideal for:
Stomach sleepers who need a firmer mattress to support their hips and prevent lower back pain
Those who prefer either a very soft or very firm mattress
People who have specific medical conditions i.e. sciatica
Frankly, a medium-firm mattress like this will not provide enough support for a heavier person's weight, especially in the hip and lower back areas. Inadequate support from the Aura Hybrid could cause unpleasant aches or even pain. When shopping for a mattress, heavier people really must prioritise finding one that is on the firmer and has a given high weight capacity. In this case, the OTTY doesn't – it seems to suggest a maximum weight per person of 15 stone but it hasn't been widely tested in this regard.
What kind of bed can I use?
The OTTY Aura Hybrid can go on the floor, an adjustable base, a divan, a slatted frame, or a slatted frame.
As long as there is no more than 7cm of space between the slats, the mattress will operate fine on a slatted base.
How much is the OTTY Aura?
OTTY made this mattress with thrifty sleepers in mind. Since the Aura Hybrid mattress is cheap without sacrificing quality, it's an excellent choice for those on a budget. They only offer four sizes but I'm crossing my fingers that this will change soon. See the breakdown of costs for this mattress in the table below.
Of course, before you buy, always check here at WhatMattress for any OTTY discount codes because from time to time we offer deals and discounts that will save you quite a lot of money.
| Size | Price (GBP) |
| --- | --- |
| Single | £299 |
| Small Double | No longer available |
| Double | £399 |
| King | £424.99 |
| Super King | £474.99 |
Although these prices are low end of the mattress price scale, the Aura still costs a few hundred pounds and they understand that not everyone can afford to drop that amount on a one-off purchase very easily. Because of this, OTTY are one of the great mattress retailers who offer 0% finance on their products. This means you get to spread the cost of the purchase without having to pay any extra fees for the privilege.
OTTY Aura delivery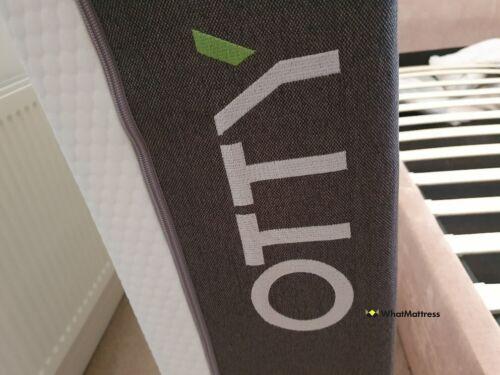 As is the current trend with mattresses nowadays, the OTTY Aura is tightly rolled up and is shipped in a box. OTTY dispatched my mattress the day after ordering and they delivered it for free. In my opinion you should expect this on all but the cheapest of mattresses. If you need it, they offer a Saturday delivery service for a very reasonable £20 and you can select it during the checkout process.
One particularly helpful service that OTTY does is mattress removal. For anyone who has disposed of an old mattress before it's usually a case of bungling it into the car and then taking it to the nearest recycling centre. Alternatively some councils will collect and recycle your old mattress for you at a cost.
OTTY will take all the hassle out of all this and recycle your old mattress for you… for £40. This is slightly more than other retailers charge so you will have to decide if parting with £40 is worth not having to deal with the disposal yourself.
It's all about the extras
You can also arrange to have a mattress brought directly to your room at no extra cost. The delivery men will set it up and then throw away the packaging. There is a modest charge of £10 for this service which although isn't much money in the grand scheme of things, it would be better if OTTY included this service for free like other manufacturers such as Brook + Wilde do.
I opted for a Saturday delivery directly to my room of choice, including the removal of all packaging. Even though it set me back an extra £30, I have to admit that it was money well spent: the two delivery men were prompt, efficient and very polite. Overall I think they did a terrific job accommodating my request for a more personal customer experience for a reasonable extra charge.
Trial period and guarantee
OTTY are so confident in the quality of the Aura mattress that it, just like the OTTY Hybrid Original and all others in the OTTY range, comes with a 10 year guarantee.
And you can determine whether or not you like the mattress after sleeping on it for more than three months during the 100 night trial period. If not completely satisfied after you've tried the Aura then you can request a full refund. Simply get in touch with OTTY here, and they will take care of the rest. And yes, you can even return your mattress without the original packaging. In terms of the service and as a company I have no major complaints because I think they do a fantastic job here.
By the way, you may have noticed that 100 nights isn't that "long" nowadays. But be aware that a longer sleep trial may not necessarily mean better customer service or a higher quality mattress. A company offering a shorter sleep trial may still provide excellent customer service and a high-quality product. It's ultimately up to you, to decide what length of sleep trial yuo feel comfortable with, and  the length of the trial should not be the only factor considered when purchasing a mattress.
| Brand | Sleep Trial Period | Warranty |
| --- | --- | --- |
| OTTY | 100 nights | 10 years |
| Nectar | 365 nights | Forever |
| Simba | 200 nights | 10 years |
| Hypnos | None! | 10 years |
| Emma | 200 nights | 10 years |
You may also like...
What about discounts?
OTTY made this bed with thrifty sleepers in mind. Since the Aura Hybrid mattress is cheap without sacrificing quality, it's an excellent choice for those on a budget. Sadly, they only offer four sizes but I'm crossing my fingers that this will change soon.
Of course, before you buy, always check here at WhatMattres for any OTTY voucher codes because from time to time we offer deals and discounts that will save you quite a lot of money.
Best Rated Mattresses UK (2023)
The top all-round mattress in the UK according to WhatMattress users in 2023 is Simba Hybrid Luxe. It's surprisingly affordable, and out-performs all other hybrid mattresses in terms of comfort. It also doesn't sag as much as other rival hybrid mattresses, even after a couple of years of testing.
What about the OTTY Original Hybrid?
It wouldn't be right to do this review, without mentioning the OTTY Original Hybrid. With up to 2000 tall encapsulated pocket springs providing support and spine alignment, the OTTY Original Hybrid has been praised by thousands of customers for improving the quality of their sleep.
Here are some key differences between the OTTY Aura Hybrid and the OTTY Original Hybrid:
| Comparison | OTTY Aura Hybrid | OTTY Original Hybrid |
| --- | --- | --- |
| Firmness rating | Medium-firm (6/10) | Slightly firmer (7/10) |
| Feel | Softer due to cover and thinner layers | More traditional feel with thick knitted cover |
| Number of layers | Five, including layer of reflex foam | Four, does not include reflex foam layer |
| Sizes available | Four UK sizes | Available in numerous sizes |
| Price | Cheaper, the most affordable OTTY mattress | £120-£200 more for equivalent size |
The OTTY Aura Hybrid is rated as a medium-firm mattress (6/10), while the OTTY Original Hybrid is slightly firmer with a rating of 7/10.
The OTTY Aura Hybrid has a slightly softer feel due to its cover and thinner layers, while the OTTY Original Hybrid has a more traditional feel with its thick knitted cover.
The OTTY Aura Hybrid has five layers, including a layer of reflex foam, while the OTTY Original Hybrid has four layers and does not include this layer.
The OTTY Aura Hybrid is available only in four UK sizes, while the OTTY Original Hybrid is available in literally loads of them.
And most importantly, the OTTY Original Hybrid costs about £120 – £200 more, for the equivalent size. Remember that the Aura is cheaper, in fact it's the cheapest OTTY mattress.
Read my full OTTY Original Hybrid review here for more information.
Other mattresses to consider
Nectary Memory Foam – While the Nectar Memory Foam is an all-foam mattress, the OTTY Aura Hybrid combines memory foam and pocket springs for superior comfort and support. In terms of temperature regulation and edge support, the OTTY Aura is superior to the Nectar Memory Foam, but the latter comes with a longer trial time and warranty.
Emma Original – Both mattresses offer good temperature regulation and motion isolation, but the Aura Hybrid has slightly better edge support thanks to its side supports. The Aura Hybrid comes with a 100-night sleep trial and a 10-year warranty, while the Emma Original comes with a 200-night sleep trial and a 10-year warranty.

Simba Hybrid – Both the OTTY Aura Hybrid and the Simba Hybrid Mattress combine memory foam and pocket springs. But the Aura has taller pocket springs and slightly thinner foam layers than the Simba, resulting in a softer feel. The Simba has a higher firmness rating and more foam layers, which may be better suited for heavier folk or those with back issues. The Aura is  more affordable than the Simba, though both can be reduced in price by using a coupon.
Final verdict
So, now that I've had the Aura for a while and spent the time creating an in-depth review for it, the original question remains – does the cheaper RRP mean inferior quality? In my opinion, the OTTY Aura is perfect for anyone who wants:
A hybrid mattress with superior comfort and service.
A reasonably priced, medium-firm mattress that performs well in most situations.
A quality mattress from a reliable manufacturer.
The Aura Hybrid can be a good choice if you want all the above and don't want to break the bank doing trying to get it. If you're on a budget then it's a safe pair of hands. I wouldn't say it's the best mattress I've ever slept on. However for the price it's hard to beat and for that reason I'd say it's one of the best value for money mattresses out there.
And if using a discount code you should just about be able to get the price for the single to under £200 – which is why I've included it in my article on the best budget mattresses under £200.
Read this next...
Was this article helpful?
Is the OTTY Aura Hybrid a cooling mattress?
Yes, the OTTY Aura Hybrid is designed with temperature regulation in mind, using breathable materials and airflow technology to prevent overheating during the night so it can be considered a cooling mattress, though there are much better ones around.
Is the OTTY Aura Hybrid suitable for side sleepers?
Yes, the OTTY Aura Hybrid is suitable for side sleepers. Its pocket springs and comfort foam provide optimal support and comfort for many sleeping positions, according to reviews.
Is the OTTY Aura made in the UK?
Sadly not. Most OTTY mattresses are made in China or the Far-East.
How we reviewed this article:
Edit History:
Our experts continually monitor the mattress & sleep tech space, and we update our reviews & articles when new information becomes available.
24th April 2023


Current Article - By Carrie Taylor

7th July 2023


Checked & Reviewed - By Jean Marshall

21st April 2023


Copy Edited - By Anthony Maxwell

21st August 2023


Reviewed - By Anthony Maxwell
WhatMattress has strict sourcing guidelines and we try to rely on peer-reviewed studies, academic research institutions, and medical associations where possible.