If you sleep on your front (stomach) and often wake up with a sore neck, shoulder or back then it could be down to your pillow.
Your pillow can also be to blame if you regularly struggle to get comfortable when in bed. When it comes to getting a good night's sleep, it is important to ensure that you're as comfortable as possible. However, that is often easier said than done. There is a delicate balance between softness and support when it comes to pillows as well as mattresses.
Is there a pillow specifically for front sleepers?
Finding the right balance is not easy, especially when there are so many other factors to consider. The amount of support required will vary depending on whether you are a front sleeper, side or stomach sleeper. This is in addition to your personal preference of course.
Note that this information is different for mattresses, too. For example if you sleep on your back then you will need to find a suitable mattress for back sleepers.
When it comes to pillows, something that many people overlook is the fact that they do not last forever. Even the most expensive, premium pillows will only provide the correct amount of support for a few years at most. When a pillow gets old not only will it fail to provide you with the proper support that you're used to, but it will also be unhygienic.
If you are a stomach sleeper and you regularly wake up with aches, pains or even a blocked nose then it may well be time to replace your pillow. If your pillow is discoloured, then it is also time to get rid. Stomach sleepers, like back sleepers will tend to benefit from a single, thin pillow as opposed to two separate pillows. Here are some of the best recommended pillows for those who prefer to sleep on their front.
The Best 4 Pillows for Front Sleepers
Simba Hybrid pillow – £99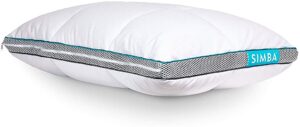 The Simba mattress comes highly rated, and so does the Simba Hybrid pillow. If you tend to get hot when you sleep, then it is well worth looking at the Simba pillow. Not only does it offer exceptional support, but it is also very capable of cooling you down as you sleep. The support comes from small foam cubes – known as nanocubes – that make up the middle layer of the pillow. These can be added or removed as required, giving you a completely customised pillow. So, for those who like to sleep on their front, it's easy to remove nanocubes in order to get a thinner, but more supportive pillow.
The combination of fabric used on the cover, a layer of mineral-enriched fibres on one of the layers, and a ventilation strip across the middle of the pillow provide lasting coolness. Not only can excess heat be dissipated as required, but it can also be stored and released during colder nights. This ensures optimal comfort for the pillow user at all times. We have tried and tested the Simba Hybrid pillow and we think it is one of the best pillows that money can buy.
Check for Simba discount codes first!
John Lewis and Partners standard pillow – £10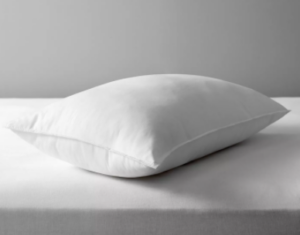 We all know that John Lewis and Partners are renowned for their quality. Amazingly, this often applies to their budget products as well as their premium ones. You don't need to spend a fortune, and the price alone is the reason for this being chosen as my number 2.
The synthetic soft touch washable standard pillow is probably the best budget option available for stomach sleepers. It is available in a soft/medium variant which is ideal for those who like to sleep on their front. As well as providing the optimal amount of support for the neck while maintaining correct spinal alignment, this pillow can also be washed at 40 degrees in the washing machine.
The pillow is filled with polyester mini ball clusters, which does make it quite thick when compared to other pillows. However, this also means that it is good at maintaining its shape. The fact that it can be washed means that it is more hygienic than some others out there. The best part about this pillow is the price. For just £10 it is very difficult to find a pillow that offers better value for money for stomach sleepers. It even comes with a 2 year guarantee.
Eve memory foam Pillow – £59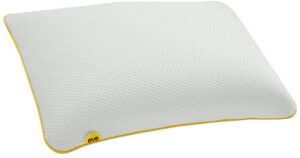 Many people have heard of the Eve mattress, but not so many know Eve also make pillows. The Eve memory foam pillow is a highly rated pillow. It is especially good for front sleepers owing to the fact that it cradles the head and neck well without being to firm. Like the Simba Hybrid pillow the Eve memory foam pillow has cooling technology so is handy for those who tend to get hot while they sleep. Like the Simba option, it is also hypoallergenic if that is an issue for you.
The thing that sets the Eve memory foam pillow apart from similar pillows is the fact that they offer a 14-night trial. So, while the £59 RRP is a fair amount of money for a pillow (don't forget the voucher code), it's reassuring to know that you can return it if it's not quite what you expected. As well as mattresses and pillows, Eve also offer beds and linen so you can kit your whole bedroom out if needed.
Guide: Choosing the right pillow for Front Sleepers
Sleeping on your stomach comes with a whole host of problems if you don't get your pillow setup right. Front sleepers need support for their spinal alignment just like everyone else. However, they are also faced with the challenge of finding a pillow that can support their head and neck correctly, without being too high or firm.
The pillows above are probably the best available for stomach sleepers. And remember that you don't necessarily need a premium pillow just because you sleep on your front. The John Lewis and Partners pillow is a great example of how a budget pillow can also provide you with all that you need for a good night's sleep.