Choosing the best mattress today is not easy.
There are a wide variety of different types of mattress, as well as different degrees of firmness. When it comes to buying a mattress, it is all about getting the right level of support for your body. Everyone is different, so everyone will have different requirements. The type of mattress you buy will largely depend on two things though:
Your body weight and size
Your sleeping position
Body weight and size are equally as important when it comes to choosing a comfortable mattress. A person who is of a large or heavy build will need a firmer mattress. This is because they would be more likely to sink into a softer one.
Many people find that sleeping on their front (i.e. their stomach) is the most comfortable sleeping position. Most of these people prefer a mattress that is firmer than those who sleep on their side (foetal position) of their body. Front sleepers often find that softer mattresses cause them to sink too much, causing discomfort around the spine. This can result in interrupted sleep as well as backache.
So it goes without saying that if you are a person of a larger build and you prefer to sleep on your front, then a firm or very firm mattress will probably be more comfortable. It's important to get this right as if you're completely comfortable the quality of your sleep will drastically improve.
The best mattresses for front sleepers 2021
If you sleep on your front it's just a case of finding a firm mattress and buying it, right? Wrong.
Unfortunately, it is more complicated than that: there is no universal standard when it comes to measuring the firmness of a mattress. This means that a mattress graded as 'firm' by one manufacturer could vary considerably in firmness compared to that of another manufacturer. It is much the same as different clothing companies having different scope for their sizes.
So how do you pick a mattress that has the right level of firmness? The best way to go about choosing the right firm mattress is to visit a shop and try the different mattresses that they have to offer, but obviously not everybody wants to do that. Alternatively, you can buy a mattress that offers a comfort guarantee, which can easily be returned if not quite right for you.  Here we have listed the five best picks for those of you who are more comfortable with a firm mattress.
1. Silentnight Sofia 1200 Pocket Spring Mattress
| | |
| --- | --- |
| Type | Pocket sprung |
| Firmness | Medium/firm |
| Price | £379 |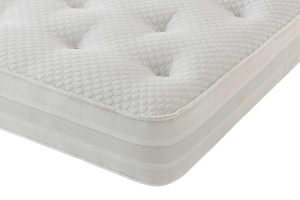 Silentnight is a very reputable brand for bed products in the UK. The Sofia 1200 Pocket Spring mattress is one of the best, and is priced in the middle range and is great for front or stomach sleepers who are of average weight. It is graded by Silentnight as a medium/firm mattress but don't forget that there is no universal standard for measuring the firmness of a mattress.
The Sofia 1200 is a more traditional type of mattress that most people choose, as it features pocket springs. Pocket springs are the more modern type of spring technology used in mattresses and should not be confused with the old-fashioned coil spring mattresses which typically offered much less support.
When it comes to buying a new mattress of any firmness, you can't really go wrong with Silentnight. They have a wide range of different products available and are probably one of the best known makes in the UK right now. The Sofia 1200 is a prime example of their innovation and is rated highly by people who have bought it. It has also won various awards from various expert testers.
One of the great things about the Silentnight Sofia 1200 is the fact that it can be flipped over, which will greatly increase its lifespan. Typically, a pocket spring mattress will come with a warranty lasting anywhere between 1 and 10 years, and this one sits bang in the middle with its 5-year warranty. Unfortunately, the Silentnight Sofia 1200 doesn't come with a free trial, so if you can't try one out in the shop it's a good idea to read through a few reviews online.
Spring count
Mattress and sleeping experts believe that a good king size mattress should have 1,000 or more springs. The Sofia 1200 gets its name from the fact that it has 1,200 springs, so 20% more than the experts consider a good amount. If you are of an average weight and build, then 1,200 should be fine – but the number of springs can go up to 2,000 if you are larger and need that but more support. Many cheaper mattresses will boast having many thousands of springs, but don't be fooled by this. One trick that the cheaper manufacturers perform is to layer smaller springs on top of each other to increase the spring count.
2. Sleepeezee Hybrid 2000 Mattress
| | |
| --- | --- |
| Type | Hybrid |
| Firmness | Firm |
| Price (UK) | £549 |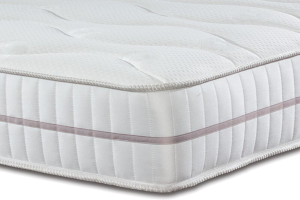 The Sleepeezee Hybrid 2000 mattress is a little bit of a pricier option, but Sleepeezee mattresses offer value for money for many reasons. Sleepeezee have a Royal Warrant because the royal family use them. Any mattress that's good enough for the queen is probably good enough for you.  The Hybrid 2000 is a firmer mattress than the Silentnight Sofia 1200, so is more suitable for those who are slightly above average weight. Sleepeezee are also one of the highest-rated pocket spring mattress brands in the UK, probably because they offer a home trial period for their products. Unfortunately, you cannot return the mattress for a full refund if it's no good, but instead Sleepeezee will swap it for another one of their products if you're not completely happy with the Hybrid 2000 mattress.
The Sleepeezee Hybrid 2000 mattress gets its name from the fact that it is what is known as a hybrid mattress. In this case, a hybrid mattress is one that combined pocket springs with the added comfort of a top layer of gel foam. The fact that this mattress has a gel foam layer on top means that it cannot be turned over like the SilentNight Sofia 1200, as the gel layer is only on one side. In order to help extend it's life it's a good idea to rotate it periodically. Like the SilentNight Sofia, the Sleepeezee Hybrid 2000 also comes with a 5-year guarantee.
3. Nectar Sleep Memory Foam Mattress
| | |
| --- | --- |
| Type | Memory Foam |
| Firmness | Medium/firm |
| Price | 699 |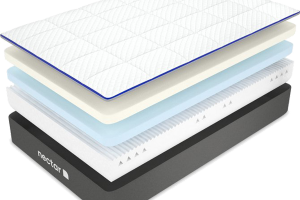 If you sleep on your front and are of an average size or build, then this offering from Nectar Sleep may also be worth considering.
Nectar Sleep are one of the ever-increasing number of 'mattress-in-a-box' companies competing for your business. This means that they are very competitively priced, and you will often find promotions on their website.
For those who haven't heard of a 'bed-in-a-box' company before, they are the latest type of mattress company. If you order a mattress from them it will arrive compressed and boxed so save space and therefore transport costs. Typically, these companies can't be found in the shops, so you can't try them before buying. However, in most cases they can be returned if you are not happy with them.
The great thing about the Nectar Sleep memory foam mattress is the fact that they offer a 1-year (365 days) trial period, as well as a lifetime warranty. It is well worth checking the small0print with regards to these, but both the trial period and warranty are a lot longer than many other companies.
The Nectar Sleep memory foam mattress contains memory foam as well as other types of foam. Foam is thought to be a lot more consistent with regards to support than pocket springs, which is why it's so popular at the moment. The downside is that foam mattresses are not as good as dissipating heat as gel or spring mattresses, so the mattresses will feel warmer. In our opinion though it's well worth trying the Nectar Sleep memory foam mattress, as you can always return it for a refund if you don't like it.
4. Reylon Ultimate Ortho Support 1500 Pocket Sprung Mattress
| | |
| --- | --- |
| Type | Pocket sprung |
| Firmness | Very firm |
| Price | £615 |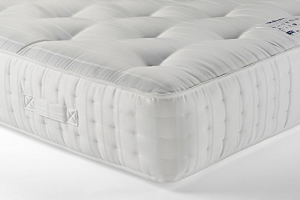 The physio industry have always said that if you want to protect your back then you should sleep on a very firm mattress. Such mattresses are often described as 'orthopedic', due to the fact that they are thought to offer the correct amount of support for your back. According to the Sleep Council, this is nonsense as it's more about the support that a mattress can offer you than how firm it is. According to them, an ideal mattress is one that is firm enough to support your spine in the correct alignment while at the same time conforming to the contours of your body.
If you're a person of a heavier build, and like to sleep on your front or stomach, then you will probably find that the Reylon Ultimate Ortho Support 1500 pocket sprung mattress is the best choice for you. It has 1500 pocket springs, so will offer you more support than mattresses with a lower spring count, and at 30cm deep it's a lot deeper than most other mattresses. It is also very heavy, with the super king version weighing 75kg. Despite this, this mattress can still be flipped to increase longevity (although help from another person is highly recommended).
Reylon are not quite as well known as the larger mattress brands, but the Ultimate Ortho Support 1500 pocket sprung mattress has a plethora of good reviews online, so is well worth a look if you're heavier than the average person and like to sleep on your front.
5. Ergoflex 5G Memory Foam Mattress
| | |
| --- | --- |
| Type | Memory Foam |
| Firmness | Medium/firm |
| Price | £749 |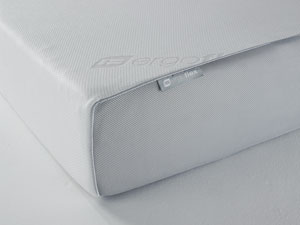 Despite the name, the Ergoflex 5G has no wireless internet capability….! 🙂
It is however a memory foam mattress that gets many outstanding customer reviews online. Ergoflex only make one mattress, so it must be a great product if that's all they sell. The Ergoflex 5G memory foam mattress is described as medium or firm, and is another one that's good for front sleepers who weigh in at average.
In terms of trial period, it is not quite as long as that of the Nectar Sleep mattress (although not many other mattresses can compete with that). At 30 days it is actually a pretty short trial period, however 30 nights is probably enough to decide whether or not a mattress is right for you. It does come with a 10-year guarantee though, which is one of the longest guarantees you will find on a mattress (ignoring the lifetime guarantee on a Nectar Sleep mattress of course).
If you like memory foam, then you'll love the support that the Ergoflex 5G has to offer. It's one of those mattresses that you can sink into. You don't even have to worry as much about feeling hot when in bed The Ergoflex 5G features  an airflow layer in it's core in order to dissipate some of the heat to give you a cool night's sleep.
Foam mattresses typically feature several different layers. An indication of the quality of a mattress is the thickness of the memory foam layer. A cheaper memory foam mattress will only have about 20mm of memory foam. Whereas the Ergoflex 5G has a much more generous layer of 90mm.
FAQs
What type of mattress do I need for front sleeping?
If you are a front-sleeper then a firm mattress is best, otherwise you will sink down too far into it if it's too soft.
How much is the cheapest front sleeper mattress?
Currently, the cheapest double is £399 and this is from OTTY mattress company.