Mattresses are big business here in the UK, so it's not surprising that there are many retailers to choose from. Retailers range from the top-tier department stores who only sell their own recommended brands, to massive online retail giants who can offer large ranges and unbeatable prices. Here are the top 5 mattress retailers that we recommend you check out prior to ordering from anywhere else.
Amazon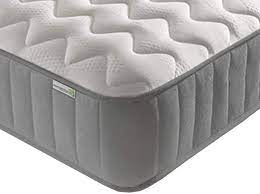 Amazon sells virtually anything you can think of, and mattress are no exception. There are over 500 different products shown when you search for the word 'mattress'. Amazon features the best sellers from all of the most popular mattress retailers, as well as mattresses from lesser known retailers.
Being Amazon, they are always striving to keep costs down. As a result, the main mattresses you'll find on the Amazon UK website are ones that are easy and cheap to ship. Examples include memory foam mattresses and hybrid mattresses, as these can be rolled up or shrink packed to make logistics easier.
The mattresses you'll find on Amazon are also on the cheaper end of the scale. Typically they cost less than £300 for a double (4ft 6 inch) mattress. Where possible it's a good idea to avoid the cheapest mattresses if you're looking for a mattress for regular use. Amazon also offer a number of options from the mid-range mattress brands that you're more likely to have heard of, such as Silentnight. And if you're looking for a bed frame to put the mattress on, you can't go far wrong at Amazon because they have thousands of products to choose from.
eBay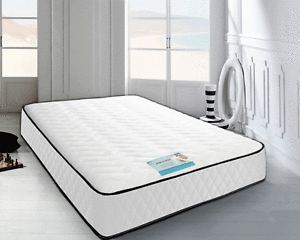 Obviously, being a user-based action website, there are always hundreds of used mattresses available to buy on eBay. Buying a used mattress isn't for everyone, but it could save you a fortune compared to the RRP of a brand new mattress. Generally speaking we'd advise against purchasing a used mattress for anything other than a spare bedroom where it won't be used very often.
Fortunately, there is still a massive selection of new mattresses to choose from on eBay. At the time of writing they had almost 20,000 results for new mattresses. The great thing about eBay is that it's easy to filter the results so you can only see the specific type of mattresses that you are looking for. This saves a lot of time as you only have to click a few buttons and you know that all of the results will be suitable for you. The filter option also allows you to order by price, and location.
eBay allows users to review sellers, so you can always give these a check to make sure that what they're advertising isn't too good to be true. Another bonus is the fact that if you register your Nectar card to your eBay profile, you can earn Nectar points on everything you spend. Nectar being the shopping award program, and in no way affiliated with the very popular memory foam mattress brand.
Dreams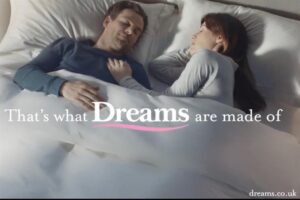 Dreams are one of the best-known bed retailers in the UK. They sell a wide range of bedroom furniture and mattresses, and have been doing so for almost 40 years. Like with Amazon and eBay, you can buy online with Dreams if you wish. However, one of the major advantages of a retailer like Dreams over many other larger retailers is the fact that they have show rooms nationwide. This means that you have the opportunity to try a mattress before you buy. When you buy from a physical mattress retailer you can actually go and lie on the mattress to see if it is comfortable and supportive enough for you.
When you buy a mattress online without trying it, you're pretty much using a trial and error process until you get the mattress that's right for you. There's nothing wrong with this, but trying out a mattress in store will not only save you time in the long run, but can also potentially prevent you from getting your fingers burned with the guarantees that many online-based mattress manufacturers provide.
Dreams is a UK-founded retailer as well, so if you like to support UK companies then that's another reason to shop at Dreams as opposed to one of the retail giants.
Dreams sell hundreds of different mattresses from all of the best-known manufacturers. The fact that they shift so many mattresses every week means that they quite often have sales and clearance promotions, which means you could bag a bargain on your next mattress.
John Lewis and Partners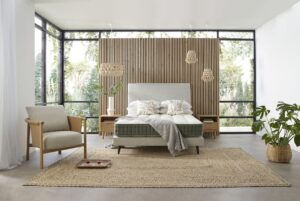 If you're looking for quality, then John Lewis and Partners is hard to beat. On the John Lewis and Partners website there are over 500 different mattresses to choose from. John Lewis and Partners sell the most popular products from the more well-known mattress manufacturers such as Emma and Simba, while at the same time offering more premium choices from makes such as Sealy and Hypnos.
John Lewis and Partners also have their own brand of mattresses. These are actually made by a company called Harrison Spinks. Harrison Spinks are renowned for the quality of materials and manufacturing processes that they use to make their products.
Compared to the retail giants, the mattresses that you find at John Lewis and Partners will cost significantly more. However for the price you are getting a much better quality product that has been specifically chosen for its longevity. Most mattresses on the John Lewis and Partners website come with a seven year guarantee. This is in addition to the fact that John Lewis and Partners are never knowingly undersold. This means that you can get the difference refunded to you should you buy something from them and then find it cheaper elsewhere within a certain period of time.
Bensons for Beds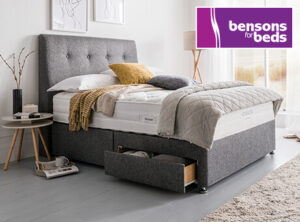 Remember Bensons for Beds? They are still going strong and have been around for over 70 years. Similar to Dreams, you can buy any products from the Bensons for Beds website. However, we recommend taking advantage of the fact that they have almost 300 showrooms across the country. That way you can try a mattress before you commit to buying it. So you know that you find it comfortable and supportive and that it will be the right mattress for you.
Bensons for Beds sell a wide range of items besides mattresses, including beds, headboards, bedding and other bedroom furniture. They are one of the longest established bed and mattress retailers in the UK. So they are also able to offer a large number of ways to finance your purchase from them.
If you spend over £300 on the Bensons for Beds website then you can enjoy 0% interest free credit. You can also pay over three months at no extra cost by using Klarna. This is in addition to getting your order delivered for free as long as you spend at least £100.
Because Bensons for Beds have been around for so long, they come recommended. There are hundreds of thousands of reviews for Bensons for Beds out there. This means that you can shop with complete peace of mind. You know that you will get the service and products that you have paid for.
Frequently Asked Questions
Where is the best place to buy a mattress?
You can buy mattresses online or from bed retail stores in the UK. Buying online will usually be cheaper, but unless you know exactly what you want you may struggle to find the right mattress for your needs.
Can you order a mattress online?
Yes, you can. It's now easier than ever to buy a mattress online. As well as traditional mattress retailers such as Dreams and Bensons for Beds selling online, you can also buy from retail giants such as Amazon and eBay.
What happens if I buy a mattress online and it's no good?
The majority of online-based mattress retailers will offer a guarantee whereby you can return your mattress if it isn't quite right for you. Be sure to check the terms and conditions of the retailer you're purchasing with.