If you have recently been in the market for a new mattress, then you will no doubt have heard of Eve Sleep. The same can be said if you've been looking to buy a new pillow. Like the majority of pillows from premium manufacturers, the EVE pillow comes highly recommended. In fact, the Eve pillow has been known to put a stop to neck pain and even reduce snoring.
The EVE pillow is one of many to hit the market over the last few years that is made of memory foam. However, it seems to be one of the only memory foam pillows on the market that claims to suit absolutely everyone – regardless of whether they suffer from common sleep problems or ailments. Not only that, but it's one of the only memory foam pillows on the market that offer a 30-day trial period.
Eve Sleep Memory Foam Pillow – Cover review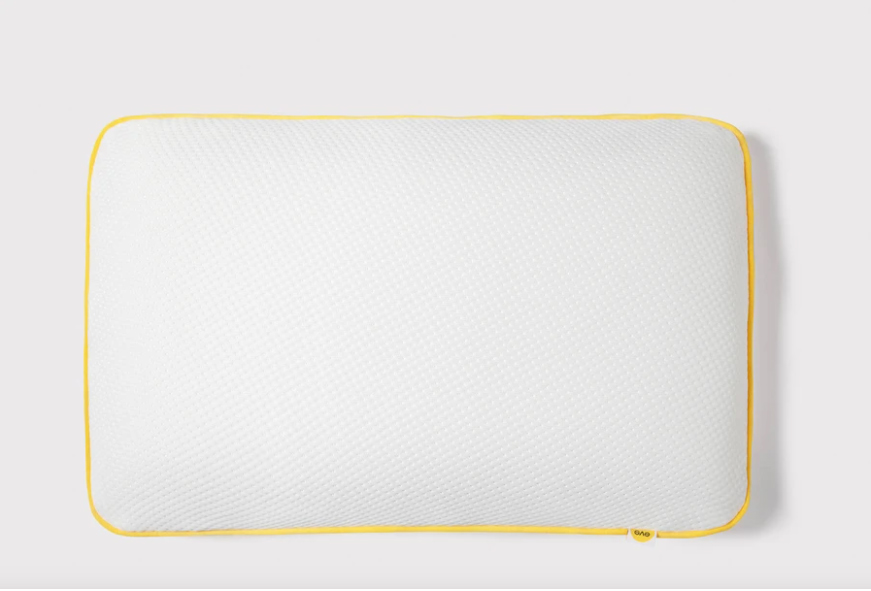 Eve  have kept things nice and simple when it comes to designing the cover for their memory foam pillow. Made from 100% polyester, the cover is strong enough to stand the test of time. Not only that but it is also breathable.
Polyester is a great material for a pillow cover because it is also soft. And the EVE pillow is quite aesthetically pleasing as well with a crisp and modern design.
Another great thing about the cover on the EVE pillow is the fact that it is easily removable. This means that it can be washed at a low temperature. It's just a case of unzipping it and placing it in the washing machine.
One of the most common complaints with the EVE mattress is the fact that it is known to have a bit of an odour when it is new. The new mattress smell is often a problem when memory foam is involved, and the same applies to pillows. To prevent the new pillow smell from ruining your experience, it's a good idea to give the pillow a week before using it.
EVE Pillow Construction
Like the majority of pillows made my mattress companies, the main composition of the EVE pillow is memory foam. The viscoelastic memory foam used in the EVE pillow is great because it not only is is supportive buy it's also pressure-relieving.
One of the main issues with memory foam, is that it can trap excess heat, leading to an uncomfortable sleep. This is particularly the case for people who tend to get hot when they sleep anyway. EVE has found a way around that problem. During the manufacturing process of the pillow, tiny holes are precisely drilled into the core of the viscoelastic memory foam. This allows air to circulate much more freely, so that the hot air is removed from the pillow. The result is a much cooler pillow – even on the hottest of nights.
Is it Hypo-allergenic?
Yes.
Another great thing about the EVE pillow is the fact that it is treated with an antimicrobial shielding product known as 'Ultrafresh'. This means that it is now easier than ever to keep your memory foam pillow clean, hygienic, and free of germs.
Excellent news for anyone who is prone to suffering from allergies.  This Ultrafresh coating also makes the EVE pillows one of the only hypoallergenic memory foam pillows out there, alongside the Simba Hybrid pillow.
So in terms of construction, the EVE pillow is actually very basic when you compare it to something like the Nectar pillow. As a result, it's not fully customisable as you cannot add or remove pieces of foam. However it is still pretty versatile, as there are many thousand of good reviews online. The fact that it comes with a free 30-night trial period is also testament to it's quality.
Why You Can Trust WhatMattress
We're completely independent from any mattress company. We've spent countless hours curating and reviewing mattresses that anyone can buy in the UK, and have been doing so since 2018.
Mattresses tested:




82

Total hours testing:




602

Pillows tested:




24

Total hours testing:




183

Duvets tested:




35+

Funds spent on testing:




£7,500+
In terms of price, it's about mid-range when it comes to premium pillows at £59. With that said, if you're savvy with discount codes then you may be able to get a fair bit cheaper. If you want something more customisable for a similar price, then the Simba Hybrid pillow may be a better choice for you. If you're on a budget or cannot justify spending this much on a single pillow, then consider buying a pillow from John Lewis and Partners instead.
Conclusion: Is the Eve Pillow good?
Overall, the EVE pillow is a good buy. It may be simple in terms of construction, but sometimes this is all you need. The fact that the cover can easily be removed and cleaned, coupled with the fact that it is hypoallergenic is a particularly good selling point for most people.
As an extra bonus it comes with a 30-night free trial, so it's definitely worth a try. If it turns out not to be right for you, then all you need to do is send it back and try something else instead.
More from WhatMattress...
Was this article helpful?
Does the EVE pillow come with a free trial?
Yes, it does! Although free trials are common with mattresses, it's quite unusual to get a free trial with a pillow. So the fact that you can try it for free says a lot about the quality of the EVE pillow.
How much is the EVE pillow?
You can currently buy the EVE pillow for £59 on their website. It's always a good idea to shop around though. Or you can use an Eve pillow discount code to see if you can get it that little bit cheaper.
How we reviewed this article:
Edit History:
Our experts continually monitor the mattress & sleep tech space, and we update our reviews & articles when new information becomes available.
16th May 2023


Current Article - By Carrie Taylor

17th July 2023


Checked & Reviewed - By Morag Park, Ph.D.

16th May 2023


Copy Edited - By Carrie Taylor

9th August 2023


Reviewed - By Anthony Maxwell
WhatMattress has strict sourcing guidelines and we try to rely on peer-reviewed studies, academic research institutions, and medical associations where possible.