There are a LOT of memory foam mattresses to buy in the UK now, so I'm going to de-mystify which ones are the best, which ones are the worst and ultimately which mattress you should really be buying.
As ever, I try to be subjective with all my reviews including this one. To be clear, this website isn't owned by a mattress company.
PS: Before we start, if you're not sure what memory foam is, then read my memory foam mattress tips here – this may not be the best mattress type for you.
Top Memory Foam Mattresses: Comparison
1. Nectar Memory Foam mattress – Buy here
At a glance:
356 night trial
2 free pillows
Ideal for those with back issues
Good to excellent reviews on Trustpilot
Not too expensive (but not ideal for those on a budget)
What makes the Nectar memory foam mattress the best?
The Nectar mattress – which Nectar call simply the "Memory foam mattress" – comes with a full YEAR to try it out. In other words, if you don't like it, you can send it back for a refund (Nectar will arrange for it to be collected/returned). This is quite a big positive, as most other mattress companies offer only 30 day return periods. However, it isn't all rosy – read my full Nectar mattress review here and note the comments – many ex-Nectar customers leave feedback on how successful the returns process has been.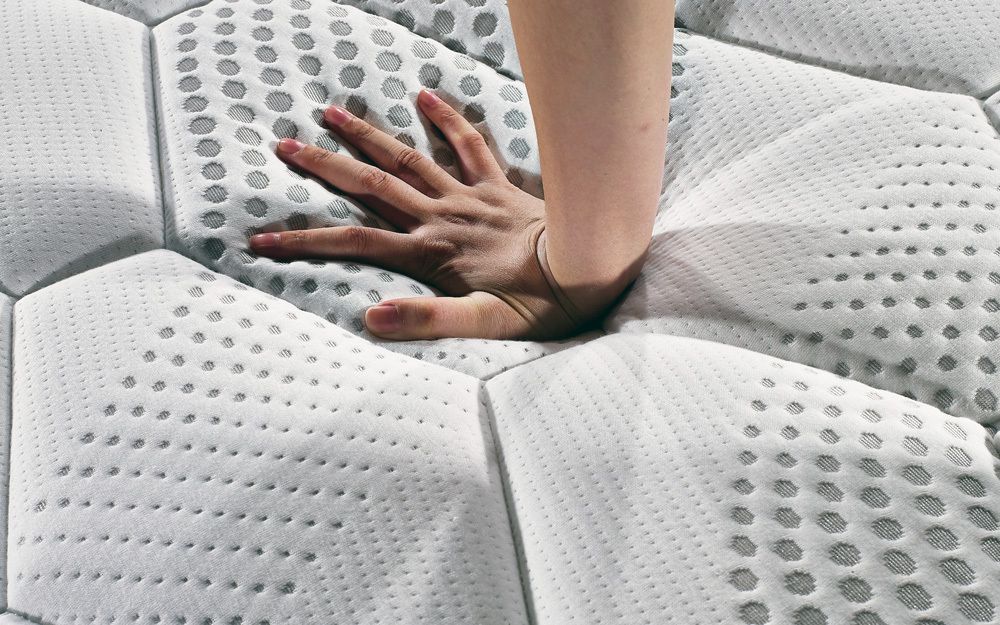 The Nectar mattress itself is comfy, and has good/excellent reviews on Trustpilot. The base layer offers 7-Zone support which is a nice medium support under your shoulders and knees where you need it then softer around your knees and middle, and firm at your head. This zoned support gives you all the support you need up and down to stop you getting any aches or pains through the night.
But more to that, the memory foam actually stops you being such a restless sleeper by allowing you to lie more comfortably so that you don't toss and turn and actually get a deeper sleep.
And when you're getting a deeper sleep you don't wake up so tired and can start really enjoying your mornings waking up after a restful night's sleep.
The top layer is a "smart" memory foam that is used to dissipate your body heat alongside the cooling cover to stop you overheating and waking up through the night. This is then followed up with the memory foam layer that keeps your back in place and the pressure of your joints. The cover is also quilted and provides a cooling layer that draws heat away from your body lowering your body temperature and letting you sleep sounder through the night.
It's reasonably good for back sleepers and side sleepers, and it sits comfortably on any bed frame. My top choice for the best memory foam mattress, a superb value bed-in-a-box that may increase the quality of your sleep and have you waking up more rested than ever before.
2. Simba Hybrid Mattress
The Simba Hybrid Mattress is quite a controversial choice to put here because (as the name suggests) it's not a full memory foam, but a hybrid mattress.
But bear with me…
If you don't know what a hybrid mattress is, then read my full rundown here. But in short it means hybrid is a combination of memory foam and springs. The goal is to provide excellent support and comfort and none of the drawbacks of a memory foam. The Simba hybrid mattress has five layers, including a layer of "Simbatex" foam that they claim provides a cooling effect, a layer of memory foam for pressure relief, and a layer of pocket springs for support.
The Simba Hybrid Mattress also features a hypoallergenic sleep surface and is available in five sizes, ranging from single to super king. It has a medium-firm feel and comes with a 200-night trial period and a ten-year warranty.
If you're not sure if the Simba is right for you, then read my full Simba hybrid mattress review here.
3. Emma Original Mattress
The Emma Original Mattress is a popular choice in the UK, thanks to its unique construction and attractive price. And let's be honest here, also probably because of their huge marketing spend. 😉
The comments on my Emma Mattress review page aren't always glowing; a lot of people report problems with back pain after a few years of use.
I'm recommending the Emma Original Mattress because it is really cheap, and if you're looking for a budget option then using a discount code on top will reduce the price even more. It should give you 3-5 years of use. If you're the sort of person who likes to trade in for a new mattress every so often then don't overlook this one.
One word on the wide variety of Emma reviews online: Please remember that Emma's Original Mattress is THE best selling mattress in Europe and has been for many years. While it has its detractors, it also has a lot of happy customers. But go in with your eyes open – you aren't getting a premium mattress here with the Emma Original. Memory foam is cheap to manufacture (it's just foam) and if your budget can stretch to a higher bracket then do consider a latex mattress.
What is inside the Emma Original mattress?
Back to the Emma's structure. It has three layers, including a layer of Airgocell foam for breathability, a layer of memory foam for pressure relief, and a layer of supportive foam for spinal alignment.
The Emma Original Mattress also has a removable, machine-washable cover and is available in five sizes, ranging from single to super king. It has a medium-firm feel and comes with a 200-night trial period and a ten-year warranty. But again, be aware that you need to "claim" if you want to send your Emma Original back to the company, and it isn't straightforward as it may seem. They're also not a UK-based company (Emma are German) so I deduced a few points for that; though they are made in the UK from what I can tell.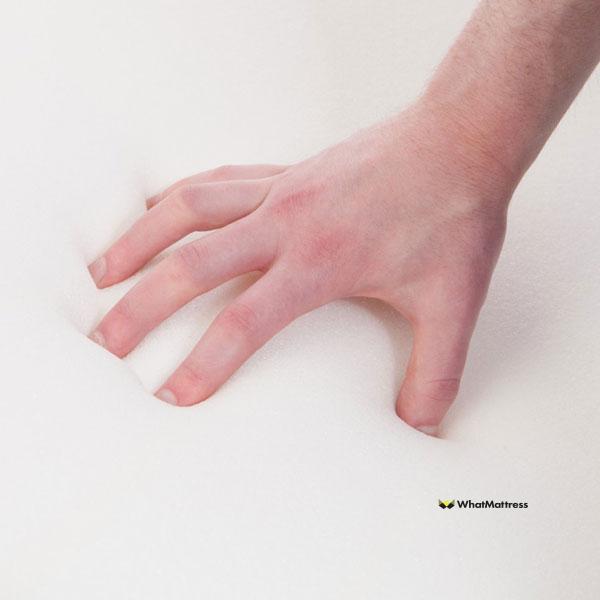 Why buy a memory foam mattress over others?
Memory foam mattresses have become increasingly popular in recent years, due to their ability to contour to the shape of your body, providing optimal support and reasonable comfort. If you're looking for a new mattress in the UK to buy, and are wondering what the benefits of Memory Foam are, then here you go:
They're CHEAP to buy, the cheapest type of mattress now;
They are an 'everyman' choice, so good for most people, but if you have specialist needs then look elsewhere;
They last for 4-5 years on average, and sometimes up to 10;
Easy to move up and down stairs as they come vacuum-packed; and
They're not particularly environmentally-friendly but can be recycled to an extent.
Generally, if you are concerned about the e-waste or eco angle of buying a mattress, then research shows that a pocket spring is way better for the environment than a memory foam mattress.
When should I *NOT* buy a memory foam mattress?
While memory foam mattresses offer many benefits, there are also some drawbacks to consider too when you're looking to buy. Here are some of the main 'cons' of memory foam mattresses in the UK:
Heat retention: Memory foam mattresses can trap heat, which can make sleep uncomfortable, especially for those who tend to "sleep hot". While some memory foam mattresses are designed to have so-called cooling features, such as gel-infused foam or breathable covers, most will still retain heat.
Off-gassing: Memory foam mattresses are made from polyurethane foam, which can release volatile organic compounds (VOCs) when first opened. This can cause a strong chemical smell, which can be unpleasant and even potentially harmful to those with respiratory sensitivities.
Lack of Support: While memory foam mattresses can provide excellent support and pressure relief, they may not be supportive enough for some people, especially those who have back pain or need more spinal alignment. Additionally, memory foam can compress over time, which can reduce the support it provides.
Conclusion: Which is the BEST foam mattress in the UK?
It's a hard question to answer because some memory foam mattresses are great but come with a high price tag. For the best balance I have outlined my top three above, which I believe gives the best "bang for your buck", are all easy to order (they all offer monthly financing too), and aren't too specialist.
If you've got health concerns such as you have neck pain or you're on the larger side, then let me know in the comments section below and I will come right back to you with some advice on which mattress type may be better for your needs.
Was this article helpful?
How we reviewed this article:
Edit History:
Our experts continually monitor the mattress & sleep tech space, and we update our reviews & articles when new information becomes available.
6th March 2023


Current Article - By Carrie Taylor

27th April 2023


Checked & Reviewed - By Morag Park, Ph.D.

27th February 2023


Copy Edited - By Carrie Taylor

7th June 2023


Reviewed - By Carrie Taylor
WhatMattress has strict sourcing guidelines and we try to rely on peer-reviewed studies, academic research institutions, and medical associations where possible.