Hey there, side sleepers! If you're on the lookout for a new mattress to suit you – that means one that can support your body AND provide the right level of comfort to get a good night's sleep – you've come to the right place. But with so many mattresses on the market now, it can be difficult to know where to start.
That's why I've put together this guide to the best mattresses for side sleepers in the UK in 2023.
I've done the research by trying out and testing all these mattresses manually, and are here to share my honest opinions with you. Whether you prefer a soft, plush mattress or something firmer and more supportive, I've got you covered.
So if you're tired of waking up with aches and pains or struggling to get comfortable at night, then read on. I'll help you find the perfect mattress to support your side sleeping habits and ensure you wake up feeling refreshed and ready to take on the day. 🙂
️‍👉 Top 6 for Side-Sleepers
What does side sleeping mean?
This may sounds obvious, but bear with me.
Side sleeping means quite simply that you sleep on your side – either for some or all of the night. If that's your sleeping style, then the mattress you choose should obviously be suitable for side-sleeping, but it's surprising how few people actually consider this.
It's not helped by the fact that there's a lot of confusing advice online about which mattress is best for side-sleepers. A lot of it is just thinly-veiled marketing, dressed up as an article.
You don't need to spend loads
The fact is, if you sleep on your side, then that does not automatically mean you need a specific mattress brand!
Generally speaking, side-sleepers prefer softer mattresses (such as memory foam) and there are many on the market suitable for you. Softer mattresses are better because your body's shape i.e. around the hips and shoulders is particularly contoured, and this will dig deeper into the mattress itself. This can help to alleviate pressure on your joints, improve your circulation and keep your spine aligned.
However, this comes with an important caveat: the level of firmness that is best for you also depends on your weight (and also your personal preference). So if you're on the heavier side, you may need a slightly firmer mattress to provide enough support. Ultimately, the ideal level of firmness will be the one that feels most comfortable and supportive for your body.
Another crucial factor to consider when looking for a mattress as a side sleeper is to choose one that alleviates tension across all parts of your body without leaving you feeling "swallowed" by the structure. You don't want to sink too far into the mattress as it can lead to poor spinal alignment and pain.
So each choice below is based both on my personal preferences and my testing, I have endeavoured to choose mattresses that best support the various different kinds of side sleepers, i.e. from those who sleep hot to those who need a little extra pressure relief at the shoulders and hips.
As I discuss each of my picks, I'll make sure to explain why I selected them for this list and will share my expert tips for getting amazing sleep on your side. At the end of this article, I'll also dive deeper into the methodology behind this list.
Top 6: Best Side-Sleeper Mattress
For a rundown of each of these recommended mattresses, keep reading below.
1. Brook & Wilde Lux – Top Overall for Side-Sleeping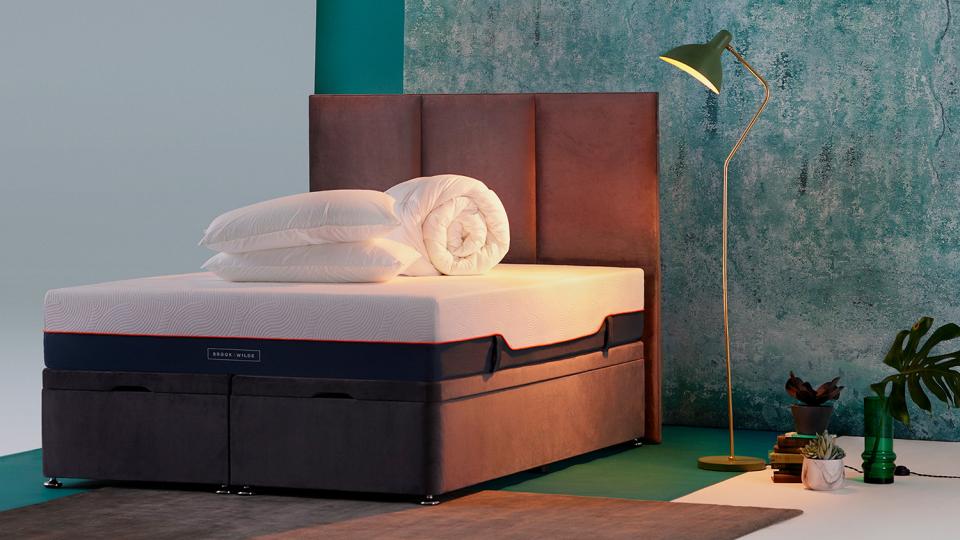 Brook + Wilde Lux is my top choice and an all-round brilliant option for side sleepers looking for a comfortable mattress.
It's been designed with five layers that are engineered to give deep and restful sleep. It has a unique 'wave technology' that encourages back support and spinal alignment; plus the Lux also has zoned support for better pressure relief and deeper comfort layers.
The top layer is made of breathable and cooling memory foam that molds to your body and almost completely eliminates motion transfer, according to my tests. It has a "medium" comfort level – actually quite firm in my testing – but this is what you need. The downside? Usually it's made to order within six weeks.