Side sleeping means quite simply that you sleep on your side – either for some or all of the night. If that's your sleeping style, then the mattress that you choose should obviously be suitable for side-sleeping, but it's surprising how few people consider this.
It's not helped by the fact that there's a lot of confusing advice online about which mattress is best for side-sleepers, so that is why I created this Guide to help you decide which mattress might be best for you…
If you sleep on your side, then that does not automatically mean you need a specific mattress brand! Generally speaking, side-sleepers prefer softer mattresses (such as memory foam) and there are many on the market suitable for you. Softer mattresses are better because your body's shape i.e. around the hips and shoulders is particularly contoured, and this will dig deeper into the mattress itself.
It also depends on your weight – if you are on the heavier side, and sleep on your side, then you may find that a slightly firmer mattress will work better. Sadly terms like "firm" and "soft" aren't standardised in the UK, so they are pretty much open to interpretation. One man's soft could be another man's hard!
While each choice is based on my personal preferences and testing, I have endeavoured below to choose mattresses that best support the various different kinds of side sleepers, i.e. from those who sleep hot to those who need a little extra pressure relief at the shoulders and hips. As I discuss each of my picks, I'll make sure to explain why I selected them for this list and will share my expert tips for getting amazing sleep on your side. At the end of this article, I'll also dive deeper into the methodology behind this list.
Best side sleeper mattresses for the UK
All prices are for double mattresses unless otherwise stated.
Silentnight Studio (£599)
Hypnos Premier Luxury (£999+)
Nectarsleep Hybrid (£699)
Brook + Wilde Lux (£749)
Vispring Plymouth Supreme (£899)
For a rundown of each of these mattresses, keep reading below.
Top Choice: Silentnight Studio (Softer version)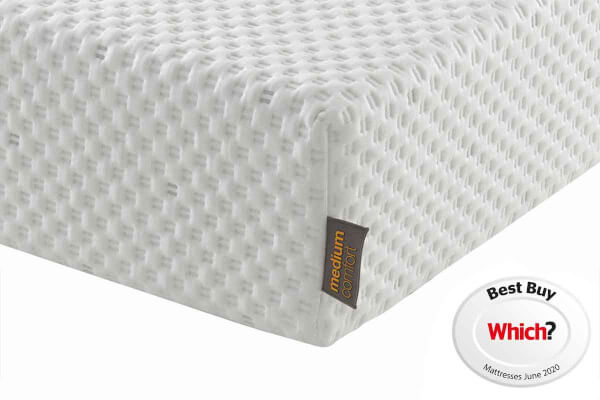 This is my top choice because it's really ideal for side sleeping. It is memory foam but the top layer is not actually made of it unlike most others, so it doesn't sink as much. The Silentnight's top layer is actually made of Geltex. It comes with a 60 day / night trial, which may not be as generous as others, but it's still quite lengthy and should be enough time for most users to know if this mattress is for them or not.
If it's not for you then you can send it back without charge. This is approved by Allergy UK and is also Which? Best Buy for 2020. What's more, as well as being my top choice, it's actually fairly affordable at only £599 (before any discounts) for the double mattress!
The only downside? Some of the sizes can take up to 10 weeks for delivery.
Runner-up: Hypnos Premier Luxury (Memory foam)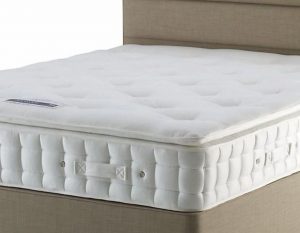 Hypnos are a well-known and respected company, and their prices aren't cheap. But I do feel that if you can afford their mattresses then they are nearly always a good choice.
I recommend this softer mattress for those who have lighter statures or prefer to sleep on their side. It's got a decent specification and it's made by one of the posher names in the mattress market – although be aware Hypnos beds are likely made at the same factory as Emma and Simba. The company has won a number of awards including best manufacturer at the National Bed Federation's awards in 2014 and 2017. Hypnos also have a Royal Warrant, which would have made Hyacinth Bucket very proud.
A quick tip:
The prices vary quite a lot between different stores, though. I have found that the cheapest store is often MattressMan which retails the Premier Luxury mattress currently for around £1000 including UK delivery.
What about snoring?
You might not think that snoring is a consideration when choosing a mattress, but it should be.
If you are a back sleeper then take note, as this can increase the snoring levels in some people. Generally, the best position to avoid snoring is to sleep on your side (the so-called foetal position). Why? Because sleeping on your back lets your tongue stick toward the back of your throat. This is a main factor in the vibrating (and often very loud!) sounds we call snoring. Thus, if you sleep on your back and you snore, try switching over to sleeping on your side. You may find the relief you're seeking, and if you have a partner they will likely be very grateful as well.
Still, switching sleeping positions is always a bit hard. Some people find that if they place a pillow behind their back, it serves as a reminder to not roll over in the middle of the night.
Obstructive sleep apnea is a sleep disorder where your throat muscles relax and block your airway at irregular intervals. This in turn interrupts your breathing over the course of your sleep. Aside from snoring, people with obstructive sleep apnea may experience waking up in the middle of the night gasping for air or waking up with a dry mouth. It's best to check in with your doctor to make sure you're not confusing snoring for something more serious.
3 top tips for side sleepers:
Think about the pressure points – see diagram above, and how to limit the effects of wear on them.
Generally speaking, the more pillows the better. Experiment with hugging pillows or placing a pillow behind your back until you find your most comfortable combination.
Medium-firm memory foam mattresses are often the optimum choice for side sleepers. Avoid pocket sprung if possible.
What about pillows for side sleepers?
The author of The Happy Sleeper, Heather Turgeon, says that "because of the greater distance between their heads and the mattress, side sleepers often need a thicker pillow to keep their head and neck in a neutral position." This obviously means that you might struggle to sleep with your face on your arms directly, but frankly that's probably not advisable anyway if you are a frequent side-sleeper as it can create problems with circulation.  While a fluffy soft pillow seems comfortable, in reality, it's the firmer pillows that often give your head the lift it really needs.
FAQs about side sleeping
What is the best mattress type for side sleepers?
There's no one-size-fits-all solution here, but generally memory foam mattresses are best. Most side-sleepers could find pocket sprung mattresses to be too firm. Your own individual preferences can help guide you to the right mattress, if you just take note of what you want from your next mattress… For instance, side sleepers who like a bouncy bed might want to look at a good hybrid mattress or possibly a decent inner/pocket spring mattress.
People who like to sink deep into their mattress might consider an option with memory foam or thick foam layers.
What is the best place to put your arms?
A lot of people call it side sleeping but the correct scientific term is actual lateral recumbent. According to this Physiomed PDF file, your arms should be up by your ears. But this isn't always preferable, particularly if you like heavier pillows.