By the time you were 10 years old, you had probably already slept on a bunk bed more times than you care to remember. Oh to be a kid again!
And if your kids share a bedroom then they may be using a bunk bed right now; indeed as our houses get smaller and smaller we find that the standard bunk bed of yesteryear is not quite going to hack it in today's world. Thankfully, there is a large selection of high-quality bunk beds available in the UK today. Below I will review my absolute three best ones.
One thing to remember is that a lot of bunk beds sold in the UK do not come with a mattress as standard, so you will have to purchase that separately in many cases. Thankfully, I have written a quick guide on the best toddler and kids mattresses here. Just remember to factor that into your overall cost – a decent single mattress for children today will likely cost £150 or up, and you need to double that cost obviously as there are two beds in a bunk!
Now without further ado here are my best bunk beds – updated for 2020. I have selected them to combine both good value for money, comfort and also delivery speeds. The latter being important because I have seen some bunk beds with 3-4 month delivery lead times – eek!
Are all bunk beds the same?
No. It's important to know the distinctions first before you buy a new bunk.
Firstly there is the standard bunk bed. This has the same size mattresses on each layer.
There is also, less commonly, a "twin over full" bunk bed. This is when the bottom bunk is a full-sized twin mattress, and the top layer is the regular smaller, single size. If you aren't sure what this means then check out this page on Wayfair and all will make sense. All of the bunk beds I am reviewing below are the regular standard bunk variety.
1. Happy Beds Solid Wood American Bunk Bed – £199+ (link)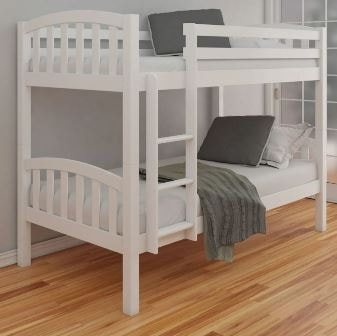 One of the best things about this bunk bed is that it's split-able. That means, if your children are having arguments over who gets to sleep on the top bunk, then you can always take it apart and make it into two regular beds!
What's more it's made of pine, which keeps the costs down, but as you can see from the photo it's pretty thick wood used here. A heavier wood like oak would up the price significantly, so sticking with pine keeps the price affordable to most. There is only one size available here – a regular UK single bed on each 'level' – but it will fit any standard UK single mattress size.
However Amazon do allow you to tailor the purchase a little. You can even add your own 2x memory foam mattresses, but be careful – there is little to no information on what make they are. Another minor point to remember is that this is made in China, although the Amazon listing mentions being "dispatched from the UK", this is of course not the same as "Made in the UK"… That said, it's a great well built solid pine bed that doesn't break the bank.
Quick facts:
Maximum weight: 12.4 stone on top bunk
Available with or without mattress (extra ££)
Rated 4.4 / 5
Fairly reputable brand
2. Dreams Willow Fabric bunk – £399 (link)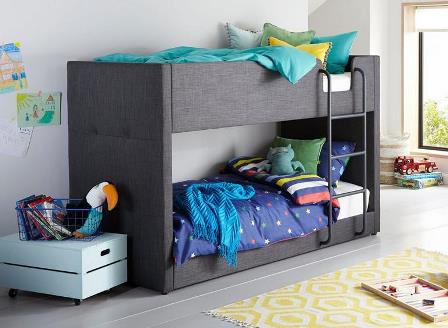 This one's a bit different to the rest, and some may consider the looks to be 'rather Marmite'. I personally think it looks great – but it is not the cheapest model. For the money, you actually get a shorter bunkbed than many others – it's 135cm tall, or about 20cm smaller than the average bunk.
So if your house has low ceilings or you're placing this into an eaves, you may find that it fits better than other brands. And of course the other positive is that it reduces the chances of your kids banging their heads on the ceiling. Just make sure to note down the maximum mattress depth (see bottom of page).
What's more, many of the reviews on the Dreams.co.uk website suggest that it's easy to put together, and doesn't require any specialist skills. If you find that other beds are flimsy, then this one is mostly made of metal – including the stairs. Most of the positive reviews mention how strong and sturdy it feels. There's also the obvious benefit of no cold metal railings anywhere, so your little darlings won't have to worry about getting cold feet – the entire thing is covered in soft polyester fabric.
Another benefit is that it's truly unisex and will work in both a girl or boy bedroom; if you have a mixed gender bedroom then even better.
The dimensions are as follows:
A – Head-end

135cm /

54inch

B – Length

205cm /

81inch

C – Width

97cm / 

39inch
Please allow for a tolerance of +/-2cm (1″).
3. Domino Wooden bunk – reduced! – Now £349 (link)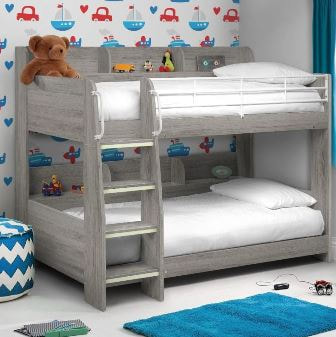 Although the photo is in white, there are actually a plethora of colours available for this model. Unlike the two choices above, this alone sets it apart from the rest of the pack as you can tailor the colour to suit your decor.
Another great bed by Happy Beds, this one is equally well-reviewed. In fact on the Happy Beds website it has a rating of 4.8 out of 5 at the time of writing.
The ladder itself glows in the dark to make it easier to find after a night-time toilet visit. It's got a gap of 80cm between the bunks, which is about the same as the Happy Beds American (above) but 12cm less than the Dreams Willow Fabric Bunk.
Another perk is that it comes with a 5 year guarantee so if you have any qualms about it then just send it back if things go south.
Quick facts:
Max weight: 15 stone
Built in storage shelves on both beds
Beautiful multiple colour options
Metal safety rail with strong fixed ladder for additional safety
The choice of colours from the Happy Beds website currently is: sand, white, grey, and mixed. More colours are going to be available shortly but are out of stock. And what's more there is currently a -50% reduction on the price. NB: If you are reading this and that heavy promotion has ended, and the original RRP of £684.99 is back, then I would not recommend paying this much – it's best to wait.
One thing to be aware of with Happy Beds, even if sold through Amazon, is that they do their own delivery. In other words, they do not use Prime to fulfill the orders, and there are some reports of slower than usual deliveries. Do not expect to receive your Happy Beds bunk the next day via Prime because you will likely be disappointed. Here's a helpful review from an Amazon customer who points this out:

Anything else I need to know?
All these bunk beds are compliant with the latest EU and UK fire standards – make sure to check this if buying online, as there are a few Chinese or overseas sellers that are illegally selling non-compliant beds.
If you aren't sure which mattress to buy then consider a hybrid. They aren't cheap, but the costs of owning one will likely pay for themselves after a few years. And of course you can always re-purpose your child's mattress as they are all of the same size and will fit any regular sized single UK bed frame.
FAQs about buying a Bunk Bed
Is there a maximum mattress depth required?
Yes, normally it is 15cm but it depends on the bed itself – so read the small-print! In the UK there is a legal requirement to inform the purchaser of a bunk bed what the maximum mattress thickness for the top bunk is – this is to prevent the mattress being too deep and making it easy to roll out of.
Do these bunks include mattresses?
No. Mattresses are available as add-ons or extras, if you check for example on the Amazon website you can choose to add your own memory foam mattress. But remember you will need two!